Abstract
With the latest research in the fields of medicine and pharmaceutical sciences, an increasing number of drugs are being invented to cure many fatal diseases and this has enabled people to live healthier and longer. Consequently, the rate of medication usage is increasing, particularly among the elderly. It is important that the medication prescribed by doctors is taken at the correct times of the day and in the correct dosages. This seems to be a significant problem encountered by older people with disabilities. As a result of forgetfulness or other problems, many older patients either do not take the correct medicines or the correct dosage at the appropriate times and this reduces the benefits of treatments and increases both healthcare costs and the mortality rates. In order to find a solution to this problem, a mobile phone and Cloud-based smart application has been developed to improve patient adherence, particularly for older people with disabilities. The novelty of the developed application is the use of a Cloud service to provide two-way communication in the form of feedback between the older patients with disabilities and the doctors so that the medication adherence of the patients can be monitored. Mobile application developers should find the developed mobile phone based medication reminder application for older people with disabilities a useful example application, and it should help them in developing other mobile applications for older people with disabilities.
Access options
Buy single article
Instant access to the full article PDF.
US$ 39.95
Tax calculation will be finalised during checkout.
Subscribe to journal
Immediate online access to all issues from 2019. Subscription will auto renew annually.
US$ 79
Tax calculation will be finalised during checkout.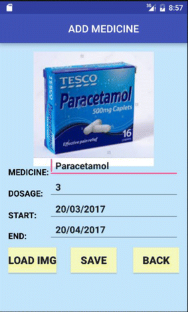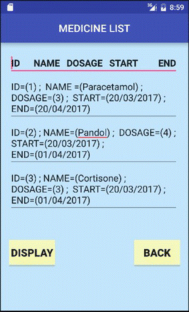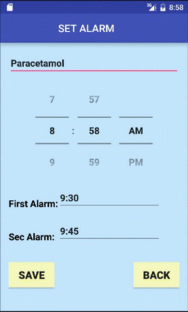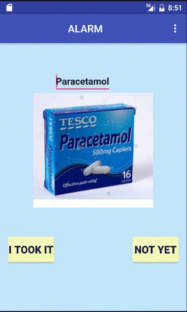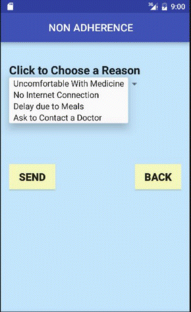 References
Asai, D., Orszulak, J., Myrick, R., Lee, C., Coughlin, J.F., deWeck, O.L.: Context-aware reminder system to support medication compliance. In: Proceedings of the International Conference on Systems, Man, and Cybernetics, pp. 3213–3218. IEEE, Anchorage (2011)

Ashwini, B., Sapna, K., Ishwan, B., Pallavi, P., Achaliya, P.N.: An Android based medication reminder system based on OCR using ANN. Int. J. Comput. Appl. 3, 25–30 (2013)

Chadwick-Dias, A., McNulty, M., Tullis, T.: Web usability and age: how design changes can improve performance. In: Proceedings of the Computer–Human Interaction, pp. 1391–1394. ACM, New York (2004)

Clifford, S., Garfield, S., Eliasson, L., Barber, N.: Medication adherence and community pharmacy: a review of education, policy, and research in England. Pharm. Pract. 8(2), 77–88 (2010)

Cornish, P.L., Knowles, S.R., Marchesano, R., Tam, V., Shadowitz, S., Juurlink, D.N., Etchells, E.E.: Unintended medication discrepancies at the time of hospital admission. Arch. Intern. Med. 165(4), 424–429 (2005)

Dedeli, Ö., Karadakovan, A.: Investigation of complementary and alternative medicine practice and drug use in the elderly. Spatula DD 1(1), 23–32 (2011)

Demirbağ, B.C., Timur, M.: Bir grup yaşlının ilaç kullanımı ile ilgili bilgi, tutum ve davranışları. Ank. Sağlık Hizmetleri Derg. 11(1), 1–8 (2012)

Eisma, R., Dickinson, A., Goodman, J., Mival, O., Syme, A., Tiwari, L.: Mutual inspiration in the development of new technology for older people. In: Proceedings of Include, pp. 252–259. London, UK (2003)

Eyesan, O.L., Okuboyejo, S.R.: Design and implementation of a voice-based medical alert system for medication adherence. Procedia Technol. 9(2013), 1033–1040 (2013)

Farmer, K.C.: Methods for measuring and monitoring medication regimen adherence in clinical trials and clinical practice. Clin. Ther. 21(6), 1074–1090 (1999)

Gimpel, G., Varshney, U., Ahluwalia, P.: Emerging IT for medication adherence. IT Prof. 18(3), 30–36 (2016)

Hassali, M.A., AL-Tamimi, S.K., Dawood, O.T.: Consumer quality use of medicines: an important element in public health. Res. Soc. Adm. Pharm. 13(1), 261–265 (2017)

Hayakawa, M., Uchimura, Y., Omae, K., Waki, K., Fujita, H., Ohe, K.: A smartphone-based medication self-management system with realtime medication monitoring. Appl. Clin. Inf. 4(1), 37–52 (2013)

Haynes, R.B., McDonald, H., Garg, A.X., Montague, P.: Interventions for helping patients to follow prescriptions for medications. Cochrane Database Syst. Rev. 2002(2), CD000011 (2002). https://www.ncbi.nlm.nih.gov/pubmed/12076376. Accessed 13 Nov 2017

Imrie, R.: Universalism, universal design and equitable access to the built environment. Disabil. Rehabil. 34(10), 873–882 (2012)

Kasar, K.S., Karadakovan, A.: Elderly individuals investigation of antihypertensive drugs use error. J. Cardiovasc. Nurs. 8(15), 20–27 (2017)

Kascak, L., Rebola, C.B., Braunstein, R., Sanford, J.A.: Icon design for user interface of remote patient monitoring mobile devices. In: Proceedings of the 31st ACM International Conference on Design of Communication, pp. 77–84. ACM, New York (2013)

Kascak, L., Rebola, C.B., Braunstein, R., Sanford, J.A.: Integrating Universal Design (UD) principles and mobile design guidelines to improve design of mobile health applications for older adults. In: Proceedings of the International Conference on Healthcare Informatics, pp. 343–348. IEEE, Verona (2014)

Kim, H., Kim, H.S., Ko, H., Choi, J., Cho, N.H.: Analysis of inappropriate medication use and drug interactions in older people in South Korea. Int. J. Clin. Pharmacol. Ther. 55(11), 847–852 (2017)

Lister, J., Barnes, C.: Neurobiological changes in the hippocampus during normative aging. Arch. Neurol. 66(7), 829–833 (2009)

Lopes, L.M., Figueiredo, T.P., Costa, S.C., Reis, A.M.: Use of potentially inappropriate medications by the elderly at home. Cienc. Saude Colet. 21(11), 3429–3438 (2016)

Mace, R.L.: A perspective on universal design. Paper Presented at the Designing for the 21st Century: An International Conference on Universal Design, June 19, Hofstra University, New York (1998)

Macrae, F.: Pill-popper nation: prescriptions soar as we pick up more than 16 EACH every year (2010). http://www.richardsfamilyhealth.com/constant_contact/A_nation_of%20pill_poppers.pdf. Accessed 30 Dec 2017

Maglogiannis, I., Spyroglou, G., Maria, C.P.: Mobile reminder system for furthering patient adherence utilizing commodity smartwatch and Android devices. In: Proceedings of the 4th International Conference on Wireless Mobile Communication and Healthcare, pp. 124–127. IEEE, Athens (2014)

Mohammed, M.N.A., Ahmed, A.H.M., Salih, T.M.: Designing low cost digital dose reminder application. In: Proceedings of the International Conference on Computing, Electrical and Electronics Engineering pp. 357–362. IEEE, Khartoum (2013)

Mondol, A.S., Emi, I.A., Stankovic, J.A.: MedRem: an interactive medication reminder and tracking system on wrist devices. In: Proceedings of the Conferences on Wireless Health, pp. 1–8. IEEE, Bethesda (2016)

Mynatt, E., Rogers, W.: Developing technology to support the functional independence of older adults. Ageing Int. 27, 24–41 (2001)

Newell, A., Arnott, J., Carmichael, A., Morgan, M.: Methodologies for involving older adults in the design process. In: Stephanidis, C. (ed.) Universal Access in Human Computer Interaction. Coping with Diversity. UAHCI 2007. Lecture Notes in Computer Science, vol. 4554, pp. 982–989. Springer, Heidelberg (2007)

Osterbergand, L., Blaschke, T.: Adherence to medication. N. Engl. J. Med. 353(5), 487–497 (2005)

Othman, N.B., Ek, O.P.: Pill dispenser with alarm via smart phone notification. Paper Presented at the 5th Global Conference on Consumer Electronics, 11–14 October 2016, Kyoto, Japan (2016). http://ieeexplore.ieee.org/document/7800399/. Accessed 26 Nov 2017

Özdemir, L., Akgün, Ş.: Yaşlı bireyde ilaç kullanımı ve geleneksel uygulamalar. Med. Netw. Dahili Tıp Bilim. 1(1), 27–32 (2006)

Raehl, C.L., Bond, C.A., Woods, T., Patry, R.A., Sleeper, R.B.: Individualized drug use assessment in the elderly. Pharmacother. J. Hum. Pharmacol. Drug Ther. 22(10), 1239–1248 (2002)

Ruzic, L., Lee, S.T., Liu, Y.E., Sanford, J.A.: (2016) Development of universal design mobile interface guidelines (UDMIG) for aging population. In: Antona, M., Stephanidis, C. (eds.) Universal Access in Human–Computer Interaction. Methods, Techniques, and Best Practices. UAHCI 2016. Lecture Notes in Computer Science, vol. 9737. Springer, Cham (2016)

Sachpazidis, I., Fragou, S., Sakas, G.: Medication adherence system using SMS technology. In: Proceedings of the Intelligent Sensors, Sensor Networks and Information Processing Conference, pp. 571–575. IEEE, Melbourne (2004)

Santo, K., Richtering, S.S., Chalmers, J., Thiagalingam, A., Chow, C.K., Redfern, J.: Mobile phone apps to improve medication adherence: a systematic stepwise process to identify high-quality apps. JMIR mHealth and uHealth 4(4), e132 (2016). https://www.ncbi.nlm.nih.gov/pmc/articles/PMC5161780/. Accessed 21 Nov 2017

Selwyn, N., Gorard, S., Furlong, J., Madden, L.: Older adults' use of information and communications technology in everyday life. Ageing Soc. 23(5), 561–582 (2003)

Sokol, M.C., McGuigan, K.A., Verbrugge, R.R., Epstein, R.S.: Impact of medication adherence on hospitalization risk and healthcare cost. Med. Care 43(6), 521–530 (2005)

Solmaz, T., Akın, B.: Evde yaşayan yaşlılarda ilaç kullanımı ve kendi kendine ilaç kullanım yetisi. Turk. J. Geriatr. 12(2), 72–81 (2009)

Spoelstra, S.L., Given, C.W., Sikorskii, A., Coursaris, C.K., Majumder, A., DeKoekkoek, T., Schueller, M., Given, B.A.: Feasibility of a text messaging intervention to promote self-management for patients prescribed oral anticancer agents. Oncol. Nurs. Forum 42(6), 647–657 (2015)

Stawarz, K., Cox, A.L., Blandford, A.: Don't forget your pill! designing effective medication reminder apps that support users' daily routines. In: Proceedings of the Conference on Human Factors in Computing Systems, pp. 2269–2278. ACM, New York (2014)

Tsai, P.H., Chen, T.Y., Yu, C.R., Shih, C.S.: Smart medication dispenser: design, architecture and implementation. IEEE Syst. J. 5(1), 99–110 (2011)

Urfer, M., Elzi, L., Dell-Kuster, S., Bassetti, S.: Intervention to improve appropriate prescribing and reduce polypharmacy in elderly patients admitted to an internal medicine unit. PLoSOne 11(11), 1–15 (2016)

World Health Organization: The world is fast aging—have we noticed? (2008). http://www.who.int/ageing/en/index.html. Accessed 29 Nov 2008

Zhang, T., Liu, Z., Cao, X., Xia, W.: Intelligent medicine box monitoring and management system. In: Proceedings of the International Conference on Computer Science and Mechanical Automation, pp. 153–156. IEEE, Hangzhou (2015)
Ethics declarations
Conflict of interest
The authors declare that they have no conflict of interest.
About this article
Cite this article
Mohammed, H.B.M., Ibrahim, D. & Cavus, N. Mobile device based smart medication reminder for older people with disabilities. Qual Quant 52, 1329–1342 (2018). https://doi.org/10.1007/s11135-018-0707-8
Keywords
Disabilities

Older people

Mobile medication reminder

Medication adherence

Reminder application

Healthcare