Abstract
Scholarly discourse concerning the distinction between qualitative and quantitative approach often takes on a binary character. This structuralism undermines the legitimacy of positivist qualitative research, a unique method frequently used in social science research. In the present essay, the author argues that positivist qualitative research should be recognized as a unique form of qualitative research. The essay focuses on three issues: (a) the paradigmatic roots of positivist qualitative research, (b) the components of positivist qualitative research as an empirical research approach, including a typology for mapping various manifestations of partially and fully positivist qualitative research, and (c) incorporating a paradigmatic disclaimer section in articles to improve the quality of qualitative research, positivist and non-positivist alike. Recognizing positivist qualitative research as a distinct and legitimate type can improve qualitative studies in social science.
This is a preview of subscription content, log in to check access.
Access options
Buy single article
Instant access to the full article PDF.
US$ 39.95
Price includes VAT for USA
Subscribe to journal
Immediate online access to all issues from 2019. Subscription will auto renew annually.
US$ 99
This is the net price. Taxes to be calculated in checkout.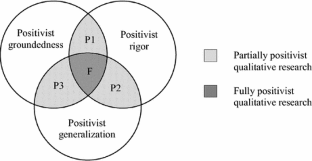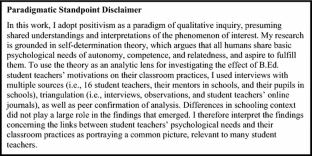 Notes
1.

Chesebro and Borisoff (2007) also noted common characteristics that placed the emphasis on the "researcher as participant;" I omit a discussion of these characteristics because their inclusion among the basic functional aspects of general qualitative research is contested, and they appear linked only with certain qualitative approaches.

2.

Guba and Lincoln (1994) used the term "postpositivism" to describe this paradigm. This term, however, is also commonly used in the literature to refer to a category of qualitative traditions, such as hermeneutics, critical theory, and poststructuralism, which reject positivist assumptions (see Prasad 2005). To avoid confusion, the present essay uses the term "positivism."

3.
References
Allwood, C.M.: The distinction between qualitative and quantitative research methods is problematic. Qual. Quant. 46(5), 1417–1429 (2012). doi:10.1007/s11135-011-9455-8

Ashworth, P.D.: Conceptual foundations of qualitative psychology. In: Smith, J.A. (ed.) Qualitative Psychology: A Practical Guide To Research Methods, pp. 4–25. Sage, Thousand Oaks, CA (2008)

Ashworth, P.D.: Qualitative research methods. Estud. pedagóg. (2000). doi:10.4067/S0718-07052000000100007

Ashworth, P.D.: The variety of qualitative research. Part one: introduction to the problem. Nurse Educ. Today 17(3), 215–218 (1997). doi:10.1016/S0260-6917(97)80136-0

Barzilai, S., Eshet-Alkalai, Y.: The role of epistemic perspectives in comprehension of multiple author viewpoints. Learn. Instr. 36, 86–103 (2015). doi:10.1016/j.learninstruc.2014.12.003

Berkovich, I., Eyal, O.: Methodological review of studies on educational leaders and emotions (1992–2012). Insights into the meaning of an emerging research field in educational administration. J. Educ. Adm. 55(5), 469–491 (2017). doi:10.1108/JEA-07-2016-0078

Bernard, H.R.: Research Methods in Anthropology: Qualitative and Quantitative Approaches. Rowman Altamira, Lanham (2011)

Berry, A.J., Otley, D.T.: Case-based research in accounting. In: Humphrey, C., Lee, B.H. (eds.) The Real Life Guide to Accounting Research, pp. 231–255. Elsevier, Amsterdam (2004)

Bogdan, C.R., Biklen, S.K.: Qualitative Research for Education. Allyn ve Bacon, Boston (2007)

Bryman, A.: The debate about quantitative and qualitative research: a question of method or epistemology? Br. J. Sociol. 35(1), 75–92 (1984). doi:10.2307/590553

Chesebro, J.W., Borisoff, D.J.: What makes qualitative research qualitative? Qual. Res. Rep. Commun. 8(1), 3–14 (2007). doi:10.1080/17459430701617846

Creswell, J.W.: Research Design: Qualitative, Quantitative, and Mixed Methods Approaches. Sage, Thousand Oaks, CA (2013)

Deetz, S.: Crossroads—describing differences in approaches to organization science: rethinking Burrell and Morgan and their legacy. Organ. Sci. 7(2), 191–207 (1996). doi:10.1287/orsc.7.2.191

Denzin, N., Lincoln, Y.: The Landscape of Qualitative Research: Theories and Issues (2nd ed.). Sage, Thousand Oaks, CA (2003)

Denzin, N.K., Lincoln, Y.S. (eds.): The Sage Handbook of Qualitative Research. Sage, Thousand Oaks, CA (2011)

Denzin, N.K.: The elephant in the living room: or extending the conversation about the politics of evidence. Qual. Res. 9(2), 139–160 (2009). doi:10.1177/1468794108098034

Denzin, N.K.: The new paradigm dialogs and qualitative inquiry. Int. J. Qual. Stud. Educ. 21(4), 315–325 (2008). doi:10.1080/09518390802136995

Donmoyer, R., Galloway, F.: Reconsidering the utility of case study designs for researching school reform in a neo-scientific era: insights from a multiyear, mixed-methods study. Educ. Adm. Q. 46(1), 3–30 (2009). doi:10.1177/1094670509353041

Eisner, E.W.: Are all causal claims positivistic? A reply to Francis Schrag. Educ. Res. 21(5), 8–9 (1992). doi:10.3102/0013189X021005008

Firestone, W.A.: Alternative arguments for generalizing from data as applied to qualitative research. Educ. Res. 22(4), 16–23 (1993). doi:10.3102/0013189X022004016

Firestone, W.A.: Meaning in method: the rhetoric of quantitative and qualitative research. Educ. Res. 16(7), 16–21 (1987). doi:10.3102/0013189X016007016

Gall, M.D., Borg, W.R., Gall, J.P.: Educational Research. Longman, White Plains, NY (1996)

Gephart Jr., R.P., Richardson, J.: Qualitative research methodologies and international human resource management. In: Stahl, G.K., Björkman, I., Morris, S. (eds.) Handbook of Research in International Human Resource Management, pp. 29–52. Edward Elgar, Cheltenham (2008)

Gephart, R.P.: Qualitative research and the academy of management journal. Acad. Manag. J. 47(4), 454–462 (2004). doi:10.5465/AMJ.2004.14438580

Gill, M.J.: The possibilities of phenomenology for organizational research. Organ. Res. Methods 17(2), 118–137 (2014). doi:10.1177/1094428113518348

Giorgi, A.: An application of phenomenological method in psychology. Duquesne Stud. Phenomenol. Psychol. 2, 82–103 (1975). doi:10.5840/dspp197529

Glaser, B.G., Strauss, A.L.: The Discovery of Grounded Theory: Strategies for Qualitative Research. Aldine Pub. Co, Chicago (1967)

Goldstein, J., Keohane, R.O.: Ideas and Foreign Policy: Beliefs, Institutions, and Political Change. Cornell University Press, Ithaca (1993)

Goulding, C.: Grounded Theory: A Practical Guide for Management, Business and Market Researchers. Sage, Thousand Oaks, CA (2002)

Greckhamer, T., Koro-Ljungberg, M.: The erosion of a method: examples from grounded theory. Int. J. Qual. Stud. Educ. 18(6), 729–750 (2005). doi:10.1080/09518390500298204

Gringeri, C., Barusch, A., Cambron, C.: Epistemology in qualitative social work research: a review of published articles, 2008–2010. Social Work Res. 37(1), 55–63 (2013)

Guba, E.G., Lincoln, Y.S.: Competing paradigms in qualitative research. In: Denzin N. K., Lincoln Y. S. (eds.) Handbook of Qualitative Research, pp. 163–194. Sage, Thousand Oaks, CA (1994)

Guest, G., Namey, E.E., Mitchell, M.L.: Collecting Qualitative Data: A Field Manual for Applied Research. Sage, Thousand Oaks, CA (2012)

Guest, G.: Describing mixed methods research: an alternative to typologies. J. Mixed Methods Res. 7(2), 141–151 (2013)

Hammersley, M.: Deconstructing the qualitative–quantitative divide. In: Brannen, J. (ed.) Mixing Methods: Qualitative and Quantitative Research, pp. 39–55. Ashgate Publishing Company, Aldershot (1992)

Hammersley, M.: The relationship between qualitative and quantitative research: paradigm loyalty versus methodological eclecticism. In: Richardson, T.S. (ed.) Qualitative Research Methods in Psychology and the Social Sciences, pp. 159–174. BPS Books, Leicester (1996)

Harper, M., Cole, P.: Member checking: can benefits be gained similar to group therapy? Qual. Rep. 17(2), 510–517 (2012)

Head, B.W., Alford, J.: Wicked problems: implications for public policy and management. Adm. Soc. 47(6), 711–739 (2015)

Healy, M., Perry, C.: Comprehensive criteria to judge validity and reliability of qualitative research within the realism paradigm. Qual. Mark. Res. Int. J. 3(3), 118–126 (2000). doi:10.1108/13522750010333861

Howe, K.R.: Against the quantitative–qualitative incompatibility thesis or dogmas die hard. Educ. Res. 17(8), 10 (1988). doi:10.2307/1175845

Howe, K.R.: Getting over the quantitative–qualitative debate. Am. J. Educ. 100(2), 236–256 (1992). doi:10.1086/444015

Hsieh, H.F., Shannon, S.E.: Three approaches to qualitative content analysis. Qual. Health Res. 15(9), 1277–1288 (2005). doi:10.1177/1049732305276687

Huberman, A., Miles, M.: The Qualitative Researcher's Companion. Sage, Thousand Oaks, CA (2002)

Hunt, S.D.: positivism and paradigm dominance in consumer research: toward critical pluralism and rapprochement. J. Consum. Res. 18(1), 32 (1991). doi:10.1086/209238

Hyde, K.F.: Recognising deductive processes in qualitative research. Qual. Mark. Res. Int. J. 3(2), 82–90 (2000). doi:10.1108/13522750010322089

Johnson, P., Buehring, A., Cassell, C., Symon, G.: Defining qualitative management research: an empirical investigation. Qual. Res. Organ. Manag. Int. J. 2(1), 23–42 (2007). doi:10.1108/17465640710749108

Johnson, P., Cassell, C.: Epistemology and work psychology: new agendas. J. Occup. Organ. Psychol. 74(2), 125–143 (2001). doi:10.1348/096317901167280

Johnson, R.B., Onwuegbuzie, A.J.: Mixed methods research: a research paradigm whose time has come. Educ. Res. 33(7), 14–26 (2004). doi:10.3102/0013189X033007014

Johnson-Laird, P.N.: Deductive reasoning. Annu. Rev. Psychol. 50(1), 109–135 (1999). doi:10.1146/annurev.psych.50.1.109

Kothari, C.R.: Research Methodology: Methods and Techniques. New Age International, New Delhi (2004)

LeCompte, M.D., Goetz, J.P.: Problems of reliability and validity in ethnographic research. Rev. Educ. Res. 52(1), 31–60 (1982). doi:10.3102/00346543052001031

Leech, N.L., Onwuegbuzie, A.J.: A typology of mixed methods research designs. Qual. Quant. 43(2), 265–275 (2009). doi:10.1007/s11135-007-9105-3

Lichtman, M.: Qualitative Research for the Social Sciences. Sage, Thousand Oaks, CA (2013)

Lincoln, Y.S., Guba, E.G.: Naturalistic Inquiry. Sage, Thousand Oaks, CA (1985)

Lincoln, Y.S.: The ethics of teaching in qualitative research. Qual. Inq. 4(3), 315–327 (1998). doi:10.1177/107780049800400301

Lindlof, T.R., Taylor, B.C.: Qualitative Communication Research Methods. Sage, Thousand Oaks, CA (2010)

Lund, T.: The qualitative–quantitative distinction: some comments. Scand. J. Educ. Res. 49(2), 115–132 (2005). doi:10.1080/00313830500048790

Macbeth, D.: On "reflexivity" in qualitative research: two readings, and a third. Qual. Inq. 7(1), 35–68 (2001). doi:10.1177/107780040100700103

Macionis, J., Gerber, L.: Sociology, 7th edn. Pearson Canada, North York (2010)

Marsh, D., Furlong, P.: A skin not a sweater: ontology and epistemology in political science. In: Marsh, D., Stoker, G. (eds.) Theory and Methods in Political Science, pp. 17–41. Palgrave Macmillan, Basingstoke (2002)

Marshall, C., Rossman, G.B.: Designing Qualitative Research. Sage, Thousand Oaks, CA (2006)

Marvasti, A.: Qualitative Research in Sociology. Sage, Thousand Oaks, CA (2003)

Maxwell, J.A.: Causal explanation, qualitative research, and scientific inquiry in education. Educ. Res. 33(2), 3–11 (2004). doi:10.3102/0013189X033002003

Mays, N., Pope, C.: Qualitative research in health care. Assessing quality in qualitative research. BMJ 320(7226), 50–52 (2000). doi:10.1136/bmj.320.7226.50

McNabb, D.E.: Research Methods for Political Science: Quantitative and Qualitative Methods. Routledge, Abingdon (2015)

Morgan, G., Smircich, L.: The case for qualitative research. Acad. Manag. Rev. 5(4), 491–500 (1980). doi:10.5465/AMR.1980.4288947

Morrow, S.L.: Quality and trustworthiness in qualitative research in counseling psychology. J. Couns. Psychol. 52(2), 250–260 (2005). doi:10.1037/0022-0167.52.2.250

Myers, M.D.: Qualitative Research in Business and Management. Sage, Thousand Oaks, CA (2013)

Nersessian, N.J.: Model-based reasoning in conceptual change. In: Magnani, L., Nersessian, N., Thagard, P. (eds.) Model-Based Reasoning in Scientific Discovery, pp. 5–22. Springer, Berlin (1999)

Nkwi, P.N., Nyamongo, I.K., Ryan, G.W.: Field research into socio-cultural issues: methodological guidelines. International Center for Applied Social Sciences, Research, and Training, Yaoundé, Cameroon (2001)

Patton, M.Q.: Two decades of developments in qualitative inquiry. Qual. Soc. Work 1(3), 261–283 (2002). doi:10.1177/1473325002001003636

Payne, G., Williams, M.: Generalization in qualitative research. Sociology 39(2), 295–314 (2005). doi:10.1177/0038038505050540

Polanyi, M.: The logic of tacit inference. Philos. 41(155), 1–18 (1966)

Polit, D.F., Beck, C.T.: Generalization in quantitative and qualitative research: myths and strategies. Int. J. Nurs. Stud. 47(11), 1451–1458 (2010). doi:10.1016/j.ijnurstu.2010.06.004

Prasad, P.: Crafting Qualitative Research: Working in the Postpositivist Traditions. M.E. Sharpe, Armonk, NY (2005)

Pratt, M.G.: From the editors: for the lack of a boilerplate: tips on writing up (and reviewing) qualitative research. Acad. Manag. J. 52(5), 856–862 (2009). doi:10.5465/AMJ.2009.44632557

Ragin, C.C.: Constructing Social Research: The Unity and Diversity of Method. Pine Forge Press, Thousand Oaks, CA (1994)

Ritchie, J., Lewis, J. (eds.): Qualitative research practice: A guide for social science students and researchers. Sage, Thousand Oaks, CA (2003)

Sadovnik, A.R.: Qualitative research and public policy. In: Fischer F., Miller G., Sidney M.S. (eds.) Handbook of Public Policy Analysis: Theory Politics and Methods, pp. 417–427. CRC Press, New York (2006)

Sale, J.E., Lohfeld, L.H., Brazil, K.: Revisiting the quantitative-qualitative debate: implications for mixed-methods research. Qual. Quant. 36(1), 43–53 (2002). doi:10.1023/A:1014301607592

Sandelowski, M.: Rigor or rigor mortis. Adv. Nurs. Sci. 16(2), 1–8 (1993). doi:10.1097/00012272-199312000-00002

Sarantakos, S.: Social Research. Palgrave Macmillan, Basingstoke (2012)

Schrag, F.: In defense of positivist research paradigms. Educ. Res. 21(5), 5–8 (1992). doi:10.3102/0013189X021005005

Seidman, I.: Interviewing as Qualitative Research: A Guide for Researchers in Education and the Social Sciences. Teachers College Press, New York (2013)

Smith, J.A. (ed.): Qualitative Psychology: A Practical Guide to Research Methods. Sage, Thousand Oaks, CA (2015)

Snape, D., Spencer, L.: The foundations of qualitative research. In: Ritchie, J., Lewis, J. (eds.) Qualitative Research Practice: A Guide for Social Scientists. Sage, Thousand Oaks, CA (2006)

Sobh, R., Perry, C.: Research design and data analysis in realism research. Eur. J. Mark. 40(11/12), 1194–1209 (2006). doi:10.1108/03090560610702777

Suddaby, R.: From the editors: what grounded theory is not. Acad. Manag. J. 49(4), 633–642 (2006). doi:10.5465/AMJ.2006.22083020

Tan, J., Fischer, E., Mitchell, R., Phan, P.: At the center of the action: innovation and technology strategy research in the small business setting. J. Small Bus. Manage. 47(3), 233–262 (2009). doi:10.1111/j.1540-627X.2009.00270.x

Wang, Y., Bowers, A.J.: Mapping the field of educational administration research: a journal citation network analysis. J. Educ. Adm. 54(3), 242–269 (2016). doi:10.1108/JEA-02-2015-0013

Woolgar, S.: Reflexivity is the ethnographer of text. In: Woolgar, S. (ed.) Knowledge and Reflexivity: New Frontiers in the Sociology of Knowledge, pp. 14–36. Sage, London (1988)

Yin, R.K.: Case Study Research: Design and Methods. Sage, Thousand Oaks, CA (1994)
About this article
Cite this article
Berkovich, I. Beyond qualitative/quantitative structuralism: the positivist qualitative research and the paradigmatic disclaimer. Qual Quant 52, 2063–2077 (2018). https://doi.org/10.1007/s11135-017-0607-3
Keywords
Paradigm

Paradigmatic disclaimer

Positivism

Positivist qualitative research

Qualitative research