Abstract
This article examines the evolution of social security research from a theoretical and empirical perspective. This is done through an extensive review and analysis of publications from the Journal of International Social Security Review published by Wiley within a 50-year period (1967–2017). It was observed that at a different period in time, the social security research focused on different national and international issues that invoked different social welfare programs and pension systems approach (public or private) to facilitate the explanation of its final socio-economic impact into different social groups in the same country or region respectively.
This is a preview of subscription content, log in to check access.
Access options
Buy single article
Instant access to the full article PDF.
US$ 39.95
Price includes VAT for USA
Subscribe to journal
Immediate online access to all issues from 2019. Subscription will auto renew annually.
US$ 99
This is the net price. Taxes to be calculated in checkout.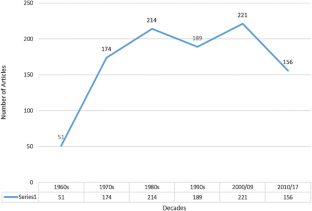 References
Antonen, A., Sipila, J.: European social care services: is it possible to identify models? J. Eur. Soc. Policy 6(2), 87–100 (1996)

Bianco, M., Gerali, A., Massaro, R.: Financial systems across "developed economies": convergence or path dependence? Res. Econ. 51(3), 303–331 (1997)

Deacon, B.: The New Eastern Europe: Social Policy Past, Present and Future. Sage Publications, London (1992)

Esping-Andersen, G.: The Three Worlds of Capitalism. Princeton University Press, Princeton (1990)

Esping-Andersen, G.: After the Golden Age: The Future of the Welfare State in the New Global Order. Retrieved from Geneva (1994)

Estrada, M.A.R.: Policy modeling: definition, classification and evaluation. J. Policy Model. 33(4), 523–536 (2011)

Ferrera, M.: The southern model of welfare in social Europe. J. Eur. Soc. Policy 6(1), 17–37 (1996)

Gordon, S.M.: Social Security Policies in Industrial Countries: A Comparative Analysis. Cambridge University Press, Cambridge (1988)

Gough, I.: Welfare regimes in development context: a global and regional analysis. In: Gough, I., Wood, G., Barrientos, A., Bevan, P., Davis, P., Room, G. (eds.) Insecurity and Welfare Regimes in Asia, Africa and Latin America: Social Policy in Development Contexts, pp. 15–48. Cambridge University Press, Cambridge (2004)

Hobson, B.: Recognition and Redistribution: The Interplay Between Identities and Institutions: Swedish Women's Mobilization in Welfare State Expansion and Retrenchment. Working Paper, Stockholm University (1997)

Korpi, W., Palme, J.: The Paradox of redistribution and strategies of equality: welfare state institutions, inequality, and poverty in the western countries. Am. Sociol. Rev. 63(5), 661–687 (1998)

Lewis, J., Ostner, I.: Gender and the Evolution of European Social Policies. Centre for Social Policy Research, University of Bremen, Bremen (1994)

Miller, C.: Social welfare in Africa: meeting the needs of households caring for orphans and affected by AIDS. In: Paper Presented at the Social Protection Initiatives for Children, Women and Families: An Analysis of Recent Experiences, The New School University (2006)

Palacios, R., Pallares-Millares, M.: International Patterns of Pension Provision Pension Prime Paper. The World Bank, Washington, D.C. (2000)

Palme, J.: Models of Old-aged Pensions. In: Ware, A., Goodin, E.R. (eds.) Needs and Welfare. Sage Publications, London (1990)

Pierson, P.: Dismantling the Welfare State. Cambridge University Press, Cambridge (1994)

Pierson, P.: Increasing returns, path dependence, and the study of politics. Am. Polit. Sci. Rev. 94(6–7), 251–267 (2000)

Sapir, A.: Globalization and the reform of European social model. J. Common Mark. Stud. 44(2), 369–390 (2006)

Titmuss, M.R.: Essay on "The Welfare State". George Allen & Unwin, London (1958)

Veit-Wilson, J.: Muddle or mendacity? The beveridge committee and the poverty line. J. Soc. Policy 21(3), 269–301 (1992)

Wiley: Journal of International Social Security Review. http://onlinelibrary.wiley.com/journal/10.1111/(ISSN)1468-246X. (2017)
About this article
Cite this article
Estrada, M.A.R., Koutronas, E. The quantitative and qualitative evolution of the social security research. Qual Quant 52, 1807–1816 (2018). https://doi.org/10.1007/s11135-017-0568-6
Keywords
Econographicology

Social security

Economics teaching

Policy modeling

Pensions
JEL classifications