Abstract
Under what conditions do politicians oppose referendums especially to decide questions of European integration? Existing literature has identified reasons why governments and political parties pledge to hold non-mandatory referendums to ratify EU treaties or determine a country's participation in the EU project, and some studies have analysed the effect of voter demand and attitudes towards EU referendums. This study examines the positions politicians themselves take towards popular participation in decision-making on the EU. The paper presents a summative content analysis of parliamentary debates in the United Kingdom between 1974 and 2010, tracing MPs' arguments against using referendums to determine the UK's participation in EU integration. Our results indicate that the range of claims made by MPs in the House of Commons against referendums on European matters has narrowed over time, although opposing arguments have continued to fall into the same set of four argumentative strategies. We find that institutional arguments, reflecting a Burkean understanding of representative democracy, consistently predominate over arguments that cite practical, political and manipulation concerns.
Access options
Buy single article
Instant access to the full article PDF.
USD 39.95
Price includes VAT (USA)
Tax calculation will be finalised during checkout.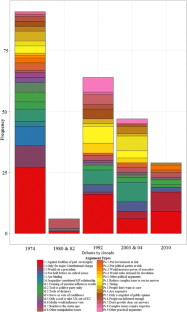 Notes
1.

Referendums are said to be 'pro-hegemonic' when they are used by the ruling elites only to strengthen their power (see Qvortrup 2002).

2.

ALCESTE stands for Analyse des Lexèmes Co-occurents dans les Énnoncés Simples d'un texte (analysis of the co-occurring lexemes within the simple statements of a text). Its algorithm, based on Benzecri's contributions in textual statistics, was created by Max Reinert.

3.

The full Alceste and NVivo reports produced for this research, the original dataset and the coding scheme are available on a webpage dedicated to this study.

4.

The Amsterdam and Nice Treaties in the late 1990 s and early 2000 s, respectively, also generated fewer discussions about the use of the referendum.

5.

6.

HL Deb 14 July 1993 c267.
References
Allen, N., Mirwaldt, K.: 'Democracy-speak: party manifestos and democratic values in Britain, France and Germany. West Eur. Polit. 33(4), 870–893 (2010)

Bächtiger, A., Steiner, J.: Empirical approaches to deliberative democracy. Acta Polit. 40(2), 153–168 (2005)

Bara, J., Weale, A., Bicquelet, A.: Analysing parliamentary debate with computer assistance. Swiss J. Polit. Sci. 13(4), 577–605 (2007)

Barber, B.R.: Strong Democracy: Participatory Politics for a New Age. University of California Press, Berkeley (1984)

Beer, S.: Modern British Politics: a Study of Parties and Pressure Groups. Faber, London (1965)

Bicquelet, A., Weale, A., Bara, J.: In a different parliamentary voice? Polit. Gender 8(1), 83–121 (2012)

Binzer-Hobolt, S.: Direct democracy and European integration. J. Eur. Public Policy 13(1), 153–166 (2006)

Bjørklund, T.: The demand for referendum: when does it arise and when does it succeed? Scand. Polit. Stud. 5(3), 237–259 (1982)

Bogdanor, V.: Western Europe. In: Butler, D., Ranney, A. (eds.) Referendums Around the World, pp. 24–98. AEI Press, Washington (1994)

Brugidou, M.: Argumentation and values: an analysis of ordinary political competence via an open-ended question. Int. J. Public Opin. Res. 15(4), 413–430 (2003)

Budge, I.: The New Challenge of Direct Democracy. Polity Press, Cambridge (1996)

Butler, D., Ranney, A. (eds.): Referendums Around the World: The Growing Use of Direct Democracy. Macmillan, Basingstoke (1994)

Chadwick, A., May, C.: 'Interactions between States and Citizens in the Age of the Internet: 'e-Government' in the United States, Britain and the European Union. Governance 16(2), 271–300 (2003)

Closa, C.: Why convene referendums? Explaining choices in EU constitutional politics. J. Eur. Public Policy 14(8), 1311–1332 (2007)

Dalton, R., Burklin, W., Drummond, A.: Public opinion and direct democracy. J. Democr. 12(4), 141–153 (2001)

Dür, A., Mateo, G.: To call or not to call: political parties and referendums on the EU's constitutional treaty. Comp. Polit. Stud. 44(4), 468–492 (2011)

Emerson, M.: The uncertainty created by David Cameron's policy on EU membership may cost the UK's already troubled economy. British Politics and Policy at LSE (09 Feb 2013) Blog Entry (2013)

Finke, D., König, T.: Why risk popular ratification failure? A comparative analysis of the choice of the ratification instrument in the 25 member states of the EU. Const. Polit. Econ. 20(3), 341–365 (2009)

Garry, J., Marsh, M., Sinnott, R.: Second order versus issue voting effects in EU referendums: evidence from the Irish Nice Treaty referendums. Eur. Union Polit. 6(2), 201–221 (2005)

Grande, E.: Post-National Democracy in Europe. In: Greven, M., Louis, W. (eds.) Democracy Beyond the State: The European Dilemma and the Emerging Global Order, pp. 115–138. Rowman and Littlefield, Lanham (2000)

Grant, C.: The UK and the European Union: about Cameron's optimistic, risky and ambiguous strategy. WeltTrends-Zeitschrift für internationale Politik 89, 10–15 (2013)

Grossman, K.L.: The Electronic Republic: Reshaping Democracy in the Information Age. Viking, New York (1995)

Guerin-Pace, F.: Textual statistics. An exploratory tool for the social sciences. N. Methodol. Approaches Soc. Sci. 10(1), 73–95 (1998)

Hall, P., Taylor, R.: Political science and the three new institutionalisms. Polit. Stud. 44(5), 936–958 (1996)

Haskell, J.: Direct Democracy or Representative Government: Dispelling the Populist Myth (Boulder. Westview Press), CO (2001)

Herzog, A., Benoit, K.: The most unkindest cuts: government cohesion and economic crisis. In: Paper Presented at the Annual General Conference of the European Political Science Association (2013). http://papers.ssrn.com/sol3/papers.cfm?abstract_id=2225069

Hsieh, H.-F., Shannon, S.E.: Three approaches to qualitative content analysis. Qual. Health Res. 15(9), 1277–1288 (2005)

Hug, S.: Voices of Europe: Citizens, Referendums and European Integration. Rowman & Littlefield, Boulder, CO (2002)

Hug, S.: Occurrence and policy consequences of referendums: a theoretical model and empirical evidence. J. Theor. Polit. 16(3), 321–356 (2004)

Hug, S., Sciarini, P.: Referendums on European integration: do institutions matter in the voter's decision? Comp. Polit. Stud. 33(1), 3–36 (2000)

Jahn, D., Storsved, A.S.: 'Legitimacy Through Referendum? The Nearly Successful Domino-Strategy of the EU-Referendums in Austria, Finland, Sweden and Norway. West Eur. Polit. 18(4), 18–37 (1995)

Kaufmann, B., Waters, M.D. (eds): Direct Democracy in Europe. A Comprehensive Reference Guide to the Initiative and Referendum Process in Europe. Carolina Academic Press, Durham (2004)

King, A.: The British Constitution. Oxford University Press, Oxford (2007)

Kittilson, M.C., Scarrow, S.E.: Political Parties and the Rhetoric and Realities of Democratization. In: Cain, B.E., Dalton, R.J., Scarrow, S.E. (eds.) Democracy Transformed? Expanding Political Opportunities in Advanced Industrial Democracies, pp. 59–81. Oxford University Press, Oxford (2003)

LeDuc, L.: The Politics of Direct Democracy: Referendums in Global Perspective. Broadview Press, Peterborough (2003)

Lewins, A., Silver, C.: Using Software in Qualitative Research: A Step-by-Step guide. Sage, London (2007)

Lijphart, A.: Democracies. Patterns of Majoritarian and Consensus Government in Twenty-One Countries. Yale University Press, New Haven (1984)

Lindgren, K.O., Persson, T.: Input and output legitimacy: synergy or trade-off? Empirical evidence from an EU survey. J. Eur. Publ. Policy 17(4), 449–467 (2010)

Lindberg, L.N., Scheingold, S.A.: Europe's Would-be Polity: Patterns of Change in the European Community. Prentice-Hall, Englewood Cliffs (1970)

Locke, J.: Two Treaties of Government and a Letter Concerning Toleration. In: Shapiro, I. (ed.) Yale University Press, New Haven (1690)

Lowe, W., Benoit, K., Mikhaylov, S., Laver, M.: Scaling policy preferences from coded political texts. Legisl. Stud. Q. 36(1), 123–155 (2011)

Lupia, A.: Shortcuts versus encyclopedias: information and voting behavior in California Insurance Reform Elections. Am. Polit. Sci. Rev. 88(1), 63–76 (1994)

Magleby, D.: Direct Legislation: Voting on Ballot Propositions in the United States. John Hopkins Universty Press, Baltimore, MD (1984)

Magnette, P.: European Governance and Civic Participation: beyond elitist citizenship? Polit. Stud. 51(1), 144–160 (2003)

Morel, L.: Party attitudes towards referendums in Western Europe. West Eur. Polit. 16(3), 225–244 (1993)

Morel, L.: The rise of government-initiated referendums in consolidated democracies. In: Mendelsohn, M., Parkin, A. (eds.) Referendum Democracy: Citizens, Elites and Deliberation in Referendum Campaigns. Palgrave, New York (2001)

Morel, L.: The rise of "politically obligatory" referendums: the 2005 French referendum in comparative perspective. West Eur. Polit. 30(5), 1041–1067 (2007)

Pierson, P.: Increased returns, path dependence, and the study of politics. Am. Polit. Sci. Rev. 94(2), 251–267 (2000)

Priestley, J.: David Cameron's argument will fool no-one, and will relegate the existing EU-UK relationship to the periphery. LSE European Politics and Policy (EUROPP) Blog (23 Jan 2013) Blog Entry (2013)

Putnam, R.D.: Diplomacy and domestic politics: the logic of a two-level game. Int. Org. 42(3), 427–460 (1988)

Qvortrup, M.: A comparative study of referendums: Government by the people. Manchester University Press, Manchester (2002)

Qvortrup, M.: Democracy by delegation: the decision to hold referendums in the United Kingdom. Representation 42(1), 59–72 (2006)

Qvortrup, M.: The politics of participation: From Athens to e-democracy. Manchester University Press, Manchester (2007)

Scharpf, F. W.: Governing in Europe: effective and Democratic? Oxford University Press, Oxford, New York (1999)

Schneider, G., Weitsman, P.: The punishment trap: integration referendums as popularity contests. Comp. Polit. Stud. 28(4), 582–607 (1996)

Schonhardt-Bailey, C.: Measuring ideas more effectively: an analysis of Bush and Kerry's National Security Speeches. Polit. Sci. Polit. 38(3), 701–711 (2005)

Shepsle, K., Weingast, B.: The Institutional Foundations of Committee Power. Am. Polit. Sci. Rev. 81(1), 85–104 (1987)

Skinner, Q.: Visions of Politics. Cambridge University Press, Cambridge (2002)

Steiner, J., Bächtiger, A., Spörndli, M., Steenbergen, M.R.: Deliberative Politics in Action: Analyzing Parliamentary Discourse. Cambridge University Press, Cambridge (2004)

Toffler, A., Toffler, H.: Creating a new civilization. The politics of the third wave. Turner, Atlanta (1995)

Toulmin, S.: The Uses of Argument. Cambridge University Press, Cambridge (1969)

Tridimas, G.: Ratification through referendum or parliamentary vote: when to call a non-required referendum? Eur. J. Polit. Econ. 23, 674–692 (2007)

Wallace, W., Smith, J.: Democracy or technocracy? European integration and the problem of popular consent. West Eur Polit. 18(3), 137–157 (1995)

Weale, A., Bicquelet, A., Bara, J.: Debating Abortion: deliberative reciprocity and parliamentary advocacy. Polit. Stud. 60(3), 643–667 (2012)

Weiler, J.: The European union belongs to its citizens. Three immodest proposals. Eur. Law Rev. 22(2), 150–156 (1997)

Widfeldt, A.: Elite collusion and public defiance: Sweden's euro referendum in 2003. West Eur. Polit. 27(3), 503–518 (2004)
Acknowledgments
We thank the ESRC for a Grant to fund this work (ref: 026-27- 2431). We are also very grateful to Albert Weale, Ken Benoit, Simon Hix and Nick Allen who provided helpful comments and suggestions on our manuscript.
About this article
Cite this article
Bicquelet, A., Addison, H. How to refuse a vote on the EU? The case against the referendum in the House of Commons (1974–2010). Qual Quant 51, 2141–2162 (2017). https://doi.org/10.1007/s11135-016-0374-6
Keywords
Content analysis

Parliamentary debates

Referendum

Computer assisted text analysis