Abstract
Group concept mapping is a participatory mixed-methods approach to social and behavioral research that integrates qualitative group processes with multivariate statistical analyses to generate, structure and represent the content of a specific topic. Group concept mapping is widely recognized as a means for capturing the complexity found in social phenomena and many claim the process and results of the method are emergent. Despite these claims however, the ontological, epistemological, and methodological foundations of group concept mapping, viewed through the phenomenological lenses of complexity and emergence, have not been fully explored. Moreover, the characteristics of group concept mapping as a shared mental model lacks a clear description. This paper argues for a more precise description of collective group mental model construction and examines emergence as a critical multi-level process for found in group concept mapping. Based on this appraisal, group concept mapping can be characterized as a discontinuous compilation model that displays configural properties congruent with this typology. The phenomenon exhibited in this type of model are the result of patterned emergence processes, and concept mapping appears to exemplify several principles associated with the conceptualization of emergence. The implications for two research activities where group concept mapping is often used, theory and measure development, are discussed.
This is a preview of subscription content, log in to check access.
Access options
Buy single article
Instant access to the full article PDF.
US$ 39.95
Price includes VAT for USA
Subscribe to journal
Immediate online access to all issues from 2019. Subscription will auto renew annually.
US$ 99
This is the net price. Taxes to be calculated in checkout.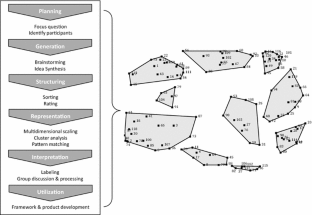 References
Akkerman, S., Van den Bossche, P., Admiraal, W., Gijselaers, W., Segers, M., Simons, R.J., et al.: Reconsidering group cognition: from conceptual confusion to a boundary area between cognitive and socio-cultural perspectives? Educ. Res. Rev. 2(1), 39–63 (2007)

Banks, A.P., Millward, L.J.: Running shared mental models as a distributed cognitive process. Br. J. Psychol. 91(4), 513–531 (2000)

Barron, B.: Achieving coordination in collaborative problem-solving groups. J. Learn. Sci. 9(4), 403–436 (2000)

Battterham, R., Southern, D., Appleby, N., Elsworth, G., Fabris, S., Dunt, D., Young, D.: Construction of a GP integration model. Soc. Sci. Med. 54, 1225–1241 (2002)

Bertin, G.: Sensemaking and social research in the analysis of educational processes: some methodological problems. Ital. J. Sociol. Educ. 5(3), 147–173 (2013)

Bickhard, M.H.: Information and representation in autonomous agents. Cogn. Syst. Res. 1(2), 65–75 (2000)

Bunge, M.: Systemism: the alternative to individualism and holism. J. Socio-Econ. 29, 147–157 (2000)

Campbell, R., Salem, D.A.: Concept mapping as a feminist research method examining the community response to rape. Psychol. Women Q. 23(1), 65–89 (1999)

Cillers, P.: What can we learn from a theory of complexity? Emergence 2(1), 23–33 (2000)

Coleman, J.S.: Social theory, social research, and a theory of action. Am. J. Sociol. 91, 1309–1335 (1986)

Conrad, K.J., Iris, M., Ridings, J.W., Langley, K., Anetzberger, G.J.: Self-report measure of psychological abuse of older adults. Gerontologist 51(3), 354–366 (2010)

Cossette, P.: Analysing the thinking of FW Taylor using cognitive mapping. Manag. Decis. 40(2), 168–182 (2002)

Dimitrov, V., Woog, R.: Making sense of social complexity through strange attractors. Proceedings of the 1st International Conference on Systems Thinking in Management, Geelong, Australia, pp. 161–164 (2000)

Fiore, S.M., Schooler, J.W.: Process mapping and shared cognition: teamwork and the development of shared problem models. In: Salas, E., Fiore, S.M. (eds.) Team Cognition: Understanding the Factors that Drive Process and Performance, pp. 133–152. American Psychological Association, Washington, DC (2004)

Fornells, A., Rodrigo, Z., Rovira, X., Sánchez, M., Santomà, R., Teixidó-Navarro, F., et al.: Promoting consensus in the concept mapping methodology: an application in the hospitality sector. Pattern Recogn. Lett. 67, 38–48 (2015)

Galvin, P.F.: Concept mapping for planning and evaluation of a big brother/big sister program. Eval. Program Plan. 12(1), 53–57 (1989)

Goldman, A.W., Kane, M.: Concept mapping and network analysis: an analytic approach to measure ties among constructs. Eval. Program Plan. 47, 9–17 (2014)

Goldstein, J.: Emergence as construct: history and issues. Emergence 1(1), 49–72 (1999)

Graham, A.L., Kerner, J.F., Quinlan, K.M., Vinson, C., Best, A.: Translating cancer control research into primary care practice: a conceptual framework. Am. J. Lifestyle Med. 2(3), 241–249 (2008)

Holmes, D., Fairchild, S., Hyer, K., Fulmer, T.: A definition of geriatric interdisciplinary teams through the application of concept mapping. Gerontol. Geriatr. Educ. 23(1), 1–11 (2003)

Hinsz, V.B.: Mental models of groups as social systems: considerations of specification and assessment. Small Group Res. 26(2), 200–233 (1995)

Hinsz, V.B., Tindale, R.S., Vollrath, D.A.: The emerging conceptualization of groups as information processors. Psychol. Bull. 121(1), 43–64 (1997)

Jackson, K.M., Trochim, W.M.K.: Concept mapping as an alternative approach for the analysis of open-ended survey responses. Organ. Res. Methods 5(4), 307–336 (2002)

Johnson, T.E., O'Connor, D.L.: Measuring team shared understanding using the analysis-constructed shared mental model methodology. Perform. Improv. Q. 21(3), 113–134 (2008)

Kane, M., Trochim, W.M.K.: Concept Mapping for Planning and Evaluation. Sage Publications, Thousand Oaks (2007)

Kane, M., Trochim, W.M.K.: Concept mapping for applied social research. In: Bickman, L., Rog, D. (eds.) The Sage Handbook of Applied Social Research Methods, pp. 435–474. Sage Publications, Thousand Oaks (2009)

Klein, K.J., Kozlowski, S.W.: From micro to meso: critical steps in conceptualizing and conducting multilevel research. Organ. Res. Methods 3(3), 211–236 (2000)

Klimoski, R., Mohammed, S.: Team mental model: construct or metaphor? J. Manag. 20(2), 403–437 (1994)

Kozlowski, S.W.J., Klein, K.J.: A multilevel approach to theory and research in organizations: contextual, temporal, and emergent processes. In: Klein, K.J., Kozlowski, S.W.J. (eds.) Multilevel theory, research, and methods in organizations: foundations, extensions, and new directions, pp. 3–90. Jossey-Bass, San Francisco (2000)

Kozlowski, S.W., Chao, G.T., Grand, J.A., Braun, M.T., Kuljanin, G.: Advancing multilevel research design capturing the dynamics of emergence. Organ. Res. Methods 16(4), 581–615 (2013)

Lemke, J.L.: Textual Politics: Discourse and Social Dynamics. Taylor & Francis, New York (2005)

Lucas, C.: Evolving an integral ecology of mind. Cortex 41, 709–725 (2005)

Marks, M.A., Mathieu, J.E., Zaccaro, S.J.: A temporally based framework and taxonomy of team processes. Acad. Manag. Rev. 26(3), 356–376 (2001)

Mathieu, J.E., Heffner, T.S., Goodwin, G.F., Salas, E., Cannon-Bowers, J.A.: The influence of shared mental models on team process and performance. J. Appl. Psychol. 85(2), 273 (2000)

Matsuov, E.: Intersubjectivity without agreement. Mind Cult. Act. 3, 25–45 (1996)

McGrath, R.E.: Conceptual complexity and construct validity. J. Pers. Assess. 85(2), 112–124 (2005)

McLinden, D.: Concept maps as network data: analysis of a concept map using the methods of social network analysis. Eval. Program Plan. 36(1), 40–48 (2013)

Meyer, A.D., Tsui, A.S., Hinings, C.R.: Configurational approaches to organizational analysis. Acad. Manag. J. 36(6), 1175–1195 (1993)

Miller, J.H., Page, S.E.: Complex Adaptive Systems. Princeton University Press, Princeton (2007)

Mohammed, S., Ferzandi, L., Hamilton, K.: Metaphor no more: a 15-year review of the team mental model construct. J. Manag. 36(4), 876–910 (2010)

Morgeson, F.P., Hofmann, D.A.: The structure and function of collective constructs: implications for multilevel research and theory development. Acad. Manag. Rev. 24(2), 249–265 (1999)

Nabitz, U., Severens, P., Van Den Brink, W., Jansen, P.: Improving the EFQM model: an empirical study on model development and theory building using concept mapping. Total Qual. Manag. 12(1), 69–81 (2001)

Quine, W.V.O.: From Stimulus to Science. Harvard University Press, Cambridge (1998)

Reis, R.S., Kelly, C.M., Parra, D.C., Barros, M., Gomes, G., Malta, D., et al.: Developing a research agenda for promoting physical activity in Brazil through environmental and policy change. Rev. Panam. Salud Publica 32(2), 93–100 (2012)

Risisky, D., Hogan, V.K., Kane, M., Burt, B., Dove, C., Payton, M.: Concept mapping as a tool to engage a community in health disparity identification. Ethn. Dis. 18(1), 77–83 (2008)

Rosas, S.R.: Concept mapping as a technique for program theory development: an illustration using family support programs. Am. J. Eval. 26(3), 389–401 (2005)

Rosas, S.R.: The utility of concept mapping for actualizing participatory research. Hispanic. J. Psychol. 12(2), 7–24 (2013)

Rosas, S.R., Ridings, J.W.: The use of concept mapping in measurement development and evaluation: application and future directions. Eval Program Plann (in press)

Sawyer, R.K.: Emergence in sociology: contemporary philosophy of mind and some implications for sociological theory. Am. J. Sociol. 107(3), 551–585 (2001)

Salomon, G. (ed.): Distributed Cognition. Cambridge University Press, Cambridge (1997)

Southern, D.M., Young, D., Dunt, D., Appleby, N.J., Batterham, R.W.: Integration of primary health care services: perceptions of Australian general practitioners, non-general practitioner health service providers and consumers at the general practice–primary care interface. Eval. Program Plan. 25(1), 47–59 (2002)

Sutherland, S., Katz, S.: Concept mapping methodology: a catalyst for organizational learning. Eval. Program Plan. 28(3), 257–269 (2005)

Trochim, W.M.K.: An introduction to concept mapping for planning and evaluation. Eval. Program Plan. 12(1), 1–16 (1989a)

Trochim, W.M.K.: Outcome pattern matching and program theory. Eval. Program Plan. 12(1), 355–366 (1989b)

Trochim, W.M.K., Cabrera, D.: The complexity of concept mapping for policy analysis. Emergence 7(1), 11–22 (2005)

Trochim, W., Linton, R.: Conceptualization for evaluation and planning. Eval. Program Plan. 9, 289–308 (1986)

Williams, B., Hummelbrunner, R.: Systems concepts in action: a practitioner's toolkit. Stanford University Press, Stanford (2011)

Yoo, Y., Kanawattanachai, P.: Developments of transactive memory systems and collective mind in virtual teams. Int. J. Organ. Anal. 9(2), 187–208 (2001)
Acknowledgments
The author thanks Martin Cloutier and Slavi Stoyanov for their suggestions on a previous draft of the manuscript.
About this article
Cite this article
Rosas, S.R. Group concept mapping methodology: toward an epistemology of group conceptualization, complexity, and emergence. Qual Quant 51, 1403–1416 (2017). https://doi.org/10.1007/s11135-016-0340-3
Keywords
Group concept mapping

Complexity

Emergence

Mental models