Abstract
Malaysia pays a great share of its gross domestic product on energy subsidies. Payment of subsidies causes some failures in the economy, such as disrupting the price mechanism and destroying allocation of resources in the economy. Removing these subsidies has important implication for sustainable development through their effects on energy consumption, price system, resource allocation and emission. This study employs a computable general equilibrium model, which is a more comprehensive method than statistical and econometric methods, to identify the long-run impacts of energy subsidy reform in the Malaysian economy, especially on poverty and income inequality across four Malaysian ethnic groups, namely Malay, Chinese, Indian, Other in both rural and urban areas, and one noncitizen household. The results of this study indicate that urban households are set to lose most from energy subsidy reform compared to rural and noncitizen households due to increased expenditure. In addition, Malay households, particularly in urban areas, lose more significantly than other household groups. This policy leads to initial increases in the overall inequality in the economy, but the increase in inequality in urban areas is greater than rural areas.
Access options
Buy single article
Instant access to the full article PDF.
USD 39.95
Price excludes VAT (USA)
Tax calculation will be finalised during checkout.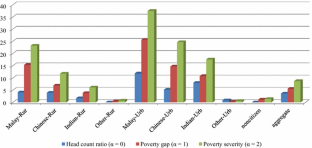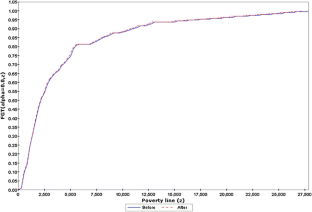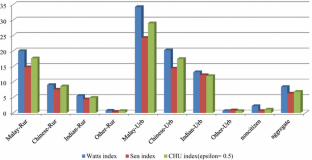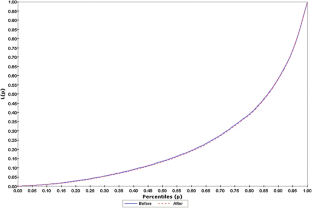 Notes
Malay is an ethnic group of Austronesian people predominantly inhabiting the Malay Peninsula and coastal Sarawak and Sabah and other Malaysia's neighbour countries. Chinese is an ethnic group that most are the descendants of Chinese who immigrated to Malaysia between the early and the mid-twentieth centuries. Indians are Malaysians of Indian origin. Many are descendants from those who migrated from India during the British colonization of Malaya. Noncitizen households are non-Malaysian people who had stayed or intended to stay in Malaysia for 6 months or more (Department of Statistics 2009). Other is a group of Malaysian population that is not classified as Malay, Chinese, Indian and noncitizen such as Orang Asli.

A household is considered poor if its income is less than its Poverty Line Index (Department of Statistics 2012).

Absolute poverty measures the poverty level of households living below minimum, socially acceptable living conditions, usually established based on nutritional requirements and other necessary goods. However, relative poverty compares the lowest groups of a population with upper group (Freguja 2013).
References
Abdul Hamid, K., Abdul Rashid, Z.: Fuel subsidy rationalization: assessing some issues at the national level. In: 27th National Economic Briefing, Malaysia 2012 (2012)

Ahluwalia, M.S., Lysy, F.J.: Welfare effects of demand management policies: impact multipliers under alternative model structures. J Policy Model 1(3), 317–342 (1979)

Boccanfuso, D., Savard, L.: Poverty and inequality impact analysis regarding cotton subsidies: a mali-based CGE: micro-accounting approach. J. Afr. Econ. 16(4), 629–659 (2007)

Breisinger, C., Engelke, W., Ecker, O.: Leveraging fuel subsidy reform for transition in Yemen. Sustainability 4, 2862–2887 (2012)

BuShehri, M.A.M., Wohlgenant, M.K.: Measuring the welfare effects of reducing a subsidy on a commodity using micro-models: an application to Kuwait's residential demand for electricity. Energy Econ. 34, 419–425 (2012)

Chala, Z.T.: Economic significance of selective export promotion on poverty reduction and inter-industry growth of Ethiopia. PhD Dissertation, State University (2010)

Clements, B., Jung, H.S., Gupta, S.: Real and distributive effects of petroleum price liberalization: the case of Indonesia. Dev. Econ. XLV-2, 220–237 (2007)

Dartanto, T.: Reducing fuel subsidies and the implication on fiscal balance and poverty in Indonesia: a simulation analysis. Energy Policy 58, 117–134 (2013)

Decaluwe, B., Savard, L.: Thorbecke E. General equilibrium approach for poverty analysis. Working Paper, CREFA, Universite Laval, Canada (2001)

Decaluwé, L.B., Savard, L., Thorbecke, E.: General equilibrium approach for poverty analysis: with an application to Cameroon. Afr. Dev. Rev. 17(2), 213–243 (2005)

del Granado, J.A., Coady, D., Gillingham, R.: The unequal benefits of fuel subsidies: a review of evidence for developing countries. World Dev. 40(11), 2234–2248 (2012)

Department of statistic: Labour Force Survey Report. Department of Statistic, Putrajaya, Malaysia (2011)

Department of Statistics: Analysis of Labour Force in Malaysia, 2010 and 2011. Department of Statistics, Putrajaya, Malaysia (2012)

Department of Statistics: Household Income and Basic Amenities Survey Report, 2009. Department of Statistics, Putrajaya, Malaysia (2009)

Duclos, J.Y., Araar, A.: Poverty and Equity: Measurement, Policy and Estimation with DAD (2002). Available at: http://www.mimap.ecn.ulaval.ca

Economic Planning Unit-EPU.: Federal Government Operating Expenditure, Putrajaya, EPU, Malaysia (2012)

Ee, K.H.: Income Distribution and Unemployment in Malaysia: A Dual Economy (CGE) Model. Ph.D. Thesis, Department of Economics, Princeton University (1982)

Fattouh, B., El-Katiri, L.: Energy subsidies in the Middle East and North Africa. Energy Strateg. Rev. 2(1), 108–115 (2013)

Firdausy, C.M.: Effects of the subsidy removal of fertilizer on rural poverty in north Sulawesi, Indonesia. Int. J. Soc. Econ. 24(1), 207–222 (1997)

Foster, J., Greer, J., Thorbecke, J.: A class of decomposable poverty measures. Econometrica 52(3), 761–766 (1984)

Freguja, C.: Measuring poverty: a matter of choice. Rivista Italiana di Economia Demografia e Statistica LXVII 2, 81–97 (2013)

Gharibnavaz, M.R., Waschik, R.: A general equilibrium analysis of alternative scenarios for food and energy subsidy reforms in Iran. In: 15th Annual Conference on Global Economic Analysis, Geneva, Switzerland, GTAP Resource #3832 (2012)

Hong, L., Liang, D., Di, W.: Economic and environmental gains of China's fossil energy subsidies reform: a rebound effect case study with EIMO model. Energy Policy 54, 335–342 (2013)

IEA, OPEC, OECD and World Bank Joint report: Analysis of the scope of energy subsidies and suggestions for the G-20 initiative. Prepared for submission to the G-20 Summit Meeting Toronto (Canada), pp. 26–27 (2010)

IEA.: Energy Prices and Taxes: Quarterly Statistics. OECD Publishing (2009)

International Institute for Sustainable Development (IISD): A citizens' guide to energy subsidies in India. The energy and resources Institute and the International Institute for sustainable development's global subsidies Initiative. Geneva, Switzerland (2012)

Jiang, Z., Tan, J.: How the removal of energy subsidy affects general price in China: a study based on input-output model. Energy Policy 63, 599–606 (2013)

Karami, A., Esmaeili, A., Najafi, B.: Assessing effects of alternative food subsidy reform in Iran. J. Policy Model. 34, 788–799 (2011)

Lin, B., Jiang, Z.: Estimates of energy subsidies in China and impact of energy subsidy reform. Energy Econ. 33, 273–283 (2011)

Liu, W., Li, H.: Improving energy consumption structure: a comprehensive assessment of fossil energy subsidies reform in China. Energy Policy 39, 4134–4143 (2011)

Lofgren, H., El-Said, M.: Food subsidies in Egypt: reform options, distribution and welfare. Food Policy 26, 65–83 (2001)

Lundborg, P.: The nexus between income distribution, trade policy, and monopoly power: an assessment of the tin market. J. Policy Model. 6(1), 69–79 (1984)

Manzoor, D., Shahmoradi, A., Haqiqi, I.: An analysis of energy price reform: a CGE approach. OPEC Energy Rev. 36(1), 35–54 (2012)

Mirshojaeian, H.H., Kaneko, S.: A general equilibrium analysis of the inflationary impact of energy subsidies reform in Iran. Dev. Discuss. Policy Pap. 2(8), 1–34 (2012)

Morgan, T.: Energy Subsidies: Their Magnitude, How they Affect Energy Investment and Greenhouse Gas Emissions, and Prospects for Reform. UNFCCC Secretariat Financial and Technical Support Programme (2007)

Naranpanawa, A., Bandara, J.S.: Poverty and growth impacts of high oil prices: evidence from Sri Lanka. Energy Policy 45, 102–111 (2012)

Nwafor, M., Ogujiuba, K., Asogwa, R.: Does Subsidy Removal Hurt the Poor? Evidence from Computable General Equilibrium Analysis. African Institute for Applied Economics, AIAE Research Paper 2 (2006)

Ramadan, R., Thomas, A.: Evaluating the impact of reforming the food subsidy program in Egypt: a mixed demand approach. Food Policy 36, 638–646 (2011)

Razack, A., Devadoss, S., Holland, D.: A general equilibrium analysis of production subsidy in a Harris-Todaro developing economy: an application to India. Appl. Econ. 41, 2767–2777 (2009)

Saunders, M., Schneider, K.: Removing energy subsidies in developing and transition economies. In: 23rd Annual IAEE International Conference, International Association of Energy Economics, Sydney, pp. 7–10 (2000)

Siddig, K., Aguiar, A., Grethe, H., Minor, P., Walmsley, T.: Impacts of removing fuel import subsidies in Nigeria on poverty. Energy Policy 69, 165–178 (2014)

Solaymani, S., Kari, F.: Environmental and economic effects of high petroleum prices on transport sector. Energy 60, 435–441 (2013)

Solaymani, S., Kari, F.: Impacts of energy subsidy reform on the Malaysian economy and transportation sector. Energy Policy 70, 115–125 (2014)

Solaymani, S., Kari, F., Zakaria, R.H.: Evaluating the role of subsidy reform in addressing poverty levels in Malaysia: a CGE poverty framework. J. Dev. Stud. 50(4), 556–569 (2014)

Solaymani, S., Kardooni, R., Yusoff, S.B., Kari, F.: The impacts of climate change policies on the transportation sector. Energy 81, 719–728 (2015a)

Solaymani, S., Kardooni, R., Kari, F., Yusoff, S.B.: Economic and environmental impacts of energy subsidy reform and oil price shock on the Malaysian transport sector. Travel Behav. Soc. 2(2), 65–77 (2015b)

Wang, T., Lin, B.: China's natural gas consumption and subsidies—from a sector perspective. Energy Policy 65, 541–551 (2014)

Yeah, K.L., Yanagida, J.F., Yamauchi, H.: Evaluation of external market effects and government intervention in Malaysia's agricultural sector: a computable general equilibrium framework. Agric. Econ. 11(2–3), 237–256 (1994)
Appendix
Appendix
See Table 7.
About this article
Cite this article
Solaymani, S. Impacts of energy subsidy reform on poverty and income inequality in Malaysia. Qual Quant 50, 2707–2723 (2016). https://doi.org/10.1007/s11135-015-0284-z
Published:

Issue Date:

DOI: https://doi.org/10.1007/s11135-015-0284-z
Keywords