Abstract
This article examines the determinants of attrition in deliberative mini-publics. We approach attrition from a social psychological and a socioeconomic perspective and draw several hypotheses. We find that age and life situation are the primary predictors of attrition, but also having a negative opinion about immigration and reluctance to expose oneself to conflicting opinions play an important role. We use data from a citizen deliberation experiment organized in Finland in 2012. The data allows us to analyze attrition in several stages of recruitment, resulting in 207 people from an initial population of 12,000 participating in a deliberation experiment. The topic of the discussions was immigration, and the experiment was designed to test the theoretical assumptions of enclave deliberation. Our results feed the ongoing discussion about equality and representation in deliberative mini-publics and highlight the importance of social psychological variables in explaining attrition.
Access options
Buy single article
Instant access to the full article PDF.
US$ 39.95
Tax calculation will be finalised during checkout.
Subscribe to journal
Immediate online access to all issues from 2019. Subscription will auto renew annually.
US$ 79
Tax calculation will be finalised during checkout.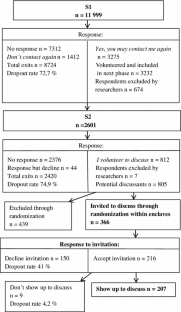 Notes
1.

The experiment was financed by the Academy of Finland and the Åbo Akademi University. It was held at that university on 31 March and 1 April 2012.

2.

Group polarization has also been experimentally studied in the field of social psychology but not in terms of enclave deliberation.

3.

See Appendix for the 14 immigration opinion items.

4.

We ran a logistic regression predicting removal by researchers at this stage. We used the available independent variables age, gender and education as predictors. None of them were statistically significant, suggesting that the theoretically motivated removals did not cause systematic distortion in the composition of volunteers in terms of these arguably relevant, although few, individual characteristics.

5.

Age groups are on a five-year interval except for the last group which includes 6 years. This operationalization attempts to provide an understandable visual portrait of the attrition–age relationship.

6.

As argued by Clifford (2012), physical disabilities are another potential hindrance to full inclusion to the deliberative process. The extent of attrition due to disabilities, however, also falls outside the boundaries of our investigation.
References
Allison, P.D.: Missing data. Sage, Thousand Oaks, CA (2001)

Carpini, M.X.D., Cook, F.L., Jacobs, L.R.: Public deliberation, discursive participation, and citizen engagement: a review of the empirical literature. Annu. Rev. Polit. Sci. 7, 315–344 (2004)

Clifford, S.: Making disability public in deliberative democracy. Contemp. Polit. Theor. 11(2), 211–228 (2012)

Conover, P.J., Searing, D.D., Crewe, I.M.: The deliberative potential of political discussion. Br. J. Polit. Sci. 32(1), 21–62 (2002)

Druckman, J.N., Green, D.P., Kuklinski, J.H., Lupia, A.: The growth and development of experimental research in political science. Am. Polit. Sci. Rev. 100(4), 627–635 (2006)

Dryzek, J.: Deliberative democracy and beyond. Liberals, critics, contestations. Oxford University Press, Oxford (2000)

Dryzek, J.S., Niemeyer, S.: Discursive representation. Am. Polit. Sci. Rev. 102(4), 481–493 (2008)

Farrar, C., Fishkin, J.S., Green, D.P., List, C., Luskin, R.C., Levy Paluck, E.: Disaggregating deliberation's effects: an experiment within a deliberative poll. Br. J. Polit. Sci. 40(2), 333–347 (2010)

Finnish National Election Study [FSD2653]. Borg, Sami, Grönlund, Kimmo, Election Study Consortium. Helsinki: Taloustutkimus, 2011. Available through The Finnish Social Science Data Archive (2011)

Fitzgerald, J., Gottschalk, P., Moffitt, R.: An Analysis of Sample Attrition in Panel Data: The Michigan Panel Study of Income Dynamics. Working Paper No. 220. National Bureau of Economic Research (1998)

Gerber, A.S., Green, D.P.: Field experiments: design, analysis, and interpretation. Norton W. W. & Company, New York, NY (2012)

Goodin, R.E.: Representing diversity. Br. J. Politi. Sci. 34, 453–468 (2004)

Goodin, R.: Innovating democracy: democratic theory and practice after the deliberative turn. Oxford University Press, New York, NY (2008)

Graham, J.W.: Missing data analysis: making it work in the real world. Annu. Rev. Psychol. 60, 549–576 (2009)

Grönlund, K., Herne, K., Setälä, M.: Deliberation within and across enclaves: knowledge and opinion changes in an experiment. Paper presented at the 71st MPSA Conference, Chicago, 11–14 April 2013 (2013)

Grönlund, K., Bächtiger, A., Setälä, M.: Deliberative mini-publics: involving citizens in the democratic process. ECPR Press, Colchester (2014)

Grönlund, K., Setälä, M., Herne, K.: Deliberation and civic virtue: lessons learned from a citizen deliberation experiment. Eur. Polit. Sci. Rev. 2(1), 95–118 (2010)

Groves, R.M.: Nonresponse rates and nonresponse bias in household surveys. Public Opin. Q. 70(5), 646–675 (2006)

Groves, R.M., Singer, E., Corning, A.: Leverage-saliency theory of survey participation. Public Opin. Q. 64(3), 299–308 (2000)

Gutmann, A., Thompson, D.: Why deliberative democracy?. Princeton University Press, Princeton, NJ (2004)

Habermas, J.: Between facts and norms: contributions to a discourse theory of law and democracy. MIT Press, Cambridge (1996)

Hausman, J.A., Wise, D.A.: Attrition bias in experimental and panel data: the Gary income maintenance experiment. Econometrica 47(2), 455–473 (1979)

Hooghe, M., Stolle, D., Mahéo, V.-A., Vissers, S.: Why can't a student be more like an average person? Sampling and attrition effects in social science field and laboratory experiments. Ann. Am. Acad. Polit. Soc. Sci. 628, 85–96 (2010)

James, M.R.: Descriptive representation in the British Columbia citizens' assembly. In: Warren, M., Pearse, H. (eds.) Designing deliberative democracy. Cambridge University Press, Cambridge (2008)

Luskin, R., Fishkin, J., Jowell, R.: Considered opinions: deliberative polling in Britain. Br. J. Polit. Sci. 32(3), 455–487 (2002)

Mansbridge, J., Bohman, J., Chambers, S., Estlund, D., Føllesdal, A., Fung, A., Lafont, C., Manin, B., Martí, J.: The place of self-interest and the role of power in deliberative democracy. J. Polit. Philos. 18(1), 64–100 (2010)

Mutz, D.: Cross-cutting social networks: testing democratic theory in practice. Am. Polit. Sci. Rev. 96(1), 111–126 (2002)

Mutz, D.: Hearing the other side: deliberative versus participatory democracy. Cambridge University Press, Cambridge (2006)

Neblo, M.A., Esterling, K.M., Kennedy, R.P., Lazer, D.M.J., Sokhey, A.E.: Who wants to deliberate—and why? Am. Polit. Sci. Rev. 104(3), 566–583 (2010)

Noelle-Neumann, E.: The spiral of silence: public opinion: our social skin. University of Chicago Press, Chicago, IL (1993)

Norris, P.: Radical right. Voters and parties in the electoral market. Cambridge University Press, Cambridge (2005)

OECD Immigration Statistics (2010). www.oecd.org. Accessed Dec 2012.

Parkinson, J.: Legitimacy problems in deliberative democracy. Polit. Stud. 51(1), 180–196 (2003)

Scheufele, D., Eveland, W.: Perceptions of "public opinion" and "public" opinion expression. Int. J. Public Opin. Res. 13(1), 25–44 (2001)

Sides, J., Citrin, J.: European opinion about immigration: the role of identities, interests and information. Br. J. Polit. Sci. 37(3), 477–504 (2007)

Smith, G.: Deliberative democracy and mini-publics. In: Newton, K., Geissel, B. (eds.) Evaluating democratic innovations: curing the democratic malaise?. Routledge, New York, NY (2012)

Smith, G., Wales, C.: Citizens' juries and deliberative democracy. Polit. Stud. 48(1), 51–65 (2000)

Sunstein, C.: The law of group polarization. J. Polit. Philos. 10(2), 175–195 (2002)

Uhrig, S.C.N.: The nature and causes of attrition in the British household panel survey. ISER Working paper series. Institute for Social and Economic Research (2008)

Ulbig, S.G., Funk, C.L.: Conflict avoidance and political participation. Polit. Behav. 21(3), 265–282 (1999)

Voogt, R.J.J., Kempen, H.V.: Nonresponse bias and stimulus effects in the Dutch national election study. Qual. Quant. 36(4), 325–345 (2002)

Warren, M., Pearse, H. (eds.): Designing deliberative democracy: the British Columbia citizens' assembly. Cambridge University Press, Cambridge (2008)

Wilson, P.A.: Deliberative planning for disaster recovery: re-membering New Orleans. J. Public Delib. 5, 1 (2008)

Wojcieszak, M., Baek, Y.M., Delli Carpini, M.X.: Deliberative and participatory democracy? Ideological strength and the processes leading from deliberation to political engagement. Int. J. Public Opin. 22(2), 154–180 (2011)

Young, I.M.: Inclusion and democracy. Oxford University Press, Oxford (2000)
Appendix
Appendix
Opinion measures are based on a sum variable calculated on the basis of the following 14 questions:
Do you think this is a bad or a good suggestion? (Scale 0–10, where 0 is a very bad suggestion, 5 is neither good or bad, 10 is a very good suggestion) 1. Finland should take more immigrants. 2. Migration of foreigners into Finland should be restricted as long as there is unemployment in Finland.
3. Do you think Finland will change into a better or a worse place to live when people from other countries move to Finland? (Scale 0–10 where 0 is "Changes into a worse place", 5 is "Changes neither to a worse nor a better place; 10 is "Changes into a better place")
What do you think about the following suggestions? ("Strongly disagree"; "Disagree"; "Agree"; "Strongly agree").
4. It is good for the Finnish economy that people from other countries move to Finland. 5. Immigrants take away jobs from Finnish natives. 6. Immigrants should have the same right to social security as Finns even if they were not Finnish citizens. 7. The state and the municipalities use too much money to aid immigrants. 8. Immigration poses a serious threat to our national originality. 9. Everyone that wants to come to Finland to live and work must be allowed to do so. 10. Immigration policy should primarily favor Christians instead of other religions. 11. Generally speaking, immigrants adapt well into the Finnish society. 12. I would be happy to have an immigrant as a co-worker. 13. I would accept an immigrant as a family member. 14. I would accept immigrants in my neighborhood.
Avoid confrontation: I avoid the company of people whose values, attitudes or opinions are different from my own; Gender: 0 = Male; 1 = Female; Age: Age in years; Education: What is the highest level of education you have completed? 0 = Comprehensive; 20 = Vocational; 40 = Matriculation; 60 = College-level vocational; 80 = Polytechnic; 1 = University.; Employment status: Which of the following best describes your life situation? Are you..? Full-time employed 0 = No; 1 = Yes. Retired 0 = No; 1 = Yes. Unemployed 0 = No; 1 = Yes. Child in household: Are there other persons in your household besides you? Number of under 18 year olds. 0 = no children; 1 = at least one child.
About this article
Cite this article
Karjalainen, M., Rapeli, L. Who will not deliberate? Attrition in a multi-stage citizen deliberation experiment. Qual Quant 49, 407–422 (2015). https://doi.org/10.1007/s11135-014-9993-y
Keywords
Deliberative democracy

Enclaves

Experimental research

Survey methodology

Attrition

Nonresponse