Abstract
To study the composition of political cultures, it is necessary to classify citizens according to a theoretical typology of political subcultures. Different methods of classification have been used for confronting this challenge, but the choice of method is rarely discussed in any detail because most studies apply a method without considering implications or possible alternatives. This is unfortunate because the choice of method has important consequences for the ensuing results. With this article, we aim to determine the implications of different methods for classification and hereby call attention to the importance of this choice for comparative research on political culture. We compare three commonly used methods of classification: critical thresholds, factor analysis and cluster analysis. These methods are used for classifying respondents from the 2008 European Social Survey according to a typology of political subcultures. Based on empirical analyses, we conclude that: (a) the choice of method of classification affects the outcome of the analysis, (b) cluster analysis and factor analysis may result in classifications that do not adequately reflect the theoretical typology, and (c) cluster analysis and factor analysis provide classifications that differ depending on analytical level. While the results do not show that either method is inherently superior, they clearly demonstrate that the choice of method should be recognized as a critical part of the research process.
Access options
Buy single article
Instant access to the full article PDF.
US$ 39.95
Tax calculation will be finalised during checkout.
Subscribe to journal
Immediate online access to all issues from 2019. Subscription will auto renew annually.
US$ 79
Tax calculation will be finalised during checkout.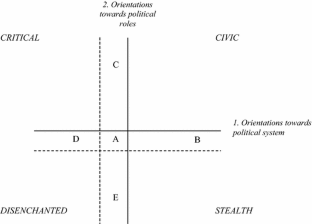 Notes
1.

2.

The Civic Culture was originally published in 1963. The page numbers refer to the 1965 paperback version.

3.

4.

Stealth citizens do not necessarily trust the existing authorities, but their ideal representative system is one where the political actors are trustworthy and their involvement is therefore unnecessary. This description has some commonalities with monitorial (Schudson 1996; Hooghe and Dejaeghere 2007) or stand-by citizens (Amnå and Ekman 2014). However, since these descriptions also rely on behavioural attributes in addition to attitudinal ones (Hooghe and Dejaeghere 2007, p. 260; Amnå and Ekman 2014, pp. 272–274) they are not applicable for the current purposes where the focus is on attitudinal attributes.

5.

We do not claim to provide an empirical assessment of the theoretical framework in Civic Culture, or indeed any other work on political culture. We merely assess the merits of the methods available for empirically operationalizing such empirical frameworks.

6.

The concordance coefficient indicates the number of cases that are classified in the same way by two or more methods divided by the total number of cases. When all cases are classified in the same way, the concordance coefficient is 1. If the coefficient is 0, all cases are classified differently by the methods.

7.

We use Denmark to illustrate the differences since Denmark when analyzing the European sample has mean values that deviate considerably from the European mean values on both dimensions. This example therefore shows the differences between the pooled and national samples in the most distinctive way.
References
Abdelzadeh, A., Ekman, J.: Understanding critical citizenship and other forms of public dissatisfaction: an alternative framework. Polit. Cult. Social. 3(1–2), 179–196 (2012)

Aldenderfer, M.S.: Cluster Analysis. Sage Publications, Thousand Oaks (1985)

Almond, G.A., Verba, S.: The Civic Culture—Political Attitudes and Democracy in Five Nations. Little, Brown and Company, Boston (1963/1965)

Amnå, E., Ekman, J.: Standby citizens: diverse faces of political passivity. Eur. Polit. Sci. Rev. 6, 261–281 (2014)

Bailey, K.D.: Typologies and Taxonomies—An Introduction to Classification Techniques. Sage Publications, London (1994)

Bethlehem, J., Medrano, J.D., Groves, R.M., Gundelach, P., Norris, P.: Report of the Review Panel for the European Social Survey. European Science Foundation, Standing Committee for Social Sciences (SCSC). http://www.europeansocialsurvey.org/docs/about/ESS_review_panel_report.pdf (2008). Accessed 22 Feb 2014

Byrne, D.: Cluster Analysis. Sage Publications, London (2012)

Child, D.: Essentials of Factor Analysis. Continuum International Publishing Group, London (2006)

Dalton, R.J.: Democratic Challenges, Democratic Choices—The Erosion of Political Support in Advanced Industrial Democracies. Oxford University Press, Oxford (2004)

Denk, T.: Politisk kultur [Political Culture]. Liber, Malmö (2009)

Diamond, L.: Developing Democracy—Toward Consolidation. The John Hopkins University Press, Baltimore (1999)

Geissel, B.: Reflections and findings on the critical citizens: civic education—what for? Eur. J. Polit. Res. 47, 34–63 (2008)

Gerring, J.: Social Science Methodology: A Unified Framework. Cambridge University Press, Cambridge (2012)

Goertz, G., Mahoney, J.: A Tale of Two Cultures—Qualitative and Quantitative Research in the Social Sciences. Princeton University Press, Princeton (2012)

Gorsuch, R.L.: Factor Analysis. Taylor and Francis, London (2013)

Hay, C.: Why We Hate Politics. Polity, Cambridge (2007)

Hay, C., Stoker, G.: Revitalising Politics: Have We lost the Plot? Representation 45(3), 225–236 (2009)

Hibbing, J.R., Theiss-Morse, E.: Stealth Democracy—Americans' Beliefs About How Government Should Work. Cambridge University Press, Cambridge (2002)

Hooghe, M., Dejaeghere, Y.: Does the 'Monitorial Citizen' exist? An empirical investigation into the occurrence of postmodern forms of citizenship in the Nordic countries. Scand. Polit. Stud. 30(2), 249–271 (2007)

Inglehart, R.: The renaissance of political culture. Am. Polit. Sci. Rev. 82(04), 1203–1230 (1988)

Inglehart, R.: Modernization and Postmodernization—Cultural, Economic, and Political Chance in 43 Societies. Princeton University Press, Princeton (1997)

Inglehart, R., Welzel, W.: Modernization, Cultural Change, and Democracy—The Human Development Sequence. Cambridge University Press, Cambridge (2005)

Jackman, R.W., Miller, R.A.: A renaissance of political vulture? Am. J. Polit. Sci. 40, 632–659 (1996)

Johnson, J.: Conceptual problems as obstacles to progress in political science: four decades of political culture research. J. Theor. Polit. 15(1), 87–115 (2003)

Kim, J.-O.: Factor Analysis—Statistical Methods and Practical Issues. Sage Publications, Thousand Oaks (1979)

Laitin, D.D.: The civic culture at 30. Am. Polit. Sci. Rev. 89(1), 168–173 (1995)

Lane, R.: Political cultural: residual category or general theory. Comp. Polit. Stud. 25(3), 362–368 (1992)

Linz, J.J., Stepan, A.: Problems of Democratic Transition and Consolidation—Southern Europe, South America, and Post-Communist Europe. Johns Hopkins University Press, Baltimore (1996)

Mainwaring, S., Pérez-Liñán, A.: Democracies and Dictatorships in Latin America: Emergence, Survival, and Fall. Cambridge University Press, Cambridge (2013)

Norris, P. (ed.): Critical Citizens—Global Support for Democratic Government. Oxford University Press, Oxford (1999)

Norusis, M.: IBM SPSS Statistics 19 Statistical Procedures Companion. Addison Wesley, Boston (2011)

Patrick, G.: Political culture. In: Sartori, G. (ed.) Social Science Concept: A Systematic Analysis, pp. 265–314. Sage Publications, Beverly Hills (1984)

Pettai, V.: Studying political culture in post-Communist Europe. In: Berglund, S., Henningsen, B., Schartau, M.-B. (eds.) Political Culture: Values and Identities in the Baltic Sea Region, pp. 83–97. Berliner Wissenschafts-Verlag, Berlin (2006)

Putnam, R.D.: Making Democracy Work: Civic Traditions in Modern Italy. Princeton University Press, Princeton (1993)

Rosanvallon, P.: Counter-Democracy—Politics in the Age of Distrust. Cambridge University Press, Cambridge (2008)

Rose, R., Mishler, W., Haerpfer, C.: Democracy and Its Alternatives—Understanding Post-Communist Societies. The Johns Hopkins University Press, Baltimore (1998)

Schneider, C.Q., Wagnemann, C.: Set-Theoretic Methods for the Social Sciences—A Guide to Qualitative Comparative Analysis. Cambridge University Press, Cambridge (2012)

Schudson, M.: What if civic life didn't die? Am. Prospect 25, 17–20 (1996)

Stoker, G.: Why Politics Matters—Making Democracy Work. Palgrave Macmillan, Basingstoke (2006)

Stoker, G.: The rise of political disenchantment. In: Hay, C. (ed.) New Directions in Political Science: Responding to the Challenges of an Interdependent World, pp. 43–63. Basingstoke, Palgrave Macmillan (2010)

Street, J.: Political culture: from civic culture to mass culture. Br. J. Polit. Sci. 24(1), 95–114 (1994)

van de Vijver, F., Leung, K.: Methods and Data Analysis for Cross-Cultural Research. Sage Publications, London (1997)

Wilson, R.W.: The many voices of political culture: assessing different approaches. World Polit. 52(2), 246–273 (2000)
About this article
Cite this article
Denk, T., Christensen, H.S. How to classify political cultures? A comparison of three methods of classification. Qual Quant 50, 177–191 (2016). https://doi.org/10.1007/s11135-014-0143-3
Keywords
Methods of classification

Political culture

Cluster analysis

Factor analysis

Critical thresholds

Comparative survey analysis