Abstract
This study presents a theoretical and operational framework for analysing repeat visit to museums. Starting from the literature on repeat visit in tourism, the specificities of these cultural attractions are made explicit through a review of theoretical and applied works. Consistently with previous contributors, the paper suggests that the analysis of actual past behaviours has to be preferred to the one of attitudes. The application of proper econometric models is also remarked in order to put into account individual profiles. Information coming from three techniques is then used in an integrated way in order to provide a more comprehensive view of the phenomenon. Evidence from an ad hoc survey suggests the necessity to give a greater attention to perceived cultural value during the visit, promoting cultural events during the week and addressed to children, and taking care of those visitors that come from far places also through an integrated tourist supply.
Access options
Buy single article
Instant access to the full article PDF.
USD 39.95
Price excludes VAT (USA)
Tax calculation will be finalised during checkout.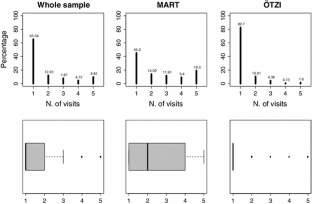 References
Ajzen, I., Fishbein, M.: Understanding attitudes and predicting social behavior. Prentice-Hall, Englewood Cliffs (1980)

Ajzen, I.: The theory of planned behavior. Organ. Behav. Hum. Decis. Process. 50, 179–211 (1991)

Alegre, J., Cladera, M.: Repeat visitation in mature sun and sand holiday destinations. J. Travel Res. 44(3), 288–297 (2006)

Anwar, S.A., Sohail, M.S.: Festival tourism in the United Arab Emirates: first-time versus repeat visitor perceptions. J. Vacat. Mark. 10(2), 161–170 (2004)

Assaker, G., Hallak, R.: European travelers' return likelihood and satisfaction with Mediterranean sun-and-sand destinations: a Chi-square automatic identification detector-based segmentation approach. J. Vacat. Mark. 18(2), 105–120 (2012)

Assaker, G., Esposito Vinzi, V., O'Connor, P.: Examining the effect of novelty seeking, satisfaction, and destination image on tourists' return pattern: a two factors, non-linear latent growth model. Tour. Manag. 32(4), 890–901 (2011)

Backman, S.J., Crompton, J.L.: The usefulness of selected variables for predicting activity loyalty. Leis. Sci. 13(3), 205–220 (1991a)

Backman, S.J., Crompton, J.L.: Differentiating between high, spurious, latent, and low loyalty participants in two leisure activities. J. Park Recreat. Adm. 9(2), 1–17 (1991b)

Beatty, S.E., Kahle, L.R.: Alternative hierarchies of the attitude-behavior relationship: the impact of brand commitment and habit. J. Acad. Mark. Sci. 16(2), 1–10 (1988)

Bennett, T., Emison, M., Frow, J.: Accounting for Tastes: Australian Everyday Cultures. Cambridge University Press, Cambridge (1999)

Bestard, A.B., Font, E.R.: Estimating the aggregate value of forest recreation in a regional context. J. For. Econ. 16(3), 205–216 (2010)

Blattberg, R.C., Sen, S.K.: Market segments and stochastic brand choice bodels. J. Mark. Res. 13(1), 34–45 (1976)

Bourdeau, P.: Cultural reproduction and social reproduction. In: Brown, R. (ed.) Knowledge, Education and Social Change: Papers in the Sociology of Education, pp. 71–112. Tavistock Publications, Tavistock (1973)

Bowen, J., Chen, S.: The relationship between customer loyalty and customer satisfaction. Int. J. Contemp. Hosp. Manag. 13(5), 213–217 (2001)

Brida, J.G., Coletti, P.: Tourist's intention of returning to a visited destination: cruise ship passengers in Cartagena de Indias. Colombia. Tour. Mar. Environ. 8(3), 127–143 (2012)

Brida, J.G., Scuderi, R.: Determinants of tourist expenditure: a review of microeconometric models. Tour. Manag. Perspectiv. 6, 28–40 (2013)

Brida, J.G., Disegna, M., Scuderi, R.: The visitors' perception of authenticity at the museums: archaeology versus modern art. Curr. Issues Tour. (2012a). doi:10.1080/13683500.2012.742042

Brida, J.G., Meleddu, M., Pulina, M.: Factors influencing the intention to revisit a cultural attraction: the case study of the museum of modern and contemporary art in Rovereto. J. Cult. Herit. 13(2), 167–174 (2012b)

Brida, J.G., Pereyra, J.S., Scuderi, R.: Repeat tourism in Uruguay: modelling truncated distributions of count data. Qual. Quant. (2012c). doi:10.1007/s11135-012-9782-4

Brida, J.G., Pulina, M., Riaño, E., Zapata Aguirre, S.: Cruise visitors' intention to return as land tourists and to recommend a visited destination. Anatolia 23(3), 395–412 (2012)

Burton, C., Louviere, J., Young, L.: Retaining the visitor, enhancing the experience: identifying attributes of choice in repeat museum visitation. Int. J. Nonprofit Volunt. Sect. Mark. 14(1), 21–34 (2009)

Cameron, A.C., Trivedi, P.K.: Microeconometrics: Methods and Applications. Cambridge University Press, Cambridge (2005)

Campo-Martínez, S., Garau-Vadell, J.B., Martínez-Ruiz, M.P.: Factors influencing repeat visits to a destination: the influence of group composition. Tour. Manag. 31(6), 862–870 (2010)

Chi, C.: An examination of destination loyalty: differences between first-time and repeat visitors. J. Hosp. Tour. Res. 36(1), 3–24 (2012)

Chi, C., Qu, H.: Examining the structural relationships of destination image, tourist satisfaction and destination loyalty: an integrated approach. Tour. Manag. 29(4), 624–636 (2008)

Copeland, M.T.: Relation of consumer's buying habits to marketing methods. Harv. Bus. Rev. 1(3), 282–289 (1923)

Correia, A., Pestana Barros, C., Silvestre, A.L.: Golf tourism repeat choice behaviour in the Algarve: a mixed logit approach. Tour. Econ. 13(1), 111–127 (2007)

Correia, A., Kozak, M., Ferradeira, J.: Impact of culture on tourist decision-making styles. Int. J. Tour. Res. 13(5), 433–446 (2011)

Court, B., Lupton, D.: Customer portfolio development: modeling destination adopters, inactives, and rejecters. J. Travel Res. 36, 35–43 (1997)

Cunningham, R. M.: Brand loyalty-what, where, how much? Harv. Bus. Rev. 34 (January–February), 116–128 (1956)

D'Agata, R., Gozzo, S., Tomaselli, V.: Network analysis approach to map tourism mobility. Qual. Quant. (2012). doi:10.1007/s11135-012-9710-7

Day, G.S.: A two-dimensional concept of brand loyalty. J. Advert. Res. 9(3), 29–35 (1969)

Dick, A.S., Basu, K.: Customer loyalty: toward an integrated conceptual framework. J. Acad. Mark. Sci. 22(2), 99–113 (1994)

Engel, J.F., Blackwell, R.D., Kollat, D.T.: Consumer Behavior. Dryden Press, Hinsdale (1978)

Englin, J., Shonkwiler, J.S.: Modelling recreation demand in the presence of unobservable travel costs: toward a travel price model. J. Environ. Econ. Manag. 29(3), 368–377 (1995)

Ennew, C., Binks, M.R.: The impact of service quality and service characteristics on customer retention: small business and their banks in UK. Br. J. Manag. 7(3), 219–230 (1996)

Farley, J.U.: Why does "brand loyalty" vary over products? J. Mark. Res. 1(4), 9–14 (1964)

Fornell, C., Wernerfelt, B.: Defensive marketing strategy by customer complaint management: a theoretical analysis. J. Mark. Res. 24(November), 337–346 (1987)

Fyfe, G.: Reproductions, cultural capital and museums: aspects of the culture of copies. Mus. Soc. 2(1), 47–67 (2004)

Gitelson, R.J., Crompton, J.L.: Insights into the repeat vacation phenomenon. Ann. Tour. Res. 11, 199–217 (1984)

Gómez, M., Molina, A., Esteban, Á.: What are the main factors attracting visitors to wineries? A PLS multi-group comparison. Qual. Quant. (2012). doi:10.1007/s11135-012-9676-5

Goodall, B.: How tourists choose their holidays: an analytical framework. In: Goodall, B., Ashworth, G. (eds.) Marketing in the Tourism Industry, pp. 1–17. Croom Helm, London (1988)

Hellerstein, D.M.: Using count data models in travel cost analysis with aggregate data. Am. J. Agric. Econ. 73(3), 860–866 (1991)

Hellström, J., Nordström, J.: A count data model with endogenous household specific censoring: the number of nights to stay. Empir. Econ. 35(1), 179–192 (2008)

Henry, C.D.: Is customer loyalty a pernicious myth? Bus. Horiz. 43(4), 13–16 (2000)

Hepworth, M., Mateus, P.: Connecting customer loyalty to the bottom line. Can. Bus. Rev. 21(4), 40–43 (1994)

Herreman, Y.: Museums and tourism: culture and consumption. Mus. Int. 50(3), 4–12 (1998)

Heung, V.C.S., Mok, C., Kwan, A.: Brand loyalty in hotels: an exploratory study of overseas visitors to Hong Kong. Aust. J. Hosp. Manag. 3(1), 1–11 (1996)

Hong, S.K., Lee, S.W., Lee, K.S., Jang, H.: Selecting revisited destinations. Ann. Tour. Res. 36(2), 268–294 (2009)

Huang, S., Hsu, C.H.C.: Effects of travel motivation, past experience, perceived constraint, and attitude on revisit intention. J. Travel Res. 48(1), 29–44 (2009)

Hughes, H.L.: Culture and tourism: a framework for further analysis. Manag. Leis. 7(3), 164–175 (2002)

Hynes, S., Hanley, N., O'Donoghue, C.: Alternative treatments of the cost of time in recreational demand models: an application to whitewater kayaking in Ireland. J. Environ. Manag. 90(2), 1014–1021 (2009)

Jacoby, J., Chestnut, R.W.: Brand Loyalty: Measurement and Management. Wiley, New York (1978)

Jang, S.C., Feng, R.: Temporal destination revisit intention: the effects of novelty seeking and satisfaction. Tour. Manag. 28(2), 580–590 (2007)

Koenker, R., Bassett Jr, G.S.: Regression quantiles. Econometrica 46(1), 33–50 (1978)

Kotler, P.: Marketing Management. Prentice Hall, Englewood Cliffs (1991)

Kozak, M.: Repeaters' behavior at two distinct destinations. Ann. Tour. Res. 28(3), 784–807 (2001)

Kozak, M., Huan, T.C., Beaman, J.: A systematic approach to non-repeat and repeat travel. J. Travel Tour. Mark. 12(4), 19–38 (2002)

Lau, A.L.S., McKercher, B.: Exploration versus acquisition: a comparison of first-time and repeat visitors. J. Travel Res. 42(3), 279–285 (2004)

Lee, T.H.: A structural model to examine how destination image, attitude, and motivation affect the future behavior of tourists. Leis. Sci. 31(3), 215–236 (2009)

Li, X., Cheng, C.K., Kim, H., Petrick, J.F.: A systematic comparison of first-time and repeat visitors via a two-phase online survey. Tour. Manag. 29(2), 278–293 (2008)

Li, M., Cai, L.A., Lehto, X.Y., Huang, J.: A missing link in understanding revisit intention—the role of motivation and image. J. Travel Tour. Mark. 27(4), 335–348 (2010)

Lin, L.Z., Hsu, T.H.: The analysis of risk perception with fuzzy means-end approach. Qual. Quant. 47(2), 713–734 (2011)

MacDonald, G., Alsford, S.: Canadian museums and the representation of culture in a multicultural museum. Cult. Dyn. 7(1), 15–36 (1995)

Machado, J.A.F., Santos Silva, J.M.C.: Quantiles for counts. J. Am. Stat. Assoc. 100(472), 1226–1237 (2005)

Mazursky, D.: Past experience and future tourism decisions. Ann. Tour. Res. 16(3), 333–344 (1989)

McFadden, D.: Conditional logit analysis of qualitative choice behavior. In: Zarembka, P. (ed.) Frontiers in Econometrics, pp. 105–142. Academic Press, New York (1974)

McIntosh, A.J., Prentice, R.C.: Affirming authenticity: consuming cultural heritage. Ann. Tour. Res. 26(3), 589–612 (1999)

McKercher, B.: A comparative study of international cultural tourists. J. Hosp. Tour. Manag. 11(2), 95–107 (2004)

McKercher, B., Tse, T.S.M.: Is intention to return a valid proxy for actual repeat visitation? J. Travel Res. 51(6), 671–686 (2012)

McKercher, B., Denizci-Guillet, B., Ng, E.: Rethinking loyalty. Ann. Tour. Res. 39(2), 708–734 (2012)

Meis, S., Joyal, S., Trites, A.: The U.S. repeat and VFR visitor to Canada: come again, Eh!. J. Tour. Studi. 6(1), 27–37 (1995)

Moniz, A.I.: A dynamic analysis of repeat visitors. Tour. Econ. 18(3), 505–517 (2012)

Niininen, O., Szivas, E., Riley, M.: Destination loyalty and repeat behaviour: an application of optimum stimulation measurement. Int. J. Tour. Res. 6(6), 439–447 (2004)

Oh, H.: Service quality, customer satisfaction, and customer value: a holistic perspective. Int. J. Hosp. Manag. 18, 67–82 (1999)

Oliver, R.: Satisfaction: a behavioral perspective on the consumer. McGraw-Hill Companies Inc., New York (1997)

Oom do Valle, P., Silva, J.A., Mendes, J., Guerreiro, M.: Tourist satisfaction and destination loyalty intention: a structural and categorical analysis. Int. J. Bus. Sci. Appl. Manag. 1(1), 25–44 (2006)

Oom do Valle, P., Correia, A., Rebelo, E.: Determinants of tourism return behaviour. Tour. Hosp. Res. 8(3), 205–219 (2008)

Oppermann, M.: Visitation of tourism attractions and tourist expenditure patterns—repeat versus first-time visitors. Asia Pac. J. Tour. Res. 1(1), 61–68 (1996)

Oppermann, M.: First-time and repeat visitors to New Zealand. Tour. Manag. 18(3), 177–181 (1997)

Oppermann, M.: Predicting destination choice—a discussion of destination loyalty. J. Vacat. Mark. 5(1), 51–65 (1999)

Oppermann, M.: Where psychology and geography interface in tourism research and theory. In: Woodside, A.G., Crouch, G.I., Mazanec, J.A., Oppermann, M., Sakai, M.Y. (eds.) Consumer psychology of tourism, hospitality and leisure, pp. 19–38. Cabi, Oxon (2000a)

Oppermann, M.: Tourism destination loyalty. J. Travel Res. 39(1), 78–84 (2000b)

Osti, L., Disegna, M., Brida, J.G.: Repeat visits and intentions to revisit a sporting event and its nearby destinations. J. Vacat. Mark. 18(1), 31–42 (2012)

Pessemier, E.A.: A new way to determine buying decisions. J. Mark. 24(2), 41–46 (1959)

Pestana Barros, C., Assaf, A.G.: Analyzing tourism return intention to an urban destination. J. Hosp. Tour. Res. 36(2), 216–231 (2012)

Petrick, J.F.: First timers' and repeaters' perceived value. J. Travel Res. 43(1), 29–38 (2004)

Reichheld, F.F.: The Loyalty Effect: The Hidden Force Behind Growth, Profits, and Lasting Value. Harvard Business School Press, Boston (1996)

Rittichainuwat, B.N., Qu, H., Mongkhonvanit, C.: Understanding the motivation of travelers on repeat visits to Thailand. J. Vacat. Mark. 14(1), 5–21 (2008)

Rodríguez-Santos, M.C., González-Fernández, A.M., Cervantes-Blanco, M.: Weak cognitive image of cultural tourism destinations. Qual. Quant. 47(2), 881–895 (2013)

Rojek, C.: Decentring Leisure. Sage, London (1995)

Rojek, C.: Leisure and Culture. Macmillan Press, London (2000)

Ryan, C.: Learning about tourists from conversations: the over-55s in Majorca. Tour. Manag. 16(3), 207–216 (1995)

Schouten, F.: Cultural tourism: between authenticity and globalization. In: Richards, G. (ed.) Cultural tourism: Global and Local Perspectives, pp. 25–37. Haworth Hospitality Press, Binghamton (2007)

Schuster, M.D.: The audience for American art museums. National endowment for the arts research division report #23. NEA, Washington (1991)

Shoemaker, S., Bowen, J.T.: Commentary on loyalty: A strategic commitment. Cornell Hotel Restaur. Adm. Q. 44(5–6), 47–52 (2003)

Silberberg, T.: Cultural tourism and business opportunities for museums and heritage sites. Tour. Manag. 16(5), 361–365 (1995)

Stebbins, R.A.: Casual leisure: A conceptual statement. Leis. Studi. 16(1), 17–25 (1997)

Stebbins, R.A.: Serious Leisure: A Perspective for Our Time. Transaction, New Brunswick (2007)

Stevens, W.L.: Fiducial limits of the parameter of a discontinuous distribution. Biometrika 37(1–2), 117–129 (1950)

Stylianou-Lambert, T.: Gazing from home: cultural tourism and art museums. Ann. Tour. Res. 38(2), 403–421 (2011)

Tiefenbacher, J.P., Day, F.A., Walton, J.A.: Attributes of repeat visitors to small tourist-oriented communities. Soc. Sci. J. 37(2), 299–308 (2000)

Um, S., Chon, K., Ro, Y.: Antecedents of revisit intention. Ann. Tour. Res. 33(4), 1141–1158 (2006)

Wall, G., Nuryanti, W.: Marketing challenges and opportunities facing Indonesian tourism. J. Travel Tour. Mark. 6(1), 69–84 (1997)

Weber, K.: Association meeting planners' loyalty to hotel chains. Int. J. Hosp. Manag. 20(3), 259–275 (2001)

Woodside, A.G., MacDonald, R.: General systems framework of customer choice processes for tourism services. In: Gasser, R.V., Weiermair, K. (eds.) Spoilt for Choice. Decision Making Processes and Preference Changes of Tourists—Intertemporal and Intercountry Perspectives, pp. 30–59. Kulturverlag, Thaur (1994)

Yoon, Y., Uysal, M.: An examination of the effects of motivation and satisfaction on destination loyalty: a structural model. Tour. Manag. 26(1), 45–56 (2005)

Zins, A.: Relative attitudes and commitment in customer loyalty models: some experiences from the commercial airline industry. Int. J. Serv. Ind. Manag. 12(3), 269–294 (2001)
Acknowledgments
This research was supported by the Autonomous Province of Bolzano project 'Le attrazioni culturali e naturali come motore dello sviluppo turistico. Un'analisi del loro impatto economico, sociale e culturale', and by the Free University of Bolzano projects 'Determinants of tourist expenditure: theory and microeconometric models', 'Tourism and Economic Growth: the Role of Transportations and Spatial Contiguity', 'The museums' visitors: a comparative socio-economic analysis', and 'STTOBS'. A preliminary version of this paper was presented at the conferences 'Il turismo culturale europeo—Prospettive verso il 2020' (Cultural Tourism in Europe—Perspectives towards 2020), organized by CESTIT and SISTUR (Italian Society for Tourism) in Bergamo (Italy), 15–16 November 2012, and CBTS 2012, Consumer Behaviour in Tourism Symposium, held in Brunico (Italy), 10–13 December 2012.
About this article
Cite this article
Brida, J.G., Disegna, M. & Scuderi, R. The behaviour of repeat visitors to museums: review and empirical findings. Qual Quant 48, 2817–2840 (2014). https://doi.org/10.1007/s11135-013-9927-0
Published:

Issue Date:

DOI: https://doi.org/10.1007/s11135-013-9927-0
Keywords