Abstract
The current study's explored if and how psychosocial resources of employability contribute to mental health of dismissed workers. Degree of outplacement services use, perceived employability and perceived organizational lay-off justice were examined as mediators of the relation between personal employability and mental health. The research involved dismissed workers in the pharmaceutical industry, who joined programs of re-employment sponsored by companies. Structural equation results showed that the lay off workers with higher personal employability were less likely to have mental health deterioration. Furthermore psychosocial resources of personal employability directly increased perceptions of having job available alternatives and was indirectly associated with a higher degree of use of outplacement programs, but these variables didn't mediate the relation with mental health. Lay-off justice had a direct positive impact on mental health, but it was not relate with employability. Our study contributes to understand some psychological processes that can affect the decision to utilise outplacement programs and offers suggestions for employability profiling.
Access options
Buy single article
Instant access to the full article PDF.
USD 39.95
Price excludes VAT (USA)
Tax calculation will be finalised during checkout.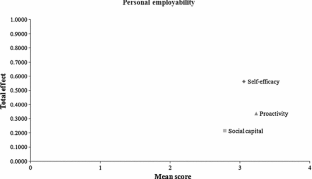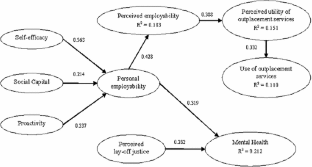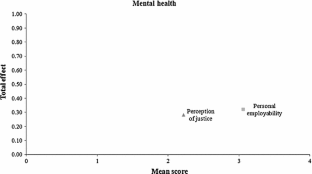 References
Agarwal, R., Karahanna, E.: Time flies when you're having fun: cognitive absorption and beliefs about information technology usage. MIS Q. 24–4, 665–694 (2000)

Ajzen, I.: Nature and operation of attitudes. Annu. Rev. Psychol. 52, 27–58 (2001)

Ashford, S.J., Taylor, M.S.: Adaptation to work transitions: an integrative approach. In: Ferris, G.R., Rowland, K.M. (eds.) Research in Personnel and Human Resources Management, vol. 8, pp. 1–39. CT: JAI Press, Greenwich (1990)

Bandura, A.: Social cognitive theory of self-regulation. Organ. Behav. Hum. Decis. Process 50, 248–287 (1991)

Bandura, A.: Self-Efficacy: The Exercise of Control. Freeman, New York (1997)

Bandura, A.: Social cognitive theory: an agentic perspective. Annu. Rev. Psychol. 52, 1–26 (2001)

Bateman, T., Crant, J.: The proactive component of organizational behavior. J. Organ. Behav. 14, 103–118 (1993)

Berntson, E., Marklund, S.: The relationship between perceived employability and subsequent health. Work Stress 21, 279–292 (2007)

Berntson, E., Naswall, K., Sverke, M.: Investigating the relationship between employability and self-efficacy. A cross-lagged analysis. Eur. J. Work. Organ. Psychol. 17, 413–425 (2008)

Berntson, E., Sverke, M., Marklund, S.: Predicting perceived employability: human capital or labour market opportunities? Econ. Ind. Democr. 27, 223–244 (2006)

Brockner, J., Konovsky, M., Cooper-Schneider, R., Folger, R., Martin, C., Bies, R.J.: Interactive effects of procedural justice and outcome negativity on victims and survivors of job loss. Acad. Manag. J. 37–2, 397–409 (1994)

Chin, W.W.: The partial least squares approach to structural equation modelling. In: Marcoulides, G.A. (ed.) Modern Methods for Business Research, pp. 295–336. Lawrence Erlbaum, Mahwah (1998)

Chin, W.W.: How to write up and report pls analyses. In: Esposito Vinzi, V., Chin, W.W., Henseler, J., Wang, H. (eds.) Handbook of Partial Least Squares. Concepts, Methods and Applications, pp. 655–690. Springer Handbooks of Computational Statistics, New York (2010)

Chin, W.W., Gopal, A.: Adoption intention in gss: relative importance of beliefs. Database Adv. Inf. Syst. 26–2, 42–64 (1995)

Chin, W.W., Marcolin, B.L., Newsted, P.N.: A partial least square latent variable modelling approach for measuring interaction effects: results from a Monte Carlo simulation study and an electronic-mail emotion/adoption study. Inf. Syst. Res. 14–2, 189–217 (2003)

Colquitt, A.J.: On the dimensionality of organizational justice: a construct validation of a measure. J. Appl. Psychol. 86–3, 386–400 (2001)

Colquitt, J.A., Conlon, D.E., Wesson, M.J., Porter, C.O.L.H., Ng, K.Y.: Justice at the millennium: a meta-analytic review of 25 years of organizational justice research. J. Appl. Psychol. 86–3, 425–445 (2001)

Creed, P.A., Fallon, T., Hood, M.: The relationship between career adaptability, person and situation variables, and career concerns in young adults. J. Vocat. Behav. 74, 219–229 (2009)

Cropanzano, R., Stein, J.H.: Organizational justice and behavioral ethics: promises and prospects. Bus. Ethics Q. 19–2, 193–233 (2009)

De Cuyper, N., Bernhard-Oettel, C., Berntson, E., De Witte, H., Alarco, B.: Employability and employees' well-being: mediation by job insecurity. Int. Rev. Appl. Psychol. 57, 488–509 (2008)

De Cuyper, N., Van der Heijden, B.I.J.M., De Witte, H.: Associations between perceived employability, employee well-being, and its contribution to organizational success: a matter of psychological contracts? Int. J. Hum. Resour. Manag. 22, 1486–1503 (2011)

Defillipi, R.J., Arthur, M.B.: The boundaryless career: a competency based perspective. J. Organ. Behav. 15–4, 307–324 (1994)

Duarte, P.A.O., Raposo, M.L.B.: A PLS model to study brand preference. In: Esposito Vinzi, V., Chin, W.W., Henseler, J., Wang, H. (eds.) Handbook of Partial Least Squares. Concepts, Methods and Applications, pp. 449–486. Springer Handbooks of Computational Statistics, New York (2010)

Efron, B., Tibshirani, R.J.: An Introduction to the Bootstrap. Chapman and Hall/CRC, New York (1998)

Esposito Vinzi, V., Chin, W.W., Henseler, J., Wang, H.: Handbook of Partial Least Squares. Concepts, Methods and Applications. pringer Handbooks of Computational Statistics, New York (2010)

Folger, R., Cropanzano, R.: Fairness theory: justice as accountability. In: Greenberg, J., Cropanzano, R. (eds.) Advances in Organizational Justice, pp. 1–55. Stanford University Press, Palo Alto (2001)

Forrier, A., Sels, L., Stynen, D.D.: Career mobility at the intersection between agent and structure: a conceptual model. J. Occup. Organ. Psychol. 82, 739–759 (2009)

Fugate, M.: Employability in the new millennium. In: Greenhaus, J.H., Callanan, G.A. (eds.) Encyclopedia of Career Development. Sage, Thousand Oaks (2006)

Fugate, M., Kinicki, A.J.: A dispositional approach to employability: development of a measure and test of implications for employee reactions to organizational change. J. Occup. Organ. Psychol. 81, 503–527 (2008)

Fugate, M., Kinicki, A.J., Ashforth, B.E.: Employability: a psycho-social construct, its dimensions, and applications. J. Vocat. Behav. 65–1, 14–38 (2004)

Fuller, B., Marler, L.E.: Change driven by nature: a meta-analytic review of the proactive personality literature. J. Vocat. Behav. 75, 329–345 (2009)

Hall, D.T.: The protean career: a quarter-century journey. J. Vocat. Behav. 65, 1–13 (2004)

Hall, D.T., Chandler, D.E.: Psychological success: when the career is a calling. J. Organ. Behav. 26, 155–176 (2005)

Hellgren, J., Sverke, M.: Does job insecurity lead to impaired well-being or vice versa? Estimation of cross-lagged effects using latent variable modelling. J. Organ. Behav. 24, 215–236 (2003)

Henseler, J., Ringle, C.M., Sinkovics, R.R.: The use of partial least squares path modelling in international marketing. In: Sinkovics, R.R., Ghauri, P.N. (eds.) Advances in International Marketing, vol. 20. Emerald, Bingley (2009)

Jöreskog, K.G., Sorbom, D.: lisrel 8.8 for Windows [computer software], Scientific Software, International (2006)

Judge, T.A., Erez, A., Bono, J.E., Thoresen, C.J.: Are measures of self-esteem, neuroticism, locus of control, and generalized self-efficacy indicators of a common core construct? J. Pers. Soc. Psychol. 83, 693–710 (2002)

Karsten, I.P., Moser, K.: Unemployment impairs mental health: meta-analyses. J. Vocat. Behav. 74, 264–282 (2009)

Koen, J., Klehe, U.C., Van Vianen, A.E.M., Zikic, J., Nauta, A.: Job-search strategies and reemployment quality. The impact of career adaptability. J. Vocat. Behav. 77, 126–139 (2010)

Lawson, K.J., Noblet, A.J., Rodwell, J.J.: Promoting employee wellbeing: the relevance of work characteristics and organizational justice. Health Promot. Int. 24–3, 223–233 (2009)

Lazarus, R., Folkman, S.: Stress, Appraisal, and Coping. Springer, NewYork (1984)

Lohmöller, J.B.: Latent Variable Path Modelling with Partial Least Squares. Physica-Verlag, Heidelberg (1989)

MacKenzie, S.B., Podsakoff, P.M., Jarvis, C.B.: The problem of measurement model misspecification in behavioural and organisational research and some recommended solutions. J. Appl. Psychol. 90–4, 710–730 (2005)

McArdle, A., Waters, L., Briscoe, J.P., Hall, D.T.: Employability during unemployment: adaptability, career identity and human and social capital. J. Vocat. Behav. 71, 247–264 (2007)

McKee-Ryan, F.M., Song, Z., Wanberg, C.R., Kinicki, A.J.: Psychological and physical well-being during unemployment: a meta-analytic study. J. Appl. Psychol. 90, 53–76 (2005)

Podsakoff, P.M., MacKenzie, S.B., Lee, J.Y., Podsakoff, N.P.: Common method biases in behavioral research: a critical review of the literature and recommended remedies. J. Appl. Psychol 88, 879–903 (2003)

Pugh, S.D., Skarlicki, D.P., Passell, B.S.: After the fall: layoff victims' trust and cynicism in re-employment. J. Occup. Organ. Psychol. 76, 201–212 (2003)

Rothwell, A., Arnold, J.: Self-perceived employability: development and validation of a scale. Pers. Rev. 36, 23–41 (2007)

Savickas, M.L.: Career adaptability: an integrative construct for life-span, life-space theory. Career Dev. Q. 45, 247–259 (1997)

Savickas, M.L., Nota, L., Rossier, J., Dauwalder, J.-P., Duarte, M.E., Guichard, J., Soresi, S., Van Esbroeck, R., Van Vianen, A.E.M.: Life designing: a paradigm for career construction in the 21st century. J. Vocat. Behav. 75, 239–250 (2009)

Shaw, J.C., Wild, E., Colquitt, J.A.: To justify or excuse?: a meta-analytic review of the effects of explanations. J. Appl. Psychol. 88–3, 444–458 (2003)

Sibilia, L., Schwarzer, R., Jerusalem, M.: Italian adaptation of the general self-efficacy scale. Available at http://userpage.fu-berlin.de/$ast$health/italian.htm, (1995)

Silla, I., De Cuyper, N., Gracia, F., Peiro, J.M., De Witte, H.: Job insecurity and well-being: moderation by employability. J. Happiness Stud. 10, 739–751 (2009)

Taris, T.W.: Unemployment and mental health: a longitudinal perspective. Int. J. Stress Manag. 9–1, 43–57 (2002)

Thijssen, J.G.L., Van der Heijden, B., Rocco, T.S.: Toward the employability -link model: current employment transition to future employment perspectives. Hum. Resour. Dev. Rev. 7, 165–183 (2008)

Thompson, J.A.: Proactive personality and job performance: a social capital perspective. J. Appl. Psychol 90, 1011–1017 (2005)

Van der Heijde, C.M., Van der Heijden, B.I.J.M.: A competence-based and multidimensional operationalization and measurement of employability. Hum. Resour. Manag. 45, 449–476 (2006)

Vinokur, A.D., Schul, Y.: The web of coping resources and pathways to reemployment following a job loss. J. Occup. Health Psychol. 7, 68–83 (2002)

Vinokur, A.D., Price, R.H., Caplan, R.D., Van Ryn, M., Curran, J.: The Job I preventive intervention for unemployed individuals: short- and long-term effects on reemployment and mental health. In: Murphy, L.R., Hurrell, JJJr, Sauter, S.L., Keita, G.P. (eds.) Job Stress Interventions, pp. 125–138. American Psychological Association, Washington DC (1995)

Viswesvaran, C., Sanchez, J.I., Fisher, J.: The role of social support in the process of work stress: a meta-analysis. J. Vocat. Behav. 54, 314–334 (1999)

Vuori, J., Vinokur, A.D.: Job-search preparedness as a mediator of the effects of the Tyohon job search intervention on re-employment and mental health. J. Organ. Behav. 26, 275–291 (2005)

Wanberg, C.R., Banas, J.T.: Predictors and outcomes of openness to changes in a reorganizing workplace. J. Appl. Psychol 85, 132–142 (2000)

Wanberg, C.R., Bunce, L.V.W., Gavin, M.R.: Perceived fairness of layoff among individuals who have been laid off: a longitudinal study. Pers. Psychol. 52, 59–84 (1999)

Wetzels, M., Odekerken-Schröder, G.: Using PLS path modeling for assessing hierarchical construct models: guidelines and empirical illustration. MIS Q. 33–1, 177–195 (2009)

Wittekind, A., Raeder, S., Grote, G.: A longitudinal study of determinants of perceived employability. J. Organ. Behav. 31, 566–586 (2010)

Wold, H.: Soft modeling: the basic design and some extensions. In: Jöreskog, K.G., Wold, H. (eds.) Systems Under Indirect Observation: Causality, Structure, Prediction, vol. 2, pp. 1–54. North-Holland, Amsterdam (1982)

Wold, H.: Partial least squares. In: Kotz, S., Johnson, N.L. (eds.) Encyclopedia of Statistical Sciences, vol. 6, pp. 581–591. Wiley, New York (1985)

Zikic, M., Klehe, U.C.: Job loss as a blessing in disguise: the role of career exploration and career planning in predicting reemployment quality. J. Vocat. Behav. 69, 391–409 (2006)
About this article
Cite this article
De Battisti, F., Gilardi, S., Siletti, E. et al. Employability and mental health in dismissed workers: the contribution of lay-off justice and participation in outplacement services. Qual Quant 48, 1305–1323 (2014). https://doi.org/10.1007/s11135-013-9836-2
Published:

Issue Date:

DOI: https://doi.org/10.1007/s11135-013-9836-2
Keywords
Lay-off

Employability

Perceived employability

Mental health

Outplacement services

Structural equation models