Abstract
Progressing quickly from school to work is an indicator of early career success for college graduates. Recent research shows that inter-institutional connections between elite universities and prestigious employers easily move students at these schools into a select few firms. Prior research has yet to fully address whether students at non-elite colleges have differential access to connections between their colleges and potential employers. Drawing on 176 longitudinal interviews with students across four majors, I track 91 seniors who have all completed internships as they graduate and enter the labor market. In doing so, I document the inter-institutional connections through which employers recruit some students for internships that often lead directly to permanent employment opportunities, a process I call the career conveyor belt. Career conveyor belt internships have procedures in place to hire some, or all, of their interns immediately following graduation. Students that must find their own internships rarely end up in career conveyor belt internships, and they often spend 3–6 months job-searching after school ends before finding full-time work. Analysis reveals that college major plays a critical role in determining which students access career conveyor belt internships. These findings suggest students' differential access to inter-institutional connections between schools and employers produce unequal labor market outcomes between college graduates by major.
Access options
Buy single article
Instant access to the full article PDF.
US$ 39.95
Tax calculation will be finalised during checkout.
Subscribe to journal
Immediate online access to all issues from 2019. Subscription will auto renew annually.
US$ 79
Tax calculation will be finalised during checkout.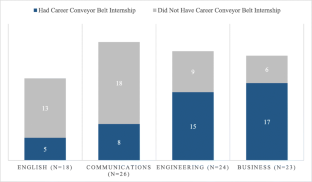 Notes
1.

Some Business and Engineering students completed co-ops. Co-ops are not functionally different from full-time internships; the major difference is that they take place during a Fall or Spring semester (or two consecutive semesters) rather than over one summer.

2.

Six respondents chose not to sit for a second interview, five of whom provided detailed employment information in writing. Of the six who were not retained, there were no more than two from any one discipline.

3.

Respondents' self-identified their social class, but I also captured information on their parents' jobs, levels of education, and income to create a fuller picture of each student's class background.

4.

Institutional data pulled from a recent university graduation survey that is uncited to maintain confidentiality.

5.

At the time of Wave 2, besides the three respondents who were unemployed, seven were in graduate school, leaving seventy-five respondents with jobs.

6.

If firms made an ad hoc decision to not hire the intern, and the student (and therefore I) never knew about this, I would not consider the internship as providing a career conveyor belt. However, if a student were aware of a process for turning interns into employees, even if that intern did not receive a job offer, then the internship was characterized as having a career conveyor belt (e.g. a firm takes twenty interns with the expectation that five will be hired on full-time).
References
Armstrong, Elizabeth A., and Laura T. Hamilton. 2013. Paying for the party. Cambridge: Harvard University Press.

Arum, Richard, and Josipa Roksa. 2011. Academically adrift: Limited learning on college campuses. Chicago: University of Chicago Press.

Arum, Richard, and Josipa Roksa. 2014. Aspiring adults adrift: Tentative transitions of college graduates. Chicago: University of Chicago Press.

Becker, Gary S. 1964. Human capital: A theoretical and empirical analysis. Chicago: University of Chicago Press.

Bernard, H. Russell. 2006. Research methods in anthropology: Qualitative and quantitative approaches. 4th ed. Lanham: AltaMira Press.

Bills, David B. 2003. Credentials, signals, and screens: Explaining the relationship between schooling and job assignment. Review of Educational Research 73 (4): 441–449.

Bills, David B., Valentina Di Stasio, and Klarita Gerxhani. 2017. The demand side of hiring: Employers in the labor market. Annual Review of Sociology 43: 291–310.

Binder, Amy J., Daniel B. Davis, and Nick Bloom. 2016. Career funneling. Sociology of Education 89 (1): 20–39.

Brint, Steven, Mark Riddle, Lori Turk-Bicakci, and Charles S. Levy. 2005. From liberal to the practical arts in American colleges and universities: Organizational analysis and curricular change. Journal of Higher Education 76 (2): 151–180.

Bureau of Labor Statistics. 2017. Unemployment rate 2.5 percent for college grads, 7.7 percent for high school dropouts. The economics daily. https://www.bls.gov/opub/ted/2017/unemployment-rate-2-point-5-percent-for-college-grads-7-point-7-percent-for-high-school-dropouts-january-2017.htm#:~:text=Unemployment%20rate%202.5%20percent%20for,high%20school%20dropouts%2C%20January%202017&text=The%20unemployment%20rate%20in%20January,December%202016%20or%20January%202016. Accessed 4 August 2020.

Carnevale, Anthony P., Ban Cheah, and Jeff Stohl. 2012. Hard times, college majors, unemployment, and earnings: Not all college degrees are created equal. Georgetown University https://1gyhoq479ufd3yna29x7ubjn-wpengine.netdna-ssl.com/wp-content/uploads/2014/11/Unemployment.Final_.update1.pdf.

Cech, Erin A. 2013. Ideological wage inequalities? The technical/social dualism and the gender wage gap in engineering. Social Forces 91 (4): 1147–1182.

Collins, Randall. 1979. The credential society. New York: Academic Press.

Damaske, Sarah. 2009. Brown suits need not apply: The intersection of race, gender, and class in institutional network building. Sociological Forum 24 (2): 404–424.

Davis, Daniel B., and Amy J. Binder. 2016. Selling students: The rise of corporate partnership programs in university career centers. Research in the Sociology of Organizations 46: 395–422.

Davis, Daniel B., and Amy J. Binder. 2019. Industry, firm, job title: The layered nature of early-career advantage for graduates of elite private universities. Socius 5: 1–23.

DiPrete, Thomas A., Thijs Bol, Christina Ciocca Eller, and Herman G. van de Werfhorst. 2017. School-to-work linkages in the United States, Germany, and France. American Journal of Sociology 122 (6): 1869–1938.

Frenette, Alexandre. 2013. Making the intern economy: Role and career challenges of the music industry intern. Work and Occupations 40 (4): 364–397.

Gault, Jack, John Redington, and Tammy Schlager. 2000. Undergraduate business internships and career success: Are they related? Journal of Marketing Education 22 (1): 45–53.

Gerber, Theodore P., and Sin Yi Cheung. 2008. Horizontal stratification in postsecondary education: Forms, explanations, and implications. Annual Review of Sociology 34 (1): 299–318.

Grayson, J. Paul. 2004. Social dynamics, university experiences, and graduates' job outcomes. British Journal of Sociology of Education 25 (5): 609–627.

Han, Siqi, Dmitry Tumin, and Zecnchao Quia. 2016. Gendered transitions to adulthood by college field of study in the United States. Demographic Research 35 (31): 929–960.

Heckathorn, Douglas D., and Joan Jeffri. 2001. Finding the beat: Using respondent-driven sampling to study jazz musicians. Poetics 28 (4): 307–329.

Hermanowicz, Joseph C. 2013. The longitduinal qualitative interview. Qualitative Sociology 36 (2): 189–208.

Ho, Karen. 2009. Liquidated: An ethnography of wall street. Durhan: Duke University Press.

Hollstein, Betina. 2011. Qualitative approaches. In The SAGE handbook of social network analysis, eds. James Scott and Peter J. Carrington, 404–416. New York: Russell Sage Foundation.

Hout, Michael. 2012. Social and economic returns to college education in the United States. Annual Review of Sociology 38 (1): 379–400.

Humburg, Martin, and Rolf van der Velden. 2015. Skills and the graduate recruitment process: Evidence from two discrete choice experiments. Economics of Education Review 49: 24–41.

Kim, ChangHwan, Christopher R. Tamborini, and Arthur Sakamoto. 2015. Field of study in college and lifetime earnings in the United States. Sociology of Education 88 (4): 320–339.

Leonard, Pauline, Susan Halford, and Katie Bruce. 2016. 'The new degree?' Constructing internships in the third sector. Sociology 50 (2): 383–399.

McAdam, Doug, Sidney Tarrow, and Charles Tilly. 2008. Methods for measuring mechanisms of contention. Qualitative Sociology 31 (4): 307–331.

Narayanan, V.K., Paul M. Olk, and Cynthia V. Fukami. 2010. Determinants of internship effectiveness: An exploratory model. Academy of Management Learning & Education 9 (1): 61–80.

Nunley, John M., Adam Pugh, Nicholas Romero, and R. Alan Seals. 2016. College major, internship experience, and employment opportunities: Estimates from a résumé audit. Labour Economics 38: 37–46.

O*NET Resource Center. 2017. O*NET database. https://www.onetcenter.org/database.html. Accessed 4 August 2020.

O'Shaughnessy, Lynn. 2011. 20 Surprising higher education facts. U.S. News & World Report. https://www.usnews.com/education/blogs/the-college-solution/2011/09/06/20-surprising-higher-education-facts. Accessed 10 July 2018.

Parker, Eugene T., Cindy A. Kilgo, Jessica K. Ezell Sheets, and Ernest T. Pascarella. 2016. The differential effects of internship participation on end-of-fourth-year gpa by demographic and institutional characteristics. Journal of College Student Development 57 (1): 104–109.

Quadlin, Natasha. 2018. The mark of a woman's record: Gender and academic performance in hiring. American Sociological Review 83 (2): 331–360.

Ragin, Charles C. 2000. Fuzzy-set social science. Chicago: University of Chicago Press.

Rivera, Lauren A. 2011. Ivies, extracurriculars, and exclusion: Elite employer's use of educational credentials. Research in Social Stratification and Mobility 29 (1): 71–90.

Rivera, Lauren A. 2012. Hiring as cultural matching: The case of elite professional servie firms. American Sociological Review 77 (6): 999–1022.

Rivera, Lauren A. 2015. Pedigree: How elite students get elite jobs. Princeton: Princeton University Press.

Robst, John. 2007. Education and job match: The relatedness of college major and work. Economics of Education Review 26 (4): 397–407.

Roksa, J., and T. Levey. 2010. What can you do with that degree? College major and occupational status of college graduates over time. Social Forces 89 (2): 389–415.

Rosenbaum, James E., and Amy Binder. 1997. Do employers really need more educated youth? Sociology of Education 70 (1): 68–85.

Rosenbaum, James E., and Takehiko Kariya. 1989. From high school to work: Market and institutional mechanisms in Japan. American Journal of Sociology 94 (6): 1334–1365.

Roy, Donald. 1954. Efficiency and the fix: Informal intergroup relations in a piecework machine shop. American Journal of Sociology 60 (3): 255–266.

Royster, Deirdre. 2003. Race and the invisible hand: How white networks exclude black men from blue-collar jobs. Berkeley: University of California Press.

Shade, Leslie Regan, and Jenna Jacobson. 2015. Hungry for the job: Gender, unpaid internships, and the creative industries. The Sociological Review 63 (S1): 188–205.

Shauman, Kimberlee A. 2016. Gender differences in the early career outcomes of college graduates: The influence of sex-type of degree field across four cohorts. RSF: The Russell Sage Foundation Journal of the Social Sciences 2 (4): 152–193.

Sherman, Rachel. 2007. Class acts: Service and inequality in luxury hotels. Berkeley: Univeristy of California Press.

Stevens, Mithcell L., Elizabeth A. Armstrong, and Richard Aum. 2008. Sieve, incubator, temple, hub: Empirical and theoretical advances in the sociology of higher education. Annual Review of Sociology 34: 127–151.

Taylor, Judith, and Kim de Laat. 2013. Feminist internships and the depression of political imagination: Implications for women's studies. Feminist Formations 25 (1): 84–110.

Weeden, Kim A. 2002. Why do some occupations pay more than others? Social closure and earnings inequality in the United States. American Journal of Sociology 108 (1): 55–101.

Weiss, Robert S. 1995. Learning from strangers: The art and method of qualitative interview studies. New York: Simon and Schuster.
Acknowledgements
The author would like to acknowledge Steven Lopez, Tim Bartley, Peter Ikeler, Davon Norris, Laurie Michaels, Lindsey Ibanez, Vincent Roscigno, and Natasha Quadlin for their helpful comments and insights.
Funding
Funding was provided by a National Science Foundation Doctoral Dissertation Research Improvement Grant and grants from The Ohio State University.
Additional information
Publisher's Note
Springer Nature remains neutral with regard to jurisdictional claims in published maps and institutional affiliations.
About this article
Cite this article
Moss-Pech, C. The Career Conveyor Belt: How Internships Lead to Unequal Labor Market Outcomes among College Graduates. Qual Sociol 44, 77–102 (2021). https://doi.org/10.1007/s11133-020-09471-y
Accepted:

Published:

Issue Date:
Keywords
School-to-work transition

Higher education

Labor markets

STEM

Hiring

Internships

College majors