Abstract
Radical flank effect (RFE) research has too often ignored the conditions under which particular RFEs occur and failed to acknowledge that RFEs might change over time, producing different, yet interrelated, outcomes across societal arenas. In order to fill these gaps, this article argues for expanding the framework to be used in analysis of RFEs by incorporating insights from recent social movement theory, and thus adding temporal and arena dimensions. This enables a deeper explanation of the conditions under which specific RFEs occur—and change—in more complex empirical settings where several actors interact in distinct arenas over time. The analytical approach is employed in the case study of the international Stop Huntingdon Animal Cruelty (SHAC) campaign and its engagement with corporate and state adversaries throughout a fifteen-year period in the UK. The analysis does two things: first, it identifies the pathways along which the overall campaign attained its destructive capacity, which was key to the SHAC campaign's short-term successes, and secondly, it explicates the variables and factors in distinct arenas that explain why the initial positive outcome was reversed. Thus, the analysis reveals the contingency of RFEs by comparing their short and long-term outcomes, and it explains why and how the outcomes changed. Broadly, the aim is to produce a deeper explanation of RFEs, while also suggesting ways to expand this strand of research by, for example, examining the radical flank dilemma that results from the contingent outcomes of RFEs.
This is a preview of subscription content, log in to check access.
Access options
Buy single article
Instant access to the full article PDF.
US$ 39.95
Price includes VAT for USA
Subscribe to journal
Immediate online access to all issues from 2019. Subscription will auto renew annually.
US$ 99
This is the net price. Taxes to be calculated in checkout.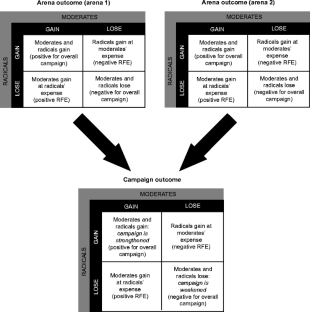 Notes
1.

2.

Searches were conducted on 8–9 October 2014 at the British Library, London, using Factiva (www.factiva.com).

3.

Given names without reference to external sources are pseudonyms used for the interviewees.

4.

The concept of "coercive force" has been used to describe forms of power used by state actors towards protestors (see della Porta and Reiter 2016). Here the concept is used to describe the counter-power exerted by clandestine militants.

5.

"Run-ins" describes rushing into the premises of an entity that protestors want to disrupt and/or forcing the entity to see and hear their case by using banners, shouting slogans, etc. "Lock-ons" describes the act of protestors locking themselves onto a device as part of a protest. The locks make it hard to remove the protestors, thus increasing disruption. This results in a bigger impact on the protest target.

6.

Using the search phrase "extrem*" thus finds "extremists," "extremism" etc.

7.
References
Baron, David P., and Daniel Diermeier. 2007. Strategic activism and non-market strategy. Journal of Economics and Management Strategy 16 (3): 599–634.

Beach, Derek, and Rasmus B. Pedersen. 2013. Process-tracing methods: Foundations and guidelines. Ann Arbor: University of Michigan Press.

Best, Steven, and Anthony J. Nocella. 2004. Terrorists or freedom fighters? Reflections on the liberation of animals. New York: Lantern Books.

Bosi, Lorenzo. 2006. The dynamics of social movement development: Northern Ireland's civil rights movement in the 1960s. Mobilization: An International Quarterly 11 (1): 81–100.

Cabric, Marko. 2015. Corporate security management: Challenges, risks, and strategies. Oxford: Butterworth-Heinemann.

della Porta, Donatella, and Mario Diani. 2006. Social movements: An introduction. 2nd ed. Malden: Blackwell Publishing.

della Porta, Donatella, and Herbert Reiter. 2016. The policing of transnational protest: A conclusion. In The policing of transnational protest, ed. Donatella della Porta, Abby Peterson, and Herbert Reiter, 2nd ed., 175–189. Farnham: Ashgate.

della Porta, Donatella, and Dieter Rucht. 1995. Left-libertarian movements in context: A comparison of Italy and West Germany, 1965-1990. In The politics of social protest: Comparative perspectives on states and social movements, ed. Bert Klandermans and Craig Jenkins, 229–272. Minneapolis: University of Minnesota Press.

Diermeier, Daniel, and Jan A. Van Mieghem. 2005. Stochastic model of consumer boycotts. Working paper series: Center for operations and supply chain management. Kellogg School of Management. Evanston: Northwestern University.

Donovan, John, and Richard Timothy Coupe. 2013. Animal rights extremism: Victimization, investigation and detection of a campaign of criminal intimidation. European Journal of Criminology 10 (1): 113–132.

Downey, Dennis J., and Deana A. Rohlinger. 2008. Linking strategic choice with macroorganizational dynamics: Strategy and social movement articulation. Research in Social Movements, Conflicts and Change 28: 3–38.

Duyvendak, Jan Willem, and James M. Jasper. 2015. Breaking down the state: Protestors engaged. Amsterdam: Amsterdam University Press.

Earl, Jennifer, and R. Kelly Garrett. 2017. The new information frontier: Toward a more nuanced view of social movement communication. Social Movement Studies 16 (4): 479–493.

Ellefsen, Rune. 2016a. Judicial opportunities and the death of SHAC: Legal repression along a cycle of contention. Social Movement Studies 15 (5): 441–456.

Ellefsen, Rune. 2016b. Relational dynamics of protest and protest policing: Strategic interaction and the coevolution of targeting strategies. Policing and Society. https://doi.org/10.1080/10439463.2016.1262366.

Europol. 2010. Animal rights extremism: Quarterly bulletin. October–December 2010. https://www.europol.europa.eu/sites/default/files/publications/redacted_animal_rights_extremism_quarterly_bulletin_-_knowledge_product_edoc712257.pdf. Accessed 22 Jan 2016

Fligstein, Neil, and Doug McAdam. 2012. A theory of fields. Oxford: Oxford University Press.

Glasser, Carol Lynn. 2011. Moderates and radicals under repression: The U.S. animal rights movement, 1990–2010. Doctoral thesis, Department of Sociology University of California, Irvine, CA (USA)

Guither, Harold D. 1998. Animal rights: History and scope of a new radical social movement. Carbondale: Southern Illinois University Press.

Gupta, Devashree. 2002. Radical flank effects: The effect of radical-moderate splits in regional nationalist movements. Working paper, presented at the Conference of Europeanists, Chicago, IL, March 14–16.

Gupta, Devashree. 2007. Selective engagement and its consequences for social movement organizations: Lessons from British policy in Northern Ireland. Comparative Politics 39 (3): 331–351.

Gupta, Devashree. 2013. The strategic logic of the radical flank effect: Theorizing power in divided social movements. Paper presented to the annual meeting of Midwest Political Science Association, Chicago, IL, March 30 – April 3.

Haines, Herbert H. 1984. Black radicalization and the funding of civil rights: 1957–1970. Social Problems 32 (1): 31–43.

Haines, Herbert H. 2013. Radical flank effects. In The Wiley-Blackwell encyclopedia of social and political movements, eds. David A. Snow, Donatella della Porta, Bert Klandermans, and Doug McAdam. Malden: Blackwell Publishing.

Hedström, Peter, and Richard Svedberg. 1996. Social mechanisms. Acta Sociologica 39 (3): 281–308.

Home Office. 2001. Animal rights extremists: Consultation document. London: Home Office.

Huband, Mark. 2003. Activists pose big threat, bosses warns. Financial Times, 30 May. http://www.markhuband.com/author/markhub/page/5/ Accessed 2 Jan 2018

Jasper, James M. 1997. The art of moral protest: Culture, biography and creativity in social movements. Chicago: The University of Chicago Press.

Jasper, James M. 2004. A strategic approach to collective action: Looking for agency in social movement choices. Mobilization 9 (1): 1–16.

Jasper, James M. 2006. Getting your way: Strategic dilemmas in the real world. Chicago: University of Chicago Press.

Jasper, James M. 2012. Introduction: From political opportunity structures to strategic action. In Contention in context, ed. Jeff Goodwin and James M. Jasper, 1–36. Stanford: Stanford University Press.

Jasper, James M., and Jan Willem Duyvendak. 2015. Players and arenas: The interactive dynamics of protest. Amsterdam: Amsterdam University Press.

Jasper, James M., and Jane Poulsen. 1993. Fighting back: Vulnerabilities, blunders, and countermobilization by the targets in three animal rights campaigns. Sociological Forum 8 (4): 639–657.

Jonas, Kevin. 2004. Bricks and bullhorns. In Terrorists or freedom fighters? ed. Steve Best and Anthony J. Nocella, 263–271. New York: Lantern Books.

Lapadat, Judith C. 2010. Thematic analysis. In Encyclopedia of case study research, ed. Albert J. Mills, Gabrielle Durepos, and Elden Wiebe, 925–927. Los Angeles: SAGE.

Liddick, Donald R. 2006. Eco-terrorism: Radical environmental and animal liberation movements. Westport. Praeger.

Lovitz, Dara. 2010. Muzzling a movement: The effects of anti-terrorism law, money, and politics on animal activism. New York: Lantern Books.

Mann, Keith. 2007. From dusk till dawn: An insider's view of the growth of the animal liberation movement. London: Puppy pincher Press.

McAdam, Doug. 1983. Tactical innovation and the pace of insurgency. American Sociological Review 48 (6): 735–754.

McAdam, Doug, and Sidney Tarrow. 2011. Introduction: Dynamics of contention ten years on. Mobilization 16 (1): 1–10.

McAdam, Doug, Sidney Tarrow, and Charles Tilly. 2001. Dynamics of contention. Cambridge: Cambridge University Press.

McCammon, Holly, Erin M. Bergner, and Sandra C. Arch. 2015. "Are you one of those women?" Within-movement conflict, radical flank effects, and social movement political outcomes. Mobilization 20 (2): 157–178.

Metcalfe, David. 2008. The protest game: Animal rights protests and the life sciences industry. Negotiation Journal 24 (2): 125–143.

Mills, Gordon. 2012. Assessing the challenge of policing animal rights extremism in the UK and the changing impact on community safety and human rights in the period 2004–2010. Doctoral thesis, London Metropolitan University, Faculty of Social Sciences and Humanities.

Mills, Gordon. 2016. "Injunctivitis": A blurring of the policing of protest or a vision of the way ahead? International Journal of Police Science & Management 17 (2): 128–133.

Monaghan, Rachel. 2013. Not quite terrorism: Animal rights extremism in the United Kingdom. Studies in Conflict & Terrorism 36 (11): 933–951.

Moore, Kelly and Benjamin Shepard. 2013. Direct action. The Wiley-Blackwell Encyclopedia of Social and Political Movements. https://doi.org/10.1002/9780470674871.wbespm431.

Moreton, Cole. 2001. Animal rights: The campaigners: "Before we target anywhere, we research it thoroughly." Independent on Sunday p.19. 21 January.

Munro, Lyle. 2005. Confronting cruelty: Moral orthodoxy and the challenge of the animal rights movement. Leiden: Brill Academic Publishing.

Peachey, Paul. 2014. Animal rights group ends 15-year campaign against experiments at Huntingdon. The Independent, 23 August. http://www.independent.co.uk/news/uk/crime/animal-rights-group-ends-15-year-campaign-against-experiments-at-huntingdon-9687843.html. Accessed 16 August 2017.

Piven, Frances Fox. 2006. Challenging authority: How ordinary people change America. Lanham: Rowman & Littlefield.

Potter, Will. 2011. Green is the new red: An insider's account of a social movement under siege. San Francisco: City Lights Publishers.

Robnett, Belinda, Carol L. Glasser, and Rebecca Trammell. 2015. Waves of contention: Relations among radical, moderate, and conservative movement organizations. In Research in social movements, conflicts and change, ed. Patrick G. Coy, vol. 38, 69–101. Bingley: Emerald Group Publishing Limited.

Rucht, Dieter. 2004. Movement allies, adversaries, and third parties. In The Blackwell companion to social movements, ed. David A. Snow, Sarah A. Soule, and Hanspeter Kriesi, 197–216. Malden: Blackwell.

Scarce, Rik. 2006. Eco-warriors: Understanding the radical environmental movement. 2nd ed. Walnut Creek: Left Coast Press.

SHAC. 2014. Introduction to SHAC. http://shac.net/SHAC/shac_intro.html. Accessed 16 May 2014.

Singer, Peter. 1985. Ethics and the new animal liberation movement. In Defense of animals, ed. Peter Singer, 1–10. New York: Basil Blackwell.

Tarrow, Sidney G. 2011. Power in movement. 3rd ed. Cambridge: Cambridge University Press.

Taylor, Bron, ed. 1995. Ecological resistance movements: The global emergence of radical and popular environmentalism. New York: SUNY Press.

Tilly, Charles. 2005. Popular contention in Great Britain, 1758–1834. 2nd ed. London: Routledge.

Tilly, Charles, and Sidney Tarrow. 2007. Contentious politics. Oxford: Oxford University Press.

Upton, Andrew. 2011. Contingent communication in a hybrid multi-media world: Analysing the campaigning strategies of SHAC. New Media & Society 13 (1): 96–113.

Upton, Andrew. 2012. "Go on, get out there, and make it happen": Reflections on the first ten years of Stop Huntingdon Animal Cruelty (SHAC). Parliamentary Affairs 65 (1): 238–254.

Waldron, Theodore Leonard. 2010. Activist attack strategies. Doctoral thesis, The University of Georgia, Athens, GA.

Zald, Mayer N., and Roberta Ash. 1966. Social movement organizations: Growth, decay and change. Social Forces 44 (3): 327–341.

Zald, Mayer N., and John D. McCarthy. 1979. Social movement industries: Competition and cooperation among movement organizations. CRSO working paper no. 201. Ann Arbor: University of Michigan, Center for Research on Social Organizations
Acknowledgements
The author would like to thank Qualitative Sociology's Editor-in-Chief David Smilde and the three anonymous reviewers who provided thoughtful comments and suggestions that helped improve the original manuscript.
About this article
Cite this article
Ellefsen, R. Deepening the Explanation of Radical Flank Effects: Tracing Contingent Outcomes of Destructive Capacity . Qual Sociol 41, 111–133 (2018). https://doi.org/10.1007/s11133-018-9373-3
Keywords
Protest

Radical flank effects

Social movement outcomes

Radical flank dilemma

Factionalism

Radical animal rights movement