Abstract
Ethnic violence killed at least a thousand Muslims in Gujarat (western India) in 2002. The role of political elites in orchestrating attacks against Muslims for electoral gains was a conspicuous characteristic of the violence. Yet, as this article demonstrates, the political thesis was insufficient in explaining why neighborhoods, often contiguous, experienced different levels of violence. Alternative explanations, such as interethnic contact, were also found wanting. A unique research design allowing the comparison of neighborhoods in the same electoral ward in the city of Ahmedabad demonstrates the critical role of ecology in explaining microspatial variation in the violence. Even when attacks were politically orchestrated, attackers still acted with some regard to self-preservation in selecting which location to attack. Observational and testimonial evidence based on 22 months of ethnographic fieldwork reveals the importance of two ecological factors: the built environment and the population distribution of potential targets. Together, the two factors heavily shaped crowds' decisions to attack or escape, thus influencing the subsequent success or failure of the attack. Muslims were most vulnerable where they were concentrated in small numbers and on routes that afforded the attackers obstacle-free entry and retreat. Where the potential targets had an obstacle-free escape route to a large concentration of fellow Muslims, the outcome was looting and arson rather than killing. By implication, the course of politically orchestrated violence was complicated by the ecology of the targeted space.
Access options
Buy single article
Instant access to the full article PDF.
USD 39.95
Price includes VAT (USA)
Tax calculation will be finalised during checkout.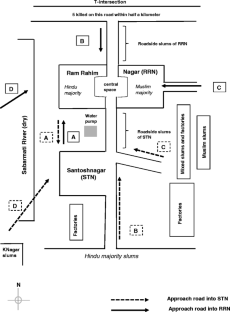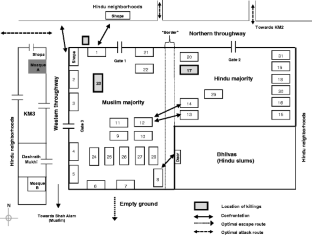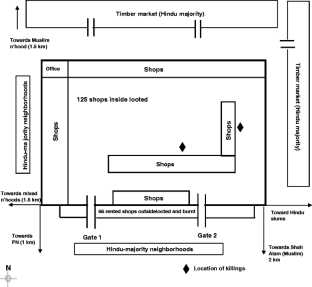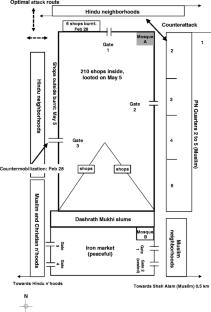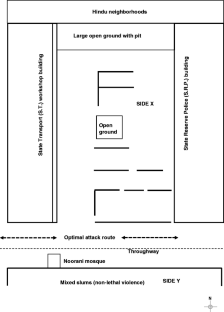 Notes
1.

The author received the Nuffield Sociology Doctoral Studentship from Nuffield College, University of Oxford.

2.

Had the violence been spontaneous, it would be correct to expect the most outraged people — and, subsequently, the worst violence — in places where the BJP was dominant. See also, Raheel Dhattiwala, "Deliberateness and spontaneity in violence", The Hindu, 31 December 2013.

3.

Transcripts are translations from Gujarati, Hindi or Urdu. Respondent names are pseudonyms; place names are unchanged. Verbatim words of respondents are italicized.

4.

5.

One-third of PN overlapped with a different ward, Danilimda, though the identical political configuration of Behrampura and Danilimda in 2002, made them comparable.

6.

Videography of riot-affected areas, Naroda Patiya. Case no. 100, Naroda Police Station.

7.

Core respondents included Hindus (33), Muslims (48) and one Christian. This group included rioters (7), targets and witnesses of attacks (25), elected politicians and political party members (12), police (4) and other residents (34).

8.

On March 1 and May 11 respectively, the police charged two Hindu men from RRN for arson and looting in neighborhoods within two kilometers of RRN.

9.

A Muslim man found dead on March 1 on the road leading into STN had "staggered in" following injuries sustained outside STN. Police record his death as a result of "grievous hurt," not "murder," unlike other riot deaths.

10.

The colloquial use of the English word "border" or "Wagah border" in conflict-ridden cities such as Ahmedabad implies the Indo-Pak border.

11.

Fifteen shops lined on the inside of KM3 were harmed when the six shops were burnt.

12.

The "Rabaris" are a Hindu caste group notified under Other Backward Classes (OBC) in Gujarat, a term used in the Indian Constitution for socially and educationally disadvantaged caste groups to receive affirmative action benefits.

13.

Associational interethnic ties resulting from economic interdependence in both markets were negligible. Hindus refrained from engaging in the business that involved storing the scrap machinery for several years. The Islamic practice of "riba" discouraged economic gain from appreciation of the goods, a practice "commercially unviable" for Hindus.

14.

Police first information report. Danilimda police station, Ahmedabad, 18 March 2002.
References
Allport, Gordon. 1954. The nature of prejudice. Cambridge: Addison-Wesley.

Baudains, Peter, Alex M. Braithwaite, and Shane D. Johnson. 2012. Spatial patterns in the 2011 London riots. Policing 7(1): 21–31.

Berenschot, Ward. 2011. The spatial distribution of riots: Patronage and the instigation of communal violence in Gujarat, India. World Development 39(2): 221–230.

Berk, Richard. 1974. A gaming approach to crowd behavior. American Sociological Review.

Bernasco, Wim. 2014. Crime journeys: Patterns of offender mobility. In Oxford Handbooks Online in Criminology and Criminal Justice, ed. Michael Tonry. Oxford: Oxford University Press. Accessed December 2, 2015. http://www.oxfordhandbooks.com/view/10.1093/oxfordhb/9780199935383.001.0001/oxfordhb-9780199935383-e-49.

Biggs, Michael. 2003. Positive fe edback in collective mobilization: The American strike wave of 1886. Theory and Society 32(2): 217–254.

Brass, Paul. 1997. Theft of an idol: Text and context in the representation of collective violence. Princeton: Princeton University Press.

Brass, Paul. 2003. The production of Hindu-Muslim violence in contemporary India. Seattle: University of Washington Press.

Census of India. 2001. Slum population, Gujarat: District census handbook, series 25, part XII A&B: Ahmadabad district, village and town directory. Delhi: Controller of Publications.

Coleman, Alice. 1989. Disposition and situation: Two sides of the same crime. In The geography of crime, eds. D.J. Evans and D.T. Herbert, 109–134. Routledge.

Collins, Randall. 2008. Violence: A micro-sociological theory. Princeton: Princeton University Press.

Commission of Inquiry. 2008. Report of Justice GT Nanavati and Justice Akshay H Mehta, part-I, Sabarmati Express train incident at Godhra, 18 September. Accessed December 2, 2015. http://www.home.gujarat.gov.in/homedepartment/downloads/godharaincident.pdf.

Common Judgment (Special Court). 2012. The state of Gujarat versus Naresh Agarsinh Chhara (and others). Exhibit 2671, August 31. Accessed December 1, 2015.http://www.cjponline.org/gujaratTrials/narodapatiya/NP%20Full%20Judgmnt/Naroda%20Patiya%20-%20Common%20Judgment.pdf.

Dasgupta, Manas. 2011. '31 convicted, 63 acquitted in Godhra train case', The Hindu, February 23.

Dhattiwala, Raheel, and Michael Biggs. 2012. The political logic of ethnic violence: The anti-Muslim pogrom in Gujarat, 2002. Politics and Society 4: 483–516.

Dochartaigh, Niall, and Lorenzo Bosi. 2010. Territoriality and mobilization. Mobilization 4: 405–424.

Engineer, Asghar Ali (ed.). 2003. The Gujarat carnage. New Delhi: Orient Longman.

Feagin, Joe R., and Harlan Hahn. 1973. Ghetto revolts: The politics of violence in American cities. New York: Macmillan.

Festinger, Leon, Stanley Schachter, and Kurt Back. 1950. Social pressures in informal groups. Stanford: Stanford University Press.

Ford, Scott W. 1973. Interracial public housing in a border city: Another look at the contact hypothesis. American Journal of Sociology 78(6): 1426–1447.

Giddens, Anthony. 1986. Time, space and regionalization. In The constitution of society: Outline of the theory of structuration, ed. Anthony Giddens, 110–145. University of California Press.

Glaser, Barney G., and Anselm L. Strauss. 1967. The discovery of grounded theory. Chicago: Aldine.

Grannis, Rick. 1998. The importance of trivial streets: Residential streets and residential segregation. American Journal of Sociology 6: 1530–1564.

Grannis, Rick. 2009. From the ground up: Translating geography into community through neighbor networks. Princeton: Princeton University Press.

Greer, Donald. 1935. The incidence of the terror during the French Revolution: A statistical interpretation. Cambridge: Harvard University Press.

Grimshaw, Allen D. 1960. Urban racial violence in the United States changing ecological considerations. The American Journal of Sociology 66(2): 109–119.

Hamill, Heather. 2011. The Hoods: Crime and punishment in Belfast. Oxford: Princeton University Press.

Heitmeyer, Carolyn. 2009. "There is peace here": Managing communal relations in a town in central Gujarat. Journal of South Asian Development 4(1): 103–120.

Horowitz, Donald. 2001. The deadly ethnic riot. London: University of California Press.

Human Rights Watch. 2002. "We have no orders to save you": State participation and complicity in communal violence in Gujarat 14 (3C).Accessed December 1, 2015. https://www.hrw.org/reports/2002/india/

Jackson-Jacobs, Curtis. 2013. Constructing physical fights: An interactionist analysis of violence among affluent, suburban youth. Qualitative Sociology 36: 23–52.

Jaffrelot, Christophe, and Charlotte Thomas. 2012. Facing ghettoisation in "riot-city": Old Ahmedabad and Juhapura between victimisation and self-help. In Muslims in Indian cities: Trajectories of marginalisation, eds. L. Gayer and C. Jaffrelot, 43–80. HarperCollins.

Kalyvas, Stathis N. 1999. Wanton and senseless? The logic of massacres in Algeria. Rationality and Society 11(3): 243–285.

Kalyvas, Stathis N. 2006. The logic of violence in civil war. Cambridge: Cambridge University Press.

Kawalerowicz, Juta, and Michael Biggs. 2015. Anarchy in the UK: Economic deprivation, social disorganization, and political grievances in the London Riot of 2011. Social Forces 94(2): 673–698.

Khetan, Ashish. 2007. "After killing them, I felt like Maharana Pratap": Transcript of Babu Bajrangi, Tehelka, 1 September. http://www.tehelka.com/after-killing-them-i-felt-like-maharana-pratap/?singlepage=1. Accessed 6 October 2014.

King, Gary, Robert Keohane, and Sidney Verba. 1994. Designing social enquiry: Scientific inference in qualitative research. Princeton: Princeton University Press.

Klusemann, Stefan. 2010. Micro-situational antecedents of violent atrocity. Sociological Forum 25 (2): 272–295.

Lloyd, Nick. 2011. The Amritsar massacre : The untold story of one fateful day. London: I.B. Tauris.

Malekar, Anosh. 2009. Ram-Rahim Nagar: Oasis of peace. Infochange News & Features. http://infochangeindia.org/agenda/intercultural-dialogue/ram-rahim-nagar-oasis-of-peace.html. Accessed 6 November 2015.

Mann, Michael. 2005. The dark side of democracy: Explaining ethnic cleansing. Cambridge: Cambridge University Press.

Martin, Andrew W., Clark McPhail, and John D. McCarthy. 2009. Why targets matter: Toward a more inclusive model of collective violence. American Sociological Review 74(5): 821–841.

Massey, Doreen. 1994. Space, place and gender. Minneapolis: University of Minnesota Press.

McAdam, Doug, Sidney Tarrow, and Charles Tilly. 2001. Dynamics of contention. Cambridge: Cambridge University Press.

McDoom, Omar Shahabudin. 2013. Who killed in Rwanda's genocide? Micro-space, social influence and individual participation in intergroup violence. Journal of Peace Research 50(4): 453–467.

McLaren, Lauren. 2003. Anti-immigrant prejudice in Europe: Contact, threat perception and preferences for the exclusion of migrants. Social Forces 3: 909–937.

Miller, Byron, and Deborah Martin. 2000. Missing geography: Social movements on the head of a pin? In Geography and social movements, ed. Byron Miller, 1–38. University of Minnesota Press.

Mitta, Manoj. 2014. The fiction of fact-finding: Modi and Godhra. India: Harper Collins.

Molotch, Harvey. 1979. Capital and neighborhood in the United States. Urban Affairs Review 14: 289.

Morrell, Gareth, Sara Scott, Di McNeish, and Stephen Webster. 2011. The August riots in England: Understanding the involvement of young people. National Centre for Social Research. https://www.gov.uk/government/uploads/system/uploads/attachment_data/file/60531/The_20August_20Riots_20in_20England_20_pdf__201mb_.pdf. Accessed 6 November 2015.

Myers, Daniel J. 1997. Racial rioting in the 1960S: An event history analysis of local conditions. American Sociological Review 62: 94–112.

Newman, Oscar. 1996. Creating defensible space. Institute for community design analysis: U.S. Department of Housing and Urban Development. http://www.defensiblespace.com/book.htm. Accessed 23 December 2011.

Nicholls, Walter, Byron Miller, and Justin Beaumont. 2013. Introduction: Conceptualizing the spatialities of social movements. In Spaces of contention: Spatialities and social movements, ed. Walter Nicholls, Byron Miller, and Justin Beaumont, 1–23. Farnham: Ashgate.

Olson, Mancur. 1971. The logic of collective action: Public goods and the theory of groups. Cambridge: Harvard University Press.

Ostrom, Elinor. 1990. Governing the commons: The evolution of institutions for collective action. Cambridge University Press.

Park, Robert E. 1952. Human communities: The city and human ecology. Glencoe: Free Press.

Pettigrew, Thomas F. 1998. Intergroup contact theory. Annual Review of Psychology 4(9): 65–85.

Raiffa, Howard. 1970. Decision analysis. Reading, Massachusetts: Addison-Wesley.

Rajagopal, Arvind. 2010. Special political zone: Urban planning, spatial segregation and the infrastructure of violence in Ahmedabad. In Gujarat beyond Gandhi, ed. N. Mehta and M. Mehta, 63–90. New Delhi: Routledge.

Sampson, Robert J., and Per-Olof Wikström. 2008. The social order of violence in Chicago and Stockholm neighborhoods: A comparative inquiry. In Order, conflict, and violence, ed. Stathis N. Kalyvas, Ian Shapiro, and Tarek Masoud, 97–119. Cambridge: Cambridge University Press.

Scacco, Alexandra. 2009. Who riots? Explaining individual participation in ethnic violence. New York: Columbia University Press.

Schelling, Thomas. 1963. The strategy of conflict. New York: Oxford University Press.

Sewell, William H. 2001. Space in contentious politics. In Silence and voice in the study of contentious politics, ed. Ronald R. Aminzade, 51–88. Cambridge: Cambridge University Press.

Spodek, Howard. 2011. Ahmedabad: Shock city of twentieth-century India. Bloomington: Indiana University Press.

Spykman, Nicholas John. 2009. The social theory of Georg Simmel, 3rd ed. New Jersey: Transaction Publishers.

Sreekumar, R.B. 2010. "Suggestions to the Special Investigation Team (SIT) for further action on the enquiry on Mrs. Jafri's complaint and other riots cases." Affidavit RBS/COM/327C/2010, 3 September.

Stokes, Susan C., and Susan C. Stokes. 2007. Political clientelism. In The Oxford handbook of comparative politics, ed. Carles Boix, 604–627. Oxford: Oxford University Press.

Strauss, Scott. 2008. Order in disorder: A micro-comparative study of genocidal dynamics in Rwanda. In Order, conflict, and violence, ed. Stathis N. Kalyvas, Ian Shapiro, and Tarek Masoud, 301–320. Cambridge: Cambridge University Press.

Tambiah, Stanley. 1997. Friends, neighbors, enemies, strangers: Aggressor and victim in civilian ethnic riots. Social Science and Medicine 45(8): 1177–1188.

Tilly, Charles. 2000. Spaces of contention. Mobilization 2: 135–159.

Toft, Monica Duffy. 2003. The geography of ethnic violence. Princeton University Press.

Varese, Federico. 2001. The Russian Mafia: Private protection in a new market economy. Oxford: Oxford University Press.

Varshney, Ashutosh. 2002. Ethnic conflict and civic life: Hindus and Muslims in India. New Haven: Yale University Press.

Wilkinson, Steven I. 2004. Votes and violence: Electoral competition and ethnic riots in India. Cambridge: Cambridge University Press.

Wood, Elisabeth J. 2006. The ethical challenges of field research in conflict zones. Qualitative Sociology 29: 373–386.

Zhao, Dingxin. 1998. Ecologies of social movements: Student mobilization during the 1989 prodemocracy movement in Beijing. American Journal of Sociology 6: 1493–1529.
Acknowledgments
I am grateful to Michael Biggs for excellent insights on several drafts of this article; Prasad Chacko and Imran Pathan of Human Development and Research Centre, Ahmedabad, for data on Naroda Patiya and all respondents in Ahmedabad for their time and patience. Andrea Canales, Robin David, Heather Hamill, Anthony Heath, Juta Kawalerowicz, Anthony King, Samina Luthfa, Rima Majed, Lucia Michelutti, Federico Varese, Wybo Wiersma, Steven Wilkinson, participants at the 2012 Annual South Asia Conference, Madison-Wisconsin, provided valuable comments. Comments from three anonymous reviewers and the editor-in-chief of Qualitative Sociology substantially refined the central arguments of this article.
About this article
Cite this article
Dhattiwala, R. The Ecology of Ethnic Violence: Attacks on Muslims of Ahmedabad in 2002. Qual Sociol 39, 71–95 (2016). https://doi.org/10.1007/s11133-015-9320-5
Keywords
Hindu-Muslim

Riots

Ethnic violence

Spatial configuration

Gujarat

India