Abstract
Complementary feeding starts at around six months of age because neither breast milk nor formula assure the proper nutrition of infants. Therefore, along with breast milk, solid foods are gradually introduced, particularly cereal-based foods, which will provide starch as a new source of energy and nutrients. As a result, the need of an adequate in vitro digestion method to study the influence of different aspects of weaning period is unquestionable. This critical review summarizes the in vitro digestion methods available for the analysis of starch hydrolysis under infant conditions considering different features, namely, starch digestion, infant digestive conditions and in vitro models suitable for the study of starch digestion (static, semi-dynamic and dynamic). Key factors such as enzyme concentrations, transit time, oral, gastric and intestinal conditions and differences with current adult models, have been addressed. The need for standardized infant digestion models adapted to the complementary feeding period was discussed. Existing literature data demonstrate that more effort has to be done to improve the research on this issue, in order to obtain comparable results that would address a better understanding of the digestibility of different food nutrients under infant conditions facilitating the development of appropriate formulations that may assure proper infant nutrition.
Access options
Buy single article
Instant access to the full article PDF.
USD 39.95
Price excludes VAT (USA)
Tax calculation will be finalised during checkout.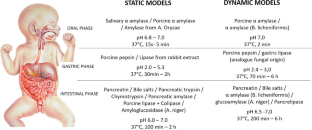 References
Bourlieu C, Ménard O, Bouzerzour K et al (2014) Specificity of infant digestive conditions: some clues for developing relevant in vitro models. Crit Rev Food Sci Nutr 54:1427–1457

Gutiérrez TJ (2020) Food science, technology and nutrition for babies and children. Springer International Publishing, Switzerland

Lin AHM, Nichols BL (2017) The digestion of complementary feeding starches in the young child. Starch - Stärke 69:1700012

Shulman RJ (2018) Starch malabsorption in infants. J Pediatr Gastroenterol Nutr 66:S65–S67

Were FN, Lifschitz C (2018) Complementary feeding: beyond nutrition. Ann Nutr Metab 73:20–25

Goyal MS, Raichle ME (2018) Glucose requirements of the developing human brain. J Pediatr Gastroenterol Nutr 66:S46–S49

Nguyen TTP, Bhandari B, Cichero J, Prakash S (2015) A comprehensive review on in vitro digestion of infant formula. Food Res Int 76:373–386

Mackie AR, Mulet-Cabero AI, Torcello-Gómez A (2020) Simulating human digestion: developing our knowledge to create healthier and more sustainable foods. Food Funct 11:9397–9431

Shani-Levi C, Alvito P, Andrés A et al (2017) Extending in vitro digestion models to specific human populations: perspectives, practical tools and bio-relevant information. Trends Food Sci Technol 60:52–63

Tournier C, Demonteil L, Canon F et al (2019) A new masticatory performance assessment method for infants: a feasibility study. J Texture Stud 50:237–247

Butterworth PJ, Warren FJ, Ellis PR (2011) Human α-amylase and starch digestion: an interesting marriage. Starch - Stärke 63:395–405

Gan J, Bornhorst GM, Henrick BM, German JB (2018) Protein digestion of baby foods: study approaches and implications for infant health. Mol Nutr Food Res 62:1–11

Nichols B, Klish WJ (2018) Complementary starch feeding of the young child: starch digestion consortium workshop 18. J Pediatr Gastroenterol Nutr 66:3–5

Lee PC, Werlin S, Trost B, Struve M (2004) Glucoamylase activity in infants and children: normal values and relationship to symptoms and histological findings. J Pediatr Gastroenterol Nutr 39:161–165

Fournier E, Roussel C, Dominicis A et al (2022) In vitro models of gut digestion across childhood: current developments, challenges and future trends. Biotechnol Adv 54:1–27

de Laffolie J, Naim HY, Rudloff S, Zimmer KP (2018) Starch tolerance and the short bowel. J Pediatr Gastroenterol Nutr 66:S68–S71

Guerra A, Etienne-Mesmin L, Livrelli V et al (2012) Relevance and challenges in modeling human gastric and small intestinal digestion. Trends Biotechnol 30:591–600

Brou K, N´Da-Kouassi AM, Kouadio JH, et al (2013) Biochemical characterization and functional properties of weaning food made from cereals (millet, maize) and legumes (beans, soybeans). J Food Chem Nutr 01:22–32

do Nascimento da Silva E, Leme ABP, Cidade M, Cadore S (2013) Evaluation of the bioaccessible fractions of Fe, Zn, Cu and Mn in baby foods. Talanta 117:184–188

do Nascimento da Silva E, de Farias LO, Cadore S (2018) The total concentration and bioaccessible fraction of nutrients in purées, instant cereals and infant formulas by ICP OES: a study of dietary recommended intakes and the importance of using a standardized in vitro digestion method. J Food Compos Anal 68:65–72

Christides T, Amagloh F, Coad J (2015) Iron bioavailability and provitamin A from sweet potato- and cereal-based complementary foods. Foods 4:463–476

Uğur H, Çatak J, Mızrak ÖF et al (2020) Determination and evaluation of in vitro bioaccessibility of added vitamin C in commercially available fruit-, vegetable-, and cereal-based baby foods. Food Chem 330:1–7

Ménard O, Bourlieu C, De Oliveira SC et al (2018) A first step towards a consensus static in vitro model for simulating full-term infant digestion. Food Chem 240:338–345

Gamage HKAH, Tetu SG, Chong RWW et al (2017) Cereal products derived from wheat, sorghum, rice and oats alter the infant gut microbiota in vitro. Sci Rep 7:1–12

Torcello-Gómez A, Dupont D, Jardin J et al (2020) Human gastrointestinal conditions affect in vitro digestibility of peanut and bread proteins. Food Funct 11:6921–6932

Pica V, Stuknytė M, Masotti F et al (2021) Model infant biscuits release the opioid-acting peptides milk β-casomorphins and gluten exorphins after in vitro gastrointestinal digestion. Food Chem 362:1–6

Havenaar R, Anneveld B, Hanff LM et al (2013) In vitro gastrointestinal model (TIM) with predictive power, even for infants and children? Int J Pharm 457:327–332

Ménard O, Cattenoz T, Guillemin H et al (2014) Validation of a new in vitro dynamic system to simulate infant digestion. Food Chem 145:1039–1045

Minekus M, Alminger M, Alvito P et al (2014) A standardised static in vitro digestion method suitable for food – an international consensus. Food Funct 5:1113–1124

Passannanti F, Nigro F, Gallo M et al (2017) In vitro dynamic model simulating the digestive tract of 6-month-old infants. PLoS ONE 12(12):e0189807

Le Roux L, Chacon R, Dupont D et al (2020) In vitro static digestion reveals how plant proteins modulate model infant formula digestibility. Food Res Int 130:108917

Corrigan B, Brodkorb A (2020) The effect of pre-treatment of protein ingredients for infant formula on their in vitro gastro-intestinal behaviour. Int Dairy J 110:1–9

Parkar SG, Rosendale DI, Stoklosinski HM et al (2021) Complementary food ingredients alter infant gut microbiome composition and metabolism in vitro. Microorganisms 9:1–17

Parkar SG, Frost JKT, Rosendale D et al (2021) The sugar composition of the fibre in selected plant foods modulates weaning infants' gut microbiome composition and fermentation metabolites in vitro. Sci Rep 11:1–15

Brodkorb A, Egger L, Alminger M et al (2019) INFOGEST static in vitro simulation of gastrointestinal food digestion. Nat Protoc 14:991–1014
Acknowledgements
The authors want to thanks Carolina Mosconi who did the language quality check of this manuscript.
Funding
This research received no specific grant from any agency in the public, commercial, or not-for-profit sectors.
Ethics declarations
Ethics Approval
Not applicable.
Consent to Participate
Not applicable.
Consent for Publication
Not applicable.
Conflict of Interest
The authors confirm that they have no conflict of interest.
Additional information
Publisher's Note
Springer Nature remains neutral with regard to jurisdictional claims in published maps and institutional affiliations.
Rights and permissions
Springer Nature or its licensor holds exclusive rights to this article under a publishing agreement with the author(s) or other rightsholder(s); author self-archiving of the accepted manuscript version of this article is solely governed by the terms of such publishing agreement and applicable law.
About this article
Cite this article
Rodríguez, M.D., León, A.E. & Bustos, M.C. Starch Digestion in Infants: An Update of Available In Vitro Methods—A Mini Review. Plant Foods Hum Nutr 77, 345–352 (2022). https://doi.org/10.1007/s11130-022-01001-1
Accepted:

Published:

Issue Date:

DOI: https://doi.org/10.1007/s11130-022-01001-1
Keywords
Starch hydrolysis

Infant digestion

In vitro digestion method