Abstract
Gynostemma pentaphyllum (G. pentaphyllum) is a perennial liana herb of the Cucurbitaceae family which has both nutraceutical and pharmacological functions. The objective of the current study was to investigate the preventative effects of G. pentaphyllum and Gypenoside-IV (GP-IV, a saponin monomer in G. pentaphyllum) on metabolic symptoms in high fat diet induced obese (DIO) mice with gut microbiota dysbiosis. G. pentaphyllum water extract (GPWE, 150 mg/kg•d− 1) and GP-IV (50 mg/kg•d− 1) were orally administered to DIO mice by gavage for 10 weeks. The results showed that both GPWE and GP-IV prevented obesity development by decreasing body weight gain, reducing fat mass/body weight ratio and inhibiting adipocyte hypertrophy. GPWE and GP-IV also improved lipid profile and glucose tolerance effectively. Moreover, GPWE and GP-IV treatments partly restored gut microbiota in DIO mice. Typically, GPWE and GP-IV reduced Firmicutes to Bacteroidetes ratio, increased the abundance of certain health-promoting bacteria and reduced the abundance of microbiota that were associated with metabolic disorders. We conclude that GPWE and GP-IV can ameliorate metabolic symptoms possibly via modulating gut microbiota in DIO mice.
Access options
Buy single article
Instant access to the full article PDF.
USD 39.95
Price excludes VAT (USA)
Tax calculation will be finalised during checkout.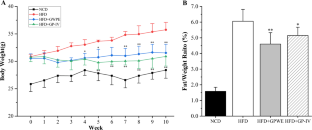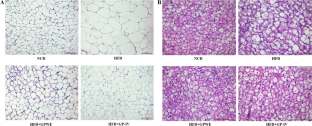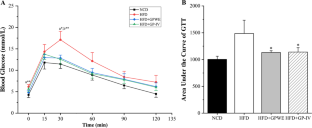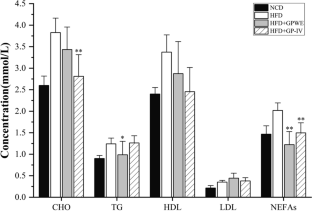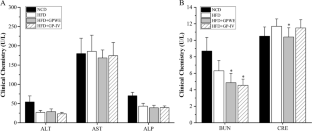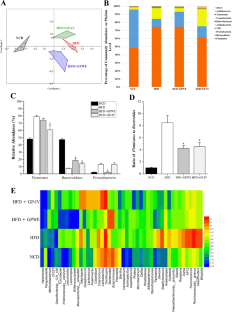 Data Availability
The datasets generated during and/or analysed during the current study are available from the corresponding author on reasonable request.
Acknowledgements
X.Y.H. would like to thank the 2115 Talent Development Program of China Agricultural University.
Ethics declarations
Conflict of Interest
The authors declare that there is not conflict of interest in the study.
Additional information
Publisher's Note
Springer Nature remains neutral with regard to jurisdictional claims in published maps and institutional affiliations.
Supplementary Information
Below is the link to the electronic supplementary material.
About this article
Cite this article
Shu, X., Chen, R., Yang, M. et al. Gynostemma pentaphyllum and Gypenoside-IV Ameliorate Metabolic Disorder and Gut Microbiota in Diet-Induced-Obese Mice. Plant Foods Hum Nutr 77, 367–372 (2022). https://doi.org/10.1007/s11130-022-00982-3
Accepted:

Published:

Issue Date:

DOI: https://doi.org/10.1007/s11130-022-00982-3
Keywords