Abstract
The aim of this study was to investigate the chemical composition, mineral content and report the effect of gastrointestinal digestion on the proteins, phenolics, flavonoids and antioxidant activity of morphological parts of Amaranthus viridis (AV). The macronutrients found in the greatest quantity were proteins (leave, inflorescence and seeds) and fiber (roots and stem). The main minerals were calcium, potassium, iron and zinc. All the plant parts showed total phenolic (TPC) and total flavonoid (TFC) compounds that were correlated with antioxidant capacity (DPPH, ABTS and FRAP); the leaves and inflorescence presented the greatest potential. The antioxidant compounds from the leaves, inflorescence and roots decreased after static in vitro digestion, while the TPC and TFC of the digested seeds increased by more than 55%. Approximately 90% of the protein content was bioaccessible. To the best of our knowledge, for the first time, the bioaccessibility of proteins, phenolics, flavonoids and antioxidant activity of the leave, inflorescence, seeds, roots and stem from AV were reported. Taking into consideration the excellent nutritional properties, the morphological parts of the plant can be potentially explored as a source of protein, fiber, minerals and antioxidant compounds.
Access options
Buy single article
Instant access to the full article PDF.
USD 39.95
Price includes VAT (USA)
Tax calculation will be finalised during checkout.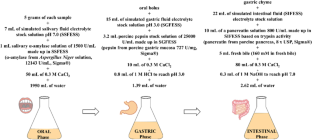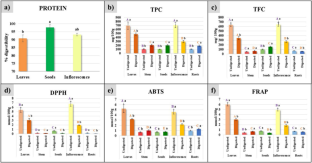 Data availability
The authors confirm that the data supporting the findings of this study are available within the article.
Acknowledgements
We are thankful to the Paraná Reference Center for Agroecology of Paraná (CPRA-PR) for donating the plants. This work was supported by Coordination for the Improvement of Higher Education Personnel—Brazil (CAPES) for the financial support and the master scholarship awarded to A.D. Silva (grant number 888823830003/2019-01) and postdoctoral fellowships awarded to S. Ávila (grant number 88887371865/2019-00).
Ethics declarations
Conflict of interest
The authors have no conflict of interest to declare.
Additional information
Publisher's Note
Springer Nature remains neutral with regard to jurisdictional claims in published maps and institutional affiliations.
About this article
Cite this article
Silva, A.D., Ávila, S., Küster, R.T. et al. In vitro Bioaccessibility of Proteins, Phenolics, Flavonoids and Antioxidant Activity of Amaranthus viridis. Plant Foods Hum Nutr (2021). https://doi.org/10.1007/s11130-021-00924-5
Keywords
Amaranthus

Nutrient

Minerals

Digestibility

Antioxidant compounds

Morphological parts