Abstract
Vegetal wastes are currently a source of pollution due to the excess of organic compounds in the environment. Seeds are the main by-product of the avocado industry and represent 16–22% of the total weight and it is considered a waste without applications. Despite the seed stands out for its high content of phenolic compounds, lack of knowledge regarding of the best processing state using non-invasive and short-time methods are required to take advantage of these nutraceutical compounds. This research aimed to find correlations from physicochemical analysis, color, hardness, and firmness of the whole avocado seeds with its nutraceutical properties as long as the ripeness increased, providing information for further industrial use of this waste. The results indicated that 'Hass' avocado fruit ripening positively correlates with the improvement of the physicochemical parameters involved in the fruit processing and the increase of nutraceutical compounds in the seed. The ripeness process decreased moisture (%) and hardness (N) parameters in the seeds (27.69 and 16.4%, respectively), facilitating its processing. Moreover, the ripening increased the antioxidant capacity by DPPH* around 7%, due to the concentration of phenolic compounds in the seed. Seed's phenolic compounds were positively correlated with the Hue angle at increasing ripeness, becoming a potential physicochemical indicator for the industry. The prediction of changes in nutraceutical compounds and physicochemical properties, as ripening occurred, may reduce analysis times, processes, and guidance to use avocado seeds as a by-product. These results facilitate the seed processing and open up opportunities for its use in the industry.
Access options
Buy single article
Instant access to the full article PDF.
USD 39.95
Price includes VAT (USA)
Tax calculation will be finalised during checkout.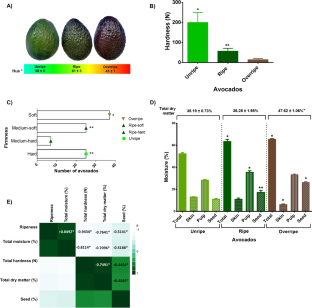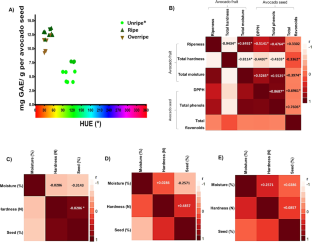 Data Availability
The datasets generated during and/or analyzed during the current study are available from the corresponding author on reasonable request.
Acknowledgements
Author V. Sánchez-Quezada acknowledges to Ph.D. I. Luzardo-Ocampo for the support to manuscript with the language edition and Consejo Nacional de Ciencia y Tecnología (CONACyT-Mexico) for her Ph.D. scholarship (grant number: 694824).
Ethics declarations
Conflict of Interest
The authors declare that they have no conflict of interest.
Additional information
Publisher's Note
Springer Nature remains neutral with regard to jurisdictional claims in published maps and institutional affiliations.
Supplementary Information
Below is the link to the electronic supplementary material.
The results are expressed as the mean ± SD of three independent experiments by the Tukey test (p < 0.05). CE/100g: milliequivalent of (+)-catechin per 100g of sample (PDF 35.0 KB)
About this article
Cite this article
Sánchez-Quezada, V., Campos-Vega, R. & Loarca-Piña, G. Prediction of the Physicochemical and Nutraceutical Characteristics of 'Hass' Avocado Seeds by Correlating the Physicochemical Avocado Fruit Properties According to Their Ripening State. Plant Foods Hum Nutr 76, 311–318 (2021). https://doi.org/10.1007/s11130-021-00900-z
Accepted:

Published:

Issue Date:
Keywords
Avocado seed

Food applications

Nutraceutical compounds

Physicochemical properties

By-products use