Abstract
The two main components from a Nelumbo nucifera leaf extract (NnEx) were investigated for their ability to prevent triglyceride accumulation and promoting lipolysis. Sun-dried Nelumbo nucifera leaves were immersed in hot water to extract the soluble components, and the resulting solution was analyzed by LC-MS and nuclear magnetic resonance. The results showed that quercetin-3-O-ß-glucuronide (Q3GA) and quercetin were the key components of the NnEx. In vitro experiments confirmed that quercetin and Q3GA functioned in lipid metabolism by promoting triglyceride degradation through inhibition of the cAMP pathway. In vivo experiments showed that NnEx ingestion inhibited the accumulation of neutral fats in ICR mice and transitioned the hepatocytes of type II diabetic KK-Ay mice out of glycogenosis. These results highlight the ability of NnEx to control metabolism by modulating fat and sugar absorption and may provide an interesting novel treatment for obesity and related lifestyle diseases such as type II diabetes.
Access options
Buy single article
Instant access to the full article PDF.
US$ 39.95
Tax calculation will be finalised during checkout.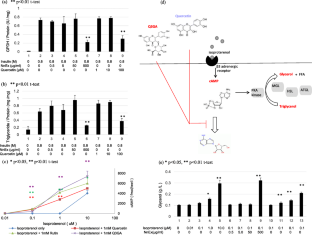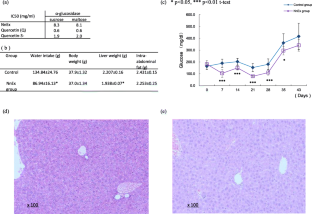 References
1.

Spiegelman BM, Flier JS (2001) Obesity and the regulation of energy balance. Cell 104:531–543

2.

Reaven GM (1995) Pathophysiology of insulin resistance in human disease. Physiol Rev 75:473–486. https://doi.org/10.1152/physrev.1995.75.3.473

3.

Chen S et al (2012) Analysis of flavonoids from lotus (Nelumbo nucifera) leaves using high performance liquid chromatography/photodiode array detector tandem electrospray ionization mass spectrometry and an extraction method optimized by orthogonal design. J Chromatogr A 1227:145–153. https://doi.org/10.1016/j.chroma.2011.12.098

4.

Guo Y, Chen X, Qi J, Yu B (2016) Simultaneous qualitative and quantitative analysis of flavonoids and alkaloids from the leaves of Nelumbo nucifera Gaertn. using high-performance liquid chromatography with quadrupole time-of-flight mass spectrometry. J Sep Sci 39:2499–2507. https://doi.org/10.1002/jssc.201501315

5.

Sharma BR et al (2016) Nelumbo Nucifera leaf extract attenuated pancreatic ß-cells toxicity induced by interleukin-1ß and interferon-γ, and increased insulin secrection of pancreatic ß-cells in streptozotocin-induce diabetic rats. J Tradit Chin Med 36(1):71–77

6.

Juzwiak S et al (2005) Effect of quercetin on experimental hyperlipidemia and atherosclerosis in rabbits. Pharmacol Rep 57:604–609

7.

Hoek-van den Hil EF et al (2013) Quercetin induces hepatic lipid omega-oxidation and lowers serum lipid levels in mice. PLoS One 8:e51588. https://doi.org/10.1371/journal.pone.0051588

8.

Madhavan PN, Nair et al (2002) The flavonoid, quercetin, differentially regulates Th-1 (IFNγ) and Th-2 (IL4) cytokine gene expression by normal peripheral blood mononuclear cells. Biochim Biophys Acta (BBA) Mol Cell Res 1593(1):29–36

9.

Evers DL et al (2005) Human cytomegalovirus-inhibitory flavonoids: studies on antiviral activity and mechanism of action. Antiviral Res 68:124–134

10.

Shirai M, Moon JH, Tsushida T, Terao J (2001) Inhibitory effect of a quercetin metabolite, quercetin 3-O-beta-D-glucuronide, on lipid peroxidation in liposomal membranes. J Agric Food Chem 49:5602–5608

11.

Ishizawa K et al (2011) Pharmacology in health food: metabolism of quercetin in vivo and its protective effect against arteriosclerosis. J Pharmacol Sci 115:466–470

12.

Mukai R et al (2012) Effect of quercetin and its glucuronide metabolite upon 6-hydroxydopamine-induced oxidative damage in Neuro-2a cells. Free Radic Res 46(8):1019–1028

13.

Akari I et al (2013) Mitochondrial dysfunction leads to deconjugation of quercetin glucuronides in inflammatory macrophages. Plos One 8(11):e80843

14.

Yang LL et al (2016) Pharmacokinetic comparison between quercetin and quercetin 3-O-beta-glucuronide in rats by UHPLC-MS/MS. Sci Rep 6:35460. https://doi.org/10.1038/srep35460

15.

Moon JH, Tsushida T, Nakahara K, Terao J (2001) Identification of quercetin 3-O-beta-D-glucuronide as an antioxidative metabolite in rat plasma after oral administration of quercetin. Free Radic Biol Med 30:1274–1285

16.

Ohara K et al (2013) Quercetin-3-O-glucuronide induces ABCA1 expression by LXRalpha activation in murine macrophages. Biochem Biophys Res Commun 441:929–934. https://doi.org/10.1016/j.bbrc.2013.10.168

17.

Liisberg U et al (2016) Intake of a Western diet containing cod instead of pork alters fatty acid composition in tissue phospholipids and attenuates obesity and hepatic lipid accumulation in mice. J Nutr Biochem 33:119–127. https://doi.org/10.1016/j.jnutbio.2016.03.014

18.

Marrelli M, Conforti F, Araniti F, Statti GA (2016) Effects of saponins on lipid metabolism: a review of potential health benefits in the treatment of obesity. Molecules 21(10):1404. https://doi.org/10.3390/molecules21101404

19.

Huang W et al (2012) Impact of high-fat diet induced obesity on glucose absorption in small intestinal mucose in rats. Wei Sheng Yan Jiu 41(6):878–882

20.

Hsieh CT, Chang FR, Tsai YH, Wu YC, Hsieh TJ (2018) 2-Bromo-4'-methoxychalcone and 2-Iodo-4'-methoxychalcone prevent progression of hyperglycemia and obesity via 5'-adenosine-monophosphate-activated protein kinase in diet-induced obese mice. Int J Mol Sci 19:2763. https://doi.org/10.3390/ijms19092763

21.

Fiorentino TV et al (2018) One-hour postload hyperglycemia: implications for prediction and prevention of type 2 diabetes. J Clin Endocr Metab 103:3131–3143. https://doi.org/10.1210/jc.2018-00468

22.

Narayan KM, Weber MB (2015) Screening for hyperglycemia: the gateway to diabetes prevention and management for all Americans. Ann Intern Med 162:795–796. https://doi.org/10.7326/M15-0798

23.

Meng Y et al (2016) Evaluation of total flavonoids, myricetin, and quercetin from Hovenia dulcis Thunb. as inhibitors of alpha-amylase and alpha-glucosidase. Plant Foods Hum Nutr 71:444–449. https://doi.org/10.1007/s11130-016-0581-2

24.

Li K, Li S, Xu F, Cao G, Gong X (2018) A novel acylated quercetin glycoside and compounds of inhibitory effects on alpha-glucosidase from Panax ginseng flower buds. Nat Prod Res 17:1–7. https://doi.org/10.1080/14786419.2018.1543685

25.

Picq M, Prigent AF, Nemoz G, Andre AC, Pacheco H (1982) Pentasubstituted quercetin analogues as selective inhibitors of particulate 3':5'-cyclic-AMP phosphodiesterase from rat brain. J Med Chem 25:1192–1198

26.

Townsend EA, Emala CW Sr (2013) Quercetin acutely relaxes airway smooth muscle and potentiates beta-agonist-induced relaxation via dual phosphodiesterase inhibition of PLCbeta and PDE4. Am J Physiol Lung cell Mol Physiol 305:L396–L403. https://doi.org/10.1152/ajplung.00125.2013

27.

Ichinose T et al (2011) Effect of endurance training supplemented with green tea extract on substrate metabolism during exercise in humans. Scand J Med Sci Sports 21:598–605. https://doi.org/10.1111/j.1600-0838.2009.01077.x

28.

Watanabe S et al (1999) Assessment of hepatic functional reserve in cirrhotic patients by computed tomography of the caudate lobe. Dig Dis Sci 44:2554–2563

29.

Al-Gayyar MM et al (2015) Cod liver oil ameliorates sodium nitrite-induced insulin resistance and degradation of rat hepatic glycogen through inhibition of cAMP/PKA pathway. Life Sci 120:13–21. https://doi.org/10.1016/j.lfs.2014.11.002

30.

Lee J, Mitchell AE (2011) Quercetin and isorhamnetin glycosides in onion (Allium cepa L.): varietal comparison, physical distribution, coproduct evaluation, and long-term storage stability. J Agric Food Chem 59:857–863. https://doi.org/10.1021/jf1033587

31.

Mitchell AE et al (2007) Ten-year comparison of the influence of organic and conventional crop management practices on the content of flavonoids in tomatoes. J Agric Food Chem 55:6154–6159. https://doi.org/10.1021/jf070344

32.

Maatta-Riihinen KR, Kamal-Eldin A, Torronen AR (2004) Identification and quantification of phenolic compounds in berries of Fragaria and Rubus species (family Rosaceae). J Agric Food Chem 52:6178–6187. https://doi.org/10.1021/jf049450r

33.

DuPont MS, Mondin Z, Williamson G, Price KR (2000) Effect of variety, processing, and storage on the flavonoid glycoside content and composition of lettuce and endive. J Agric Food Chem 48:3957–3964

34.

National Toxicology P (1992) NTP technical report on the toxicology and carcinogenesis studies of 2,4-diaminophenol dihydrochloride (CAS NO. 137–09-7) in F344/N rats and B6C3F1 mice (gavage studies). Natl Toxicol Program Tech Rep Ser 401:1–232
Acknowledgements
This work was primarily sponsored by Meiji Co., Ltd., and the National Natural Science Foundation of China (81803228) partly. Shanghai Meiji Health Science and Technology Co., Ltd. and Shanghai Institute of Planned Parenthood Research provided partial support for research salaries.
Additional information
Enuo Liu and Hiroshi Tsuboi are co-firstauthors.
Electronic supplementary material
About this article
Cite this article
Liu, E., Tsuboi, H., Ikegami, S. et al. Effects of Nelumbo nucifera Leaf Extract on Obesity. Plant Foods Hum Nutr 76, 377–384 (2021). https://doi.org/10.1007/s11130-020-00852-w
Accepted:

Published:

Issue Date:
Keywords
Flavonoids

Nelumbo nucifera

Adipocyte differentiation

Quercetin-3-O-ß-glucuronide

cAMP activity

Triglyceride lipolysis