Abstract
Postprandial hyperglycemia is a known risk factor for the development of several health disorders, including type 2 diabetes, obesity and cardiovascular disease. This study aimed to investigate the acute effect of Undaria pinnatifida (Wakame), a discriminative constituent of the Japanese diet, on postprandial blood glucose and insulin levels. The study was conducted using a crossover method among 26 subjects. Blood was sampled for glucose and insulin measurements at 0, 30, 60, 90 and 120 min after a subject consumed either 200 g of rice or 200 g rice with 4 g of dried wakame. Blood glucose and insulin levels were significantly lower at 30 min after consuming rice with wakame than after consuming rice alone. Moreover, the incremental areas under the curves for glucose and insulin were lower when wakame was included. Wakame intake can improve postprandial glucose homeostasis. Wakame intake may offer a simple behavioural strategy that can reduce glycemic excursions in prediabetes. This study was registered with the UMIN Clinical Trial Registry (UMIN000031050).
This is a preview of subscription content,
to check access.
Access this article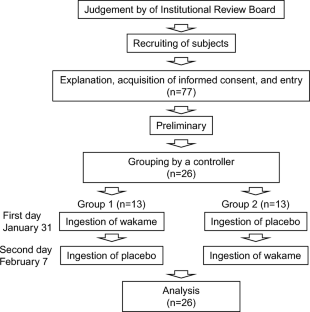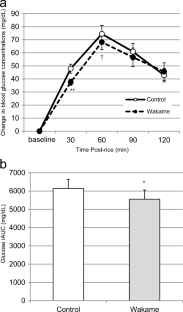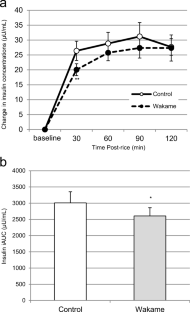 Similar content being viewed by others
References
NCD Risk Factor Collaboration (NCD-RisC) (2016) Worldwide trends in diabetes since 1980: a pooled analysis of 751 population-based studies with 4.4 million participants. Lancet 387:1513–1530. https://doi.org/10.1016/S0140-6736(16)00618-8

Kannel WB, McGee DL (1979) Diabetes and cardiovascular disease. The Framingham study. JAMA 241(19):2035–2038

Mattei J, Malik V, Wedick NM, Hu FB, Spiegelman D, Willett WC, Campos H (2015) Reducing the global burden of type 2 diabetes by improving the quality of staple foods: The Global Nutrition and Epidemiologic Transition Initiative. Global Health 11:23. https://doi.org/10.1186/s12992-015-0109-9

Lindström J, Ilanne-Parikka P, Peltonen M, Aunola S, Eriksson JG, Hemiö K, Hämäläinen H, Härkönen P, Keinänen-Kiukaanniemi S, Laakso M, Louheranta A, Mannelin M, Paturi M, Sundvall J, Valle TT, Uusitupa M, Tuomilehto J, Finnish Diabetes Prevention Study Group (2006) Sustained reduction in the incidence of type 2 diabetes by lifestyle intervention: follow-up of the Finnish diabetes prevention study. Lancet 368(9548):1673–1679. https://doi.org/10.1016/S0140-6736(06)69701-8

Solomon TPJ, Eves FF, Laye MJ (2018) Targeting postprandial hyperglycemia with physical activity may reduce cardiovascular disease risk. But what should we do, and when is the right time to move? Front Cardiovasc Med 5:99. https://doi.org/10.3389/fcvm.2018.00099

Shimazu T, Kuriyama S, Hozawa A, Ohmori K, Sato Y, Nakaya N, Nishino Y, Tsubono Y, Tsuji I (2007) Dietary patterns and cardiovascular disease mortality in Japan: a prospective cohort study. Int J Epidemiol 36(3):600–609. https://doi.org/10.1093/ije/dym005

Wells ML, Potin P, Craigie JS, Raven JA, Merchant SS, Helliwell KE, Smith AG, Camire ME, Brawley SH (2016) Algae as nutritional and functional food sources: revisiting our understanding. J Appl Phycol 29(2):949–982. https://doi.org/10.1007/s10811-016-0974-5

Nisizawa K, Noda H, Kikuchi R, Watanabe T (1987) The main seaweed foods in Japan. Hydrobiologia 151(1):5–29

Ikeda K, Kitamura A, Machida H, Watanabe M, Negishi H, Hiraoka J, Nakano T (2003) Effect of Undaria pinnatifida (Wakame) on the development of cerebrovascular diseases in stroke-prone spontaneously hypertensive rats. Clin Exp Pharmacol Physiol 30(1–2):44–48

Yoshinaga K, Nakai Y, Izumi H, Nagaosa K, Ishijima T, Nakano T, Abe K (2018) Oral administration of edible seaweed Undaria Pinnatifida (Wakame) modifies glucose and lipid metabolism in rats: a DNA microarray analysis. Mol Nutr Food Res 62:e1700828. https://doi.org/10.1002/mnfr.201700828

Hata Y, Nakajima K, Uchida J, Hidaka H, Nakano T (2001) Clinical effects of brown seaweed, Undaria pinnatifida (wakame), on blood pressure in hypertensive subjects. J Clin Biochem Nutr 30:43–53

Teas J, Baldeón ME, Chiriboga DE, Davis JR, Sarriés AJ, Braverman LE (2009) Could dietary seaweed reverse the metabolic syndrome? Asia Pac J Clin Nutr 18(2):145–154

Yamori Y, Miura A, Taira K (2001) Implications from and for food cultures for cardiovascular diseases: Japanese food, particularly Okinawan diets. Asia Pac J Clin Nutr 10(2):144–145

Paxman JR, Richardson JC, Dettmar PW, Corfe BM (2008) Alginate reduces the increased uptake of cholesterol and glucose in overweight male subjects: a pilot study. Nutr Res 28(8):501–505. https://doi.org/10.1016/j.nutres.2008.05.008

Meyer KA, Kushi LH, Jacobs DR Jr, Slavin J, Sellers TA, Folsom AR (2000) Carbohydrates, dietary fiber, and incident type 2 diabetes in older women. Am J Clin Nutr 71(4):921–930. https://doi.org/10.1093/ajcn/71.4.921

Ozawa M, Ninomiya T, Ohara T, Doi Y, Uchida K, Shirota T, Yonemoto K, Kitazono T, Kiyohara Y (2013) Dietary patterns and risk of dementia in an elderly Japanese population: the Hisayama study. Am J Clin Nutr 97(5):1076–1082. https://doi.org/10.3945/ajcn.112.045575

Kopf D, Frölich L (2009) Risk of incident Alzheimer's disease in diabetic patients: a systematic review of prospective trials. J Alzheimers Dis 16(4):677–685. https://doi.org/10.3233/JAD-2009-1011

Lee HJ, Kim HC, Vitek L, Nam CM (2010) Algae consumption and risk of type 2 diabetes: Korean National Health and nutrition examination survey in 2005. J Nutr Sci Vitaminol (Tokyo) 56(1):13–18

Maeda H, Yamamoto R, Hirao K, Tochikubo O (2005) Effects of agar (kanten) diet on obese patients with impaired glucose tolerance and type 2 diabetes. Diabetes Obes Metab 7(1):40–46. https://doi.org/10.1111/j.1463-1326.2004.00370.x

Tanemura Y, Yamanaka-Okumura H, Sakuma M, Nii Y, Taketani Y, Takeda E (2014) Effects of the intake of Undaria pinnatifida (Wakame) and its sporophylls (Mekabu) on postprandial glucose and insulin metabolism. J Med Investig 61(3-4):291–297

Torsdottir I, Alpsten M, Holm G, Sandberg AS, Tölli J (1991) A small dose of soluble alginate-fiber affects postprandial glycemia and gastric emptying in humans with diabetes. J Nutr 121(6):795–799. https://doi.org/10.1093/jn/121.6.795

Idota Y, Kato T, Shiragami K, Koike M, Yokoyama A, Takahashi H, Yano K, Ogihara T (2018) Mechanism of suppression of blood glucose level by calcium alginate in rats. Biol Pharm Bull 41(9):1362–1366. https://doi.org/10.1248/bpb.b18-00155

Schultz Moreira AR, Garcimartín A, Bastida S, Jiménez-Escrig A, Rupérez P, Green BD, Rafferty E, Sánchez-Muniz FJ, Benedí J (2014) Effects of Undaria pinnatifida, Himanthalia elongata and Porphyra umbilicalis extracts on in vitro α-glucosidase activity and glucose diffusion. Nutr Hosp 29(6):1434–1446. https://doi.org/10.3305/nh.2014.29.6.7381

Watanabe M, Morimoto K, Houten SM, Kaneko-Iwasaki N, Sugizaki T, Horai Y, Mataki C, Sato H, Murahashi K, Arita E, Schoonjans K, Suzuki T, Itoh H, Auwerx J (2012) Bile acid binding resin improves metabolic control through the induction of energy expenditure. PLoS One 7(8):e38286. https://doi.org/10.1371/journal.pone.0038286

Kobayashi M, Ikegami H, Fujisawa T, Nojima K, Kawabata Y, Noso S, Babaya N, Itoi-Babaya M, Yamaji K, Hiromine Y, Shibata M, Ogihara T (2007) Prevention and treatment of obesity, insulin resistance, and diabetes by bile acid-binding resin. Diabetes 56(1):239–247. https://doi.org/10.2337/db06-0353

Müller M, Canfora EE, Blaak EE (2018) Gastrointestinal transit time, glucose homeostasis and metabolic health: modulation by dietary fibers. Nutrients 10(3):E275. https://doi.org/10.3390/nu10030275

Repin N, Kay BA, Cui SW, Wright AJ, Duncan AM, Douglas Goff H (2017) Investigation of mechanisms involved in postprandial glycemia and insulinemia attenuation with dietary fibre consumption. Food Funct 8(6):2142–2154. https://doi.org/10.1039/c7fo00331e

Fukuda S, Saito H, Nakaji S, Yamada M, Ebine N, Tsushima E, Oka E, Kumeta K, Tsukamoto T, Tokunaga S (2007) Pattern of dietary fiber intake among the Japanese general population. Eur J Clin Nutr 61(1):99–103. https://doi.org/10.1038/sj.ejcn.1602505

Goñi I, Valdivieso L, Garcia-Alonso A (2000) Nori seaweed consumption modifies glycemic response in healthy volunteers. Nutr Res 20(10):1367–1375

Nowicka P, Wojdyło A, Laskowski P (2018) Inhibitory potential against digestive enzymes linked to obesity and type 2 diabetes and content of bioactive compounds in 20 cultivars of the peach fruit grown in Poland. Plant Foods Hum Nutr 73(4):314–320 https://link.springer.com/article/10.1007%2Fs11130-018-0688-8. Accessed 9 July 1999

Hashimoto N, Noda T, Kim SJ, Sarker MZ, Yamauchi H, Takigawa S, Matsuura-Endo C, Suzuki T, Han KH, Fukushima M (2009) Yam contributes to improvement of glucose metabolism in rats. Plant Foods Hum Nutr 64(3):193–198. https://doi.org/10.1007/s11130-009-0126-z
Acknowledgements
Study coordination, clinical tests and data management were performed by the staff of TES Holdings Co., Ltd. (Tokyo, Japan).
Ethics declarations
Conflict of Interest
KY is an employee of Riken Vitamin Co., Ltd. RM has no conflicts of interest to declare.
Ethical Approval
The study participants gave written informed consent prior to their inclusion in the study. The study was approved by the Oriental Ueno Detection Center Ethics Committee (approval No. 2017–37) and study protocol was registered with University Hospital Medical Information Network Clinical Trials Registry (UMIN000031050). This study was conducted in accordance with the principles of the Declaration of Helsinki and the national Ethical Guidelines for Medical and Health Research Involving Human Subjects, as applicable in Japan.
Additional information
Publisher's Note
Springer Nature remains neutral with regard to jurisdictional claims in published maps and institutional affiliations.
About this article
Cite this article
Yoshinaga, K., Mitamura, R. Effects of Undaria pinnatifida (Wakame) on Postprandial Glycemia and Insulin Levels in Humans: a Randomized Crossover Trial. Plant Foods Hum Nutr 74, 461–467 (2019). https://doi.org/10.1007/s11130-019-00763-5
Published:

Issue Date:

DOI: https://doi.org/10.1007/s11130-019-00763-5
Keywords