Abstract
Quinoa is a pseudo-grain consumed as a dietary staple in South America. In recent years, consumer demand for quinoa in the developed world has grown steadily. Its perceived health benefits have been cited as a driving force behind this trend, but there are very few human studies investigating the impact of quinoa consumption. The aim of this review was to identify physiological effects of quinoa consumption with potential for human health. A critical evaluation of animal model studies was conducted. The quality of identified studies was assessed using a methodological quality assessment tool and summative conclusions were drawn to guide the direction of future human research. The majority of studies were of fair quality. Purported physiological effects of quinoa consumption included decreased weight gain, improved lipid profile and improved capacity to respond to oxidative stress. These physiological effects were attributed to the presence of saponins, protein and 20-hydroxyecdysone in the quinoa seed. The implications of these findings are that human studies should investigate the impact of quinoa consumption on weight gain and lipid levels. The role of quinoa as an antioxidant is still unclear and requires further elucidation in animal models.
Access options
Buy single article
Instant access to the full article PDF.
USD 39.95
Price includes VAT (USA)
Tax calculation will be finalised during checkout.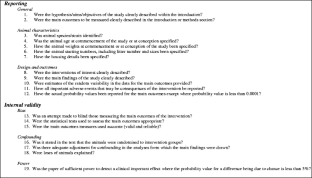 Abbreviations
DPPH:

2,2-diphenyl-1-picrylhydrazyl

FRAP:

Ferric reducing antioxidant power

HDL:

High-density lipoprotein

LDL:

Low-density lipoprotein

MQA:

Methodological quality assessment

QI:

Quality index

RQ:

Respiratory quotient
References
1.

FAO (2014) Food and nutrition in numbers. Food and Agriculture Organisation, Rome, Accessed 27 March 2015

2.

Van der Kamp JW, Poutanen K, Seal CJ, Richardson DP (2014) The HEALTHGRAIN definition of 'whole grain'. Food Nutr Res 58. doi:10.3402/fnr.v58.22100

3.

U.S. Department of Agriculture, U.S. Department of Health and Human Services (2010) Dietary guidelines for Americans. US Govt Printing Office, Washington

4.

National Health and Medical Research Council & Department of Health and Ageing (2013) Eat for health Australian dietary guidelines summary. NHMRC, Canberra

5.

Vega-Gálvez A, Miranda M, Vergara J, Uribe E, Puente L, Martínez EA (2010) Nutrition facts and functional potential of quinoa (Chenopodium quinoa willd.), an ancient Andean grain: a review. J Sci Food Agric 90(15):2541–2547

6.

FAOSTAT (2014) Download. FAOSTAT. http://faostat3.fao.org/faostat-gateway/go/to/download/Q/QC/E. Accessed 12 June 2014

7.

Jancurova M, Minarovicova L, Dandar A (2009) Quinoa - a review. Czech J Food Sci 27(2):71–79. http://www.agriculturejournals.cz/publicFiles/06732.pdf

8.

Ziebell P (2015) Emerging commodities: quinoa. National Australia Bank, Acessed 28 February 2015

9.

Ruales J, Nair BM (1992) Nutritional quality of the protein in quinoa (Chenopodium quinoa, willd) seeds. Plant Foods Hum Nutr 42(1):1–11

10.

Ranhotra GS, Gelroth JA, Glaser BK, Lorenz KJ, Johnson DL (1993) Composition and protein nutritional quality of quinoa. Cereal Chem 70(3):303–305

11.

Mahoney AW, Lopez JG, Hendricks DG (1975) An evaluation of the protein quality of quinoa. J Agric Food Chem 23(2):190–193

12.

Berti C, Riso P, Monti LD, Porrini M (2004) In vitro starch digestibility and in vivo glucose response of gluten–free foods and their gluten counterparts. Eur J Nutr 43(4):198–204

13.

Alvarez-Jubete L, Wijngaard H, Arendt EK, Gallagher E (2010) Polyphenol composition and in vitro antioxidant activity of amaranth, quinoa buckwheat and wheat as affected by sprouting and baking. Food Chem 119(2):770–778

14.

Repo-Carrasco R, Espinoza C, Jacobsen SE (2003) Nutritional value and use of the Andean crops quinoa (Chenopodium quinoa) and kaniwa (Chenopodium pallidicaule). Food Rev Int 19(1–2):179–189

15.

Sena ES, Currie GL, McCann SK, Macleod MR, Howells DW (2014) Systematic reviews and meta-analysis of preclinical studies: why perform them and how to appraise them critically. J Cereb Blood Flow Metab 34(5):737–742

16.

Downs SH, Black N (1998) The feasibility of creating a checklist for the assessment of the methodological quality both of randomised and non-randomised studies of health care interventions. J Epidemiol Community Health 52(6):377–384

17.

Ainge H, Thompson C, Ozanne SE, Rooney KB (2011) A systematic review on animal models of maternal high fat feeding and offspring glycaemic control. Int J Obes 35(3):325–335

18.

Samoocha D, Bruinvels DJ, Elbers NA, Anema JR, van der Beek AJ (2010) Effectiveness of web-based interventions on patient empowerment: a systematic review and meta-analysis. J Med Internet Res 12(2):e23

19.

Carlson D, Fernandez JA, Poulsen HD, Nielsen B, Jacobsen SE (2012) Effects of quinoa hull meal on piglet performance and intestinal epithelial physiology. J Anim Physiol Anim Nutr 96(2):198–205

20.

Jacobsen EE, Jacobsen SE, Skadhauge B (1997) Effect of dietary inclusion of quinoa on broiler growth performance. Anim Feed Sci Technol 65(1):5–14

21.

Meneguetti QA, Brenzan MA, Batista MR, Bazotte RB, Silva DR, Garcia Cortez DA (2011) Biological effects of hydrolyzed quinoa extract from seeds of Chenopodium quinoa Willd. J Med Food 14(6):653–657

22.

Foucault A-S, Mathé V, Lafont R, Even P, Dioh W, Veillet S, Tomé D, Huneau J-F, Hermier D, Quignard-Boulangé A (2012) Quinoa extract enriched in 20-hydroxyecdysone protects mice from diet-induced obesity and modulates adipokines expression. Obesity 20(2):270–277

23.

Pasko P, Barton H, Zagrodzki P, Izewska A, Krosniak M, Gawlik M, Gawlik M, Gorinstein S (2010) Effect of diet supplemented with quinoa seeds on oxidative status in plasma and selected tissues of high fructose-fed rats. Plant Foods Hum Nutr 65(2):146–151

24.

Paśko P, Zagrodzki P, Bartoń H, Chłopicka J, Gorinstein S (2010) Effect of quinoa seeds (Chenopodium quinoa) in diet on some biochemical parameters and essential elements in blood of high fructose-fed rats. Plant Foods Hum Nutr 65(4):333–338

25.

Improta F, Kellems RO (2001) Comparison of raw, washed and polished quinoa (Chenopodium quinoa Willd.) to wheat, sorghum or maize based diets on growth and survival of broiler chicks. Livest Res Rural Dev 13(1):1–10. http://www.lrrd.org/lrrd13/1/impr131.htm

26.

Matsuo M (2005) In vivo antioxidant activity of methanol extract from quinoa fermented with Rhizopus oligosporus. J Nutr Sci Vitaminol (Tokyo) 51(6):449–452

27.

Takao T, Watanabe N, Yuhara K, Itoh S, Suda S, Tsuruoka Y, Nakatsugawa K, Konishi Y (2005) Hypocholesterolemic effect of protein isolated from quinoa (Chenopodium quinoa willd.) seeds. Food Sci Technol Res 11(2):161–167

28.

Mithila MV, Khanum F (2015) Effectual comparison of quinoa and amaranth supplemented diets in controlling appetite; a biochemical study in rats. J Food Sci Technol 1–7

29.

Gee JM, Price KR, Ridout CL, Wortley GM, Hurrell RF, Johnson IT (1993) Saponins of quinoa (Chenopodium quinoa): effects of processing on their abundance in quinoa products and their biological effects on intestinal mucosal tissue. J Sci Food Agric 63(2):201–209

30.

Diaz J, Diaz MF, Cataneda S (1995) A note on the use of Chenopodium quinoa forage meal in pre-fattening pigs. Cuban J Agric Sci 29(2):223–226

31.

Foucault A-S, Even P, Lafont R, Dioh W, Veillet S, Tomé D, Huneau J-F, Hermier D, Quignard-Boulangé A (2014) Quinoa extract enriched in 20-hydroxyecdysone affects energy homeostasis and intestinal fat absorption in mice fed a high-fat diet. Physiol Behav 128:226–231

32.

Grant G, More LJ, McKenzie NH, Dorward PM, Buchan WC, Telek L, Pusztai A (1995) Nutritional and haemagglutination properties of several tropical seeds. J Agric Sci 124(3):437–445

33.

Ruales J, de Grijalva Y, Lopez-Jaramillo P, Nair BM (2002) The nutritional quality of an infant food from quinoa and its effect on the plasma level of insulin-like growth factor-1 (IGF-1) in undernourished children. Int J Food Sci Nutr 53(2):143–154

34.

Schutz Y (2004) Concept of fat balance in human obesity revisited with particular reference to de novo lipogenesis. Int J Obes 28(S4):S3–S11

35.

Rodríguez-Hernández H, Simental-Mendía LE, Rodríguez-Ramírez G, Reyes-Romero MA (2013) Obesity and inflammation: epidemiology, risk factors, and markers of inflammation. Int J Endocrinol 2013:1–11. doi:10.1155/2013/678159

36.

WHO (2015) Obesity and overweight. World Health Organisation. http://www.who.int/mediacentre/factsheets/fs311/en/. Accessed 21 March 2015

37.

Whitehead A, Beck EJ, Tosh S, Wolever TMS (2014) Cholesterol-lowering effects of oat β-glucan: a meta-analysis of randomized controlled trials. Am J Clin Nutr 100(6):1413–1421

38.

Chen Z-Y, Ma KY, Liang Y, Peng C, Zuo Y (2011) Role and classification of cholesterol-lowering functional foods. J Funct Foods 3(2):61–69

39.

Tang Y, Li X, Zhang B, Chen PX, Liu R, Tsao R (2015) Characterisation of phenolics, betanins and antioxidant activities in seeds of three Chenopodium quinoa Willd. genotypes. Food Chem 166:380–388

40.

Wang S, Melnyk JP, Tsao R, Marcone MF (2011) How natural dietary antioxidants in fruits, vegetables and legumes promote vascular health. Food Res Int 44(1):14–22

41.

Wang X, Ouyang Y, Liu J, Zhu M, Zhao G, Bao W, Hu FB (2014) Fruit and vegetable consumption and mortality from all causes, cardiovascular disease, and cancer: systematic review and dose–response meta-analysis of prospective cohort studies. BMJ 349:g4490
Acknowledgments
This research was supported by a RIRDC Postgraduate Scholarship (PRJ-009683) and a GRDC Grains Industry Research Scholarship (GRS10698).
Conflict of Interest
The authors declare that they have no conflict of interest
Compliance with Ethics
The procedures performed in seven of the included animal studies were in accordance with the ethical standards of the institution at which the studies were conducted. Eleven of the included studies did not explicitly state that the experimental procedures were in accordance with the ethical standards of the institution that the study was performed at.
About this article
Cite this article
Simnadis, T.G., Tapsell, L.C. & Beck, E.J. Physiological Effects Associated with Quinoa Consumption and Implications for Research Involving Humans: a Review. Plant Foods Hum Nutr 70, 238–249 (2015). https://doi.org/10.1007/s11130-015-0506-5
Keywords
Quinoa

Animal

Weight gain

Lipids

Antioxidant effects

Saponins