Abstract
A comparative analysis of ethanol extracts from peel, pulp and seed of Prunus persica var. platycarpa (Tabacchiera peach) was done. The total phenol, flavonoid and carotenoid content as well as the antioxidant properties by using different in vitro assays (DPPH, ABTS, FRAP, Fe-chelating, β-carotene bleaching test) were evaluated. Pulp extract was subjected to liquid chromatography-electrospray-tandem mass spectrometry (HPLC-ESI-MS/MS). Gallic acid, protocatechuic acid, protocatechualdehyde, chlorogenic acid, p-coumaric acid, and ferulic acid were identified as main constituents. Pulp extract was characterized by the highest total phytonutrients content and exhibited the highest antioxidant activity in all in vitro assays (IC50 values of 2.2 μg/mL after 60 min of incubation by using β-carotene bleaching test and 2.9 μg/mL by using Fe-chelating assay). Overall, the obtained results suggest that P. persica var. platycarpa displays a good antioxidant activity and its consumption could be promoted.
Access options
Buy single article
Instant access to the full article PDF.
USD 39.95
Price excludes VAT (USA)
Tax calculation will be finalised during checkout.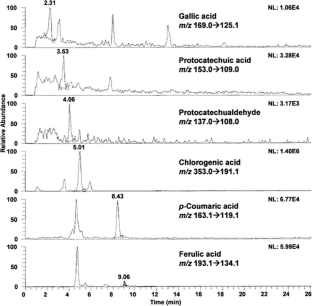 Abbreviations
ABTS:

2,2′-azinobis (3-ethylbenzothiazoline-6-sulfonic acid) diammonium salt

DPPH:

2,2-Diphenyl-1-picrylhydrazyl

FRAP:

Ferric reducing ability power

ROS:

Reactive oxygen species

TEAC:

Trolox equivalent antioxidant capacity
References
Schreiner M, Korn M, Stenger M, Holzgreve L, Altmann M (2013) Current understanding and use of quality characteristics of horticulture products. Sci Hortic 163:63–69

Pandey KB, Rizvi SI (2009) Plant polyphenols as dietary antioxidants in human health and disease. Oxid Med Cell Longev 2:270–278

Dröge W (2002) Free radicals in the physiological control of cell function. Physiol Rev 82:47–95

Bendary E, Francis RR, Ali HMG, Sarwat MI, El Hady S (2013) Antioxidant and structure-activity relationships (SARs) of some phenolic and anilines compounds. Ann Agric Sci 58:173–181

Re R, Pellegrini N, Proteggente A, Pannala A, Yang M, Rice-Evans C (1996) Antioxidant activity applying an improved ABTS radical cation decolorization assay. Free Radical Biol Med 26:1231–1237

Antolovich M, Prenzler PD, Patsalides E, McDonald S, Robards K (2002) Methods for testing antioxidant activity. Analyst 127:183–198

Abidi W, Jiménez S, Moreno MÁ, Gogorcena Y (2011) Evaluation of antioxidant compounds and total sugar content in a nectarine [Prunus persica (L.) Batsch] progeny. Int J Mol Sci 12:6919–6935

Abidi W, Cantín CM, Jiménez S, Giménez R, Moreno MÁ, Gogorcena Y (2015) Influence of antioxidant compounds, total sugars and genetic background on the chilling injury susceptibility of a non-melting peach (Prunus persica (L.) Batsch) progeny. J Sci Food Agric 95:351–358

Tomás-Barberán FA, Gil MI, Cremin P, Waterhouse AL, Hess-Pierce B, Kader AA (2001) HPLC-DAD-ESIMS analysis of phenolic compounds in nectarines, peaches, and plums. J Agric Food Chem 49:4748–4760

Gil MI, Tomás-Barberan FA, Hess-Pierce B, Kader AA (2002) Antioxidant capacities, phenolic compounds, carotenoids, and vitamin C contents of nectarine, peach, and plum cultivars from California. J Agric Food Chem 50:4976–4982

Vizzotto M, Cisneros-Zevallos L, Byrne DH (2007) Large variation found in the phytochemical and antioxidant activity of peach and plum germplasm. J Am Soc Hortic Sci 132:334–340

Cevallos-Casals BA, Byrne D, Okie WR, Cisneros-Zevallos L (2006) Selecting new peach and plum genotypes rich in phenolic compounds and enhanced functional properties. Food Chem 96:273–280

Cantín CM, Moreno MA, Gogorcena Y (2009) Evaluation of the antioxidant capacity, phenolic compounds, and vitamin C content of different peach and nectarine (Prunus persica L. Batsch) breeding progenies. J Agric Food Chem 57:4586–4592

Legua P, Hernández F, Díaz-Mula HM, Valero D, Serrano M (2011) Quality, bioactive compounds, and antioxidant activity of new flat-type peach and nectarine cultivars: a comparative study. J Food Sci 76:C729–C735

Gao X, Ohlander M, Jeppsson N, Björk L, Trajkovski V (2000) Changes in antioxidant effects and their relationship to phytonutrients in fruits of Sea buckthorn (Hippophae rhamnoides L.) during maturation. J Agric Food Chem 48:1485–1490

Loizzo MR, Tundis R, Bonesi M, Menichini F, Mastellone V, Avallone L, Menichini F (2012) Radical scavenging, antioxidant and metal chelating activities of Annona cherimola Mill. (cherimoya) peel and pulp in relation to their total phenolic and total flavonoid contents. J Food Comp Anal 25:179–184

Puigventós L, Navarro M, Alechaga E, Núñez O, Saurina J, Hernández-Cassou S, Puignou L (2015) Determination of polyphenolic profiles by liquid chromatography-electrospray-tandem mass spectrometry for the authentication of fruit extracts. Anal Bioanal Chem 407:597–608

Molyneux P (2004) The use of the stable free radical diphenylpicryl-hydrazyl (DPPH) for estimating antioxidant activity. Songklanakarin J Sci Technol 26:211–219

Amin I, Zamaliah MM, Chin WF (2004) Total antioxidant activity and phenolic content in selected vegetables. Food Chem 87:581–586

Benzie IFF, Strain JJ (1996) The Ferric Reducing Ability of Plasma (FRAP) as a Measure of "Antioxidant Power": The FRAP Assay. Anal Biochem 239:70–76

Dinis TCP, Madeira VMC, Almeida LM (1994) Action of phenolic derivatives (acetaminophen, salicylate and 5-aminosalicylate) as inhibitors of membrane lipid peroxidation and peroxyl radical scavengers. Arch Biochem Biophys 315:161–169

Official methods of analysis, AOAC, (2005) Association of Official Analytical Chemists. Edition 18: AOAC

Official methods of analysis, AOAC, Association of Official Analytical Chemists, Edition 16, Arlighton VA, USA: AOAC, 1995

Tavarini S, Degl'Innocent E, Remorini D, Massai R, Guidi L (2008) Preliminary characterisation of peach cultivars for their antioxidant capacity. Int J Food Sci Technol 43:810–815

Alothman M, Bhat R, Karim AA (2009) Antioxidant capacity and phenolic content of selected tropical fruits from Malaysia, extracted with different solvents. Food Chem 115:785–788

Kchaou W, Abbès F, Blecker C, Attia H, Besbes S (2013) Effects of extraction solvents on phenolic contents and antioxidant activities of Tunisian date varieties (Phoenix dactylifera L.). Ind Crops Prod 45:262–269

Di Vaio C, Graziani G, Marra L, Cascone A, Ritieni A (2008) Antioxidant capacities, carotenoids and polyphenols evaluation of fresh and refrigerated peach and nectarine cultivars from Italy. Eur Food Res Technol 227:1225–1231

Edge R, McGarvey DJ, Truscott TG (1997) The carotenoids as anti-oxidants--a review. J Photochem Photobiol B 41:189–200

Campbell OE, Padilla-Zakour OI (2013) Phenolic and carotenoid composition of canned peaches (Prunus persica) and apricots (Prunus armeniaca) as affected by variety and peeling. Food Res Int 54:448–455

Hong Y, Lin S, Jiang Y, Ashraf M (2008) Variation in contents of total phenolics and flavonoids and antioxidant activities in the leaves of 11 Eriobotrya species. Plant Foods Hum Nutr 63:200–204
Acknowledgments
The authors are grateful to Dr. D. Sturino, Department of Pharmacy, Health and Nutritional Science, University of Calabria, for English revision of the manuscript. The authors are also grateful to the Spanish Ministry of Economy and Competitiveness (project CTQ2012-30836), and to the Agency for Administration of University and Research Grants (Generalitat de Catalunya, Spain) (Project 2014 SGR-539).
Conflict of Interest
The authors declare that they have no conflict of interest.
About this article
Cite this article
Loizzo, M.R., Pacetti, D., Lucci, P. et al. Prunus persica var. platycarpa (Tabacchiera Peach): Bioactive Compounds and Antioxidant Activity of Pulp, Peel and Seed Ethanolic Extracts. Plant Foods Hum Nutr 70, 331–337 (2015). https://doi.org/10.1007/s11130-015-0498-1
Published:

Issue Date:

DOI: https://doi.org/10.1007/s11130-015-0498-1
Keywords