Abstract
Dietary spices have been adopted in cooking since ancient times to enhance flavor and also as food preservatives and disease remedies. In China, the use of spices and other aromatic plants as food flavoring is an integral part of dietary behavior, but relatively little is known about their functions. Fatty acid synthase (FAS) has been recognized as a remedy target, and its inhibitors might be applied in disease treatment. The present work was designed to assess the inhibitory activities on FAS of spices extracts in Chinese menu. The in vitro inhibitory activities on FAS of 22 extracts of spices were assessed by spectrophotometrically monitoring oxidation of NADPH at 340 nm. Results showed that 20 spices extracts (90.9 %) exhibited inhibitory activities on FAS, with half inhibition concentration (IC50) values ranging from 1.72 to 810.7 μg/ml. Among them, seven spices showed strong inhibitory effect with IC50 values lower than 10 μg/ml. These findings suggest that a large proportion of the dietary spices studied possess promising inhibitory activities on FAS, and subsequently might be applied in the treatment of obesity and obesity-related human diseases.
Access options
Buy single article
Instant access to the full article PDF.
US$ 39.95
Tax calculation will be finalised during checkout.
Subscribe to journal
Immediate online access to all issues from 2019. Subscription will auto renew annually.
US$ 79
Tax calculation will be finalised during checkout.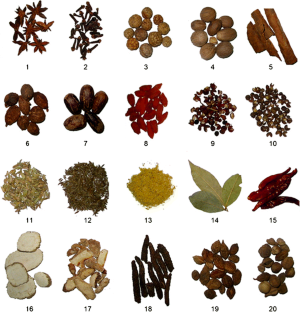 Abbreviations
Ac-CoA:

Acetyl-CoA

EGCG:

(-)-epigallocatechin gallate

EtOH:

Ethanol

FAS:

Fatty acid synthase

IC50 :

Half inhibition concentration

Mal-CoA:

Malonyl-CoA

NADPH:

β-Nicotinamide adenine dinucleotide 2′-phosphate reduced tetrasodium salt.
References
1.

Flegal KM, Carroll MD, Ogden CL, Johnson CL (2002) Prevalence and trends in obesity among US adults, 1999–2000. JAMA: J Am Med Assoc 288:1723–1727

2.

Bengmark S (2013) Gut microbiota, immune development and function. Pharmacol Res 69:87–113

3.

Mensah GA, Mokdad AH, Ford E, Narayan K, Giles WH, Vinicor F, Deedwania PC (2004) Obesity, metabolic syndrome, and type 2 diabetes: emerging epidemics and their cardiovascular implications. Cardiol Clin 22:485–504

4.

Bays HE (2004) Current and investigational antiobesity agents and obesity therapeutic treatment targets. Obesity 12:1197–1211

5.

Kuhajda FP (2006) Fatty acid synthase and cancer: new application of an old pathway. Cancer Res 66:5977–5980

6.

Smith S (1994) The animal fatty acid synthase: one gene, one polypeptide, seven enzymes. FASEB J 8:1248–1259

7.

Thupari JN, Landree LE, Ronnett GV, Kuhajda FP (2002) C75 increases peripheral energy utilization and fatty acid oxidation in diet-induced obesity. Proc Natl Acad Sci U S A 99:9498–9502

8.

Vance D, Goldberg I, Mitsuhashi O, Bloch K (1972) Inhibition of fatty acid synthetases by the antibiotic cerulenin. Biochem Biophys Res Commun 48:649–656

9.

Kim EK, Miller I, Aja S, Landree LE, Pinn M, McFadden J, Kuhajda FP, Moran TH, Ronnett GV (2004) C75, a fatty acid synthase inhibitor, reduces food intake via hypothalamic AMP-activated protein kinase. J Biol Chem 279:19970–19976

10.

Wang X, Tian WX (2001) Green tea epigallocatechin gallate: a natural inhibitor of fatty-acid synthase. Biochem Biophys Res Commun 288:1200–1206

11.

Srinivasan K (2005) Spices as influencers of body metabolism: an overview of three decades of research. Food Res Int 38:77–86

12.

Naidu KA, Thippeswamy NB (2002) Inhibition of human low density lipoprotein oxidation by active principles from spices. Mol Cell Biochem 229:19–23

13.

Manjunatha H, Srinivasan K (2007) Hypolipidemic and antioxidant effects of dietary curcumin and capsaicin in induced hypercholesterolemic rats. Lipids 42:1133–1142

14.

Bettaieb Rebey I, Kefi S, Bourgou S, Ouerghemmi I, Ksouri R, Tounsi MS, Marzouk B (2014) Ripening stage and extraction method effects on physical properties, polyphenol composition and antioxidant activities of cumin (Cuminum cyminum L.) seeds. Plant Foods Hum Nutr 69:358–364

15.

Baker I, Chohan M, Opara EI (2013) Impact of cooking and digestion, in vitro, on the antioxidant capacity and anti-inflammatory activity of cinnamon, clove and nutmeg. Plant Foods Hum Nutr 68:364–369

16.

Tian WX, Hsu RY, Wang YS (1985) Studies on the reactivity of the essential sulfhydryl groups as a conformational probe for the fatty acid synthetase of chicken liver: inactivation by 5, 5′-dithiobis-(2-nitrobenzoic acid) and intersubunit cross-linking of the inactivated enzyme. J Biol Chem 260:11375–11387

17.

National Pharmacopoeia Committee (2010) Pharmacopoeia of People's Republic of China. Part 1 (Chapter 1). Chemical Industry Press, Beijing

18.

Soulie JM, Sheplock GJ, Tian WX, Hsu RY (1984) Transient kinetic studies of fatty acid synthetase. A kinetic self-editing mechanism for the loading of acetyl and malonyl residues and the role of coenzyme A. J Biol Chem 259:134–140

19.

Cherng J, Chiang W, Chiang L (2008) Immunomodulatory activities of common vegetables and spices of umbelliferae and its related coumarins and flavonoids. Food Chem 106:944–950

20.

Pereira MP, Tavano OL (2014) Use of different spices as potential natural antioxidant additives on cooked beans (Phaseolus vulgaris). Increase of DPPH radical scavenging activity and total phenolic content. Plant Foods Hum Nutr 69:337–343

21.

García-Pérez E, Noratto GD, García-Lara S, Gutiérrez-Uribe JA, Mertens-Talcott SU (2013) Micropropagation effect on the anti-carcinogenic activitiy of polyphenolics from Mexican oregano (Poliomintha glabrescens Gray) in human colon cancer cells HT-29. Plant Foods Hum Nutr 68:155–162

22.

Ho S, Tang Y, Lin S, Liew Y (2010) Evaluation of peroxynitrite-scavenging capacities of several commonly used fresh spices. Food Chem 119:1102–1107

23.

Wang GW, Hu WT, Huang BK, Qin LP (2011) Illicium verum: a review on its botany, traditional use, chemistry and pharmacology. J Ethnopharmacol 136:10–20

24.

Arung ET, Matsubara E, Kusuma IW, Sukaton E, Shimizu K, Kondo R (2011) Inhibitory components from the buds of clove (Syzygium aromaticum) on melanin formation in B16 melanoma cells. Fitoterapia 82:198–202

25.

Lee YS, Yang JH, Bae MJ, Yoo WK, Ye S, Xue CC, Li CG (2010) Anti-oxidant and anti-hypercholesterolemic activities of Wasabia japonica. Evid Based Complement Alternat Med 7:459–464

26.

Sulaiman SF, Ooi KL (2012) Antioxidant and anti food-borne bacterial activities of extracts from leaf and different fruit parts of Myristica fragrans Houtt. Food Control 25:533–536

27.

Deng GF, Lin X, Xu XR, Gao LL, Xie JF, Li HB (2013) Antioxidant capacities and total phenolic contents of 56 vegetables. J Funct Foods 5:228–234

28.

Kaefer CM, Milner JA (2011) Herbs and spices in cancer prevention and treatment. In: Benzie IFF, Wachtel-Galor S (eds) Herbal medicine: biomolecular and clinical aspects, 2nd edn. CRC Press, Boca Raton, FL, pp 361–382

29.

Liang Y, Tian W, Ma X (2013) Inhibitory effects of grape skin extract and resveratrol on fatty acid synthase. BMC Complement Altern Med 13:361

30.

Iyer A, Panchal S, Poudyal H, Brown L (2009) Potential health benefits of Indian spices in the symptoms of the metabolic syndrome: a review. Indian J Biochem Biophys 46:467–481

31.

Kaefer CM, Milner JA (2008) The role of herbs and spices in cancer prevention. J Nutr Biochem 19:347–361

32.

Kochhar KP (2008) Dietary spices in health and diseases (II). Indian J Physiol Pharmacol 52:327–354

33.

Krishnaswamy K (2008) Traditional Indian spices and their health significance. Asia Pac J Clin Nutr 17:265–268
Acknowledgments
This work was supported by the Special Science and Technology Projects for Outstanding Young in Life Sciences (KSCX2-EW-Q-19), the "12th five-year plan" period: the basic frontier project in life sciences (KSCX2-EW-J-29), Youth Innovation Promotion Association, CAS, 2014 Youth National Natural Science Foundation of China (No.31300292), The Key Program of "The Dawn of West China" Talent Foundation of CAS (2012), as well as High-Tech Research and Development Program of Xinjiang (No. 201315108) and China Postdoctoral Science Foundation (No. 2013M540785).
Conflict of Interest
The authors declare that they have no conflict of interest.
About this article
Cite this article
Jiang, B., Liang, Y., Sun, X. et al. Potent Inhibitory Effect of Chinese Dietary Spices on Fatty Acid Synthase. Plant Foods Hum Nutr 70, 257–262 (2015). https://doi.org/10.1007/s11130-015-0486-5
Keywords
Spices

Fatty acid synthase

Inhibitor

Obesity