Abstract
The objective of this study was to gain insights into the effect of the cooking method on the liking as well as the retention of glucosinolates in broccoli. With this knowledge it can be concluded whether the health aspects of broccoli be improved by the cooking method without deteriorating sensory perception. For this, broccoli was cooked by methods commonly applied by consumers: boiling with a cold (water) start; boiling with a hot (water) start; and steaming. Firmness, greenness and amount of total glucosinolates in cooked broccoli were instrumentally determined. Sensory evaluation by untrained consumers (n = 99) for liking and sensory attributes intensity rating were performed on broccoli cooked by steaming and boiling-cold start at three time points, which resulted in 'high', 'medium', 'low' firm broccoli samples. At the end of cooking, steaming showed an increase in the amount of total glucosinolates (+17 %). Boiling-hot start (−41 %) and boiling-cold start (−50 %) showed a decrease in amount of total glucosinolates. Sensory evaluation did not show statistically significant differences between steaming and boiling-cold start in liking at 'high' and 'medium' firmness; and in the attribute intensity ratings (except for juiciness at 'medium' firmness, and flavour at 'medium' and 'low' firmness). This study demonstrates that medium firm broccoli showed optimum liking and that steaming compared to boiled-cold start showed higher amount of glucosinolates. It is concluded that the health aspects of broccoli can be improved without reducing the sensory aspects by optimising the cooking method.
Access options
Buy single article
Instant access to the full article PDF.
USD 39.95
Price includes VAT (USA)
Tax calculation will be finalised during checkout.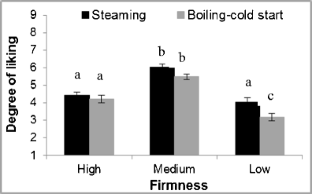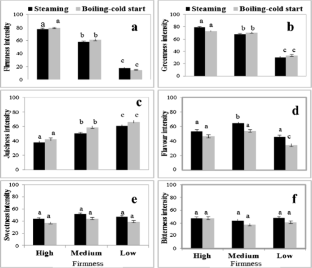 Abbreviations
GLS:

Glucosinolates

W:V:

Water-vegetable ratio
References
1.

Akhlaghi M, Bandy B (2010) Dietary broccoli sprouts protect against myocardial oxidative damage and cell death during ischemia-reperfusion. Plant Foods Hum Nutr 65:193–199

2.

Verkerk R, Schreiner M, Krumbein A, Ciska E, Holst B, Rowland I, De Schrijver R, Hansen M, Gerhäuser C, Mithen R, Dekker M (2009) Glucosinolates in brassica vegetables: the influence of the food supply chain on intake, bioavailability and human health. Mol Nutr Food Res 53:S219

3.

Yadav S, Sehgal S (2003) Effect of domestic processing and cooking on selected antinutrient contents of some green leafy vegetables. Plant Foods Hum Nutr 58:1–11

4.

Miglio C, Chiavaro E, Visconti A, Fogliano V, Pellegrini N (2007) Effects of different cooking methods on nutritional and physicochemical characteristics of selected vegetables. J Agric Food Chem 56:139–147

5.

Ryan L, O'Connell O, O'Sullivan L, Aherne SA, O'Brien NM (2008) Micellarisation of carotenoids from raw and cooked vegetables. Plant Foods Hum Nutr 63:127–133

6.

Yuan GF, Sun B, Yuan J, Wang QM (2009) Effects of different cooking methods on health-promoting compounds of broccoli. J Zhejiang Univ 10:580–588. doi:10.1631/jzus.B0920051

7.

Jones RB, Frisina CL, Winkler S, Imsic M, Tomkins RB (2010) Cooking method significantly effects glucosinolate content and sulforaphane production in broccoli florets. Food Chem 123:237–242

8.

Pellegrini N, Miglio C, Del Rio D, Salvatore S, Serafini M, Brighenti F (2009) Effect of domestic cooking methods on the total antioxidant capacity of vegetables. Int J Food Sci Nutr 60:12–22

9.

Gonçalves EM, Pinheiro J, Alegria C, Abreu M, Brandão TRS, Silva CLM (2009) Degradation kinetics of peroxidase enzyme, phenolic content, and physical and sensorial characteristics in broccoli (Brassica oleracea L. ssp. Italica) during blanching. J Agric Food Chem 57:5370–5375

10.

Kaack K (1994) Blanching of green bean (Phaseolus vulgaris). Plant Foods Hum Nutr 46:353–360

11.

Poelman AAM, Delahunty CM, de Graaf C (2013) Cooking time but not cooking method affects children's acceptance of brassica vegetables. Food Qual Prefer 28:441–448

12.

Bongoni R, Verkerk R, Dekker M, Steenbekkers LPA (2014) Consumer behaviour towards vegetables: a study on domestic processing of broccoli and carrot by Dutch households (accepted). J Hum Nutr Diet. doi:10.1111/jhn.12245

13.

Dekker M, Dekkers E, Jasper A, Baár C, Verkerk R (2013) Predictive modelling of vegetable firmness after thermal pre-treatments and steaming. Innov Food Sci Emerg Technol. doi: http://dx.doi.org/10.1016/j.ifset.2013.10.015

14.

Jaiswal AK, Abu-Ghannam N (2013) Degradation kinetic modelling of color, texture, polyphenols and antioxidant capacity of york cabbage after microwave processing. Food Res Int 53:125–133

15.

Verkerk R, Dekker M, Jongen WMF (2002) Post-harvest increase of indolyl glucosinolates in response to chopping and storage of brassica vegetables. J Sci Food Agric 81:953–958

16.

Cox DN, Melo L, Zabaras D, Delahunty CM (2012) Acceptance of health-promoting brassica vegetables: the influence of taste perception, information and attitudes. Public Health Nutr 15:1474–1482

17.

Rennie C, Wise A (2010) Preferences for steaming of vegetables. J Hum Nutr Diet 23:108–110

18.

Worch T, Lê S, Punter P (2010) How reliable are the consumers? Comparison of sensory profiles from consumers and experts. Food Qual Prefer 21:309–318

19.

Ares G, Bruzzone F, Gimenez ANA (2011) Is a consumer panel able to reliably evaluate the texture of dairy desserts using unstructured intensity scales? Evaluation of global and individual performance. J Sens Stud 26:363–370

20.

Mnkeni AP, Gierschner K, Maeda EE (1999) Effect of blanching time and salt concentration on pectolytic enzymes, texture and acceptability of fermented green beans. Plant Foods Hum Nutr 53:285–296

21.

Vicas S, Teusdea A, Carbunar M, Socaci S, Socaciu C (2013) Glucosinolates profile and antioxidant capacity of romanian brassica vegetables obtained by organic and conventional agricultural practices. Plant Foods Hum Nutr 68:313–321

22.

Ciska E, Kozłowska H (2001) The effect of cooking on the glucosinolates content in white cabbage. Eur Food Res Technol 212:582–587

23.

Schonhof I, Krumbein A, Brückner B (2004) Genotypic effects on glucosinolates and sensory properties of broccoli and cauliflower. Nahrung 48:25–33
Acknowledgments
We thank Tjachy Hu for the contribution towards data collection.
Conflict of Interest
The authors declare that they have no conflict of interest.
Electronic supplementary material
Below is the link to the electronic supplementary material.
About this article
Cite this article
Bongoni, R., Verkerk, R., Steenbekkers, B. et al. Evaluation of Different Cooking Conditions on Broccoli (Brassica oleracea var. italica) to Improve the Nutritional Value and Consumer Acceptance. Plant Foods Hum Nutr 69, 228–234 (2014). https://doi.org/10.1007/s11130-014-0420-2
Keywords
Glucosinolates

Firmness

Greenness

Sensory evaluation

Consumers