Abstract
Stevia, a non-caloric natural sweetener with beneficial properties and considerable antioxidants and amino acids, is increasingly consumed as an infusion. This work evaluates the influence of the conditions (temperature: 50, 70 or 90 °C and time: 1, 5, 20 or 40 min) applied to obtain Stevia infusions, on antioxidants (total phenols, flavonoids and antioxidant activity) and amino acids. The total concentration of the eleven amino acids found was 11.70 mg/g in dried leaves and from 6.84 to 9.11 mg/g per gram of Stevia in infusions. However, infusions showed higher levels of certain amino acids (alanine, asparagine, leucine and proline), and greater values of the three antioxidant parameters in comparison with dry leaves. Temperature had more influence (minimum values at 50 °C and maximum at 90 °C) than time in the case of antioxidants. At 90 °C there were no important increases in the extraction of antioxidant compounds after 5 min; each gram of Stevia had 117 mg trolox (total antioxidant activity), 90 mg gallic acid (total phenols) and 56 mg catechin equivalents (flavonoids). Varying the temperature and time conditions no notable differences were observed in the concentrations of the majority of amino acids. However, the infusion treatment at 90 °C for 5 min was the best, as it gave the highest yield of 8 of the 11 amino acids. Therefore, with respect to the compounds analyzed in this study, the best way to obtain Stevia leaf infusions is the same as the domestic process, almost boiling water for a short time.
Access options
Buy single article
Instant access to the full article PDF.
US$ 39.95
Tax calculation will be finalised during checkout.
Subscribe to journal
Immediate online access to all issues from 2019. Subscription will auto renew annually.
US$ 79
Tax calculation will be finalised during checkout.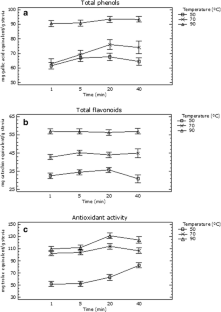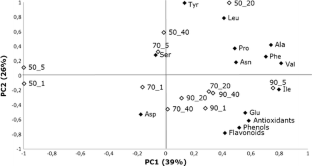 References
1.

Goyal SK, Samsher R, Goyal RK (2010) Stevia (Stevia rebaudiana) a bio-sweetener: A review. Int J Food Sci Nutr 61:1–10

2.

Hanson JR, De Oliveira BH (1993) Stevioside and related sweet diterpenoid glycosides. Nat Prod Res 10:301–309

3.

Anton S, Martin C, Han H, Coulon S, Cefalu W, Geiselman P et al (2010) Effects of Stevia, aspartame, and sucrose on food intake, satiety and postprandial glucose and insulin levels. Appetite 55:37–43

4.

Chatsudthipong V, Muanprasat C (2009) Stevioside and related compounds: Therapeutic benefits beyond sweetness. Pharmacol Therapeut 121:41–54

5.

Shukla S, Mehta A, Bajpai V (2009) In vitro antioxidant activity and total phenolic content of ethanolic leaf extract of Stevia rebaudiana Bert. Food Chem Toxicol 47:2338–2343

6.

Muanda F, Soulimani R, Diop B, Dicko A (2011) Study on chemical composition and biological activities of essential oil and extracts from Stevia rebaudiana Bertoni leaves. LWT-Food Sci Technol 44:1865–1872

7.

Yao L, Jiang Y, Datta N, Singanusong R, Liu X, Duan J, Raymont K, Lisle A, Xu Y (2004) HPLC analyses of flavanols and phenolic acids in the fresh young shoots of tea (Camellia sinensis) grown in Australia. Food Chem 84:253–263

8.

Dugo P, Cacciola F, Donato P, Assis R, Bastos E, Mondello L (2009) High efficiency liquid chromatography techniques coupled to mass spectrometry for the characterization of mate extracts. J Chromatogr A 43:7213–7221

9.

Biswas AK, Chatli MK, Sahoo J (2012) Antioxidant potential of curry (Murraya koenigii L.) and mint (Mentha spicata) leaf extracts and their effect on colour and oxidative stability of raw ground pork meat during refrigeration storage. Food Chem 133:467–472

10.

Atoui K, Mansouri A, Boskou G, Kefalas P (2005) Tea and herbal infusions: their antioxidant activity and phenolic profile. Food Chem 89:27–36

11.

Gorjanovic S, Komes D, Pastor F, Belscak A, Pezo L, Hecimovic I, Suznjevic D (2012) Antioxidant capacity of teas and herbal infusions: polarographic assessment. J Agric Food Chem 60:9573–9580

12.

Quispe C, Viveros-Valdez E, Schmeda-Hirschmann G (2012) Phenolic constituents of the Chilean herbal tea Fabiana imbricata R. et P. Plant Foods Hum Nutr 67:242–246

13.

Büyükbalci A, El Nehir S (2008) Determination of In Vitro antidiabetic effects, antioxidant activities and phenol contents of some herbal teas. Plant Foods Hum Nutr 63:27–33

14.

Samaniego C, Inurreta Y, Quesada JJ, Blanca R, Villalón M, López García H, López Martínez MC (2011) The influence of domestic culinary processes on the trolox equivalent antioxidant capacity of green tea infusions. J Food Compos Anal 24:79–86

15.

Wang L, Xu R, Hu B, Li W, Sun Y, Tu Y, Zeng X (2010) Analysis of free amino acids in Chinese teas and flower of tea plant by high performance liquid chromatography combined with solid-phase extraction. Food Chem 123:1259–1266

16.

Gökmen V, Serpen A, Mogol BA (2012) Rapid determination of amino acids in foods by hydrophilic interaction liquid chromatography coupled to high-resolution mass spectrometry. Anal Bioanal Chem 403:2915–2922

17.

Rafiq M, Dahot U, Mangrio SM, Naqvi HA, Qarshi IA (2007) In vitro clonal propagation and biochemical analysis of field established Steva rebaudiana Bertoni. Pak J Bot 39:2467–2474, ISSN:2070-3368

18.

Abou-Arab AE, Abou-Arab AA, Abu-Salem MF (2010) Physico-chemical assessment of natural sweeteners steviosides produced from Stevia rebaudiana Bertoni plant. Afr J Food Sci 4:269–281, ISSN:1996-0794

19.

WHO (2007). Report of a Joint WHO/FAO/UNU Expert Consultation on Protein and Amino Acid Requirements in Human Nutrition (2002, Geneva, Switzerland). WHO Technical Report Series; No. 935.

20.

European Food Safety Authority (EFSA) (2011) Revised exposure assessment for steviol glycosides for the proposed uses as a food additive. EFSA J 9(1):1972. doi:10.2903/j.efsa.2011.1972

21.

Husek P (2000) Method of preparing sample for amino acid analysis and kit for analyzing the same. Eur Patent Appl EP 1033576

22.

Sakanaka S, Tachibana Y, Okada Y (2004) Preparation and antioxidant properties of extracts of Japanese persimmon leaf tea (kakinoha-cha). Food Chem 89:569–575

23.

Dewanto V, Wu X, Adom KK, Liu RH (2002) Thermal processing enhances the nutritional value of tomatoes by increasing total antioxidant activity. J Agric Food Chem 50:3010–3014

24.

Shahidi F, Liyana-Pathirana CM, Wall DS (2006) Antioxidant activity of white and black sesame seeds and their hull fractions. Food Chem 99:478–483

25.

Li G, Wang R, Quampah A, Rong Z, Shi C, Wu J (2011) Calibration and prediction of amino acids in Stevia leaf powder using near infrared reflectance spectroscopy. J Agric Food Chem 59:13065–13071

26.

Ding Y, Yu H, Mou S (2002) Direct determination of free amino acids and sugars in green tea by anio-exchange chromatography with integrated pulsed amperometric detection. J Chromatogr A 928:237–244

27.

Tadhani M, Patel V, Subhash R (2007) In vitro antioxidant activities of Stevia rebaudiana leaves and callus. J Food Compos Anal 20:323–329

28.

Shukla S, Mehta A, Menta P, Bajpai V (2012) Antioxidant ability and phenolic content of aqueous leaf extract of Stevia rebaudiana Bert. Exp Toxicol Pathol 64:807–811

29.

Ghanta S, Banerjee A, Poddar A, Chattopadhyay S (2007) Oxidative DNA damage preventive activity and antioxidant potential of Stevia rebaudiana (Bertoni) Bertoni, a natural sweetener. J Agric Food Chem 55:10962–10967

30.

Kim I, Yang M, Lee O, Kang S (2011) The antioxidant activity and the bioactive compound content of Stevia rebaudiana water extracts. LWT Food Sci Technol 44:1328–1332

31.

Michiels JA, Kevers C, Pincemail J, Defraigne JO, Dommes J (2012) Extraction condicitons can greatly influence antioxidant capacity assays in plant food matrices. Food Chem 130:986–993
Acknowledgments
The authors thank the Research and Development Support Program, "Ayuda a Estancias de personal docente e investigador de la UPV en Centros de Investigación de Prestigio (PAID-00-12)" of the Universidad Politécnica de Valencia (Spain).
Conflict of Interest
The authors declare that they have no conflict of interest.
Electronic Supplementary Material
Below is the link to the electronic supplementary material.
About this article
Cite this article
Periche, A., Koutsidis, G. & Escriche, I. Composition of Antioxidants and Amino Acids in Stevia Leaf Infusions. Plant Foods Hum Nutr 69, 1–7 (2014). https://doi.org/10.1007/s11130-013-0398-1
Keywords
Antioxidant activity

Total phenols

Flavonoids

Amino acids

Stevia