Abstract
The low incidence of cardiovascular disease in Mediterranean countries leads to an increased interest of the scientific community for the Mediterranean diet. Our aim was to evaluate total phenol and flavonoid contents, antioxidant capacity, free radical scavenging activity and potential antihypertensive effect of aqueous extract obtained from Thymus serpyllum L. (wild thyme, TE), an aromatic herb from the Lamiaceae family (highly present in Mediterranean diet), in spontaneously hypertensive rats (SHR) and in normotensive Wistar rats. Total phenol content of TE was 2008.33 ± 10.6 mg/L GAE, and rosmarinic and caffeic acids were predominant phenolic compounds. The ferric reducing/antioxidant power and antioxidant capacity analysis revealed strong antioxidative properties of TE. In vitro nitric oxide-scavenging activity of 1 mg/l TE was 63.43 % with the IC50 value of 122.36 μg/ml. Bolus injection of TE (100 mg/kg body weight i.v.) induced significant decrease of systolic and diastolic blood pressure and total peripheral resistance in SHR, without effects on these parameters in normotensive Wistar rats. Cardiac index remained unchanged after TE treatment in all experimental rats. Given dose of TE did not show significant nitric oxide-scavenging activity in vivo. Our results indicate that TE may protect against hypertension in experimental model of essential hypertension.
Access options
Buy single article
Instant access to the full article PDF.
US$ 39.95
Tax calculation will be finalised during checkout.
Subscribe to journal
Immediate online access to all issues from 2019. Subscription will auto renew annually.
US$ 79
Tax calculation will be finalised during checkout.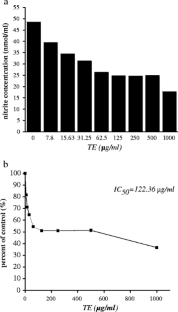 Abbreviations
ABTS:

2,2′-azino-bis(3-ethylbenzthiazoline-6-sulphonic acid) diammonium salt

CI:

Cardiac index

BMC:

Bone marrow cells

DBP:

Diastolic blood pressure

FRAP:

Ferric reducing/antioxidant power

GAE:

Gallic acid equivalents

iNOS:

Inducible nitric oxide synthase

MTT:

3-(4,5-dimethylthiazol-2-yl)-2,5-diphenyltetrazolium bromide

NO:

Nitric oxide

PDA:

Photodiode array detector

SBP:

Systolic blood pressure

SHR:

Spontaneously hypertensive rat

TE:

Extract from a plant Thymus serpyllum L. (wild thyme)

TPVR:

Total peripheral vascular resistance

W:

Wistar rat
References
1.

World Health Organization (1999) Herba thymi. In: Zhang X (ed) WHO monographs on selected medicinal plants, volume 1. WHO Graphics, Geneva, pp 259–266

2.

Cosentino S, Tuberoso CIG, Pisano B, Satta M, Mascia V, Arzedi E, Palmas F (1999) In-vitro antimicrobial activity and chemical composition of Sardinian Thymus essential oils. Lett Appl Microbiol 29(2):130–135

3.

Yao LH, Jiang YM, Shi J, Tomas-Barberan FA, Datta N, Singanusong R, Chen SS (2004) Flavonoids in food and their health benefits. Plant Foods Hum Nutr 59(3):113–122

4.

Kulisic T, Krisko A, Dragovic-Uzelac V, Milos M, Pifat G (2007) The effects of essential oils and aqueous tea infusions of oregano (Origanum vulgare L. spp. hirtum), thyme (Thymus vulgaris L.) and wild thyme (Thymus serpyllum L.) on the copper-induced oxidation of human low-density lipoproteins. Int J Food Sci Nutr 58(2):87–93

5.

Doggrell SA, Brown L (1998) Rat models of hypertension, cardiac hypertrophy and failure. Cardiovasc Res 39(1):89–105

6.

de Lorgeril M, Salen P (2008) The Mediterranean diet: rationale and evidence for its benefit. Curr Atheroscler Rep 10(6):518–522

7.

Lynn A, Hamadeh H, Leung WC, Russell JM, Barker ME (2012) Effects of pomegranate juice supplementation on pulse wave velocity and blood pressure in healthy young and middle-aged men and women. Plant Foods Hum Nutr 67(3):309–314

8.

Tsai PJ, Tsai TH, Yu CH, Ho SC (2007) Evaluation of NO-suppressing activity of several Mediterranean culinary spices. Food Chem Toxicol 45(3):440–447

9.

Lachman J, Hosnedl V, Pivec V, Orsak M (1998) Polyphenols in cereals and their positive and negative role in human and animal nutrition. In: Vaculová K, Ehrenbergová J (eds) Proceedings of the conference cereals for human health and preventive nutrition. Agricultural Research Institute Kroměříž, Brno, pp 118–125

10.

Horzic D, Komes D, Belscak A, Ganic KK, Ivekovic D, Karlovic D (2009) The composition of polyphenols and methylxanthines in teas and herbal infusions. Food Chem 115(2):441–448

11.

Jagtap UB, Panaskar SN, Bapat VA (2010) Evaluation of antioxidant capacity and phenol content in jackfruit (Artocarpus heterophyllus Lam.) fruit pulp. Plant Foods Hum Nutr 65(2):99–104

12.

Re R, Pellegrini N, Proteggente A, Pannala A, Yang M, Rice-Evans C (1999) Antioxidant activity applying an improved ABTS radical cation decolorization assay. Free Radic Biol Med 26(9–10):1231–1237

13.

Mosmann T (1983) Rapid colorimetric assay for cellular growth and survival: application to proliferation and cytotoxicity assays. J Immunol Methods 65(1–2):55–63

14.

Janicsak G, Mathe I, Miklossy-Vari V, Blunden G (1999) Comparative studies of the rosmarinic and caffeic acid contents of Lamiaceae species. Biochem Syst Ecol 27(7):733–738

15.

Fecka I, Turek S (2008) Determination of polyphenolic compounds in commercial herbal drugs and spices from Lamiaceae: thyme, wild thyme and sweet marjoram by chromatographic techniques. Food Chem 108(3):1039–1053

16.

Ahmadvand H, Khosrobeigi A, Nemati L, Boshtam M, Jafari N, Hosseini RH, Pournia Y (2012) Rosmarinic acid prevents the oxidation of low density lipoprotein (LDL) in vitro. J Biol Sci 12(5):301–307

17.

Lu YR, Foo LY (2001) Antioxidant activities of polyphenols from sage (Salvia officinalis). Food Chem 75(2):197–202

18.

Katalinic V, Milos M, Kulisic T, Jukic M (2006) Screening of 70 medicinal plant extracts for antioxidant capacity and total phenols. Food Chem 94(4):550–557

19.

Ateeq-ur-Rehman, Mannan A, Inayatullah S, Akhtar MZ, Qayyum M, Mirza B (2009) Biological evaluation of wild thyme (Thymus serpyllum). Pharm Biol 47(7):628–633

20.

Stangl V, Dreger H, Stangl K, Lorenz M (2007) Molecular targets of tea polyphenols in the cardiovascular system. Cardiovasc Res 73(2):348–358

21.

Alaghband-Zadeh J, Das I, Hanson MR, MacGregor CAJ, DeWardener HE, Laycock JF (1996) Hypothalamic and plasma total nitrate/nitrite concentrations in spontaneously hypertensive rats. Exp Physiol 81(5):881–883

22.

Lee HB, Blaufox MD (1985) Blood volume in the rat. J Nucl Med 26(1):72–76
Sources of Funding
This work was supported by grants from the Ministry of Education, Science and Technological Development, Republic of Serbia (Project No III- 46010), by the Ministry of Science, Education and Sports, Republic of Croatia (Project No. 058-0000000-3470) and the Croatia–Serbia Bilateral agreement (Project No. 69-00-49/2010-02)
Conflict of Interest Statement
None declared
About this article
Cite this article
Mihailovic-Stanojevic, N., Belščak-Cvitanović, A., Grujić-Milanović, J. et al. Antioxidant and Antihypertensive Activity of Extract from Thymus serpyllum L. in Experimental Hypertension. Plant Foods Hum Nutr 68, 235–240 (2013). https://doi.org/10.1007/s11130-013-0368-7
Keywords
Wild thyme

Antioxidant

Hypertension

Mediterranean diet

Blood pressure

Peripheral resistance

Nitric oxide

Spontaneously hypertensive rats

Rosmarinic acid