Abstract
As obesity has reached epidemic proportions, the management of this global disease is of clinical importance. The availability and popularity of natural dietary supplements for the treatment of obesity has risen dramatically in recent years. The purpose of this paper was to review the effect of commonly available over the counter plant-derived supplements used to suppress appetite for obesity control and management. The data were obtained from the electronic databases PubMed, SpringerLink, Google Scholar, ScienceDirect, and MEDLINE with full text (via EBSCOHost) and the databases were accessed during late 2012 - early January 2013. The botanical species discussed in this review include Camellia sinensis, Caralluma fimbriata, Citrus aurantium, Coleus forskohlii, Garcinia cambogia and Phaseolus vulgaris. This review found that many botanical species including crude extracts and isolated compounds from plants have been shown to provide potentially promising therapeutic effects including appetite control and weight loss. However, many of these crude extracts and compounds need to be further investigated to define the magnitude of the effects, optimal dosage, mechanisms of action, long term safety, and potential side effects.
Access options
Buy single article
Instant access to the full article PDF.
USD 39.95
Price excludes VAT (USA)
Tax calculation will be finalised during checkout.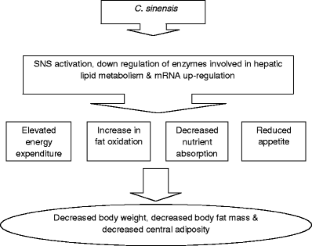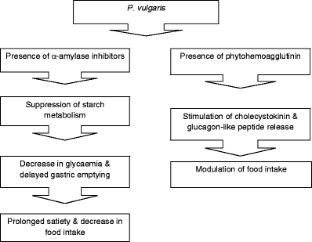 Abbreviations
ATP:

Adenosine triphosphate

GRAS:

Generally recognized as safe

SNS:

Sympathetic nervous system

WHR:

Waist to hip ratio
References
Celleno L, Tolaini MV, D'Amore A, Perricone NV, Preuss HG (2007) A dietary supplement containing standardized Phaseolus vulgaris extract influences body composition of overweight men and women. Int J Med Sci 4(1):45–52

Santos AP, Rogero MM, Bastos DH (2010) Edible plants, their secondary metabolites and antiobesogenic potential. Recent Pat Food Nutr Agric 2(3):195–212

Rains TM, Agarwal S, Maki KC (2011) Antiobesity effects of green tea catechins: a mechanistic review. J Nutr Biochem 22(1):1–7. doi:10.1016/j.jnutbio.2010.06.006

Wolfram S, Wang Y, Thielecke F (2006) Anti-obesity effects of green tea: from bedside to bench. Mol Nutr Food Res 50(2):176–187. doi:10.1002/mnfr.200500102

Scharrer E (1999) Control of food intake by fatty acid oxidation and ketogenesis. Nutrition 15(9):704–714

Friedman MI (2007) Obesity and the hepatic control of feeding behavior. Drug News Perspect 20(9):573–578. doi:10.1358/dnp.2007.20.9.1162243

Kamphuis MM, Mela DJ, Westerterp-Plantenga MS (2003) Diacylglycerols affect substrate oxidation and appetite in humans. Am J Clin Nutr 77(5):1133–1139

Murase T, Nagasawa A, Suzuki J, Hase T, Tokimitsu I (2002) Beneficial effects of tea catechins on diet-induced obesity: stimulation of lipid catabolism in the liver. Int J Obes Relat Metab Disord 26(11):1459–1464. doi:10.1038/sj.ijo.0802141

Kao YH, Hiipakka RA, Liao S (2000) Modulation of endocrine systems and food intake by green tea epigallocatechin gallate. Endocrinology 141(3):980–987

Klaus S, Pultz S, Thone-Reineke C, Wolfram S (2005) Epigallocatechin gallate attenuates diet-induced obesity in mice by decreasing energy absorption and increasing fat oxidation. Int J Obes (Lond) 29(6):615–623. doi:10.1038/sj.ijo.0802926

Choo JJ (2003) Green tea reduces body fat accretion caused by high-fat diet in rats through beta-adrenoceptor activation of thermogenesis in brown adipose tissue. J Nutr Biochem 14(11):671–676

Hasegawa N, Yamda N, Mori M (2003) Powdered green tea has antilipogenic effect on Zucker rats fed a high-fat diet. Phytother Res 17(5):477–480. doi:10.1002/ptr.1177

Ashida H, Furuyashiki T, Nagayasu H, Bessho H, Sakakibara H, Hashimoto T, Kanazawa K (2004) Anti-obesity actions of green tea: possible involvements in modulation of the glucose uptake system and suppression of the adipogenesis-related transcription factors. Biofactors 22(1–4):135–140

Bose M, Lambert JD, Ju J, Reuhl KR, Shapses SA, Yang CS (2008) The major green tea polyphenol, (-)-epigallocatechin-3-gallate, inhibits obesity, metabolic syndrome, and fatty liver disease in high-fat-fed mice. J Nutr 138(9):1677–1683

Ito Y, Ichikawa T, Morohoshi Y, Nakamura T, Saegusa Y, Ishihara K (2008) Effect of tea catechins on body fat accumulation in rats fed a normal diet. Biomed Res 29(1):27–32

Kovacs EM, Lejeune MP, Nijs I, Westerterp-Plantenga MS (2004) Effects of green tea on weight maintenance after body-weight loss. Br J Nutr 91(3):431–437. doi:10.1079/BJN20041061

Nagao T, Hase T, Tokimitsu I (2007) A green tea extract high in catechins reduces body fat and cardiovascular risks in humans. Obesity (Silver Spring) 15(6):1473–1483. doi:10.1038/oby.2007.176

Maki KC, Reeves MS, Farmer M, Yasunaga K, Matsuo N, Katsuragi Y, Komikado M, Tokimitsu I, Wilder D, Jones F, Blumberg JB, Cartwright Y (2009) Green tea catechin consumption enhances exercise-induced abdominal fat loss in overweight and obese adults. J Nutr 139(2):264–270. doi:10.3945/jn.108.098293

Wang H, Wen Y, Du Y, Yan X, Guo H, Rycroft JA, Boon N, Kovacs EM, Mela DJ (2010) Effects of catechin enriched green tea on body composition. Obesity (Silver Spring) 18(4):773–779. doi:10.1038/oby.2009.256

Gregersen NT, Bitz C, Krog-Mikkelsen I, Hels O, Kovacs EM, Rycroft JA, Frandsen E, Mela DJ, Astrup A (2009) Effect of moderate intakes of different tea catechins and caffeine on acute measures of energy metabolism under sedentary conditions. Br J Nutr 102(8):1187–1194. doi:10.1017/S0007114509371779

Auvichayapat P, Prapochanung M, Tunkamnerdthai O, Sripanidkulchai BO, Auvichayapat N, Thinkhamrop B, Kunhasura S, Wongpratoom S, Sinawat S, Hongprapas P (2008) Effectiveness of green tea on weight reduction in obese Thais: a randomized, controlled trial. Physiol Behav 93(3):486–491. doi:10.1016/j.physbeh.2007.10.009

Kuriyan R, Raj T, Srinivas SK, Vaz M, Rajendran R, Kurpad AV (2007) Effect of Caralluma fimbriata extract on appetite, food intake and anthropometry in adult Indian men and women. Appetite 48(3):338–344. doi:10.1016/j.appet.2006.09.013

Kunert O, Rao VG, Babu GS, Sujatha P, Sivagamy M, Anuradha S, Rao BV, Kumar BR, Alex RM, Schuhly W, Kuhnelt D, Rao GV, Rao AV (2008) Pregnane glycosides from Caralluma adscendens var. fimbriata. Chem Biodivers 5(2):239–250. doi:10.1002/cbdv.200890021

Gardiner JV, Kong WM, Ward H, Murphy KG, Dhillo WS, Bloom SR (2005) AAV mediated expression of anti-sense neuropeptide Y cRNA in the arcuate nucleus of rats results in decreased weight gain and food intake. Biochem Biophys Res Commun 327(4):1088–1093. doi:10.1016/j.bbrc.2004.12.113

Kamalakkannan S, Rajendran R, Venkatesh RV, Clayton P, Akbarsha MA (2010) Antiobesogenic and antiatherosclerotic properties of caralluma fimbriata extract. J Nutr Metab 2010:285301. doi:10.1155/2010/285301

Astell KJ, Mathai LM, McAinach AJ, Stathis CG, Su XQ (2013) A pilot study investigating the effect of Caralluma fimbriata extract on the risk factors of metabolic syndrome in overweight and obese subjects: a randomised controlled clinical trial. Complement Ther Med. doi:10.1016/j.ctim.2013.01.004

Dutt HC, Singh S, Avula B, Khan IA, Bedi YS (2012) Pharmacological review of Caralluma R.Br. with special reference to appetite suppression and anti-obesity. J Med Food 15(2):108–119. doi:10.1089/jmf.2010.1555

Pellati F, Benvenuti S, Melegari M, Firenzuoli F (2002) Determination of adrenergic agonists from extracts and herbal products of Citrus aurantium L. var. amara by LC. J Pharm Biomed Anal 29(6):1113–1119

Haaz S, Fontaine KR, Cutter G, Limdi N, Perumean-Chaney S, Allison DB (2006) Citrus aurantium and synephrine alkaloids in the treatment of overweight and obesity: an update. Obes Rev 7(1):79–88. doi:10.1111/j.1467-789X.2006.00195.x

Astrup A (2000) Thermogenic drugs as a strategy for treatment of obesity. Endocrine 13(2):207–212. doi:10.1385/ENDO:13:2:207

Stricker EM, Verbalis JG (1991) Caloric and noncaloric controls of food intake. Brain Res Bull 27(3–4):299–303

Yeh SY (1999) Comparative anorectic effects of metaraminol and phenylephrine in rats. Physiol Behav 68(1–2):227–234

Greenway F, de Jonge-Levitan L, Martin C, Roberts A, Grundy I, Parker C (2006) Dietary herbal supplements with phenylephrine for weight loss. J Med Food 9(4):572–578. doi:10.1089/jmf.2006.9.572

Litosch I, Hudson TH, Mills I, Li SY, Fain JN (1982) Forskolin as an activator of cyclic AMP accumulation and lipolysis in rat adipocytes. Mol Pharmacol 22(1):109–115

Godard MP, Johnson BA, Richmond SR (2005) Body composition and hormonal adaptations associated with forskolin consumption in overweight and obese men. Obes Res 13(8):1335–1343. doi:10.1038/oby.2005.162

Han LK, Morimoto C, Yu RH, Okuda H (2005) Effects of Coleus forskohlii on fat storage in ovariectomized rats. Yakugaku Zasshi 125(5):449–453

Henderson S, Magu B, Rasmussen C, Lancaster S, Kerksick C, Smith P, Melton C, Cowan P, Greenwood M, Earnest C, Almada A, Milnor P, Magrans T, Bowden R, Ounpraseuth S, Thomas A, Kreider RB (2005) Effects of Coleus forskohlii supplementation on body composition and hematological profiles in mildly overweight women. J Int Soc Sports Nutr 2:54–62. doi:10.1186/1550-2783-2-2-54

Soni MG, Burdock GA, Preuss HG, Stohs SJ, Ohia SE, Bagchi D (2004) Safety assessment of (-)-hydroxycitric acid and Super CitriMax, a novel calcium/potassium salt. Food Chem Toxicol 42(9):1513–1529. doi:10.1016/j.fct.2004.04.014

Watson JA, Fang M, Lowenstein JM (1969) Tricarballylate and hydroxycitrate: substrate and inhibitor of ATP: citrate oxaloacetate lyase. Arch Biochem Biophys 135(1):209–217

Triscari J, Sullivan AC (1984) Anti-obesity activity of a novel lipid synthesis inhibitor. Int J Obes 8(Suppl 1):227–239

Lowenstein JM (1971) Effect of (-)-hydroxycitrate on fatty acid synthesis by rat liver in vivo. J Biol Chem 246(3):629–632

Ohia SE, Awe SO, LeDay AM, Opere CA, Bagchi D (2001) Effect of hydroxycitric acid on serotonin release from isolated rat brain cortex. Res Commun Mol Pathol Pharmacol 109(3–4):210–216

Preuss HG, Rao CV, Garis R, Bramble JD, Ohia SE, Bagchi M, Bagchi D (2004) An overview of the safety and efficacy of a novel, natural(-)-hydroxycitric acid extract (HCA-SX) for weight management. J Med 35(1–6):33–48

Mattes RD, Bormann L (2000) Effects of (-)-hydroxycitric acid on appetitive variables. Physiol Behav 71(1–2):87–94

Baird IM, Parsons RL, Howard AN (1974) Clinical and metabolic studies of chemically defined diets in the management of obesity. Metabolism 23(7):645–657

Sullivan AC, Triscari J, Hamilton JG, Miller ON (1974) Effect of (-)-hydroxycitrate upon the accumulation of lipid in the rat. II. Appetite. Lipids 9(2):129–134

Sullivan AC, Hamilton JG, Miller ON, Wheatley VR (1972) Inhibition of lipogenesis in rat liver by (-)-hydroxycitrate. Arch Biochem Biophys 150(1):183–190

Sergio W (1988) A natural food, the Malabar tamarind, may be effective in the treatment of obesity. Med Hypotheses 27(1):39–40

Preuss HG, Bagchi D, Bagchi M, Rao CV, Dey DK, Satyanarayana S (2004) Effects of a natural extract of (-)-hydroxycitric acid (HCA-SX) and a combination of HCA-SX plus niacin-bound chromium and Gymnema sylvestre extract on weight loss. Diabetes Obes Metab 6(3):171–180. doi:10.1111/j.1462-8902.2004.00328.x

Vasques CA, Rossetto S, Halmenschlager G, Linden R, Heckler E, Fernandez MS, Alonso JL (2008) Evaluation of the pharmacotherapeutic efficacy of Garcinia cambogia plus Amorphophallus konjac for the treatment of obesity. Phytother Res 22(9):1135–1140. doi:10.1002/ptr.2323

Hackman RM, Havel PJ, Schwartz HJ, Rutledge JC, Watnik MR, Noceti EM, Stohs SJ, Stern JS, Keen CL (2006) Multinutrient supplement containing ephedra and caffeine causes weight loss and improves metabolic risk factors in obese women: a randomized controlled trial. Int J Obes (Lond) 30(10):1545–1556. doi:10.1038/sj.ijo.0803283

Kovacs EM, Westerterp-Plantenga MS, de Vries M, Brouns F, Saris WH (2001) Effects of 2-week ingestion of (-)-hydroxycitrate and (-)-hydroxycitrate combined with medium-chain triglycerides on satiety and food intake. Physiol Behav 74(4–5):543–549

Heymsfield SB, Allison DB, Vasselli JR, Pietrobelli A, Greenfield D, Nunez C (1998) Garcinia cambogia (hydroxycitric acid) as a potential antiobesity agent: a randomized controlled trial. JAMA 280(18):1596–1600

Landa-Habana L, Pina-Hernandez A, Agama-Acevedo E, Tovar J, Bello-Perez LA (2004) Effect of cooking procedures and storage on starch bioavailability in common beans (Phaseolus vulgaris L.). Plant Foods Hum Nutr 59(4):133–136

Sotelo A, Sousa H, Sanchez M (1995) Comparative study of the chemical composition of wild and cultivated beans (Phaseolus vulgaris). Plant Foods Hum Nutr 47(2):93–100

Carai MA, Fantini N, Loi B, Colombo G, Riva A, Morazzoni P (2009) Potential efficacy of preparations derived from Phaseolus vulgaris in the control of appetite, energy intake, and carbohydrate metabolism. Diabetes Metab Syndr Obes 2:145–153

Acevedo E, Velazquez-Coronado L, Bressani R (1994) Changes in dietary fiber content and its composition as affected by processing of black beans (Phaseolus vulgaris, Tamazulapa variety). Plant Foods Hum Nutr 46(2):139–145

Islam FM, Rengifo J, Redden RJ, Basford KE, Beebe SE (2003) Association between seed coat polyphenolics (tannins) and disease resistance in common bean. Plant Foods Hum Nutr 58(4):285–297

Beninger CW, Hosfield GL (2003) Antioxidant activity of extracts, condensed tannin fractions, and pure flavonoids from Phaseolus vulgaris L. seed coat color genotypes. J Agric Food Chem 51(27):7879–7883. doi:10.1021/jf0304324

Aparicio-Fernandez X, Reynoso-Camacho R, Castano-Tostado E, Garcia-Gasca T, Gonzalez de Mejia E, Guzman-Maldonado SH, Elizondo G, Yousef GG, Lila MA, Loarca-Pina G (2008) Antiradical capacity and induction of apoptosis on HeLa cells by a Phaseolus vulgaris extract. Plant Foods Hum Nutr 63(1):35–40. doi:10.1007/s11130-007-0066-4

Fantini N, Cabras C, Lobina C, Colombo G, Gessa GL, Riva A, Donzelli F, Morazzoni P, Bombardelli E, Carai MA (2009) Reducing effect of a Phaseolus vulgaris dry extract on food intake, body weight, and glycemia in rats. J Agric Food Chem 57(19):9316–9323. doi:10.1021/jf900711z

Tormo MA, Gil-Exojo I, Romero de Tejada A, Campillo JE (2004) Hypoglycaemic and anorexigenic activities of an alpha-amylase inhibitor from white kidney beans (Phaseolus vulgaris) in Wistar rats. Br J Nutr 92(5):785–790

Jain NK, Boivin M, Zinsmeister AR, DiMagno EP (1991) The ileum and carbohydrate-mediated feedback regulation of postprandial pancreaticobiliary secretion in normal humans. Pancreas 6(5):495–505

Jain NK, Boivin M, Zinsmeister AR, Brown ML, Malagelada JR, DiMagno EP (1989) Effect of ileal perfusion of carbohydrates and amylase inhibitor on gastrointestinal hormones and emptying. Gastroenterology 96(2):377–387

Herzig KH, Bardocz S, Grant G, Nustede R, Folsch UR, Pusztai A (1997) Red kidney bean lectin is a potent cholecystokinin releasing stimulus in the rat inducing pancreatic growth. Gut 41(3):333–338

Bardocz S, Grant G, Ewen SW, Duguid TJ, Brown DS, Englyst K, Pusztai A (1995) Reversible effect of phytohemagglutinin on the growth and metabolism of rat gastrointestinal tract. Gut 37(3):353–360

King TP, Pusztai A, Grant G, Slater D (1986) Immunogold localization of ingested kidney bean (Phaseolus vulgaris) lectins in epithelial cells of the rat small intestine. Histochem J 18(8):413–420

Pusztai A, Bardocz S, Ewen SW (2008) Uses of plant lectins in bioscience and biomedicine. Front Biosci 13:1130–1140

Tormo MA, Gil-Exojo I, Romero de Tejada A, Campillo JE (2006) White bean amylase inhibitor administered orally reduces glycemia in type 2 diabetic rats. Br J Nutr 96(3):539–544

Baintner K, Kiss P, Pfuller U, Bardocz S, Pusztai A (2003) Effect of orally and intraperitoneally administered plant lectins on food consumption of rats. Acta Physiol Hung 90(2):97–107. doi:10.1556/APhysiol.90.2003.2.2

Pusztai A, Grant G, Buchan WC, Bardocz S, de Carvalho AF, Ewen SW (1998) Lipid accumulation in obese Zucker rats is reduced by inclusion of raw kidney bean (Phaseolus vulgaris) in the diet. Br J Nutr 79(2):213–221

Pusztai A, Grant G, Duguid T, Brown DS, Peumans WJ, Van Damme EJ, Bardocz S (1995) Inhibition of starch digestion by alpha-amylase inhibitor reduces the efficiency of utilization of dietary proteins and lipids and retards the growth of rats. J Nutr 125(6):1554–1562

Grant G, Dorward PM, Buchan WC, Armour JC, Pusztai A (1995) Consumption of diets containing raw soya beans (Glycine max), kidney beans (Phaseolus vulgaris), cowpeas (Vigna unguiculata) or lupin seeds (Lupinus angustifolius) by rats for up to 700 days: effects on body composition and organ weights. Br J Nutr 73(1):17–29

Grant G, Dorward PM, Pusztai A (1993) Pancreatic enlargement is evident in rats fed diets containing raw soybeans (Glycine max) or cowpeas (Vigna unguiculata) for 800 days but not in those fed diets based on kidney beans (Phaseolus vulgaris) or lupinseed (Lupinus angustifolius). J Nutr 123(12):2207–2215

Donatucci DA, Liener IE, Gross CJ (1987) Binding of navy bean (Phaseolus vulgaris) lectin to the intestinal cells of the rat and its effect on the absorption of glucose. J Nutr 117(12):2154–2160

Maranesi M, Barzanti V, Biagi PL, Carenini G, Gentili P (1984) Nutritional studies on anti-alpha-amylase: II) Lipid metabolism investigation: fatty acid composition of organs and tissues. Acta Vitaminol Enzymol 6(4):347–353

Maranesi M, Carenini G, Gentili P (1984) Nutritional studies on anti alpha-amylase: I) Influence on the growth rate, blood picture and biochemistry and histological parameters in rats. Acta Vitaminol Enzymol 6(4):259–269

Kakade ML, Evans RJ (1966) Growth inhibition of rats fed raw navy beans (Phaseolus vulgaris). J Nutr 90(2):191–198

Udani J, Hardy M, Madsen DC (2004) Blocking carbohydrate absorption and weight loss: a clinical trial using phase 2 brand proprietary fractionated white bean extract. Altern Med Rev 9(1):63–69
Conflict of Interest
The authors declare that there is no conflict of interest.
About this article
Cite this article
Astell, K.J., Mathai, M.L. & Su, X.Q. A Review on Botanical Species and Chemical Compounds with Appetite Suppressing Properties for Body Weight Control. Plant Foods Hum Nutr 68, 213–221 (2013). https://doi.org/10.1007/s11130-013-0361-1
Published:

Issue Date:

DOI: https://doi.org/10.1007/s11130-013-0361-1
Keywords