Abstract
The low-grade inflammation has been recognized as the link between adiposity and the risk of chronic metabolic disorders. Thus, increased concentrations of inflammatory markers, such as interleukins and tumor necrosis factor alpha have been found in obese individuals. In turn, diet can positively or negatively influence on the risk of chronic metabolic diseases by modulating the inflammatory status. In this context, orange juice consumption can play a role in modulation of inflammatory markers through bioactive compounds, such as the flavonoids (hesperidin, naringenin). According to this review, orange juice appears to mediate the inflammatory response in plasma level and gene expression, and in postprandial and chronic (≥7 consecutive days) periods. The current findings suggest that orange juice could be a dietary feature for prevention and treatment of chronic diseases, although more studies are necessary to evaluate the physiological and molecular mechanisms involved.
Access options
Buy single article
Instant access to the full article PDF.
US$ 39.95
Tax calculation will be finalised during checkout.
Subscribe to journal
Immediate online access to all issues from 2019. Subscription will auto renew annually.
US$ 79
Tax calculation will be finalised during checkout.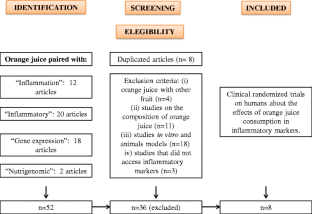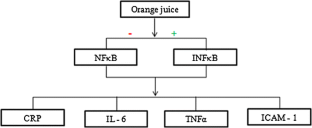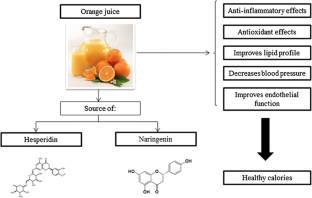 Abbreviations
BP:

Blood pressure

CVD:

Cardiovascular disease

CD-14:

Cluster differentiation 14

CRP:

C-reactive protein

COX2:

Cyclooxygenase-2

DNA:

Deoxyribonucleic acid

DBP:

Diastolic blood pressure

FFA:

Free fatty acids

GLUT4:

Glucose transporter type 4

GST:

Glutathione S-transferase

HFHC:

High-carbohydrate

IL1R1:

IL-1 receptor 1

Iκβ:

Inhibitor κβ

ICAM-1:

Intercellular adhesion molecule-1

IL:

Interleukin

JNK:

Janus kinase

LPB:

Lipopolysaccharide binding protein

LPS:

Lipopolysaccharide

MMP-9:

Matrix metalloproteinase-9

METs:

Metabolic syndrome

MCP-1:

Monocyte chemoattractant protein-1

NRF2:

NF-E2-related factor 2

NO:

Nitric oxide

NF-κβ:

Nuclear factor kappa-B

OJ:

Orange juice

PBMC:

Peripheral blood mononuclear cells

PAI-1:

Plasminogen activator inhibitor-1

QR:

Quinone reductase

ROS:

Reactive oxygen species

SOCS3:

Suppresser of cytokine signaling-3

TLR:

Toll-like receptors

TNFα:

Tumor necrosis factor alpha
References
1.

Hermsdorff HHM, Zulet MA, Puchau B, Martínez JA (2010) Fruit and vegetable consumption and proinflammatory gene expression from peripheral blood mononuclear cells in young adults: a translational study. Nutr Metab 7:42. doi:10.1186/1743-7075-7-42

2.

Zulet MA, Puchau B, Navarro C, Marti A, Martínez JA (2007) Inflammatory biomarkers: the link between obesity and associated pathologies. Nutr Hosp 22:511–527

3.

Van Gaal LF, Mertens IL, De Block CE (2006) Mechanisms linking obesity with cardiovascular disease. Nature 444:875–880

4.

Hermsdorff HHM, Puchau B, Zulet MA, Martínez JA (2010) Association of body fat distribution with proinflammatory gene expression in peripheral blood mononuclear cells from young adults subjects. OMICS 14:297–307

5.

Bressan J, Hermsdorff HHM, Zulet MA, Martínez JA (2009) Hormonal and inflammatory impact of different dietetic composition: emphasis on dietary patterns and specific dietary factors. Arq Bras Endocrinol Metab 53:572–581

6.

Hermsdorff HHM, Zulet MA, Abete I (2011) A legume-based hypocaloric diet reduces proinflammatory status and improves metabolic features in overweight/obese subjects. Eur J Nutr 50:61–69

7.

Watzl B, Kulling SE, Moseneder J (2005) A 4-wk intervention with high intake of carotenoid-rich vegetables and fruit reduces plasma C-reactive protein in healthy, nonsmoking men. Am J Clin Nutr 82:1052–1058

8.

Hermsdorff HH, Zulet MA, Martínez JA (2011) The implication of unknown bioactive compounds and cooking techniques in relations between the variety in fruit and vegetable intake and inflammation. Am J Clin Nutr 93:1384–1385 (author reply)

9.

Esmaillzadeh A, Kimiagar M, Mehrabi Y, Azadbakht L, Hu FB, Willett WC (2006) Fruit and vegetable intakes, C-reactive protein, and the metabolic syndrome. Am J Clin Nutr 84:1489–1497

10.

Joshipura KJ, Hu FB, Manson JE, Stampfer MJ, Rimm EB, Speizer FE, Colditz G, Ascherio A, Rosner B, Spiegelman D, Willett WC (2001) The effect of fruit and vegetable intake on risk for coronary heart disease. Ann Intern Med 134(12):1106–1114

11.

Hung HC, Joshipura KJ, Jiang R (2004) Fruit and vegetable intake and risk of major chronic disease. J Natl Cancer Inst 96:1577–1584

12.

Ghanim H, Sia CL, Abuaysheh S, Korzeniewski K, Patnaik P, Marumganti A, Chaudhuri A, Dandona P (2010) An antiinflammatory and reactive oxygen species suppressive effect of an extract of Polygonum cuspidatum containing resveratrol. J Clin Endocrinol Metab 95(9):E1–E8. doi:10.1210/jc.2010-0482

13.

Alexandraki K, Piperi C, Kalofoutis C (2006) Inflammatory process in type 2 diabetes: the role of cytokines. Ann N Y Acad Sci 1084:89–117

14.

Gonzalez Y, Herrera MT, Soldevila G (2012) High glucose concentration induces TNF-alpha production through the down-regulation of CD33 in primary human monocytes. BMC Immunol 13:19

15.

He FJ, Nowson CA, Lucas M, MacGregor GA (2007) Increased consumption of fruit and vegetables is related to a reduced risk of coronary heart disease: meta-analysis of cohort studies. J Hum Hypertens 21:717–728

16.

Goralski KB, Sinal CJ (2007) Type 2 diabetes and cardiovascular disease: getting to the fat of the matter. Can J Physiol Pharmacol 85:113–132

17.

Hermsdorff HHM, Zulet MA, Puchau B (2001) Central adiposity rather than total adiposity measurements are specifically involved in the inflammatory status from healthy young adults. Inflammation 34:161–170

18.

Feve B, Bastard JP (2009) The role of interleukins in insulin resistance and type 2 diabetes mellitus. Nat Rev Endocrinol 5:305–311

19.

Westrick RJ, Eitzman DT (2007) Plasminogen activator inhibitor-1 in vascular thrombosis. Curr Drug Targets 8:966–1002

20.

Fain JN, Madan AK, Hiler ML (2004) Comparison of the release of adipokines by adipose tissue, adipose tissue matrix, and adipocytes from visceral and subcutaneous abdominal adipose tissues of obese humans. Endocrinology 145:2273–2282

21.

Ghanim H, Aljada A, Hofmeyer D (2004) Circulating mononuclear cells in the obese are in a proinflammatory state. Circulation 110:1564–1571

22.

Devaraj S, Singh U, Jialal I (2009) The evolving role of C-reactive protein in atherothrombosis. Clin Chem 55:229–238

23.

Silva D, Pais de Lacerda A (2012) High sensitivity C-reactive protein as a biomarker of risk in coronary artery disease. Rev Port Cardiol 31(11):733–745. doi:10.1016/j.repc.2012.02.018, Epub 2012 Oct 6

24.

Devaraj S, Autret BC, Jialal B (2006) Reduced-calorie orange juice beverage with plant sterols lowers C-reactive protein concentrations and improves the lipid profile inhuman volunteers. Am J Clin Nutr 84:756–761

25.

Koenig W, Sund M, Frohlich M, Fischer HG, Lowel H, Doring A, Hutchinson WL, Pepys MB (1999) C-reactive protein, a sensitive marker of inflammation, predicts future risk of coronary heart disease in initially healthy middle-aged men: results from the MONICA (Monitoring Trends and Determinants in Cardiovascular Disease) Augsburg Cohort Study, 1984 to 1992. Circulation 99:237–242

26.

Danesh J, Pepys MB (2000) C-reactive protein in healthy and in sick populations. Eur Heart J 21:1564–1565

27.

De Winther MP, Kanters E, Kraal G (2005) Nuclear factor kappa B signaling in atherogenesis. Arterioscler Thromb Vasc Biol 25:904–914

28.

Ajuwon KM, Spurlock ME (2005) Palmitate activates the NF-κB transcription factor and induces IL-6 and TNF-α expression in 3T3-L1 adipocytes. J Nutr 135:1841–1846

29.

Li ZW, Chu W, Hu Y (1999) The IKKbeta subunit of IkappaB kinase (IKK) is essential for nuclear factor kappa B activation and prevention of apoptosis. J Exp Med 189:1839–1845

30.

Aljada A, Mohanty P, Ghanim H, Abdo T, Tripathy D, Chaudhuri A, Dandona P (2004) Increase in intranuclear nuclear factor κB and decrease in inhibitor κB in mononuclear cells after a mixed meal: evidence for a proinflammatory effect. Am J Clin Nutr 79:682–690

31.

Aljada A, Friedman J, Ghanim H, Mohanty P, Hofmeyer D, Chaudhuri A, Dan-dona P (2006) Glucose ingestion induces an increase in intranuclear nuclear factor κB, a fall in cellular inhibitor κB, and an increase in tumor necrosis factor messenger RNA by mononuclear cells in healthy human subjects. Metabolism 55:1177–1185

32.

Hallman M, Ramet M, Ezekowitz RA (2001) Toll-like receptors as sensors of pathogens. Pediatr Res 50:315–321

33.

Chow JC, Young DW, Golenbock DT, Christ WJ, Gusovsky F (1999) Toll-like receptor-4 mediates lipopolysaccharide-induced signal transduction. J Biol Chem 274:10689–10692

34.

Ghanim H, Sia CL, Korzeniewski K, Lohano T, Abuaysheh S, Marumganti A, Chaudhuri A, Dandona P (2001) A resveratrol and polyphenol preparation supresses oxidative and inflammatory stress response to a high-fat, high-carbohydrate meal. J Clin Endocrinol Metab 96(5):1409–1414. doi:10.1210/jc.2010-1812

35.

Kim F, Pham M, Luttrell I (2007) Toll like receptor-4 mediates vascular inflammation and insulin resistance in diet-induced obesity. Circ Res 100:1589–1596

36.

Shishido T, Nozaki N, Takahashi H (2006) Central role of endogenous Toll-like receptor-2 activation in regulating inflammation, reactive oxygen species production, and subsequent neointimal formation after vascular injury. Biochem Biophys Res Commun 345:1446–1453

37.

Ghanim H, Abuaysheh S, Sia CL (2009) Increase in plasma endotoxin concentrations and the expression of Toll-like receptors and suppressor of cytokine signaling-3 in mononuclear cells after a high-fat, high-carbohydrate meal: implications for insulin resistance. Diabetes Care 32:2281–2287

38.

Hawkey CJ (2001) COX-1 and COX-2 inhibitors. Best Pract Res Clin Gastroenterol 15:801–820

39.

Song WL, Stubbe J, Ricciotti E, Alamuddin N (2012) Niacin and biosynthesis of PGD2 by platelet COX-1 in mice and humans. J Clin Invest 122:1459–1468

40.

Ghoshal S, Witta J, Zhong J, de Villiers W, Eckhardt E (2009) Chylomicrons promote intestinal absorption of lipopolysaccharides. J Lipid Res 50:90–97

41.

Stoll LL, Denning GM, Weintraub NL (2004) Potential role of endotoxin as a proinflammatory mediator of atherosclerosis. Arterioscler Thromb Vasc Biol 24:2227–2236

42.

Shi H, Kokoeva MV, Inouye K, Tzameli I, Yin H, Flier JS (2006) TLR4 links innate immunity and fatty acid-induced insulin resistance. J Clin Invest 116:3015–3025

43.

Yao LH, Jiang YM, Tomas-Barberan FA, Datta N, Singanusong R, Chen SS (2004) Flavonoids in food and their health benefits. Plant Food Hum Nutr 59:113–122

44.

Hooper L, Kroon PA, Rimm EB (2008) Flavonoids, flavonoid-rich foods, and cardiovascular risk: a meta-analysis of randomized controlled trials. Am J Clin Nutr 88:38–50

45.

Mullie P, Clarys P, Deriemaeker P, Hebbelinck M (2007) Estimation of daily human intake of food flavonoids. Plant Food Hum Nutr 62:93–98

46.

Franke AA, Cooney RV, Henning SM, Custer LJ (2005) Bioavailability and antioxidant effects of orange juice components in humans. J Agric Food Chem 53:5170–5178

47.

Kim SW, Kim CE, Kim MH (2011) Flavonoids inhibit high glucose-induced up-regulation of ICAM-1 via the p38 MAPK pathway in human vein endothelial cells. Biochem Biophys Res Commun 415:602–607

48.

Cha JY, Cho YS, Kim I, Anno T, Rahman SM, Yanagita T (2001) Effect of hesperetin, a citrus flavonoid, on the liver triacylglycerol content and phosphatidate phosphohydrolase activity in orotic acid-fed rats. Plant Foods Hum Nutr 56:349–358

49.

Lee RY, Jung JH, Kim HS (2011) Hesperidin partially restores impaired immune and nutritional function in irradiated mice. J Med Food 14:475–482

50.

Elavarasan J, Velusamy P, Ganesan T, Ramakrishnan SK, Rajasekaran D, Periandavan K (2012) Hesperidin-mediated expression of Nrf2 and upregulation of antioxidant status in senescent rat heart. J Pharm Pharmacol 64:1472–1482

51.

Rizza S, Muniyappa R, Iantorno M, Kim JA, Chen H, Pullikotil P, Senese N, Tesauro M, Lauro D, Cardillo C, Quon MJ (2011) Citrus polyphenol hesperidin stimulates production of nitric oxide in endothelial cells while improving endothelial function and reducing inflammatory markers in patients with metabolic syndrome. J Clin Endocrinol Metab 96:782–792

52.

Choi EM, Lee YS (2010) Effects of hesperetin on the production of inflammatory mediators in IL-1beta treated human synovial cells. Cell Immunol 264:1–3

53.

Milenkovic D, Deval C, Dubray C, Mazur A, Morand C (2011) Hesperidin displays relevant role in the nutrigenomic effect of orange juice on blood leukocytes in human volunteers: a randomized controlled cross-over study. PLoS One 6:e26669

54.

Sanchez-Moreno C, Cano MP, de Ancos B et al (2003) Effect of orange juice intake on vitamin C concentrations and biomarkers of antioxidant status in humans. Am J Clin Nutr 78:454–460

55.

Park HY, Kim GY, Choi YH (2012) Naringenin attenuates the release of pro-inflammatory mediators from lipopolysaccharide-stimulated BV2 microglia by inactivating nuclear factor-κB and inhibiting mitogen-activated protein kinases. Int J Mol Med 30:204–210

56.

Iwamura C, Shinoda K, Yoshimura M, Watanabe Y, Obata A, Nakayama T (2010) Naringenin chalcone suppresses allergic asthma by inhibiting the type-2 function of CD4 T cells. Allergol Int 59:67–73

57.

Nie YC, Wu H, Li PB, Xie LM, Luo YL, Shen JG, Su WW (2012) Naringin attenuates EGF-induced MUC5AC secretion in A549 cells by suppressing the cooperative activities of MAPKs-AP-1 and IKKs-IκB-NF-κB signaling pathways. Eur J Pharmacol 690:207–213

58.

Sabarinathan D, Mahalakshmi P, Vanisree AJ (2011) Naringenin, a flavanone inhibits the proliferation of cerebrally implanted C6 glioma cells in rats. Chem Biol Interact 189:26–36

59.

Álvarez-González I, Madrigal Bujaidar E, Sanchéz-Garcia VY (2010) Inhibitory effect of grapefruit juice on the genotoxic damage induced by ifosfamide in mouse. Plant Foods Hum Nutr 65:369–373

60.

Manach C, Williamson G, Morand C, Scalbert A, Remesy C (2005) Bio-availability and bioefficacy of polyphenols in humans: a review of 97 bioavailability studies. Am J Clin Nutr 81(suppl):230S–242S

61.

Yanhua LU, Zhang C, Bucheli P, Wei D (2006) Citrus flavonoids in fruit and traditional Chinese medicinal food ingredients in China. Plant Foods Hum Nutr 61:57–65

62.

Ghanim H, Mohanty P, Pathak R, Chaudhuri A, Sia CL, Dandona P (2007) Orange juice or fructose intake does not induce oxidative and inflammatory response. Diabetes Care 30:1406–1411

63.

Ghanim H, Sia CL, Upadhyay M, Korzeniewski K, Viswanathan P, Abuaysheh S, Mohanty P, Dandona P (2010) Orange juice neutralizes the proinflammatory effect of a high-fat, high-carbohydrate meal and prevents endotoxin increase and Toll-like receptor expression. Am J Clin Nutr 91:940–949

64.

Deopurkar R, Ghanim H, Friedman J, Abuaysheh S, Sia CL, Mohanty P, Viswanathan P, Chaudhuri A, Dandona P (2010) Differential effects of cream, glucose, and orange juice on inflammation, endotoxin, and the expression of Toll-like receptor-4 and suppressor of cytokine signaling-3. Diabetes Care 33:991–997

65.

Morand C, Dubray C, Milenkovic D, Lioger D, Martin JF, Scalbert A, Mazur A (2011) Hesperidin contributes to the vascular protective effects of orange juice: a randomized crossover study in healthy volunteers. Am J Clin Nutr 93:73–80

66.

Widlansky ME, Hamburg NM, Anter E (2007) Acute EGCG supplementation reverses endothelial dysfunction in patients with coronary artery disease. J Am Coll Nutr 26:95–102

67.

Actis-Goretta L, Ottaviani JI, Fraga CG (2006) Inhibition of angiotensin converting enzyme activity by flavanol-rich foods. J Agric Food Chem 54:229–234

68.

Devaraj S, Jialal I, Rockwood J, Zak D (2011) Effect of orange juice and beverage with phytosterols on cytokines and PAI-1 activity. Clin Nutr 30:668–671

69.

Stubbs VE, Power C, Patel KD (2010) Regulation of eotaxin-3/CCL26 expression in human monocytic cells. Immunology 130:74–82

70.

Wong BW, Wong D, McManus BM (2002) Characterization of fractalkine (CX3CL1) and CX3CR1 in human coronary arteries with native atherosclerosis, diabetes mellitus, and transplant vascular disease. Cardiovasc Pathol 11:332–338

71.

Hoogeveen RC, Morrison A, Boerwinkle E, Miles JS, Rhodes CE et al (2005) Plasma MCP-1 level and risk for peripheral arterial disease and incident coronary heart disease: atherosclerosis risk in communities study. Atherosclerosis 183:301–307

72.

Buscemi S, Rosafio G, Arcoleo G, Mattina A, Canino B, Montana M, Verga S, Rini G (2012) Effects of red orange juice intake on endothelial function and inflammatory markers in adult subjects with increased cardiovascular risk. Am J Clin Nutr 95:1089–1095

73.

Hooper L, Kroon PA, Rimm EB et al (2008) Flavonoids, flavonoid-rich foods, and cardiovascular risk: a meta-analysis of randomized controlled trials. Am J Clin Nutr 88:38–50

74.

Johnsen SP, Overvad K, Stripp C, Tjonneland A, Husted SE, Sorensen HT (2003) Intake of fruit and vegetables and the risk of ischemic stroke in a cohort of Danish men and women. Am J Clin Nutr 78:57–64

75.

O'Neil CE, Nicklas TA, Rampersaud GC, Fulgoni VL III (2012) 100% orange juice consumption is associated with better diet quality, improved nutrient adequacy, decreased risk for obesity, and improved biomarkers of health in adults: National Health and Nutrition Examination Survey, 2003–2006. Nutr J 11:107. doi:10.1186/1475-2891-11-107
Conflict of Interest
The authors declare that they have no conflict of interest.
About this article
Cite this article
Coelho, R.C.L.A., Hermsdorff, H.H.M. & Bressan, J. Anti-inflammatory Properties of Orange Juice: Possible Favorable Molecular and Metabolic Effects. Plant Foods Hum Nutr 68, 1–10 (2013). https://doi.org/10.1007/s11130-013-0343-3
Keywords
Orange juice

Hesperidin

Naringenin

Inflammation

Gene expression

Nutrigenomic