Abstract
Awara (Astrocaryum vulgare M.) pulp oil has been shown to possess anti-inflammatory properties in vivo, and contains an unsaponifiable matter rich in bioactive compounds. This study focused on the ethanolic unsaponifiable fraction (EUF) of awara pulp oil. Its chemical composition has been characterized: carotenoid, phytosterol, and tocopherol contents represent 125.7, 152.6, and 6.8 μg/mg of EUF, respectively. We further evaluated this fraction for anti-inflammatory properties in J774 macrophages activated by lipopolysaccharide (LPS) plus interferon (IFN) γ to understand the biological effects of awara pulp oil. EUF strongly decreased nitric oxide (NO), prostaglandin E2, tumour necrosis factor (TNF) α, and interleukin (IL) -6 and -10 production in activated J774 cells. Moreover, it inhibited expression of inducible NO synthase and cyclooxygenases-2 in vitro. The anti-inflammatory properties of EUF were also confirmed in vivo by modulation of TNFα, IL-6 and IL-10 serum concentration in an endotoxic shock model. Pre-treatment with awara oil fraction offers promise as a protective means to lower the production of excessive amounts of pro-inflammatory molecules.
Access options
Buy single article
Instant access to the full article PDF.
USD 39.95
Price excludes VAT (USA)
Tax calculation will be finalised during checkout.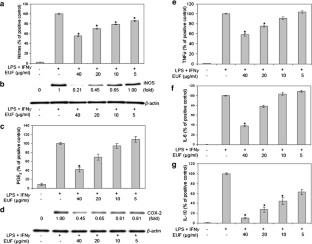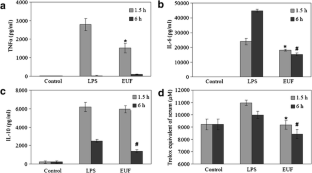 Abbreviations
COX:

Cyclooxygenases

EUF:

Ethanolic unsaponifiable fraction

IFN:

Interferon

IL:

Interleukin

LPS:

Lipopolysaccharide

NOS:

Nitric oxide synthase

ORAC:

Oxygen radical absorbance capacity

PG:

Prostaglandin

ROS:

Reactive oxygen species

SNP:

Sodium nitroprusside

TNF:

Tumour necrosis factor
References
Kahn F (2008) The genus Astrocaryum (Arecaceae). Rev Peru Biol 15:031–048

Bony E, Boudard F, Brat P, Dussossoy E, Portet K, Giaimis J, Michel A (2012) Awara (Astrocaryum vulgare M.) pulp oil: chemical characterization, and anti-inflammatory properties in a mice model of endotoxic shock and a rat model of pulmonary inflammation. Fitoterapia 83:33–43

Ryan E, Galvin K, O'Connor TP, Maguire AR, O'Brien NM (2007) Phytosterol, squalene, tocopherol content and fatty acid profile of selected seeds, grains, and legumes. Plant Foods Hum Nutr 62:85–91

Bester D, Esterhuyse AJ, Truter EJ, van Rooyen J (2010) Cardiovascular effects of edible oils: a comparison between four popular edible oils. Nutr Res Rev 23:334–348

Moreno J (2003) Effect of olive oil minor components on oxidative stress and arachidonic acid mobilization and metabolism by macrophages RAW 264.7. Free Radic Biol Med 35:1073–1081

Vivancos M, Moreno J (2008) Effect of resveratrol, tyrosol and β-sitosterol on oxidized low-density lipoprotein-stimulated oxidative stress, arachidonic acid release and prostaglandin E2 synthesis by RAW 264.7 macrophages. Br J Nutr 99:1199–1207

Edem DO (2002) Palm oil: Biochemical, physiological, nutritional, hematological, and toxicological aspects: a review. Plant Foods Hum Nutr 57:319–341

Federico A, Morgillo F, Tuccillo C, Ciardiello F, Loguercio C (2007) Chronic inflammation and oxidative stress in human carcinogenesis. Int J Cancer 121:2381–2386

Halayko A (2003) Mechanisms of inflammation-mediated airway smooth muscle plasticity and airways remodeling in asthma. Respir Physiol Neurobiol 137:209–222

Calder PC, Albers R, Antoine JM, Blum S, Bourdet-Sicard R, Ferns GA, Folkerts G, Friedmann PS, Frost GS, Guarner F, Løvik M, Macfarlane S, Meyer PD, M'Rabet L, Serafini M, van Eden W, van Loo J, Vas Dias W, Vidry S, Winklhofer-Roob BM, Zhao J (2009) Inflammatory disease processes and interactions with nutrition. Br J Nutr 101:1–45

Coleman JW (2001) Nitric oxide in immunity and inflammation. Int Immunopharmacol 1:1397–1406

Simon LS (1999) Role and regulation of cyclooxygenase-2 during inflammation. Am J Med 106:37S–42S

Medzhitov R (2008) Origin and physiological roles of inflammation. Nature 454:428–435

Dussossoy E, Brat P, Bony E, Boudard F, Poucheret P, Mertz C, Giaimis J, Michel A (2011) Characterization, anti-oxidative and anti-inflammatory effects of Costa Rican noni juice (Morinda citrifolia L.). J Ethnopharmacol 133:108–115

Boudard F, Vallot N, Cabaner C, Bastide M (1994) Chemiluminescence and nitrite determinations by the MALU macrophage cell line. J Immunol Methods 174:259–268

Krinsky N, Johnson E (2005) Carotenoid actions and their relation to health and disease. Mol Aspects Med 26:459–516

Navarro A, De Las HB, Villar A (2001) Anti-inflammatory and immunomodulating properties of a sterol fraction from Sideritis foetens CLEM. Biol Pharm Bull 24:470–473

Akihisa T, Yasukawa K, Yamaura M, Ukiya M, Kimura Y, Shimizu N, Arai K (2000) Triterpene alcohol and sterol ferulates from rice bran and their anti-inflammatory effects. J Agric Food Chem 48:2313–2319

Nashed B, Yeganeh B, HayGlass KT, Moghadasian MH (2005) Antiatherogenic effects of dietary plant sterols are associated with inhibition of proinflammatory cytokine production in Apo E-KO mice. J Nutr 135:2438–2444

Reiter E, Jiang Q, Christen S (2007) Anti-inflammatory properties of α- and γ-tocopherol. Mol Aspects Med 28:668–691

Bai SK, Lee SJ, Na HJ, Ha KS, Han JA, Lee H, Kwon YG, Chung CK, Kim YM (2005) β-Carotene inhibits inflammatory gene expression in lipopolysaccharide-stimulated macrophages by suppressing redox-based NF-κB activation. Exp Mol Med 37:323–334

Fuller B, Smith D, Howerton A, Kern D (2006) Anti-inflammatory effects of CoQ10 and colorless carotenoids. J Cosmet Dermatol 5:30–38

Jiang Q, Elson-Schwab I, Bedord C, Ames B (2000) γ-Tocopherol and its major metabolite, in contrast to α-tocopherol, inhibit cyclooxygenase activity in macrophages and epithelial cells. Proc Natl Acad Sci 97:11494–11499

Devaraj S, Jialal I (2005) Alpha-tocopherol decreases tumor necrosis factor-alpha mRNA and protein from activated human monocytes by inhibition of 5-lipoxygenase. Free Radic Biol Med 38:1212–1220

Brasier AR (2006) The NF-kappaB regulatory network. Cardiovasc Toxicol 6:111–130

Islam MS, Yoshida H, Matsuki N, Ono K, Nagasaka R, Ushio H, Guo Y, Hiramatsu T, Hosoya T, Murata T, Hori M, Ozaki H (2009) Antioxidant, free radical-scavenging, and NF-kB-inhibitory activties of phytosteryl ferulates: structure-activity studies. J Pharmacol Sci 111:328–337

Rimbach G, Minihane AM, Majewicz J, Fischer A, Pallauf J, Virgli F, Weinberg PD (2002) Regulation of cell signalling by vitamin E. Proc Nutr Soc 61:415–425

Annane D, Bellissant E, Cavaillon JM (2005) Septic shock. Lancet 365:63–78

Novoselova E, Lunin SM, Novoselova TV, Khrenov MO, Glushkova OV, Avkhacheva NV, Safronova VG, Fesenko EE (2009) Naturally occurring antioxidant nutrients reduce inflammatory response in mice. Eur J Pharmacol 615:234–240

Galley HF, Howdle PD, Walker BE, Webster NR (1997) The effects of intravenous antioxidants in patients with septic shock. Free Radic Biol Med 23:768–774
Electronic Supplementary Material
Below is the link to the electronic supplementary material.
About this article
Cite this article
Bony, E., Boudard, F., Dussossoy, E. et al. Chemical Composition and Anti-inflammatory Properties of the Unsaponifiable Fraction from Awara (Astrocaryum vulgare M.) Pulp Oil in Activated J774 Macrophages and in a Mice Model of Endotoxic Shock. Plant Foods Hum Nutr 67, 384–392 (2012). https://doi.org/10.1007/s11130-012-0323-z
Published:

Issue Date:

DOI: https://doi.org/10.1007/s11130-012-0323-z
Keywords
Awara (Astrocaryum vulgare M.)

Unsaponifiable fraction

Carotenoids

Phytosterols

Tocopherols

Anti-inflammatory

J774 macrophages

Endotoxic shock