Abstract
We investigated whether a test drink enriched in pomegranate polyphenols, consumed with a high-fat meal, can reduce postprandial lipaemia and improve vascular function and blood pressure compared to placebo. Nineteen young, healthy men completed a randomized, controlled crossover trial. The active drink (containing a pomegranate extract) was consumed during a high-fat meal (ET-DUR) or 15 min before (ET-PRE), and the placebo drink (no pomegranate extract) was consumed during the high-fat meal (CONTROL). Postprandial lipaemia was assessed by venous plasma TAG 0–2 h, and capillary plasma TAG 0–4 h. Blood pressure and digital volume pulse, to measure reflection index (DVP-RI) and stiffness index (DVP-SI), were monitored at baseline, 2 and 4 h. There was no inhibition of postprandial lipaemia by the active drink compared to CONTROL. ET-PRE caused a greater increase in the venous plasma TAG at 2 h compared to CONTROL and ET-DUR (treatment effect P = 0.001). The incremental area under the curve 0–4 h for capillary plasma TAG was not significantly different between treatments. Systolic blood pressure (SBP) increased in the ET-PRE and ET-DUR groups to a lesser extent than the CONTROL group (treatment effect P = 0.041). There were no treatment effects for DVP-RI, DVP-SI or diastolic blood pressure. In conclusion, the consumption of a single drink containing ET-rich pomegranate extract did not decrease postprandial plasma TAG concentrations, but suppressed the postprandial increase in SBP following the high-fat meal.
Access options
Buy single article
Instant access to the full article PDF.
US$ 39.95
Tax calculation will be finalised during checkout.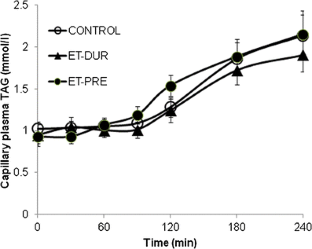 Abbreviations
DBP:

Diastolic blood pressure

DGAT:

Diacylglycerol acyltransferase

DVP:

Digital volume pulse

DVP-RI:

Reflection index measured by digital volume pulse

DVP-SI:

Stiffness index measured by digital volume pulse

ET:

Ellagitannins

iAUC:

Incremental area under the curve

SBP:

Systolic blood pressure

TAG:

Triacylglycerol
References
1.

Clifford MN, Scalbert A (2000) Ellagitannins - nature, occurrence and dietary burden. J Sci Food Agric 80:1118–1125

2.

Gil MI, Tomás-Barberán FA, Hess-Pierce B, Holcroft DM, Kader AA (2000) Antioxidant activity of pomegranate juice and its relationship with phenolic composition and processing. J Agric Food Chem 48:4581–4589

3.

Mastrodi Salgado J, Baroni Ferreira TR, de Oliveira Biazotto F, Dos Santos Dias CT (2012) Increased antioxidant content in juice enriched with dried extract of pomegranate (Punica granatum) peel. Plant Foods Hum Nutr 67:39–43

4.

Heber D (2011) Pomegranate ellagitannins. In: Benzie IFF, Wachtel-Galor S (eds), Herbal Medicine: Biomolecular and Clinical Aspects. 2nd edition. Boca Raton (FL): CRC Press; 2011. Chapter 10

5.

Seeram NP, Zhang Y, McKeever R, Henning SM, Lee RP, Suchard MA, Li Z, Chen S, Thames G, Zerlin A, Nguyen M, Wang D, Dreher M, Heber D (2008) Pomegranate juice and extracts provide similar levels of plasma and urinary ellagitannin metabolites in human subjects. J Med Food 11:390–394

6.

Seeram NP, Lee R, Heber D (2004) Bioavailability of ellagic acid in human plasma after consumption of ellagitannins from pomegranate (Punica granatum L.) juice. Clin Chim Acta 348:63–68

7.

Gonzalez-Barrio R, Borges G, Mullen W, Crozier A (2010) Bioavailability of anthocyanins and ellagitannins following consumption of raspberries by healthy humans and subjects with an ileostomy. J Agric Food Chem 58:3933–3939

8.

Larrosa M, Garcia-Conesa MT, Espin JC, Tomas-Barberan FA (2010) Ellagitannins, ellagic acid and vascular health. Mol Aspects Med 31:513–539

9.

Seeram NP, Henning SM, Zhang Y, Suchard M, Li Z, Heber D (2006) Pomegranate juice ellagitannin metabolites are present in human plasma and some persist in urine for up to 48 hours. J Nutr 136:2481–2485

10.

Chong MF, Macdonald R, Lovegrove JA (2010) Fruit polyphenols and CVD risk: A review of human intervention studies. Br J Nutr 104(Suppl 3):S28–S39

11.

McDougall GJ, Kulkarni NN, Stewart D (2008) Current developments on the inhibitory effects of berry polyphenols on digestive enzymes. Biofactors 34:73–80

12.

Kondo H, Hashizume K, Shibuya Y, Hase T, Murase T (2011) Identification of diacylglycerol acyltransferase inhibitors from Rosa centifolia petals. Lipids 46:691–700

13.

Heber D, Seeram NP, Wyatt H, Henning SM, Zhang Y, Ogden LG, Dreher M, Hill JO (2007) Safety and antioxidant activity of a pomegranate ellagitannin-enriched polyphenol dietary supplement in overweight individuals with increased waist size. J Agric Food Chem 55:10050–10054

14.

Millasseau SC, Kelly RP, Ritter JM, Chowienczyk PJ (2003) The vascular impact of aging and vasoactive drugs: Comparison of two digital volume pulse measurements. Am J Hypertens 16:467–472

15.

Chowienczyk PJ, Kelly RP, MacCallum H, Millasseau SC, Andersson TL, Gosling RG, Ritter JM, Anggard EE (1999) Photoplethysmographic assessment of pulse wave reflection: Blunted response to endothelium-dependent beta2-adrenergic vasodilation in type II diabetes mellitus. J Am Coll Cardiol 34:2007–2014

16.

Lairon D, Lopez-Miranda J, Williams C (2007) Methodology for studying postprandial lipid metabolism. Eur J Clin Nutr 61:1145–1161

17.

Robertson MD, Mason AO, Frayn KN (2002) Timing of vagal stimulation affects postprandial lipid metabolism in humans. Am J Clin Nutr 76:71–77

18.

Rontoyanni VG, Hall WL, Pombo-Rodrigues S, Appleton A, Chung R, Sanders TA (2012) A comparison of the changes in cardiac output and systemic vascular resistance during exercise following high-fat meals containing DHA or EPA. Br J Nutr 108:492–499

19.

Rontoyanni VG, Chowienczyk PJ, Sanders TA (2010) Postprandial lipaemia does not affect resting haemodynamic responses but does influence cardiovascular reactivity to dynamic exercise. Br J Nutr 104:863–871

20.

Hall WL, Sanders KA, Sanders TA, Chowienczyk PJ (2008) A high-fat meal enriched with eicosapentaenoic acid reduces postprandial arterial stiffness measured by digital volume pulse analysis in healthy men. J Nutr 138:287–291

21.

O'Donovan D, Horowitz M, Russo A, Feinle-Bisset C, Murolo N, Gentilcore D, Wishart JM, Morris HA, Jones KL (2004) Effects of lipase inhibition on gastric emptying of, and on the glycaemic, insulin and cardiovascular responses to, a high-fat/carbohydrate meal in type 2 diabetes. Diabetologia 47:2208–2214

22.

Tai K, Gentilcore D, Jones KL, Banh L, Gilja OH, Hammond AJ, Feinle-Bisset C, Horowitz M, Chapman IM (2011) Orlistat accentuates the fat-induced fall in blood pressure in older adults. Br J Nutr 106:417–424

23.

Lynn A, Hamadeh H, Leung WC, Russell JM, Barker ME (2012) Effects of pomegranate juice supplementation on pulse wave velocity and blood pressure in healthy young and middle-aged men and women. Plant Foods Hum Nutr 67:309–314

24.

Aviram M, Dornfeld L (2001) Pomegranate juice consumption inhibits serum angiotensin converting enzyme activity and reduces systolic blood pressure. Atherosclerosis 158:195–198

25.

Aviram M, Rosenblat M, Gaitini D, Nitecki S, Hoffman A, Dornfeld L, Volkova N, Presser D, Attias J, Liker H, Hayek T (2004) Pomegranate juice consumption for 3 years by patients with carotid artery stenosis reduces common carotid intima-media thickness, blood pressure and LDL oxidation. Clin Nutr 23:423–433
Acknowledgments
This study was funded by King's College London. We thank Anne Catherine-Perz, David Lincoln, Mary-Jo Searle for their assistance during the study. The active and placebo drinks were kindly supplied by POM Wonderful, LLC (CA, USA). The authors declare that they have no conflict of interest.
About this article
Cite this article
Mathew, A.S., Capel-Williams, G.M., Berry, S.E.E. et al. Acute Effects of Pomegranate Extract on Postprandial Lipaemia, Vascular Function and Blood Pressure. Plant Foods Hum Nutr 67, 351–357 (2012). https://doi.org/10.1007/s11130-012-0318-9
Keywords
Postprandial lipaemia

Vascular function

Blood pressure

Polyphenols

Pomegranate