Abstract
Noni juice (NJ) is rich in phytochemicals and polysaccharides. Lipid-lowering and antioxidative effects of NJ were investigated in this study. Fifty male hamsters were assigned randomly to one of the following groups: (1) normal diet and distilled water (LFCD); (2) high-fat/cholesterol diet and distilled water (HFCD); (3) HFCD and 3 ml NJ (including 0.20 g solids)/kg BW (NJ_L); (4) HFCD and 6 mL NJ (including 0.40 g solids)/kg BW (NJ_M); (5) HFCD and 9 ml NJ (including 0.60 g solids)/kg BW (NJ_H) for six weeks. NJ supplementation decreased (p < 0.05) serum triacylglycerol, cholesterol, atherogenic index, malondialdehyde levels, and hepatic lipids in HFCD hamsters, whereas serum trolox equivalent antioxidant capacity, glutathione, and fecal lipids in HFCD hamsters were increased (p < 0.05) by NJ supplementation. Although NJ supplementation downregulated (p < 0.05) sterol regulator element binding protein-1c in HFCD hamsters, it upregulated (p < 0.05) hepatic peroxisome proliferator-activated receptor-alpha and uncoupling protein 2 gene expressions in HFCD hamsters. Results demonstrate that NJ promotes cardioprotection in a high-fat/cholesterol diet.
Access options
Buy single article
Instant access to the full article PDF.
USD 39.95
Price includes VAT (USA)
Tax calculation will be finalised during checkout.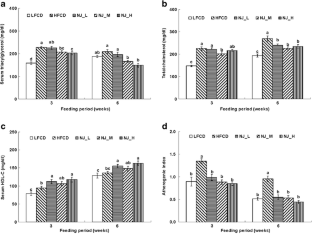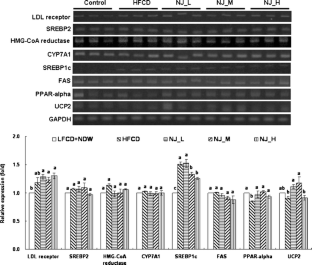 References
1.

Hu FB, Rimm EB, Stampfer MJ, Ascherio A, Spiegelman D, Willett WC (2000) Prospective study of major dietary patterns and risk of coronary heart disease in men. Am J Clin Nutr 72:912–921

2.

Yang DJ, Chang YY, Hsu CL, Lin CW, Wang Y, Chen YC (2010) Protective effect of litchi (Litchi chinensis Sonn.)-flower-water-extract on cardiovascular health in a high-fat/cholesterol-dietary hamsters. Food Chem 119:1456–1561

3.

Wang MY, West BJ, Jensen CJ, Nowicki D, Su C, Palu AK, Anderson G (2002) Morinda citrifolia (Noni): A literature review and recent advances in Noni research. Acta Pharmacol Sin 23:1127–1141

4.

Wang MY, Anderson G, Nowicki D, Jensen J (2008) Hepatic protection by noni fruit juice against CCl4-induced chronic liver damage in female SD rats. Plant Foods Hum Nutr 63:141–145

5.

Wang MY, Nowicki D, Anderson G, Jensen J, West B (2008) Liver protective effects of Morinda citrifolia (Noni). Plant Foods Hum Nutr 63:59–63

6.

Yang ZH, Miyahara H, Takeo J, Hatanaka A, Katayama M (2011) Pollock oil supplementation modulates hyperlipidemia and ameliorates hepatic steatosis in mice fed a high-fat diet. Lipids Health Dis 25:189–1989

7.

Nakatani T, Tsuboyama-Kasaoka N, Takahashi M, Miura S, Ezaki O (2002) Mechanism for peroxisome proliferator-activated receptor-alpha activator-induced up-regulation of UCP2 mRNA in rodent hepatocytes. J Biol Chem 277:9562–9569

8.

Mandukhail SU, Aziz N, Gilani AH (2010) Studies on antidyslipidemic effects of Morinda citrifolia (Noni) fruit, leaves and root extracts. Lipids Health Dis 20:88–93

9.

Klein BP, Perry AK (1982) Ascorbic acid and vitamin A activity in selected vegetables from different geographical areas of United States. J Food Sci 47:941–945

10.

Sone Y, Okuda R, Wada N, Kishida E, Misaki A (1985) Structures and anti-tumor activities of the polysaccharides isolated from fruiting body and the growing culture of mycelium of Ganoderma lucidum. Agric Biol Chem 49:2641–2653

11.

Yang DJ, Chang YY, Hsu CL, Liu CW, Lin YL, Lin YH, Liu KC, Chen YC (2010) Antiobesity and hypolipidemic effects of polyphenol-rich longan (Dimocarpus longans Lour.) flower water extract in hypercaloric-dietary rats. J Agric Food Chem 58:2020–2027

12.

Daggy BP, O'Connell NC, Jerdack GR, Stinson BA, Setchell KDR (1997) Additive hypocholesterolemic effect of psyllium and cholestyramine in the hamster: Influence on fecal sterol and bile acid profiles. J Lipid Res 38:491–502

13.

Huang CH, Chang YY, Liu CW, Kang WY, Lin YL, Chang HC, Chen YC (2010) Fruiting body of Niuchangchih (Antrodia camphorata) protects livers against chronic alcohol consumption damage. J Agric Food Chem 58:3859–3866

14.

Wilcox JK, Ash SL, Catignani GL (2004) Antioxidants and prevention of chronic disease. Crit Rev Food Sci Nutr 44:275–295

15.

Li XM, Ma YL, Liu XJ (2007) Effect of the Lycium barbarum polysaccharides on age-related oxidative stress in aged mice. J Ethnopharmacol 111:504–511

16.

Huang X, Tang J, Zhou Q, Lu H, Wu Y, Wu W (2010) Polysaccharide from fuzi (FPS) prevents hypercholesterolemia in rats. Lipids Health Dis 9:9–15

17.

Xu C, Haiyan Z, Hua Z, Jianhong Z, Pin D (2009) Effect of Curcuma kwangsiensis polysaccharides on blood lipid profiles and oxidative stress in high-fat rats. Int J Biol Macromol 44:138–142

18.

Kawai Y (2011) Immunochemical detection of food-derived polyphenols in the aorta: Macrophages as a major target underlying the anti-atherosclerotic activity of polyphenols. Biosci Biotechnol Biochem 75:609–617

19.

Ashidate K, Kawamura M, Mimura D, Tohda H, Miyazaki S, Teramoto T, Yamamoto Y, Hirata Y (2005) Gentisic acid, an aspirin metabolite, inhibits oxidation of low-density lipoprotein and the formation of cholesterol ester hydroperoxides in human plasma. Eur J Pharmacol 513:173–179

20.

Cho AS, Jeon SM, Kim MJ, Yeo J, Seo KI, Choi MS, Lee MK (2010) Chlorogenic acid exhibits anti-obesity property and improves lipid metabolism in high-fat diet-induced-obese mice. Food Chem Toxicol 48:937–943

21.

Sugiyama H, Akazome Y, Shoji T, Yamaguchi A, Yasue M, Kanda T, Ohtake Y (2007) Oligomeric procyanidins in apple polyphenol are main active components for inhibition of pancreatic lipase and triglyceride absorption. J Agric Food Chem 55:4604–4609

22.

Ikeda I, Hamamoto R, Uzu K, Imaizumi K, Nagao K, Yanagita T, Suzuki Y, Kobayashi M, Kakuuda T (2005) Dietary gallate esters of tea catechins reduce deposition of visceral fat, hepatic triacylglycerol, and activities of hepatic enzymes related to fatty acid synthesis in rats. Biosci Biotechnol Biochem 69:1049–1053

23.

Li H, Zhang M, Ma G (2010) Hypolipidemic effect of the polysaccharide from Pholiota nameko. Nutrition 26:556–562

24.

Simons LA (2002) Additive effect of plant sterol-ester margarine and cerivastatin in lowering low-density lipoprotein cholesterol in primary hypercholesterolemia. Am J Cardiol 90:737–740

25.

Tzang BS, Yang SF, Fu SG, Yang HC, Sun HL, Chen YC (2009) Effects of dietary flaxseed oil on cholesterol metabolism of hamsters. Food Chem 114:1450–1455

26.

Chang MH, Tzang BS, Yang TY, Yang HC, Hsiao YC, Chen YC (2010) Hypolipidemic and hypotensive effects of treated deep-sea water in mice fed a high cholesterol diet. J Food Biochem 35:241–259

27.

Chang YY, Chou CH, Chiu CH, Lin YL, Weng WL, Chen YC (2010) Preventive effects of taurine on development of hepatic steatosis induced by a high-fat/cholesterol dietary habit. J Agric Food Chem 59:450–457

28.

Lam CK, Zhang Z, Yu H, Tsang SY, Huang Y, Chen ZY (2008) Apple polyphenols inhibit plasma CETP activity and reduce the ratio of non-HDL to HDL cholesterol. Mol Nutr Food Res 52:950–958

29.

Basu A, Du M, Leyva MJ, Sanchez K, Betts NM, Wu M, Aston CE, Lyons TJ (2010) Blueberries decrease cardiovascular risk factors in obese men and women with metabolic syndrome. J Nutr 140:1582–1587

30.

Visavadiya NP, Soni B, Dalwadi N (2009) Free radical scavenging and antiatherogenic activities of Sesamum indicum seed extracts in chemical and biological model systems. Food Chem Toxicol 47:2507–2515

31.

Nafees S, Ahmad ST, Arjumand W, Rashid S, Ali N, Sultana S (2012) Modulatory effects of gentisic acid against genotoxicity and hepatotoxicity induced by cyclophosphamide in Swiss albino mice. J Pharm Pharmacol 64:259–267
Acknowledgments
We would like to acknowledge the funding of this research from National Science Council, Taiwan (R.O.C.) (project number: NSC 98-2320-B-040-005-MY3) and Council of Agriculture, Executive Yuan, Taiwan (R.O.C.) (project number: 101AS -3.1.4-AD-U1(2)).
Additional information
B. S Tzang and Y. C. Chen contributed equally as corresponding authors.
About this article
Cite this article
Lin, YL., Chou, CH., Yang, DJ. et al. Hypolipidemic and Antioxidative Effects of Noni (Morinda citrifolia L.) Juice on High- fat/Cholesterol-Dietary Hamsters. Plant Foods Hum Nutr 67, 294–302 (2012). https://doi.org/10.1007/s11130-012-0309-x
Keywords
Noni juice

Serum lipid

Hepatic lipid

Peroxisome proliferator-activated receptor-alpha

Uncoupling protein 2

Serum antioxidant capacity