Abstract
Leaves of Ilex paraguariensis are used to prepare a tea known as maté which is a common beverage in several South American countries. The ethanol extract was fractionated to identify the compounds responsible for the anti-adipogenic activity in 3T3-L1 cells. Extracts of both fresh and dried maté leaves were subjected to column chromatography using molecular permeation to obtain the saponin (20 % yields) and the polyphenol extracts (40 % yields) from the fresh and dried leaves. The phenolic content was determined using high-performance liquid chromatography analysis and the Folin-Ciocalteau method. Also, maté extracts (50 μg/ml to 1,000 μg/ml) did not display citotoxicity using MTT. The polyphenol extract from the dried leaves was the most effective (50 μg/ml) in the inhibition of triglyceride accumulation in 3T3-L1 adipocytes, and rutin (100 μg/ml) likely accounted for a large portion of this activity. Additionally, maté extracts had a modulatory effect on the expression of genes related to the adipogenesis as PPARγ2, leptin, TNF-α and C/EBPα.
This is a preview of subscription content,
to check access.
Access this article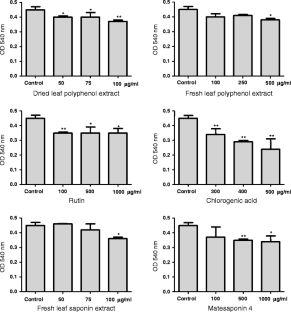 Similar content being viewed by others
Abbreviations
DMEM:

Dulbecco's modified Eagle's medium

IBMX:

3-isobutyl-1-methylxanthine

TNFα:

Tumor necrosis factor-alpha

FE:

Fresh leaf ethanol extract

DE:

Dried leaf ethanol extract
References
Bracesco N, Sanchez AG, Contreras V, Menini T, Gugliucci A (2011) Recent advances on Ilex paraguariensis research: Minireview. J Ethnopharmacol 136:378–384

Heck AI, Mejia EG (2007) Yerba mate tea (Ilex paraguariensis): A comprehensive review on chemistry, health implications, and technological considerations. J Food Sci 72:138–151

Matsumoto RLT, Bastos DHM, Mendonça S, Nunes VS, Bartchewsky W, Ribeiro ML (2009) Effects of mate tea (Ilex paraguariensis) ingestion on mRNA expression of antioxidant enzymes, lipid peroxidation, and total antioxidant status in healthy young women. J Agric Food Chem 57:1775–1780

Miranda DD, Arçari DM, Pedrazzoli J Jr, Carvalho PO, Cerutti SM, Bastos DHM, Ribeiro ML (2008) Protective effects of mate tea (Ilex paraguariensis) on H2O2-induced DNA damage and repair in mice. Mutagenesis 23:261–265

Arçari DP, Bartchewsky W, Dos Santos TW, Oliveira K, Funck A, Pedrazzoli J, De Souza MFF, Saad MJ, Bastos DHM, Gambero A, Carvalho PO, Ribeiro ML (2009) Antiobesity effects of yerba maté extract (Ilex paraguariensis) in high-fat diet–induced obese mice. Obesity 17:2127–2133

Arçari DP, Bartchewsky W, Dos Santos TW, Oliveira K, Oliveira C, Gotardo E, Pedrazzoli J, Gambero A, Ferraz LFC, Carvalho PO, Ribeiro ML (2011) Anti-inflammatory effects of yerba maté extract (Ilex paraguariensis) ameliorate insulin resistance in mice with high fat diet-induced obesity. Mol Cell Endocrinol 335(2):110–115

Rössner S (2002) Obesity: The disease of the twenty–first century. Int J Obes 26(4):S2–S4

Haslam DW, James WP (2005) Obesity. Lancet 366:1197–1209

Furukawa S, Fujita T, Shimabukuro M, Iwaki M, Yamada Y, Nakajima Y, Nakayama O, Makishima Y, Shimomura I (2004) Increased oxidative stress in obesity and its impact on metabolic syndrome. J Clin Invest 114:1752–1761

Ahima RS, Flier JS (2000) Adipose tissue as an endocrine organ. Trends Endocrinol Metab 11(8):327–332

Ailhaud G, Hauner H (2004) Development of white adipose tissue. In: Bray AGB (ed) Handbook of obesity: Etiology and pathophysiology. Marcel Dekker, New York

Gosmann G, Guillaume D, Taketa ATC, Schenkel EP (1995) Triterpenoid saponins from Ilex paraguariensis. J Nat Prod 58:438–441

Stahl E (1969) Thin-layer chromatography, a laboratory handbook, 2nd edn. Springer, New York

Silva FA, Pavei C, Ortega GG, Lima EM, Diniz DGA, Moreira JCF, Bassani VL (2007) Validation of an LC method for polyphenol assay in extractive solutions from Ilex paraguariensis (Mate). J Liq Chromatogr Relat Technol 30:3119–3131

Beara IN, Lesjak MM, Jovin ED, Balog KJ, Anackov GT, Orcić DZ, Mimica-Dukić NM (2009) Plantain (Plantago L.) species as novel sources of flavonoid antioxidants. J Agric Food Chem 57(19):9268–9273

Moon HS, Chung CS, Lee HG, Kim TG, Choi YJ, Cho CS (2007) Inhibitory effect of (−)-epigallocatechin-3-gallate on lipid accumulation of 3T3-L1 cells. Obesity 15(11):2571–2582

Mosmann T (1983) Rapid colorimetric assay for cellular growth and survival: Application to proliferation and cytotoxicity assays. J Immunol Methods 65:55–63

Xin H, Bernal A, Amato FA, Pinhasov A, Kauffman J, Brenneman DE, Derian CK, Andrade-Gordon P, Plata-Salaman CR, Ilyin SE (2004) High-throughput Si-RNa-based functional target validation. J Biomol Screen 9:286–293

Livak KJ, Schmittgen TD (2001) Analysis of relative gene expression data using real-time quantitative PCR and the 2-(−Delta Delta C(T)) method. Methods 25:402–408

Chandra S, De Mejia EG (2004) Polyphenolic compounds, antioxidant capacity, and quinine reductase activity of an aqueous extract of Ardisia compressa in comparison to mate (Ilex paraguariensis) and green (Camellia sinensis) teas. J Agric Food Chem 52:3583–3589

Trayhurn P (2007) Adipocyte biology. Obes Rev 8(1):41–44

Park T, Kim Y (2011) Phytochemicals as potential agents for prevention and treatment of obesity and metabolic diseases. In: Atta-ur-Rahman, Choudhary MI (eds) Anti-obesity drug discovery and development. Bentham, Dubai, pp 150–185

González-Espinosa de los Monteros LA, Ramón-Gallegos E, Torres-Torres N, Mora-Escobedo R (2011) Effect of germinated soybean protein hydrolysates on adipogenesis and adipolysis in 3T3-L1 cells. Plant Foods Hum Nutr 66:355–362

Konieczny SF, Emerson CP (1984) 5-azacytidine induction of stable mesodermal stem cell lineages from 10 T1/2 cells: Evidence for regulatory genes controlling determination. Cell 38:791–800

Niwano Y, Beppu F, Shimada T, Kyan R, Yasura K, Tamaki M, Nishino M, Midorikawa Y, Hamada H (2009) Extensive screening for plant foodstuffs in Okinawa, Japan with anti-obese activity on adipocytes in vitro. Plant Foods Hum Nutr 64:6–10

Tamori Y, Masugi J, Nishino N, Kasuga M (2002) Role of peroxisome proliferator-activated receptor-gamma in maintenance of the characteristics of mature 3T3-L1 adipocytes. Diabetes 51:2045–2055

Fajas L, Fruchart JC, Auwerx J (1998) Transcriptional control of adipogenesis. Curr Opin Cell Biol 10:165–173

Evans D, Aberle J, Wendt D, Wolf A, Beisiegel U, Mann WA (2001) A polymorphism, L162V, in the peroxisome proliferator-activated receptor α (PPARα) gene is associated with lower body mass index in patients with non-insulin dependent diabetes mellitus. J Mol Med 79:198–204

Fox KE, Fankell DM, Erickson PF, Majka SM, Crossno JT Jr, Klemm DJ (2006) Depletion of cAMP-response element-binding protein/ATF1 inhibits adipogenic conversion of 3T3-L1 cells ectopically expressing CCAAT/enhancer-binding protein (C/EBP) alpha, C/EBP beta, or PPAR gamma 2. J Biol Chem 281:40341–40353

Hsu CL, Yen GC (2007) Effects of flavonoids and phenolic acids on the inhibition of adipogenesis in 3T3-L1 adipocytes. J Agric Food Chem 55:8404–8410

Bulló M, García-Lorda P, Peinado-Onsurbe J, Hernández M, Del Castillo D, Argilés JM, Salas-Salvadó J (2002) TNF-alpha expression of subcutaneous adipose tissue in obese and morbid obese females: Relationship to adipocyte LPL activity and leptin synthesis. Int J Obes Relat Metab Disord 26:652–658

Kern PA, Ranganathan S, Li C, Wood L, Ranganathan G (2001) Adipose tissue tumor necrosis factor and interleukin-6 expression in human obesity and insulin resistance. Am J Physiol Endocrinol Metab 280:745–751

Okada Y, Okada M, Sagesaka Y (2010) Screening of dried plant seed extracts for adiponectin production activity and tumor necrosis factor-alpha inhibitory activity on 3T3-L1 adipocytes. Plant Foods Hum Nutr 65(8):225–232

Cho AS, Jeon SM, Kim MJ, Yeo J, Kl S, Choi MS, Lee MK (2010) Chlorogenic acid exhibits anti-obesity property and improves lipid metabolism in high-fat diet-induced-obese mice. Food Chem Toxicol 48:937–943
Acknowledgements
We are grateful to the Brazilian agencies: Conselho Nacional de Desenvolvimento Científico e Tecnológico (CNPq) and Coordenação de Aperfeiçoamento de Pessoal de Nível Superior (CAPES) for fellowships and financial support.
Electronic supplementary material
Below is the link to the electronic supplementary material.
About this article
Cite this article
Gosmann, G., Barlette, A.G., Dhamer, T. et al. Phenolic Compounds from Maté (Ilex paraguariensis) Inhibit Adipogenesis in 3T3-L1 Preadipocytes. Plant Foods Hum Nutr 67, 156–161 (2012). https://doi.org/10.1007/s11130-012-0289-x
Published:

Issue Date:

DOI: https://doi.org/10.1007/s11130-012-0289-x
Keywords