Abstract
Chamomile (German Chamomile, Matricaria recutita L., Asteraceae) is one of the most popular medicinal plants in use as an herbal tea for food purposes and in folk medicine. Qualitative and semi-quantitative analyses of the volatile fraction of chamomile herbal tea were performed. Volatile constituents of the infusion were isolated by two different methods, namely hydrodistillation and solid phase extraction (SPE), and analysed by GC-MS. The relative proportions of particular chemical classes, present in the essential oil and volatile fractions of the infusion showed remarkable differences. The proportion of mono- and sesquiterpene hydrocarbons in the infusion, as compared to the essential oil, was significantly lower. Strikingly, the dichloromethane extract of the infusion contained a lower amount of bisabolol oxides and chamazulene, but higher amounts of spiroethers, sesquiterpene lactones and coumarins, as compared to the hydrodistillates of the herbal drug and the infusion. In addition to the previously known guaianolides matricarin and achillin, acetoxyachillin and leucodin (= desacetoxymatricarin), corresponding C-11 stereoisomers with various biological activities typically occurring in Achillea species, were identified in the dichloromethane extract of chamomile tea for the first time.
Access options
Buy single article
Instant access to the full article PDF.
US$ 39.95
Tax calculation will be finalised during checkout.
Subscribe to journal
Immediate online access to all issues from 2019. Subscription will auto renew annually.
US$ 79
Tax calculation will be finalised during checkout.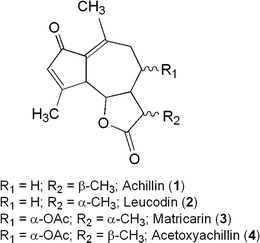 Abbreviations
CEO:

Chamomile essential oil

CIH:

Volatile fraction of chamomile infusion obtained by hydrodistillation

CIS:

Volatile fraction of chamomile infusion isolated by SPE

DCM:

Dichloromethane

GC-MS:

Gas chromatography – mass spectrometry

SPE:

Solid phase extraction

SQL:

Sesquiterpene lactones

TIC:

Total ion chromatogram
References
1.

Stahl-Biskup E, Willuhn G, Loew D (2009) Kamille. In: Wichtl M (ed) Teedrogen und Phytopharmaka, 5th edn. Wissenschaftliche Verlagsgesellschaft, Stuttgart, pp 420–424

2.

Schilcher H (1987) Die Kamille – Handbuch für Ärzte, Apotheker und andere Naturwissenschaftler, Wissenschaftliche Verlagsgesellschaft, Stuttgart

3.

McKay DL, Blumberg JB (2006) A review of the bioactivity and potential health benefits of chamomile tea (Matricaria recutita L.). Phytother Res 20:519–530

4.

ESCOP Monographs (2003) 2nd edn. The European Scientific Cooperative on Phytotherapy and Thieme, Stuttgart

5.

Schilcher H, Imming P, Goeters S (2005) Active chemical constituents of Matricaria chamomilla L. syn. Chamomilla recutita (L.) Rauschert. In: Franke R, Schilcher H (eds) Chamomile industrial profiles. CRC Press, Taylor and Francis Group, Boca Raton, pp 55–76

6.

Yao LH, Jiang YM, Shi J, Tomas-Barberan FA, Datta N, Singanusong R, Chen SS (2004) Flavonoids in food and their health benefits. Plant Foods Hum Nutr 59:113–122

7.

Sashidhara KV, Verma RS, Ram P (2006) Essential oil composition of Matricaria recutita L. from the lower region of the Himalayas. Flav Fragr J 21:274–276

8.

Heuskin S, Godin B, Leroy P, Capella Q, Wathelet JP, Verheggen F, Haubruge E, Lognay G (2009) Fast gas chromatography characterisation of purified semiochemicals from essential oils of Matricaria chamomilla L. (Asteraceae) and Nepeta cataria L. (Lamiaceae). J Chromatogr A 1216:2768–2775

9.

Petronilho S, Maraschin M, Delgadillo I, Coimbra MA, Rocha SM (2011) Sesquiterpenic composition of the inflorescences of Brazilian chamomile (Matricaria recutita L.): Impact of the agricultural practices. Ind Crop Prod 34:1482–1490

10.

Opdyke DLG (1974) Monographs on fragrance raw materials: Chamomile oil. German Food Cosmet Toxicol 12:851

11.

Novakova L, Vildova A, Mateus JP, Goncalves T, Solich P (2010) Development and application of UHPLC-MS/MS method for the determination of phenolic compounds in chamomile flowers and chamomile tea extracts. Talanta 82:1271–1280

12.

Büyükbalci A, El SN (2008) Determination of in vitro antidiabetic effects, antioxidant activities and phenol contents of some herbal teas. Plant Foods Hum Nutr 63:27–33

13.

Raal A, Orav A, Püssa T, Valner C, Malmiste B, Arak E (2012) Content of essential oil, terpenoids and plyphenols in commercial chamomile (Chamomilla recutita L. Rauschert) teas from different countries. Food Chem 131:632–638

14.

Holz W, Miething H (1994) Wirkstoffe in wäßrigen Kamillenaufgüssen. Pharmazie 49:53–55

15.

European Pharmacopoeia (2008) 6th edn. Amtliche Österreichische Ausgabe. Verlag Österreich, Vienna

16.

Glasl S, Mucaji P, Werner I, Jurenitsch J (2003) TLC und HPLC characteristics of desacetylmatricarin, leucodin, achillin and their 8α-angeloxy-derivates. Pharmazie 58:487–490

17.

Adams RP (2007) Identification of essential oil components by gas chromatography/mass spectrometry, 4th edn. Allured Publishing Corporation, Carol Stream

18.

NIST 05 (2005) Mass spectral library. US National Institute of Standards and Technology, Gaithersburg

19.

Radulescu V, Chiliment S, Oprea E (2004) Capillary gas chromatography-mass spectrometry of volatile and semi-volatile compounds of Salvia officinalis. J Chromatogr A 1027:121–126

20.

Tschiggerl C, Bucar F (2010) Investigation of the volatile fraction of rosemary infusion extracts. Sci Pharm 78:483–492

21.

Tschiggerl C, Bucar F (2010) Volatile fraction of lavender and bitter fennel infusion extracts. Nat Prod Commun 5:1431–1436

22.

Repcak M, Imrich J, Garcar J (1999) Quantitative evaluation of the main sesquiterpenes and polyacetylenes of Chamomilla recutita essential oil by high performance liquid chromatography. Phytochem Anal 10:335–338

23.

Krüger H (2010) Characterisation of chamomile volatiles by simultaneous distillation solid-phase extraction in comparison to hydrodistillation and simultaneous distillation extraction. Planta Med 76:843–846

24.

Ceska O, Chaudhary SK, Warrington PJ, Ashwood-Smith MJ (1992) Coumarins of chamomile, Chamomilla recutita. Fitoterapia 63:387–394

25.

Scifinder (2009) American Chemical Society. Data were calculated using Advanced Chemistry Development (ACD/Labs) Software V9.04 for Solaris. https://scifinder.cas.org/scifinder/

26.

Iordache A, Culea M, Gherman C, Cozar O (2009) Characterisation of some plant extracts by GC-MS. Nucl Instr Meth Phys Res B 267:338–342

27.

Kastner U, Sosa S, Wolf M, Tubaro A, Jurenitsch J, Della Loggia R (1993) Phytochemische und pharmakologische Untersuchungen von Tees aus verschiedenen Taxa der Achillea millefolium – Gruppe. Sci Pharm 61:47–54

28.

Kastner U, Sosa S, Tubaro A, Breuer J, Rücker G, Della Loggia R, Jurenitsch J (1993) Anti-edematous activity of sesquiterpene lactones from different taxa of the Achillea millefolium group. Planta Med 59:A669

29.

Ho C, Choi EJ, Yoo GS, Kim KM, Ryu SY (1998) Desacetylmatricarin, an anti-allergic component from Taraxacum platycarpum. Planta Med 64:577–578

30.

Lundh K, Gruvberger B, Möller H, Persson L, Hindsen M, Zimerson E, Svensson A, Bruze M (2007) Patch testing with thin-layer chromatograms of chamomile tea in patients allergic to sesquiterpene lactones. Contact Dermatitis 57:218–223
Acknowledgement
The authors would like to sincerely thank Prof. Dr. Sabine Glasl-Tazreiter (University of Vienna, Austria) for providing the standard substances of 1 and 2.
Dr. Sara Crockett (University of Graz, Austria) is gratefully acknowledged for proof reading the manuscript.
About this article
Cite this article
Tschiggerl, C., Bucar, F. Guaianolides and Volatile Compounds in Chamomile Tea. Plant Foods Hum Nutr 67, 129–135 (2012). https://doi.org/10.1007/s11130-012-0277-1
Keywords
Chamomile

Guaianolides

Essential oil

GC-MS

Infusion

Matricaria recutita