Abstract
Banana flour obtained from unripe banana (Musa acuminata, var. Nanicão) under specific drying conditions was evaluated regarding its chemical composition and nutritional value. Results are expressed in dry weight (dw). The unripe banana flour (UBF) presented a high amount of total dietary fiber (DF) (56.24 g/100 g), which consisted of resistant starch (RS) (48.99 g/100 g), fructans (0.05 g/100 g) and DF without RS or fructans (7.2 g/100 g). The contents of available starch (AS) (27.78 g/100 g) and soluble sugars (1.81 g/100 g) were low. The main phytosterols found were campesterol (4.1 mg/100 g), stigmasterol (2.5 mg/100 g) and β-sitosterol (6.2 mg/100 g). The total polyphenol content was 50.65 mg GAE/100 g. Antioxidant activity, by the FRAP and ORAC methods, was moderated, being 358.67 and 261.00 μmol of Trolox equivalent/100 g, respectively. The content of Zn, Ca and Fe and mineral dialyzability were low. The procedure used to obtain UBF resulted in the recovery of undamaged starch granules and in a low-energy product (597 kJ/100 g).
Access options
Buy single article
Instant access to the full article PDF.
USD 39.95
Price excludes VAT (USA)
Tax calculation will be finalised during checkout.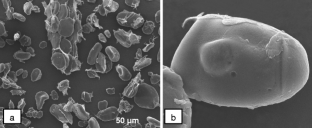 Abbreviations
AAPH:

2, 2′-azobis (2-amidinopropane)

AS:

Available starch

DF:

Dietary fiber

FRAP:

Ferric reducing antioxidant power

GOD/POD/ABTS:

Glucose-oxidase-peroxidase/2,2′-Azino-di-[3-ethylbenzthiazoline] sulfonate

ORAC:

Oxygen radical absorbance capacity

RS:

Resistant starch

TS:

Total starch

UBF:

Unripe banana flour
References
Food and Agriculture Organization of the United Nations (FAO) (2007) FAOSTAT—ProdStat, Retrieved 2009–3 from http://faostat.fao.org/site/526/default.aspx

Food and Agriculture Organization of the United Nations (FAO) (2007b) FAOSTAT—TradeStat, Retrieved 2009–3 from http://faostat.fao.org/site/406/default.aspx

Zhang P, Whistler R, Bemiller J, Hamaker B (2005) Banana starch: Production, physicochemical properties and digestibility—a review. Carbohydr Polym 59:443–458

Cordenunsi BR, Lajolo FM (1995) Starch breakdown during banana ripening—Sucrose synthase and sucrose-phosphate synthase. J Agric Food Chem 43:347–351

Juarez-Garcia E, Agama-Acevedo E, Sáyago-Ayerdi ESG, Rodriguez-Ambriz SL, Bello-Perez LA (2006) Composition, digestibility and application in breadmaking of banana flour. Plant Foods Hum Nutr 61(3):131–137

Saura-Calixto F (2006) Evolución del concepto de fibra. In: Lajolo FM, Menezes EW (eds), Carbohidratos en alimentos regionales iberoamericanos. Proyecto CYTED/CNPq XI.18. Composición, Estructura, Propiedades Biológicas de Carbohidratos y su Utilización en Alimentos. EDUSP, São Paulo, pp 235–253

Goñi I, Díaz-Rubio MH, Pérez-Jiménez J, Saura-Calixto F (2009) Towards an updated methodology for measurement of dietary fiber, including associated polyphenols, in food and beverages. Food Res Int 42(7):840–846

Oliveira L, Freire CSR, Silvestre AJD, Cordeiro N (2008) Lipophilic extracts from banana fruit residues: A source of valuable phytosterols. J Agr Food Chem 56:9520–9524

Hardisson A, Rubio C, Baez A, Martin M, Alvarez R, Diaz E (2001) Mineral composition of the banana (Musa acuminata) from the island of Tenerife. Food Chem 73(2):153–161

Tribess TB, Hernandez-Uribe JP, Mendez-Montealvo MGC, Menezes EW, Bello-Perez LA, Tadini CC (2009) Thermal properties and resistant starch content of unripe banana flour (Musa cavendishii) produced at different drying conditions. LWT-Food Sci Technol 42:1022–1025

Horwitz W, Latimer GW Jr (2006) Official Methods of Analysis edn. Maryland: AOAC International

McCleary BV, Monaghan DA (2002) Measurement of resistant starch. J AOAC Int 85(3):665–675

McCleary BV, McNally M, Rossiter P (2002) Measurement of resistant starch by enzymatic digestion in starch selected plant materials: Collaborative study. J AOAC Int 85(5):1103–1111

McCleary BV, Murphy A, Mugford DC (2000) Measurement of total fructans in food by enzymic/spectrophotometric method; collaborative study. J AOAC Int 83(2):356–364

Lee SC, Prosky L, Devries JW (1992) Determination of total, soluble and insoluble dietary fiber in foods. Enzymatic-gravimetric method, Mes-TRIS Buffer: Collaborative study. J AOAC Int 75:395–416

McCleary BV, Rossiter P (2004) Measurement of novel dietary fibres. J AOAC Int 87(3):707–717

Drago S, Binaghi MJ, Valencia M (2005) Effect of gastric digestion on iron, zinc and calcium availbility from preterm and term starting infant formulas. J Food Sci 70(2):107–112

Miller DD, Schricker BR, Rasmussen RR, Van Campen D (1981) An in vitro method for estimation of iron availability from meals. Am J Clin Nutr 34:2248–2256

Wolfgor R, Drago SR, Rodríguez V, Pellegrino N, Valencia M (2002) In vitro measurement of available iron in fortified foods. Food Res Int 35:85–90

Kim D-O, Jeong SW, Lee CY (2003) Antioxidant capacity of phenolic phytochemicals from various cultivars of plums. Food Chem 81:321–326

Mazalli MR, Saldanha T, Bragagnolo N (2003) The determination of cholesterol in eggs: A comparison of an enzymatic method with that of high performance liquid chromatography. Rev Inst Adolfo Lutz 62(1):49–53

Schmarr H, Gross HB, Shibamoto T (1996) Analysis of polar cholesterol oxidation products: Evaluation of a new method involving transesterification, solid phase extraction, and gas chromatography. J Agric Food Chem 44:512–517

Benzie IFF, Strain JJ (1996) The ferric reducing ability of plasma (FRAP) as a measure of antioxidant power. The FRAP assay. Anal Biochem 239:70–76

Dávalos A, Gómez-Cordoves C, Bartolome B (2004) Extending applicability of the oxygen radical absorbance (ORAC) assay. J Agric Food Chem 52:48–54

Nascimento JRO, Junior AV, Bassinello PZ, Mainardi JA, Purgato E, Lajolo FM (2006) Beta-amylase expression and starch degradation during banana ripening. Postharv Biol Tech 40(1):41–47

Brand-Miller JC, Stockmann K, Atkinson F, Petocz P, Denyer G (2009) Glycemic index, postprandial glycemia, and the shape of the curve in healthy subjects: Analysis of a database of more than 1000 foods. Am J Clin Nutr 89:1–9

Menezes EW, Giuntini EB, Dan MCT, Lajolo FM (2009) New information on carbohydrates in the Brazilian food composition database. J Food Compos Anal 22(5):446–452

Menezes EW, Dan MCT, Cardenette GHL, Goñi I, Bello-Pérez LA, Lajolo FM (2010) In vitro colonic fermentation and glycemic response of different kinds of unripe banana flour. Plant Foods Hum Nutr 65(4):379–385

Universidade de São Paulo (USP) (1998) Tabela Brasileira de Composição de Alimentos-USP. Version 4.1. Faculdade de Ciências Farmacêuticas. USP, São Paulo, SP. Retrieved 2009-7-16 from http://www.fcf.usp.br/tabela

Ovando-Martinez M, Sáyago-Ayerdi S, Agama-Acevedo E, Goñi I, Bello-Pérez LA (2009) Unripe banana flour as an ingredient to increase the indigestible carbohydrates of pasta. Food Chem 113:121–126

Fuentes-Zaragoza E, Riquelme-Navarrete MJ, Sánchez-Zapata E, Pérez-Álvarez JA (2010) Resistant starch as functional ingredient: A review. Food Res Int 43:931–942

Dyner L, Drago SR, Piñeiro A, Sanchez R, Gonzalez R, Villamil E, Valencia ME (2007) Composición y aporte potencial de hierro, calcio y zinc de panes y fideos elaborados con harinas de trigo y amaranto. Arch Latinoam Nutr 57(1):69–77

Fernandez-Panchon MS, Villano D, Troncoso AM, Garcia-Parrilla MC (2008) Antioxidant activity of phenolic compounds: From in vitro results to in vivo evidence. Crit Rev Food Sci 48(7):649–671

Haralampu SG (2000) Resistant starch—A review of the physical properties and biological impact of RS3. Carbohydr Polym 41:285–292

Agência Nacional de Vigilancia Sanitária (ANVISA) (2001) Resolução—RDC nº 12, 02- 02–2001
Acknowledgements
The authors acknowledge the 106PI0297 CYTED/CNPq project for international cooperation that allowed the scientific interchange between different Ibero-American laboratories as well as CNPq for the scholarships granted to authors Tatiana Beatris Tribess and Milana C. T. Dan.
About this article
Cite this article
Menezes, E.W., Tadini, C.C., Tribess, T.B. et al. Chemical Composition and Nutritional Value of Unripe Banana Flour (Musa acuminata, var. Nanicão). Plant Foods Hum Nutr 66, 231–237 (2011). https://doi.org/10.1007/s11130-011-0238-0
Published:

Issue Date:

DOI: https://doi.org/10.1007/s11130-011-0238-0
Keywords