Abstract
Coriander is commonly used for medicinal purposes, food applications, cosmetics and perfumes. Herein, the production of antioxidants in vegetative parts (leaves and stems) of in vivo and in vitro grown samples was compared. In vitro samples were clone A- with notorious purple pigmentation in stems and leaves and clone B- green. Seeds were also studied as they are used to obtain in vivo and in vitro vegetative parts. Lipophilic (tocopherols, carotenoids and chlorophylls) and hydrophilic (sugars, ascorbic acid, phenolics, flavonols and anthocyanins) compounds were quantified. The antioxidant activity was evaluated by radical scavenging activity, reducing power and lipid peroxidation inhibition. The in vivo sample showed the highest antioxidant activity mainly due to its highest levels of hydrophilic compounds. Otherwise, in vitro samples, mainly clone A, gave the highest concentration in lipophilic compounds but a different profile when compared to the in vivo sample. Clones A and B revealed a lack of β-carotene, β- and δ-tocopherols, a decrease in α-tocopherol, and an increase in γ-tocopherol and clorophylls in comparison to the in vivo sample. In vitro culture might be useful to explore the plants potentialities for industrial applications, controlling environmental conditions to produce higher amounts of some bioactive products.
This is a preview of subscription content,
to check access.
Access this article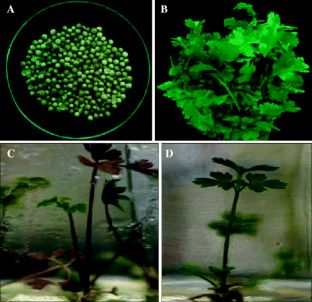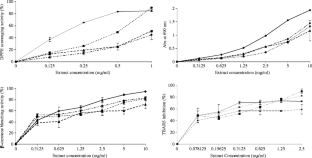 Similar content being viewed by others
Abbreviations
CAE:

Chlorogenic acid equivalents

DPPH:

2,2-Diphenyl-1-picrylhydrazyl

HPLC:

High-performance liquid chromatography

IS:

Internal Standard

ME:

Malvidin 3-glucoside equivalents

MS:

Mass Spectrometry

QE:

Quercetin equivalents

RI:

Refraction Index

TBARS:

Thiobarbituric acid reactive substances
References
Isabella M, Lee BL, Lim MT, Koh W-P, Huang D, Ong CN (2010) Antioxidant activity and profiles of common vegetables in Singapore. Food Chem 120:993–1003

Daly T, Jiwan MA, O'Brien NM (2010) Carotenoid content of commonly comsumed herbs and assessment of their bioaccessibility usig an in vitro digestion model. Plant Foods Hum Nutr 65:164–169

Manda KR, Adams C, Ercal N (2010) Biologically important thiols in aqueous extracts of spices and evaluation of their in vitro antioxidant properties. Food Chem 118:589–593

Ramadan MF, Kroh LW, Morsel J-T (2003) Radical scavenging activity of black cumin (Nigella sativa L.), coriander (Coriandrum sativum L.) and niger (Guizotia abyssinica Cass) crude seed oils and oil fraction. J Agric Food Chem 51:6961–6969

Sriti J, Wannes WA, Talou T, Mhamdi B (2010) Lipid, fatty acid and tocol distribution of coriander fruit's different parts. Ind Crops Prod 31:294–300

Samojlik I, Lakic N, Mimica-Dukic N, Dakovic-Svajcer K, Bozin B (2010) Antioxidant and hepatoprotective potential of essential oils of coriander (Coriandrum sativum L.) and caraway (Carum carvi L.) (Apiaceae). J Agric Food Chem 58:8848–8853

Ali SS, Kasoju N, Luthra A, Singh A, Sharanabasava H, Sahu A (2008) Indian medicinal herbs as source of antioxidants. Food Res Int 41:1–15

Wangensteen H, Samuelsen AB, Malterud KE (2004) Antioxidant activity in extracts of coriander. Food Chem 88:293–297

Uma PK, Geervani P, Eggum BO (1993) Common Indian spices: Nutrient composition, consumption and contribution to dietary value. Plant Foods Hum Nutr 44:137–148

Matkowski A (2008) Plant in vitro culture, for the production of antioxidants - A review. Biotechnol Adv 26:548–560

Murashige T, Skoog F (1962) A revised medium for rapid growth and bioassays with tobacco tissue cultures. Physiol Plant 15:473–497

Martins D, Barros L, Carvalho AM, Ferreira ICFR (2011) Nutritional and in vitro antioxidant properties of edible wild greens in Iberian Peninsula traditional diet. Food Chem 125:488–494

Nagata M, Yamashita I (1992) Simple method for simultaneous determination of chlorophyll and carotenoids in tomato fruit. Nippon Shokuhin Kogyo Gakkaish 39:925–928

Klein BP, Perry AK (1982) Ascorbic acid and vitamin A activity in selected vegetables from different geographical areas of the United States. J Food Sci 47:941–945

Abidi SL (2000) Chromatographic analysis of tocol-derived lipid antioxidants. J Chromatog A 881:197–216

Marero LM, Homma S, Aida K, Fujimaki M (1986) Changes in the tocopherol and unsaturated fatty acid constituents of spices after pasteurization with superheated steam. J Nutr Sci Vitaminol (Tokyo) 32:131–136

Singh G, Kawatra A, Sehgal S (2001) Nutritional composition of selected green leafy vegetables, herbs and carrots. Plant Foods Hum Nutr 56:359–364

Guerra NB, Melo EA, Filho JM (2005) Antioxidant compounds from coriander (Coriandrum sativum L.) etheric extract. J Food Compos Anal 18:193–199

Lanfer-Marquez UM, Barros RMC, Sinnecker P (2005) Antioxidant activity of chlorophylls and their derivatives. Food Res Int 38:885–891

Higashiyama T (2002) Novel functions and applications of trehalose. Pure Appl Chem 74:1263–1269

Justesen U, Knuthsen P (2001) Composition of flavonoids in fresh herbs and calculation of flavonoid intake by use of herbs in tradicional Danish dishes. Food Chem 73:245–250

Reis FS, Ferreira ICFR, Barros L, Martins A (2011) A comparative study of tocopherols composition and antioxidant properties of in vivo and in vitro ectomycorrhizal fungi. LWT 44:820–824
Acknowledgements
The authors are grateful to the Foundation for Science and Technology (FCT, Portugal) for financial support to the research centre CIMO. L. Barros also thanks to FCT, POPH-QREN and FSE for her grant (SFRH/BPD/4609/2008).
About this article
Cite this article
Dias, M.I., Barros, L., Sousa, M.J. et al. Comparative Study of Lipophilic and Hydrophilic Antioxidants from In vivo and In vitro Grown Coriandrum sativum . Plant Foods Hum Nutr 66, 181–186 (2011). https://doi.org/10.1007/s11130-011-0227-3
Published:

Issue Date:

DOI: https://doi.org/10.1007/s11130-011-0227-3
Keywords