Abstract
The objective of the study was to obtain information on the chemical composition, functional properties, sensory quality and protein value of tortillas made from the nixtamalization of maize using either lime or wood ashes. The Ca, K, Mg, Fe, and Zn content of lime and wood ashes showed lime to be high in Ca content while wood ash contained more K and about 71% of the Ca content of lime. Both contained relatively high levels of Mg, Fe and Zn, but more so in the wood ashes. The level of reagent for nixtamalization was set at 0.8% of the maize weight. All other processing conditions were kept constant. The pH of the cooking solution was 12.0 for lime and 10.9 for wood ash. The moisture content of maize at 60 min of cooking was 45.8% for both treatments, however after 12 h of soaking, moisture level was 51.0% for the lime treatment and only 46.8% for the ash treatment. Solids (2.4%) in the lime cooking liquor were higher than in the wood ash liquor (1.0%). Chemical composition changes were similar between treatments in masa and tortilla; however, both masa and tortillas absorbed relatively high levels of all minerals including Fe and Zn from the wood ash treatment. The different treatment influenced functional properties particularly hardness and color. Tortilla characteristics were also similar. Protein quality of both alkali cooked products was lower than that of raw corn, more so the product from the wood ash treatment. Although some differences were observed in the sensory studies, human subjects did not dislike the wood ash made tortillas.
Access options
Buy single article
Instant access to the full article PDF.
USD 39.95
Price excludes VAT (USA)
Tax calculation will be finalised during checkout.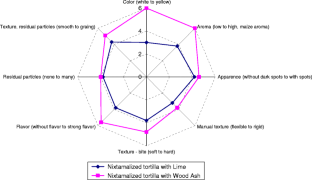 References
Serna-Saldivar SO, Gómez MH, Rooney LW (1990) Technology, chemistry and nutritive value of alkaline cooked corn products. In: Pomeranz Y (ed) Chapt 4. Advances in Cereal Science and Technology. Vol. 10. AACC Minneapolis, MN, pp 243–307

Bressani R (1990) Chemistry, technology and nutritive value of maize tortillas. Food Revs Int 6:225–264

Paredes-Lopez O, Saharopulos-Paredes ME (1983) Maize. A review of tortilla production technology. Bakers' Digest 57:16–25

Trejo-Gonzalez A, Feria-Morales A, Wild-Altamirano C (1982) The role of lime in the alkaline treatment of corn for tortilla preparation. Adv Chem Sci 198:245–263

Paredes-Lopez O, Saharopulos ME (1982) Scanning electron microscopy studies of limed corn kernels for tortilla making. J Food Tech 17:691–696

Bedolla S, Rooney LW (1982) Cooking maize for masa production. Cereal Foods World 27:219–221

Ghali Y, El Sabed OH, Farag R, Ibrahim N, Bassiyouni A (1984) Effect of steeping on the structure of corn hull hemicellulose. Starch/Stärke 36:23–26

Serna-Saldivar SO, Almeida-Dominguez HD, Gómez MH, Bockholt AJ, Rooney LW (1991) Method to evaluate lose of pericarp removal on lime-cooked corn kernels. Crop Sci 31:842–844

Cravioto J, Anderson RK, Lockhart EE, Miranda F de P, Harris R (1945) Nutritive value of the Mexican tortilla. Science 102:91–93

Bressani R, Paz y Paz R, Scrimshaw NS (1958) Corn nutrient losses. Chemical changes in corn during preparation of tortillas. J Agric Food Chem 6:770–774

Kodicek E, Braude R, Kon SK, Mitchell KG (1959) The availability to pigs of nicotinic acid in tortilla baked from maize treated with lime-water. Br J Nutr 13:363–384

Bressani R, Breuner M, Ortiz MA (1989) Contenido de fibra ácido- y neutro-detergente y de minerales menores en maíz y su tortilla. Arch Latinoam Nutr 39:382–391

Krause VN, Solomon W, Jucker KL, López-Palacios CY, Ruíz M, Kuhntein HU (1992) Rural urban variations in the calcium, iron, zinc and copper content of tortillas and intake of these minerals from tortilla by women in Guatemala. Ecol Food Nutr 28:288–297

Braham EJ, Bressani R (1966) Utilización del calcio del maíz tratado con cal. Nutr Bromatol Toxicol 5:14–19

Serna-Saldivar SO, Rooney LW, Greene LW (1991) Effect of lime treatment on the availability of calcium in diets of tortillas and beans. Rat growth and balance studies. Cereal Chem 68:565–570

Serna-Saldivar SO, Rooney LW, Greene LW (1992) Effect of lime treatment on the bioavailability of calcium in diets of tortillas and beans. Bone and plasma composition in rats. Cereal Chem 69:78–81

Edwin P, Torres O, Hagler W, Merechth FI, Williams LD, Riley RT (2003) Total fumonisins are reduced in tortillas using the traditional nixtamalization. Method of Mayan Communities. J Nutr 133:3200–3203

Fernandez-Muñoz JL, Rojas-Molina I, Gonzalez-Davalos ML, Valtierra ME, San Martin-Martinez E, Rodriguez ME (2004) Study of calcium, iron diffusion in components of maize kernels during traditional nixtamalization process. Cereal Chem 81:65–69

Bressani R, Turcios JC, de Ruiz ASC (2002) Nixtamalization effects on the contents of phytic acid, calcium, iron and zinc in the whole grain, endosperm and germ of 11 maize varieties. Food Sci Technol Int 8:81–86

Urizar AL, Bressani R (1997) Efecto de la nixtamalización del maíz sobre el contenido de ácido fítico, calcio y hierro total y disponible. Arch Latinoam Nutr 47:217–223

De Groot AP, Slump P (1969) Effects of severe alkali treatment of proteins on amino acid composition and nutritive value. J Nutr 98:45–56

Stenberg M, Kim CY, Schwende FJ (1975) Lysinoalanine: presence in foods and food ingredients. Science 190:992–994

Sanderson J, Wall JS, Donaldson GL, Cavins JF (1978) Effect of alkaline processing of corn on its amino acids. Cereal Chem 55:204–213

Chu NT, Pellet PL, Nawar WW (1976) Effect of alkali treatment on the formation of lysino alanine in corn. J Agric Food Chem 24:1084–1085

Katz SH, Heddiger ML, Valleroy LA (1974) Traditional maize processing techniques in the New World. Science 184:765–773

AOAC (1984) 14th. Ed. Official Methods of Analysis. Association of Official Analytical Chemists. AOAC Int. Washington, DC

Serna-Saldivar SO, Gomez MH, Almeida-Dominguez HD, Islas-Rubio A, Rooney LW (1993) A method to evaluate the lime cooking properties of corn. Cereal Chem 70:762–764

Snedicor GW (1946) Statistical methods, 4th edn. The Iowa State College Press, Ames

Pellet P, Young V (1980) Nutritional evaluation of protein foods. United Nations University, p 47

Soldana A, Brown HE (1984) Nutritional composition of corn and flour tortillas. J Food Sci 49(1202–1203):1205

de Sinibaldi ACB, Bressani R (2001) Caracteristicas de cocción por nixtamalización de once variedades de maíz. Arch Latinoam Nutr 51:86–94

Weber CW, Kohlhepp EA, Idouraine A, Ochoa LJ (1993) Nutritional composition of tamales and corn and wheat tortillas. J Food Compost Anal 6:324–335

Bressani R, Benavides V, Acevedo E, Ortiz MA (1990) Changes in selected nutrient contents and in protein quality of common and quality protein maize during rural tortilla preparation. Cereal Chem 67:515–518
About this article
Cite this article
Pappa, M.R., de Palomo, P.P. & Bressani, R. Effect of Lime and Wood Ash on the Nixtamalization of Maize and Tortilla Chemical and Nutritional Characteristics. Plant Foods Hum Nutr 65, 130–135 (2010). https://doi.org/10.1007/s11130-010-0162-8
Published:

Issue Date:

DOI: https://doi.org/10.1007/s11130-010-0162-8
Keyword
Nixtamalization

Lime vs. wood ashes

Chemical composition

Functional properties

Nutritional quality

Sensory evaluation