Abstract
The antioxidant capacity of jackfruit (Artocarpus heterophyllus Lam. Fam. Moracae) fruit pulp (JFP) obtained from Western Ghats India was determined by evaluating the scavenging activity using 1,1-diphenyl-2-picrylhydrazyl (DPPH), ferric reducing power assays and N, N-dimethyl-p-phenylendiamine (DMPD) radical cation decolorization assay. JFP was analyzed for total phenolic content (TPC) and total flavonoids content (TFC). The ethanol and water are the best solvents for the extracting phenols and flavonoids from the JFP. The antioxidant activities of JFP extracts were correlated with the total phenolic and flavonoids content. The results indicated that the jackfruit pulp is one natural source of antioxidant compounds.
Access options
Buy single article
Instant access to the full article PDF.
US$ 39.95
Tax calculation will be finalised during checkout.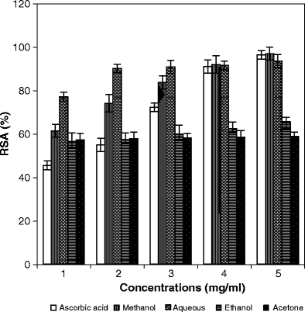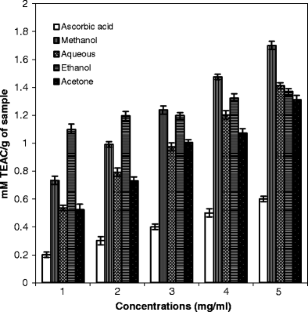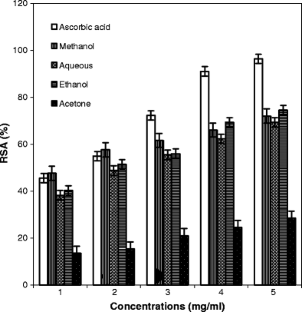 Abbreviations
DMPD:

N, N dimethyl-p-phenylendiamine

DPPH:

1,1-diphenyl-2-picrylhydrazyl

FRAP:

ferric reducing antioxidant power

GAE:

gallic acid equivalent

IC50 :

inhibitory concentration showing 50% inhibition

JFP:

jackfruit pulp

TFC:

total flavonoids content

TPC:

total phenolic content

TPTZ:

2,4,6-tripyridyl-s-triazine

RSA:

radical scavenging activity
References
1.

Halliwell B (1997) Antioxidants and human diseases: a general introduction. Nutr Rev 55:44–52

2.

Ribeiro SMR, de Queiroz JH, de Queiroz MELR, Campos FM, Santana HMP (2007) Antioxidant in Mango (Mangifera indica L.) pulp. Plant Foods Hum Nutr 62:13–17

3.

Thaipong K, Boonprakob U, Crosby K, Cisneros-Zevallos L, Byrne DH (2006) Comparison of ABTS, DPPH, FRAP and ORAC assays for estimating antioxidant activity from guava fruit extracts. J Food Comp Anal 19:669–675

4.

Purseglove P (1968) Tropical crops, vol 2. Dicotyledons Artocarpus heterophyllus Jackfruit vol 2. Longman, London, pp 384–386

5.

Rowe-Dutton P (1985) Artocarpus heterophyllus-Jackfruit. In: Garner JR, Chaudhury SA (eds) The propagation of tropical fruit trees. FAO/CAB, London, pp 269–290

6.

Samaddar HM (1985) Jackfruit. In: Bose TK, Mishra SK (eds) Fruits of India: tropical and subtropical. Naya Prokash/Culcutta, India, pp 638–649

7.

Ko FN, Cheng ZJ, Lin CN, Teng CM (1998) Scavenger and antioxidant properties of prenylflavones isolated from Artocarpus heterophyllus. Free Radic Biol Med 25(2):160–168

8.

Faria AF, Rosso VV, Mercadante AZ (2009) Carotenoid compositon of jackfruit (Artocarpus heterophyllus) determined by HPLC-PDA-MS/MS. Plant Foods Hum Nutr 64:108–115

9.

Rahman AKMM, Huq E, Mian AJ, Chesson A (1995) Microscopic and chemical changes occurring during the ripening of two forms of jackfruit (A. heterophyllus L.). Food Chem 65:91–97

10.

Singleton VL, Rossi JA (1965) Colorimetry of total phenolics with phosphomolybdic-phosphotungstic acid reagents. Am J Enol Vitic 16:144–158

11.

Chang C, Yang M, Wen H, Chen J (2002) Estimation of total flavonoids content in propolis by two complementary colorimetric methods. J Food Drug Anal 10:178–182

12.

Lee HC, Kim JH, Jeong SM, Kim DR, Ha JU, Nam KC (2003) Effect of far infrared radiation on the antioxidant activity of rice hulls. J Agric Food Chem 51(15):4400–4403

13.

Benzie IFF, Strain JJ (1996) The ferric reducing ability of plasma (FRAP) as a measure of "antioxidant power": the FRAP assay. Analytical Biochem 239:70–76

14.

Schlesier K, Harvat M, Bohm V, Bitsch R (2002) Assessment of antioxidant activity by using different in vitro methods. Free Radic Res 36(2):177–187

15.

Bakar MFA, Mohamed M, Rahmat A, Fry J (2009) Phytochemicals and antioxidant activity of different parts of bambagan (Mangifera pajang) and tarap (Artocarpus odoratissimus). Food Chem 113:479–483

16.

Soong YY, Barlow PJ (2004) Antioxidant activity and phenolic content of selected fruit seeds. Food Chem 88:411–417

17.

Kalt W, Ryan DAJ, Duy JC, Prior RL, Ehlenfeldt MK, Kloet SPV (2001) Interspecific variation in anthocyanins, phenolics and antioxidant capacity among genotypes of high bush and low bush blueberries (Vaccinium section Cyanococcus spp.). J Agric Food Chem 49:4761–4767

18.

Thomas-Barberan F, Espin JC (2001) Phenolic compounds and related enzymes as determinants of quality of fruits and vegetables. J Sci Food Agric 81:853–876

19.

Erlund I (2004) Review of the flavonoids quercetin, hesperetin and naringenin. Dietary sources, bioactivities, bioavailability and epidemiology. Nutr Res 24:851–874

20.

Yao LH, Jiang YM, Shi J, Tomas-Barberan FA, Dutta N, Singanusong R, Chen SS (2004) Flavonoids in food and their health benefits. Plant foods Hum Nutr 59:113–122

21.

Lampila P, Lieshout M, Gremmen B, Lahteenmaki L (2009) Consumer attitudes towards enhanced flavonoid content in fruit. Food Res Int 42:122–129

22.

Harris GG, Brannan RG (2009) A preliminary evaluation of antioxidant compounds, reducing potential and radical scavenging of pawpaw (Asimina triloba) fruit pulp from different stages of ripeness. LWT-Food Sci Technol 42:275–279

23.

Zhou K, Yu L (2004) Effects of extractions solvent on the wheat bran antioxidant activity estimation. LWT-Food Sci Technol 37:717–721

24.

Ozcelik C, Lee JH, Min DB (2003) Effects of light, oxygen and pH on the absorbance of 2, 2-diphenyl-1-picrylhydrazyl. J Food Sci 68:487–490

25.

Balsundram N, Sudram K, Samman S (2006) Phenolic compounds in plants and agri-industrial by-products: antioxidant activity, occurrence and potential uses. Food Chem 99:191–203

26.

Rice-Evans CA, Miller NT, Paganga G (1997) Antioxidant properties of phenolic compounds. Trends Plant Sci 4:304–309

27.

Fogliano V, Verde V, Randazzo G, Rittieni A (1999) Method for measuring antioxidant activity and its application to monitoring the antioxidant capacity of wines. J Agric Food Chem 47:1035–1040
Acknowledgement
UBJ and VAB wish to thank and express gratitude to Council of Scientific and Industrial Research (CSIR), New Delhi, India for Junior Research (JRF) and Emeritus Scientist (ES) Fellowship, respectively.
About this article
Cite this article
Jagtap, U.B., Panaskar, S.N. & Bapat, V.A. Evaluation of Antioxidant Capacity and Phenol Content in Jackfruit (Artocarpus heterophyllus Lam.) Fruit Pulp. Plant Foods Hum Nutr 65, 99–104 (2010). https://doi.org/10.1007/s11130-010-0155-7
Keywords
Antioxidant activity

Artocarpus heterophyllus

DMPD radical

DPPH radical

Total flavonoids

Total phenolic content