Abstract
Recently, polyphenols have been found to affect blood lipids in animals in a similar manner as soluble dietary fibre. The aim was to assess whether an insoluble dietary fiber very rich in polyphenols has a beneficial effect on serum lipids in humans. In a double-blind randomized placebo-controlled clinical study with parallel arms, 88 volunteers with hypercholesterolemia were randomly assigned to consume daily either, fiber with insoluble 84% polyphenols 4 g twice a day (n = 43) or placebo (n = 45). Serum total, LDL and HDL cholesterol and triglycerides were assessed at baseline and after 4 weeks. The insoluble polyphenols consumption reduced the total cholesterol by 17.8 ± 6.1% (p < 0.05), LDL cholesterol by 22.5 ± 8.9% (p < 0.001), LDL: HDL cholesterol ratio by 26.2 ± 14.3% (p < 0.001) and triglycerides by 16.3 ± 23.4% (p < 0.05) at the end of the study compared with baseline. No significant differences were found during the study time in the placebo group for the lipid profile. The consumption of fiber very rich in insoluble polyphenols shows beneficial effects on human blood lipid profile and may be effective in prevention and treatment of hyperlipemia.
Access options
Buy single article
Instant access to the full article PDF.
USD 39.95
Price excludes VAT (USA)
Tax calculation will be finalised during checkout.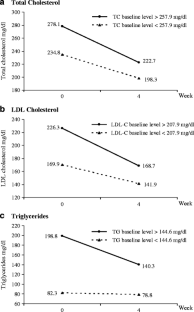 Abbreviations
CVD:

Cardiovascular disease

LDL:

Low-density lipoprotein

EXX:

Exxenterol

HDL:

High-density lipoprotein

AST:

Aspartate aminotransferase

ALT:

Alanine aminotransferase

FDA:

Food and drug administration
References
Kannel WB (1996) Preventive efficacy of nutritional counseling. Arch Intern Med 156:1138–1139

Caggiula AW, Watson JE, Kuller LH, Olson MB, Milas NC, Berry M, Germanowski J (1996) Cholesterol-lowering intervention program. Effect of the step I diet in community office practices. Arch Intern Med 156:1205–1213

Ripsin C, Keenan J, Jacobs D (1992) Oat products and lipid lowering. JAMA 267:3317–3325

Glore SR, Van Treeck D, Knehans AW, Guild M (1994) Soluble fiber and serum lipids: a literature review. J Am Diet Assoc 94:425–436

Brown L, Rosner B, Willet W, Sacks F (1999) Colesterol lowering effects of dietary fiber: a metanalysis. Am J Clin Nutr 69:30–42

Marakis S (1996) Carob bean in food and feed: current status and future potentials—a critical appraisal. J Food Sci Technol 33:365–383

Wursch P (1979) Influence of tanninrich carob pod fiber on the cholesterol metabolism in the rat. J Nutr 109:685–692

Pérez-Olleros L, Garcia-Cuevas M, Ruiz-Roso B, Requejo A (1999) Comparative study of natural carob fibre and psyllium husk in rats. Influence on some aspects of nutritional utilisation and lipidaemia. J Sci Food Agric 79:173–178

Pérez-Olleros L, Garcia-Cuevas M, Ruiz-Roso B (1999) Influence of pulp and natural carob fiber on some aspects of nutritional utilisation and lipidaemia. Food Sci Tech Int 5:425–430

Ruiz-Roso B, Pérez-Olleros L, Requejo A (2003) El Exxenterol, un extracto de fibra vegetal con un potente efecto reductor del colesterol. Schironia 2:5–9

Zunft HJ, Lueder W, Harde A, Haber B, Graubaum HJ, Gruenwald J (2001) Carob pulp preparation for treatment of hypercholesterolemia. Adv Ther 18:230–236

Zunft HJ, Lueder W, Harde A, Haber B, Graubaum HJ, Koebnick C, Gruenwald J (2003) Carob pulp preparation rich in insoluble fibre lowers total and LDL cholesterol in hypercholesterolemic patients. Eur J Nutr 42:235–242

Ruiz-Roso B, Requejo A, Haya J, Pérez-Olleros L (2008) Efecto hipolipémico del exxenterol. Schironia 7:21–25

Ruiz-Roso B, Requejo A, Pérez-Olleros L, Holguín JA (2008) A product of vegetal origin comprising proanthocyanidines and its preparation process. European Patent No. EP1768682 B1

AOAC (1997) Official methods of analyses, 16th edn. Association of Official Analytical Chemist, Washington

Prosky L, Asp NG, Schweizer TF, De Vries JW, Furda L (1988) Determination of insoluble, soluble and total dietary fibre in foods and food products: collaboration study. JAOAC 71:1017–1023

Singleton VL, Orthofer R, Lamuela-Raventos RM (1999) Analysis of total phenols and other oxidation substrates and antioxidants by means of Folin–Ciocalteu reagent. Methods Enzymol 299:152–178

Reed J, McDowell RE, Van Soest PJ, Hovarth PJ (1982) Condensed tannins a factor limiting the use of cassava forage. J Sci Food Agric 33:213–220

Moher D, Schulz KF, Altman DG (2001) The CONSORT statement: revised recommendations for improving the quality of reports of parallel-group randomised trials. Lancet 357:1191–1194

LaRosa JC (2007) Low-density lipoprotein cholesterol reduction: the end is more important than the means. Am J Cardiol 100(2):240–242

Lewis SJ (2009) Prevention and treatment of atherosclerosis: a practitioner's guide for 2008. Am J Med 122(1 Suppl):S38–S50

Shimizu C, Kihara M, Aoe S, Araki S, Ito K, Hayashi K, Watari J, Sakata Y, Ikegami S (2008) Effect of high beta-glucan barley on serum cholesterol concentrations and visceral fat area in Japanese men-a randomized, double-blinded, placebo-controlled trial. Plant Foods Hum Nutr 63(1):21–25

Theuwissen E, Mensink RP (2008) Water-soluble dietary fibers and cardiovascular disease. Physiol Behav 94(2):285–292

Anderson JW, Baird P, Davis RH Jr, Ferreri S, Knudtson M, Koraym A, Waters V, Williams CL (2009) Health benefits of dietary fiber. Nutr Rev 67(4):188–205

Slavin JL, Savarino V, Paredes-Diaz A, Fotopoulos G (2009) A review of the role of soluble fiber in health with specific reference to wheat dextrin. J Int Med Res 37(1):1–17

Jenkins AL, Vuksan V, Jenkins DJA (2001) Fiber in the treatment of hyperlipidemia. In: Spiller GA (ed) Handbook of dietary fiber in human nutrition. CRC Press LLC, Boca Raton, pp 401–421

Van Bennekum AM, Nguyen DV, Schulthess G, Hauser H, Phillips MC (2005) Mechanisms of cholesterol-lowering effects of dietary insoluble fibres: relationships with intestinal and hepatic cholesterol parameters. Br J Nutr 94(3):331–337

John S, Sorokin AV, Thompson PD (2007) Phytosterols and vascular disease. Curr Opin Lipidol 18(1):35–40

Osada K, Suzuki T, Kawakami Y, Senda M, Kasai A, Sami M, Ohta Y, Kanda T, Ikeda M (2006) Dose-dependent hypocholesterolemic actions of dietary apple polyphenol in rats fed cholesterol. Lipids 41(2):133–139

Guo H, Ling W, Wang Q, Liu C, Hu Y, Xia M, Feng X, Xia X (2007) Effect of anthocyanin-rich extract from black rice (Oriza sativa L. indica) on hyperlipidemia and insulin resistance in fructose-fed rats. Plant Foods Hum Nutr 62(1):1–6

Azadbakht L, Atabak S, Esmaillzadeh A (2008) Soy protein intake, cardiorenal indices, and C-reactive protein in type 2 diabetes with nephropathy: a longitudinal randomized clinical trial. Diabetes Care 31(4):648–654

Gelissen JC, Brodie B, Eastwood MA (1994) Effect of Plantago ovata (psyllium) husks and seeds on sterol metabolism: studies in normal and ileostomy subjects. Am J Clin Nutr 59:395–400

Fukushima M, Nakano M, Morii Y, Ohashi T, Fujiwara Y, Sonoyama K (2000) Hepatic LDL receptor mRNA in rats is increased by dietary mushroom (Agaricus bisporus) fiber and sugar beet fiber. J Nutr 130:2151–2156
Acknowledgements
The authors would like to thank the volunteers who had participated in the present clinical trial.
About this article
Cite this article
Ruiz-Roso, B., Quintela, J.C., de la Fuente, E. et al. Insoluble Carob Fiber Rich in Polyphenols Lowers Total and LDL Cholesterol in Hypercholesterolemic Sujects. Plant Foods Hum Nutr 65, 50–56 (2010). https://doi.org/10.1007/s11130-009-0153-9
Published:

Issue Date:

DOI: https://doi.org/10.1007/s11130-009-0153-9
Keywords
Hyperlipemia

Total cholesterol

LDL cholesterol

HDL cholesterol

Dietary fiber

Insoluble polyphenols

Exxenterol