Abstract
Antioxidants play an important role in inhibiting and scavenging free radicals, thus providing protection to human against infections and degenerative diseases. Current research is now directed towards natural antioxidants originated from plants due to safe therapeutics. Moringa oleifera is used in Indian traditional medicine for a wide range of various ailments. To understand the mechanism of pharmacological actions, antioxidant properties of the Moringa oleifera leaf extracts were tested in two stages of maturity using standard in vitro models. The successive aqueous extract of Moringa oleifera exhibited strong scavenging effect on 2, 2-diphenyl-2-picryl hydrazyl (DPPH) free radical, superoxide, nitric oxide radical and inhibition of lipid per oxidation. The free radical scavenging effect of Moringa oleifera leaf extract was comparable with that of the reference antioxidants. The data obtained in the present study suggests that the extracts of Moringa oleifera both mature and tender leaves have potent antioxidant activity against free radicals, prevent oxidative damage to major biomolecules and afford significant protection against oxidative damage.
We're sorry, something doesn't seem to be working properly.
Please try refreshing the page. If that doesn't work, please contact support so we can address the problem.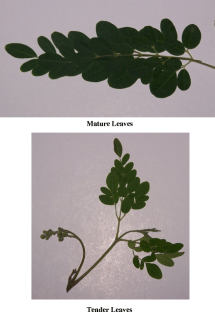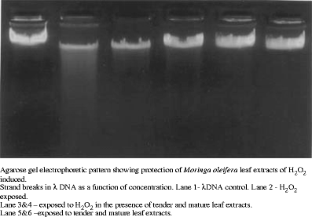 References
1.

Chitra K, Pillai KS (2002) Antioxidants in health. Indian J Physiol Pharmacol 46:1–5

2.

Kohen R, Gati I (2000) Skin low molecular weight antioxidants and their role in aging and in oxidative stress. Toxicol 148:149–157

3.

Farber JL (1994) Mechanisms of cell injury by activated oxygen species. Env Health Persp 102:17–24

4.

Gutteridge JMC (1995) Free radicals in disease processes: a complication of cause and consequence. Free Radic Res Comm 19:141–158

5.

Pong K (2003) Oxidative stress in neurodegenerative diseases: therapeutic implications for superoxide dismutase mime tics. Expert Opin Biol Ther 3:127–139

6.

Marchioli R, Schweiger C, Levantesi G, Tavazzi L, Valagussa F (2001) Antioxidant vitamins and prevention of cardiovascular disease: epidemiological and clinical trial data. Lipids 36:53–63

7.

Robak J, Marcinkiewicz E (1995) Scavenging of reactive oxygen species as the mechanism of drug action. Polish J Pharm 47:89–98

8.

Hossain MB, Brunton NP, Barry-Ryan C, Martin-Diana AB, Wilkinson M (2008) Antioxidant activity of spices extracts and phenolics in comparison to synthetic antioxidants. Rasayan J Chem 4:751–756

9.

Perry EK, Pickering AT, Wang WW, Houghton PJ, Perry NS (1999) Medicinal plants and Alzheimer's disease: from ethno botany to phytotherapy. J Pharm Pharmacol 51:527–534

10.

Ramachandran C, Peter KV, Gopalakrishnan PK (1980) Drumstick (Moringa oleifera): a multipurpose Indian vegetable. Econ Bot 34:276–283

11.

Nadkarni AK (1976) Indian Materia Medica. Popular Prakashan, Bombay, pp 810–816

12.

Morimitsu Y, Hayashi K, Nakagama Y, Horio F, Uchida K, Osawa T (2000) Antiplatelet and anticancer isothiocyanates in Japanese horseradish, wasabi. Biofactors 13:271–276

13.

Anwar F, Latif S, Ashraf M, Gilani AH (2007) Moringa oleifera: a food plant with multiple medicinal uses. Phytother Res 21:17–25

14.

Verma SC, Bannerji R, Mirra G, Nigam SK (1976) Nutritional value of Moringa. Curr Sci 45:769–771

15.

Caceres A, Saravia S, Rizzo L, Zabala E, Deleon F, Nave F (1992) Pharmacological properties of Moringa oleifera: screening of antispasmodic and anti-inflammatory diuretic activity. J Ethnopharm 36:233–236

16.

Bharali R, Tabassum J, Azad MR (2003) Chemomodulatory effect of Moringa oleifera Lam on hepatic carcinogen emboli sing enzymes, antioxidant parameters and skin papillomagenesis in mice. Asian Pac J Cancer Prev 4:131–135

17.

Sabate J (2003) The contribution of vegetarian diets to health and disease: a paradigm shift. Am J Clin Nutr 78:502S–507S

18.

Fahey JW, Zalcmann AT, Talalay P (2001) The chemical diversity and distribution of glucosinolates and isothiocyantes among plants. Phytochemistry 56:5–51

19.

Faizi S, Siddiqui BS, Saleem R, Saddiqui S, Aftab K (1994a) Isolation and structure elucidation of new nitrile and mustard oil glycosides from Moringa oleifera and their effect on blood pressure. J Nat Prod 57:1256–1261

20.

Faizi S, Siddiqui B, Saleem R, Siddiqui S, Aftab K, Gilani A (1994b) Novel hypotensive agents, Niazimin A, Niazimin B, Niazicin A and Niazicin B from Moringa oleifera; isolation of first naturally occurring carbamates. J Chem Soc Perkin Trans 1:3035–3640

21.

Freiberger CE, Vanderjagt DJ, Pastuszyn A, Glew RS, Moukaila G, Millson M, Glew RH (1998) Nutrient content of the edible leaves of seven wild plants from Niger. Plant Foods Hum Nutr 53:57–69

22.

Aebi H (1984) Catalase in vitro. In: Packer L (ed) Methods in enzymology, vol 105. Academic, San Diego, pp 121–126

23.

Kakkar P, Das B, Visvanathan PN (1972) A modified spectrophotometric assay of superoxide dismutase. Ind J Biochem 197:588–590

24.

Rotruck JT, Pope AL, Ganther HE, Swason AB, Haseman DG, Howkstra WG (1973) Selenium: biochemical role as a component of glutathione peroxidase. Sci 179:588–590

25.

Habig WH, Jakoby WB, Guthenberg C, Mannervik B, Vander Jagt DL (1984) 2-Propylthiouracil does not replace glutathione for the glutathione transferases. J Biol Chem 259:7409–7410

26.

Zakaria H, Simpson K, Brown PR, Krotwarie A (1979) Use of reverse phase HPLC analysis for the determination of provitamin A, carotenes in tomatoes. J Chromatogr 176:109–117

27.

Roe JH, Keuther CA (1953) The determination of ascorbic acid in whole blood urine through 2, 4-dinitro phenyl hydrazine derivative of dehydro ascorbic acid. J Biol Chem 147:399–407

28.

Rosenberg HR (1992) Chemistry and physiology of the vitamins. Interscience, New York, pp 452–453

29.

Blois MS (2002) Antioxidant determination by the use of a stable free radical. Nature 26:1199–1200

30.

Elizabeth K, Rao MNA (1990) Oxygen radical scavenging activity of curcumin. Inter J Pharm 58:237–240

31.

Green LC, Wanger DA, Glogowski J, Skipper PL, Wishnok JS, Tannenbaum SR (1981) Analysis of nitrate, nitrite, [15N] nitrate in biological fluids. Anal Biochem 126:131–138

32.

Wright JR, Colby HD, Miles PR (1981) Cytosolic factors which affect microsomal lipid peroxidation in lung and liver. Arch Biochem Biophys 206:296–304

33.

Chang MC, Vang BJ, Wu HL, Lee JJ, Hahn CJ, Jeng JH (2002) Including the cell cycle arrest and apoptosis of oral KB carcinoma cells by hydroxy chavicol: roles of glutathione and reactive oxygen species. Brit J Pharm 135:619–630

34.

Chandler SF, Dodds JH (1993) The effect of phosphate, nitrogen and sucrose on the production of phenolics and solasidine in callus cultures of Solanum laciniatum. Plant Cell Rep 2:1005–1010

35.

Chang C, Yang M, Wen H, Chern J (2002) Estimation of total flavonoid content in propolis by two complimentary colorimetric methods. J Food Drug Anal 10:178–182

36.

Harbone JB (1973) Phytochemical methods—a guide to modern techniques of plant analysis. Chapman and Hall, New York, pp 33–56

37.

Gupta S, Prakash J (2009) Studies on Indian green leafy vegetables for their antioxidant activity. Plant Foods Hum Nutr 64:39–45

38.

Aruoma OI (1999) Free radicals, antioxidants and international nutrition. Asia Pac J Clin Nutr 8:53–63

39.

Rodriguez-Amaya DB (2003) Food carotenoids: analysis, composition and alterations during storage and processing of foods. Forum Nutr 56:35–37

40.

Zimmermann P, Zentgraf U (2005) The correlation between oxidative stress and leaf senescence during plant development. Cell Mol Biol Lett 10:515–534

41.

Srivalli B, Khanna-Chopra R (2001) Induction of new isoforma of superoxide dismutase and catalase enzymes in the flag leaf of wheat during manocarpic senescence. Biochem Biophys Res Commun 288:1037–1042

42.

Wang SV, Jiao H (2001) Changes in oxygen-scavenging systems and membrane lipid peroxidation during maturation and ripening in black berry. J Agric Food Chem 49:1612–1619

43.

Page T, Griffiths G, Buchanan-Wollaston V (2001) Molecular and biochemical characterization of post harvest senescence in broccoli. Plant Physiol 125:718–727

44.

Bender J, Weigel HJ, Wegner U, Jager HJ (1994) Response of cellular antioxidants to ozone in wheat flag leaves at different stages of plant development. Environ Pollut 84:15–21

45.

Pandjaitan N, Howard LK, Morelock T, Cril MI (2005) Antioxidant capacity and phenolic content of spinach as affected by genetics and maturation. J Agric Food Chem 53:8618–8623

46.

Drazkiewicz M, Barzyorski T (2005) Growth parameters and photosynthetic pigments in leaf segments of Zea mays exposed to cadmium, as related to protection mechanisms. J Plant Physiol 162:1013–1021

47.

Brat P, Hoang LN, Soler A, Reynes M, Brillouet M (2004) Physicochemical characterization of a new pineapple hybrid (FLHORAN 41 (V). J Agric Food Chem 52:6170–6177

48.

Jain K, Kataria S, Guruprasad KN (2004) Oxyradicals under UV-B stress and their quenching by antioxidants. Indian J Exp Biol 42:884–892

49.

Munne-Bosch S, Alegre IL (2002) The function of tocopherols and tocotrienols in plants. Crit Rev Plant Sci 2:31–57

50.

Marin A, Ferreres F, Tomas-Barberan FA, Gil MH (2004) Characterization and quantitation of antioxidant constituents of sweet pepper (Capsicum annuum L). J Agric Food Chem 52:3861–3869

51.

Munne-Bosch S, Penuelas J (2003) Photo and antioxidative protection during summer leaf senescence in Pistacia lentisus L. grown under Mediterranean field conditions. Ann Bot (Lond) 92:385–391

52.

Naik GH, Priyadarsini KI, Satav JG, Banavalikar MM, Sohoni PP, Biyani MK, Mohan H (2003) Comparative antioxidant activity of individual herbal components used in Ayurvedic medicine. Phytochemistry 63:97–104

53.

Pardini RS (1995) Toxicity of oxygen from naturally occurring redox-active pro-oxidants. Biochem Phys 29:101–118

54.

Bor JY, Chen HV, Yen GC (2006) Evaluation of antioxidant activity and inhibitory effect on nitric oxide production of some common vegetables. J Agric Food Chem 54:1680–1686

55.

O'Byme DJ, Devaraj S, Grundy SM, Jialal I (2002) Comparison of antioxidant effects of Concord grape juice flavonoids and α- tocopherol on markers of oxidative stress in healthy adults. Am J Clin Nutr 76:1367–1374

56.

Mizukoshi G, Katsura K, Katayama Y (2005) Urinary-8-hydroxy-α'-deoxy guanosine and serum S100 [beta] in acute cardio embolic stroke patients. Neur Res 27:644–646

57.

Ferrer M, Lamar AS, Ferentes JL, Barbe J, Ilagostera M (2002) Antimutagenic mechanisms of Phyllanthys orbicular sis when H2O2 is tested using Salmonella assay. Mutat Res 517:251–254

58.

Ippoushi K, Azuma K, Ito H, Horic H, Higashio H (2003) [6]-gingerol inhibits nitric oxide sysnthesis in activated J774–1 mouse macrophages and prevents peroxy nitrite induced oxidation and nitration reactions. Life Science 73:3427–3437

59.

Wang L, Yen JH, Liang HL, Wu MJ (2003) Antioxidant effect of methanol extracts from lotus plumule and blossom (Nelumbo nucifera Gertn). J Food Drug Anal 11:60–66

60.

Guglielmi F, Luceri C, Giovannelli L, Dolaro P, Lodovici M (2003) Effect of 4-coumaric and 3, 4 dihydroxy benzoic acid on oxidative DNA damage in rat colonic mucosa. Brit J Nutr 89:581–587

61.

Chandrasekhar MJN, Praveen B, Nanjan MJ, Suresh B (2006) Chemoprotective effect of Phyllanthus maderaspatensis in modulating cisplatin-induced nephrotoxicity and genotoxicity. Pharm Biol 2:100–106

62.

Bramley PM, Pridham JB (1995) The relative antioxidant activities of plant derived polyphenolic flavonoids. Free Rad Res 4:375–383

63.

Hong Y, Lin S, Jiang Y, Ashraf M (2008) Variation in contents of total phenolics and flavonoids and antioxidant activities in the leaves of 11 Eriobotrya species. Plant food Hum Nutr 63:200–204
About this article
Cite this article
Sreelatha, S., Padma, P.R. Antioxidant Activity and Total Phenolic Content of Moringa oleifera Leaves in Two Stages of Maturity. Plant Foods Hum Nutr 64, 303 (2009). https://doi.org/10.1007/s11130-009-0141-0
Keywords
Moringa oleifera

Antioxidants

Free radicals

Scavenging activity