Abstract
The present investigation tested the in vivo antioxidant efficacy (superoxide dismutase, SOD; catalase, CAT; glutathione peroxidase; Gpx), lipid peroxidation (LPO) and anti-inflammatory properties (cyclooxygenase-2; COX-2) of sour cherry juices obtained from an autochthonous cultivar (Prunus cerasus cv. Maraska) that is grown in coastal parts of Croatia. Antioxidant potential was tested in mouse tissue (blood, liver, and brain), LPO (liver, brain) and anti-inflammatory properties in glycogen elicited macrophages. Additionally, the concentration of cyanidin-3-glucoside, cyanidin-3-rutinoside, pelargonidin-3-glucoside, pelargonidin-3-rutinoside and total anthocyanins present in Prunus cerasus cv. Maraska cherry juice was determined. Mice were randomly divided into a control group (fed with commercial food pellets) and 2 experimental groups (fed with commercial food pellets with 10% or 50% of cherry juice added). Among the anthocyanins, the cyanidin-3-glucoside was present in the highest concentration. These results show antioxidant action of cherry juice through increased SOD (liver, blood) and Gpx (liver) activity and decreased LPO concentration. The study highlights cherry juice as a potent COX-2 inhibitor and antioxidant in the liver and blood of mice, but not in the brain. Thus, according to our study, Prunus cerasus cv. Maraska cherry juice might potentially be used as an antioxidant and anti-inflammatory product with beneficial health-promoting properties.
Access options
Buy single article
Instant access to the full article PDF.
USD 39.95
Price excludes VAT (USA)
Tax calculation will be finalised during checkout.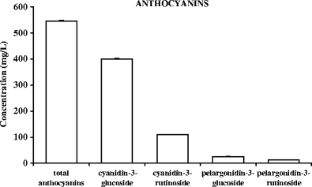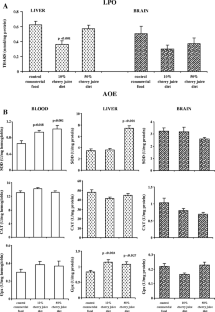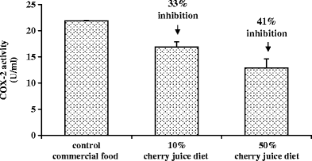 Abbreviations
AOE:

Antioxidant enzymes

CAT:

Catalase

Gpx:

Glutathione peroxidase

LPO:

Lipid peroxidation

SOD:

Superoxide dismutase

TBARS:

Thiobarbituric acid reactive substances

COX:

Cyclooxygenase enzymes
References
Hou DX, Fujii M, Terahara N, Yoshimoto M (2004) Molecular mechanisms behind the chemopreventive effects of anthocyanidins. J Biomed Biotechnol 2004:321–325

Tsuda T, Shiga K, Ohshima K, Kawakishi S, Osawa T (1996) Inhibition of lipid peroxidation and the active oxygen radical scavenging effect of anthocyanin pigments isolated from Phaseolus vulgaris L. Biochem Pharmacol 52:1033–1039

Motohashi N, Sakagami H (2009) Anthocyanins as Functional Food Colors. In: Linguistics. H. de Hoop, P. de Swart (eds), Bioactive Heterocycles VII, pp 1.

Chavez-Santoscoy RA, Gutierrez-Uribe JA, Serna-Saldivar SO (2009) Phenolic composition, antioxidant capacity and in vitro cancer cell cytotoxicity of nine prickly pear (Opuntia spp.) juices. Plant Foods Hum Nutr 64:146–152

Halliwell B (1996) Antioxidants in human health and disease. Annu Rev Nutr 16:33–50

Seymour EM, Singer AA, Kirakosyan A, Urcuyo-Llanes DE, Kaufman PB, Bolling SF (2008) Altered hyperlipidemia, hepatic steatosis, and hepatic peroxisome proliferator-activated receptors in rats with intake of tart cherry. J Med Food 11:252–259

Wang H, Cao G, Prior RL (1997) Oxygen radical absorbing capacity of anthocyanins. J Agric Food Chem 45:304–309

Tall JM, Seeram NP, Zhao C, Nair MG, Meyer RA, Raja SN (2004) Tart cherry anthocyanins suppress inflammation-induced pain behavior in rat. Behav Brain Res 153:181–188

Tsuda T, Watanabe M, Ohshima K, Norinobu S, Choi S-W, Kawakishi S, Osawa T (1994) Antioxidative activity of the anthocyanin pigments cyanidin 3-O-beta-D-glucoside and cyanidin. J. Agric. Food Chem. 42:2407–2410

Tsuda T, Horio F, Kitoh J, Osawa T (1999) Protective effects of dietary cyanidin 3-O-beta-D-glucoside on liver ischemia-reperfusion injury in rats. Arch Biochem Biophys 368:361–366

Chaovanalikit A, Wrolstad RE (2004) Total anthocyanins and total phenolics of fresh and processed cherries and their antioxidant properties. J Food Sci 69:FCT67–FCT72

Ohkawa H, Ohishi N, Yagi K (1979) Assay for lipid peroxides in animal tissues by thiobarbituric acid reaction. Anal Biochem 95:351–358

Flohé L, Ötting F (1984) Superoxide dismutase assays. Methods Enzymol 105:93–104

Arthur JR, Boyne R (1985) Superoxide dismutase and glutathione peroxidase activities in neutrophils from selenium deficient and copper deficient cattle. Life Sci 36:1569–1575

Aebi H (1984) Catalase in vitro. Methods Enzymol 105:121–126

Paglia DE, Valentine WN (1967) Studies on the quantitative and qualitative characterization of erythrocyte glutathione peroxidase. J Lab Clin Med 70:158–169

Kulmacz RJ, Lands WE (1983) Requirements for hydroperoxide by the cyclooxygenase and peroxidase activities of prostaglandin H synthase. Prostaglandins 25:531–540

Lowry OH, Rosebrough NJ, Farr AL, Randall RJ (1951) Protein measurement with the Folin phenol reagent. J Biol Chem 193:265–275

Kulisic-Bilusic T, Schnäbele K, Schmöller I, Dragovic-Uzelac V, Krisko A, Dejanovic B, Milos M, Pifat G (2009) Antioxidant activity versus cytotoxic and nuclear factor kappa B regulatory activities on HT-29 cells by natural fruit juices. Eur Food Res Technol 228:417–424

Kang SY, Seeram NP, Nair MG, Bourquin LD (2003) Tart cherry anthocyanins inhibit tumor development in Apc(Min) mice and reduce proliferation of human colon cancer cells. Cancer Lett 194:13–19

Šimunić V, Kovač S, Gašo-Sokač D, Pfannhauser W, Murkovic M (2005) Determination of anthocyanins in four Croatian cultivars of sour cherries (Prunus cerasus). Eur Food Res Technol 220:575–578

Kim D-O, Padilla-Zakour OI (2004) Jam processing effect on phenolics and antioxidant capacity in anthocyanin-rich fruits: cherry, plum, and raspberry. J Food Sci 69:S395–S400

Blando F, Gerardi C, Nicoletti I (2004) Sour cherry (Prunus cerasus L) anthocyanins as ingredients for functional foods. J Biomed Biotechnol 2004:253–258

Xu JW, Ikeda K, Yamori Y (2004) Upregulation of endothelial nitric oxide synthase by cyanidin-3-glucoside, a typical anthocyanin pigment. Hypertension 44:217–222

Wang H, Nair MG, Strasburg GM, Chang YC, Booren AM, Gray JI, DeWitt DL (1999) Antioxidant and antiinflammatory activities of anthocyanins and their aglycon, cyanidin, from tart cherries. J Nat Prod 62:294–296

Seeram NP, Momin RA, Nair MG, Bourquin LD (2001) Cyclooxygenase inhibitory and antioxidant cyanidin glycosides in cherries and berries. Phytomedicine 8:362–369

Kalt W, Blumberg JB, McDonald JE, Vinqvist-Tymchuk MR, Fillmore SA, Graf BA, O'Leary JM, Milbury PE (2008) Identification of anthocyanins in the liver, eye, and brain of blueberry-fed pigs. J Agric Food Chem 56:705–712

Mazza GJ (2007) Anthocyanins and heart health. Ann Ist Super Sanita 43:369–374

Talavera S, Felgines C, Texier O, Besson C, Gil-Izquierdo A, Lamaison JL, Remesy C (2005) Anthocyanin metabolism in rats and their distribution to digestive area, kidney, and brain. J Agric Food Chem 53:3902–3908

Kirakosyan A, Seymour EM, Llanes DEU, Kaufman PB, Bolling SF (2009) Chemical profile and antioxidant capacities of tart cherry products. Food Chemistry 115:20

Talavera S, Felgines C, Texier O, Besson C, Lamaison JL, Remesy C (2003) Anthocyanins are efficiently absorbed from the stomach in anesthetized rats. J Nutr 133:4178–4182
Acknowledgements
The authors thank Nataša Maršić and Mary Sopta for her helpful comments and Vesna Matešić and Iva Pešun Međimorec for technical assistance.
About this article
Cite this article
Šarić, A., Sobočanec, S., Balog, T. et al. Improved Antioxidant and Anti-inflammatory Potential in Mice Consuming Sour Cherry Juice (Prunus Cerasus cv. Maraska). Plant Foods Hum Nutr 64, 231–237 (2009). https://doi.org/10.1007/s11130-009-0135-y
Published:

Issue Date:

DOI: https://doi.org/10.1007/s11130-009-0135-y
Keywords