Abstract
To identify the potential of green leafy vegetables (GLV) as antioxidants, methanolic extracts of Amaranthus sp., Centella asiatica, Murraya koenigii and Trigonella foenum graecum were studied for their antioxidant activity in different systems at multiple concentrations. Total antioxidant activity assessed by phosphomolybdenum method, free radical scavenging activity by 1,1-diphenly-2-picryl hydrazyl (DPPH), reducing power and ferrous ion chelating activity were determined. The GLV were analyzed for ascorbic acid, total and β-carotene and total polyphenol contents. The ascorbic acid, total carotene, β-carotene and total phenolic content (tannic acid equivalents) of the GLV ranged between 15.18–101.36, 34.78–64.51, 4.23–8.84 and 150.0–387.50 mg/100 g GLV, respectively. The extracts were found to have significantly different levels of antioxidant activities in the systems tested. The total antioxidant activity was highest in Murraya koenigii (2,691.78 μmol of ascorbic acid/g sample) and least in Centella asiatica (623.78 μmol of ascorbic acid/g sample). The extract concentration causing 50% inhibition of DPPH (IC50) was determined (M. koenigii < C.asiatica < Amaranthus sp. < T. graecum). The maximum DPPH scavenging activity and reducing power was exhibited by Murraya koenigii. Multiple regression analysis showed that the relationship of total antioxidant activity, free radical scavenging activity, and reducing power with polyphenol and total and β-carotene was highly significant.
Access options
Buy single article
Instant access to the full article PDF.
US$ 39.95
Tax calculation will be finalised during checkout.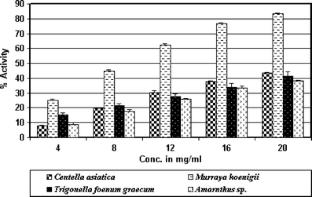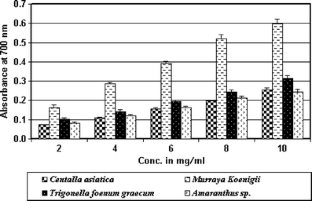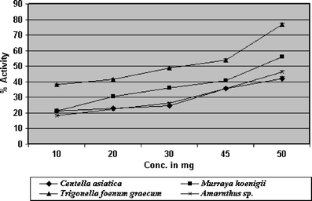 References
1.

Hunter KJ, Fletcher JM (2002) The antioxidant activity and composition of fresh, frozen, jarred and canned vegetable. Innov Food Sci Emerg Technol 3:399–406 doi:10.1016/S1466-8564(02)00048-6

2.

Oomah BD, Mazza G (2000) Functional foods. In: Francis FJ (ed) The Wiley encyclopedia of science & technology, 2nd edn. Wiley, New York, pp 1176–1182

3.

Steimez KA, Potter JD (1996) Vegetables, fruits and cancer prevention: a review. J Am Diet Assoc 96:1027–1039 doi:10.1016/S0002-8223(96)00273-8

4.

Rimm EB, Ascherio A, Grovannucci E, Spielgelman D, Stampfer MJ, Willett WC (1996) Vegetable, fruit and cereal fiber intake and risk of coronary heart disease among men. JAMA 275:447–451 doi:10.1001/jama.275.6.447

5.

Prior RL, Cao G (2000) Antioxidant phytochemicals in fruits and vegetables—diet and health implications. Hortic Sci 35(4):588–592

6.

Retsky KL, Freeman MW, Frei B (1993) Ascorbic acid oxidation product(s) protect human low-density lipoprotein against atherogenic modifications. J Biol Chem 268:1304–1309

7.

Wargovich MJ (2000) Anticancer properties of fruits and vegetables. Hortic Sci 35:573–575

8.

Burton GW (1989) Antioxidant action of carotenoids. J Nutr 119:109–111

9.

Kahkonen MP, Hopia AI, Vuorela HJ, Rauha J-P, Pihlaja K, Kujala TS, Heinonen M (1999) Antioxidant activity of plant extracts containing phenolic compounds. J Agric Food Chem 47:3954–3962 doi:10.1021/jf990146l

10.

Hertog MGL, Kromhout D, Aravanis C, Blackburn H, Buzina R, Fidanza F, Giampaoli S, Jansen A, Menotti A, Nedeljkovic S, Pekkarinen M, Simic BS, Toshima H, Feskens EJM, Hollman PCH, Katan M (1995) Flavonoid intake and long-term risk of coronary heart disease and cancer in the seven countries study. Arch Intern Med 155:381–386 doi:10.1001/archinte.155.4.381

11.

Middleton E Jr, Kandaswami C, Theoharides T (2000) The effects of plant flavonoids on mammalian cells: implications for inflammation, heart disease and cancer. Pharmacol Rev 52:673–751

12.

Vinson JA, Jang J, Dabbagh YA, Serry MM, Cai S (1995a) Plant polyphenols exhibit lipoprotein-bound antioxidant activity using an in vitro model for heart disease. J Agric Food Chem 43:2800–2802 doi:10.1021/jf00059a005

13.

Gupta S, Lakshmi JA, Manjunath MN, Prakash J (2005) Analysis of nutrient and antinutrient content of underutilized green leafy vegetables. LWT Food Sci Technol 38:339–345 doi:10.1016/j.lwt.2004.06.012

14.

El SN, Karakaya S (2004) Radical scavenging and iron-chelating activities of some greens used as traditional dishes in Mediterranean diet. Int J Food Sci Nutr 5(1):67–54

15.

Ranganna S (1986) Handbook of analysis and quality control for fruit and vegetable products, 2nd edn. McGraw-Hill, New Delhi

16.

Matthaus B (2002) Antioxidant activity of extracts obtained form residues of different oilseeds. J Agric Food Chem 50:3444–3452 doi:10.1021/jf011440s

17.

Prieto P, Pineda M, Aguilar M (1999) Spectrophotometric quantitation of antioxidant capacity through the formation of a phosphomolybdenum complex: specific application to the determination of Vitamin E. Anal Biochem 269:337–341 doi:10.1006/abio.1999.4019

18.

Singh RP, Murthy CKN, Jayaprakasha GK (2002) Studies on the antioxidant activity of pomegranate (Punica granatum) peel and seed extracts using in vitro methods. J Agric Food Chem 50:81–86 doi:10.1021/jf010865b

19.

Oyaizu M (1986) Studies on product of browning reaction produced from glucose amine. Jap J Nutr 44:307–315

20.

Hsu C-L, Chen W, Weng Y-M, Tseng C-Y (2003) Chemical composition, physical properties and antioxidant activities of yam flours as affected by different drying methods. Food Chem 83(1):85–92 doi:10.1016/S0308-8146(03)00053-0

21.

Kaur C, Kapoor HC (2002) Anti-oxidant activity and total phenolic content of some Asian vegetables. Int J Food Sci Technol 37:153–161 doi:10.1046/j.1365-2621.2002.00552.x

22.

Rice-Evans CA, Miller NJ, Bolwell PG, Gramley PM, Pridham JB (1995) The relative antioxidant activities of plant derived polyphenolic flavonoids. Free Radic Res 22:375–383 doi:10.3109/10715769509145649

23.

Salvatore S, Pellegrini N, Brenna OV, Del Rio D, Frasca G, Brighenti F, Tumino R (2005) Antioxidant characterization of some Sicilian edible wild greens. J Agric Food Chem 53(24):9465–9471 doi:10.1021/jf051806r

24.

Shyamala BN, Gupta S, Lakshmi JA, Prakash J (2005) Leafy vegetable extracts—antioxidant activity and effect on storage stability of heated oils. Innovative Food Sci Emerg Technol 6:239–245 doi:10.1016/j.ifset.2004.12.002

25.

Dasgupta N, De B (2004) Antioxidant activity of Piper betle L. leaf extract in vitro. Food Chem 88:219–224 doi:10.1016/j.foodchem.2004.01.036

26.

Brand-Williams W, Cuvelier ME, Berset C (1995) Use of a free radical method to evaluate antioxidant activity. LWT Food Sci Technol 28:25–30

27.

Chu YH, Chang CL, Hsu HF (2000) Flavonoid content of several vegetables and their antioxidant activity. J Sci Food Agric 80:561–566 doi:10.1002/(SICI)1097-0010(200004)80:5<561::AID-JSFA574>3.0.CO;2-#

28.

Okuda T, Kimura Y, Yoshida T, Hatano T, Okuda H, Arichi S (1983) Studies on the activity and related compounds from medicinal plants and drugs: I. Inhibitory effects on lipid peroxidation on mitochondria and microsomes of liver. Chem Pharm Bull (Tokyo) 31:1625–1631

29.

Yamaguchi F, Ariga T, Yoshimira Y, Nakazawa H (2000) Antioxidant and anti-glycation of carcinol from Garcinia indica fruit rind. J Agric Food Chem 48:180–185 doi:10.1021/jf990845y

30.

Oboh G (2005) Effect of blanching on the antioxidant properties of some tropical green leafy vegetables. LWT - Food Sci Technol 38(5):513–517

31.

Tarwadi K, Agte V (2005) Antioxidant and micronutrient quality of fruit and root vegetables from the Indian subcontinent and their comparative performance with green leafy vegetables and fruits. J Sci Food Agric 85(9):469–1476 doi:10.1002/jsfa.2141

32.

Kerkhofs NS, Lister CE, Savage GP (2005) Change in colour and antioxidant content of tomato cultivars following forced-air drying. Plant Foods Hum Nutr 60:117–121 doi:10.1007/s11130-005-6839-8

33.

Chohan M, Forster-Wilkins G, Opara EI (2008) Determination of the antioxidant capacity of culinary herbs subjected to various cooking and storage processes using the ABTS*+ radical cation assay. Plant Foods Hum Nutr 63:47–52 doi:10.1007/s11130-007-0068-2

34.

Gitanjali Devi PY, Shivaprakash M (2004) Effect of shallow frying on total phenolic content and antioxidant activity in selected vegetables. J Food Sci Technol 41(6):666–668

35.

Miglio C, Chivaro E, Visconti A, Fogliano V, Pellegrini N (2008) Effects of different cooking methods on nutritional and physicochemical characteristics of selected vegetables. J Agric Food Chem 56:139–147 doi:10.1021/jf072304b

36.

Stratil S, Klejdus B, Kuban V (2006) Determination of total phenolic compounds and their antioxidant activity in vegetables—evaluation of spectrophotometric methods. J Agric Food Chem 54(3):607–616 doi:10.1021/jf052334j

37.

Hassimotto NM, Genovese MI, Lajolo FM (2005) Antioxidant activity of dietary fruits, vegetables and commercial frozen fruit pulps. J Agric Food Chem 53(8):2928–2935 doi:10.1021/jf047894h
Acknowledgements
The financial assistance provided by Council of Scientific and Industrial Research (CSIR), New Delhi is gratefully acknowledged. The first author (SG) wishes to thank CSIR for grant of Senior Research Fellowship. Special thanks are due to Dr. Jyothi Lakshmi A. for giving constructive comments while preparing the manuscript.
Additional information
Paper awarded the Young Scientist Award in Experimental Nutrition at the Young Scientist Award Session of the 39th Annual Meet of the Nutrition Society of India, Hyderabad, India on 15–16th Dec 2007.
About this article
Cite this article
Gupta, S., Prakash, J. Studies on Indian Green Leafy Vegetables for Their Antioxidant Activity. Plant Foods Hum Nutr 64, 39–45 (2009). https://doi.org/10.1007/s11130-008-0096-6
Keywords
Antioxidant activity

Ascorbic acid

β-Carotene

Free radical scavenging activity

Green leafy vegetables

Polyphenol

Reducing power