Abstract
The efficiency of carotenoid micellarisation from plant foods can be used as an effective tool for the initial screening of carotenoid bioavailability. Therefore, the objectives of the present study were to assess the effects of cooking on the micellarisation of β-carotene, lycopene, β-cryptoxanthin and lutein from courgette (zucchini), red pepper and tomato; and, to a minor extent, investigate uptake of lutein by Caco-2 cells from micellar fractions obtained from raw and cooked courgettes. Both raw and cooked vegetables were subjected to an in vitro digestion procedure. β-Carotene levels were significantly decreased in the digesta from each vegetable after boiling, grilling, microwave-cooking, or steaming, however all of the cooking methods enhanced β-carotene transfer to micelles. Carotenoid micellarisation ranged from 1.7% to 100% depending on the food, carotenoid, and the cooking method tested. Grilling and microwave-cooking were generally the most detrimental on the transfer of xanthophyll carotenoids, namely β-cryptoxanthin, to the micelles. Caco-2 cells absorbed greater amounts of lutein from the micelles of microwave-cooked courgettes than those that were raw, boiled, grilled, or steamed. Depending on the cooking methods used, carotenoid retention as well as micellarisation varied for each carotenoid among the different vegetables and different carotenoids present in each particular food.
Access options
Buy single article
Instant access to the full article PDF.
US$ 39.95
Tax calculation will be finalised during checkout.
Subscribe to journal
Immediate online access to all issues from 2019. Subscription will auto renew annually.
US$ 79
Tax calculation will be finalised during checkout.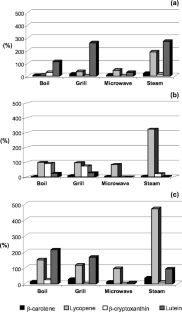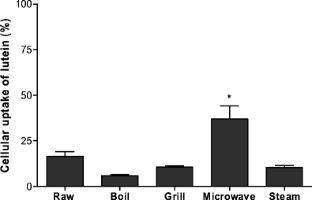 Abbreviations
HPLC:

high performance liquid chromatography
References
1.

Rao A, Rao L (2007) Carotenoids and human health. Pharmacol Res 55:207–216 doi:10.1016/j.phrs.2007.01.012

2.

Cooper D (2004) Carotenoids in health and disease: recent scientific evaluations, research recommendations and the consumer. J Nutr 134:221S–224S

3.

Hart D, Scott K (1995) Development and evaluation of an HPLC method for the analysis of carotenoids in foods, and the measurement of the carotenoid content of vegetables and fruits commonly consumed in the UK. Food Chem 54:101–111 doi:10.1016/0308-8146(95)92669-B

4.

Holden J, Eldridge A, Beecher G, Buzzard I, Bhagwat S, Davis C, Douglass L, Gebhart S, Haytowitz D, Schakel S (1999) Carotenoid content of U.S. foods: An update of the database. J Food Compost Anal 12:169–196 doi:10.1006/jfca.1999.0827

5.

O'Neill M, Carroll Y, Corridan B, Olmedilla B, Granado F, Blanco I, Van der Berg H, Hninger I, Rousell AM, Chopra M, Southon S, Thurnham DI (2001) A European carotenoid database to assess carotenoid intakes and its use in a five-country comparative study. Br J Nutr 85:499–507 doi:10.1079/BJN2000284

6.

van het Hof K, West C, Weststrate J, Hautvast J (2000) Dietary factors that affect the bioavailability of carotenoids. J Nutr 130:503–506

7.

Khachik F, Goli M, Beecher G, Holden J, Lusby W, Tenorio M, Barrera MR (1992) Effect of food preparation on qualitative and quantitative distribution of major carotenoid constituents of tomatoes and several green vegetables. J Agric Food Chem 40:390–398 doi:10.1021/jf00015a006

8.

Ferruzzi M, Lumpkin J, Schwartz S, Failla M (2006) Digestive stability, micellarization, and uptake of β-carotene isomers by Caco-2 human intestinal cells. J Agric Food Chem 54:2780–2785 doi:10.1021/jf0530603

9.

Yeum K, Russell R (2002) Carotenoid bioavailability and bioconversion. Annu Rev Nutr 22:483–504 doi:10.1146/annurev.nutr.22.010402.102834

10.

Garrett D, Failla M, Sarama R (1999) Development of an in vitro digestion method to assess carotenoid bioavailability from meals. J Agric Food Chem 47:4301–4309 doi:10.1021/jf9903298

11.

Garrett D, Failla M, Sarama R (2000) Estimation of carotenoid bioavailability from fresh stir-fried vegetables using an in vitro digestion/Caco-2 cell culture model. J Nutr Biochem 11:574–580 doi:10.1016/S0955-2863(00)00122-4

12.

Hedrén E, Diaz V, Svanberg U (2002) Estimation of carotenoid accessibility from carrots determined by an in vitro digestion method. Eur J Clin Nutr 56:425–430 doi:10.1038/sj.ejcn.1601329

13.

Ferruzzi M, Failla M, Schwartz S (2001) Assessment of degradation and intestinal cell uptake of carotenoids and chlorophyll derivatives from spinach puree using an in vitro digestion and Caco-2 human cell model. J Agric Food Chem 49:2082–2089 doi:10.1021/jf000775r

14.

Liu C, Glahn R, Liu R (2004) Assessment of carotenoid bioavailability of whole foods using a Caco-2 cell culture model coupled with an in vitro digestion. J Agric Food Chem 52:4330–4337 doi:10.1021/jf040028k

15.

Chitchumroonchokai C, Failla M (2006) Hydrolysis of zeaxanthin esters by carboxyl ester lipase during digestion facilitates micellarization and uptake of the xanthophyll by caco-2 human intestinal cells. J Nutr 136:588–594

16.

Hornero-Méndez D, Mínguez-Mosquera MI (2007) Bioaccessibility of carotenes from carrots: effect of cooking and addition of oil. Innov Food Sci Emerg Tech 8:407–412 doi:10.1016/j.ifset.2007.03.014

17.

O'Connell O, Ryan L, O'Brien N (2007) Xanthophyll carotenoids are more bioaccessible from fruits than dark green vegetables. Nutr Res 27:258–264 doi:10.1016/j.nutres.2007.04.002

18.

Rock C, Lovalvo J, Emenhiser C, Ruffin M, Flatt S, Schwartz S (1998) Bioavailability of β-carotene is lower in raw than in processed carrots and spinach in women. J Nutr 128:913–916

19.

O'Connell O, Ryan L, O'Brien N (2007) Effect of fibre on the bioaccessibility of carotenoids from a combination of vegetables. Proc Nutr Soc 66:113A abstr. doi:10.1017/S0029665107005344

20.

Bugianesi R, Salucci M, Leonardi C, Ferracane R, Catasta G, Azzini E, Maiani G (2004) Effect of domestic cooking on human bioavailability of naringenin, chlorogenic acid, lycopene and β-carotene in cherry tomatoes. Eur J Nutr 43:360–366 doi:10.1007/s00394-004-0483-1

21.

Bernhardt S, Schlich E (2006) Impact of different cooking methods on food quality: retention of lipophilic vitamins in fresh and frozen vegetables. J Food Eng 77:327–333 doi:10.1016/j.jfoodeng.2005.06.040

22.

Nunn M, Giraud D, Parkhurst A, Hamouz F, Driskell J (2006) Effects of cooking methods on sensory qualities and carotenoid retention in selected vegetables. J Food Qual 29:445–457 doi:10.1111/j.1745-4557.2006.00071.x

23.

Pinto M, Robine-Leon S, Appay M, Kedinger M, Triadou N, Dussaulx E, Lacroix B, Simon-Assman P, Haffen K, Fogh J, Zwibaum A (1983) Enterocyte-like differentiation and polarization of the human colon carcinoma cell line Caco-2 in culture. Biol Cell 47:323–330

24.

Khachik F, Beecher G, Goli M, Lusby W, Smith J (1992) Separation and identification of carotenoids and their oxidation products in the extracts of human plasma. Anal Chem 64:2111–2122 doi:10.1021/ac00042a016

25.

Olives-Barba A, Hurtado M, Mata M, Ruiz V, Sáenz de Tejada M (2006) Application of a UV–vis detection-HPLC method for a rapid determination of lycopene and β-carotene in vegetables. Food Chem 95:328–336 doi:10.1016/j.foodchem.2005.02.028

26.

Rich GT, Faulks RM, Wickham MS, Fillery-Travis A (2003) Solubilization of carotenoids from carrot juice and spinach in lipid phases: II. Modeling the duodenal environment. Lipids 38:947–956 doi:10.1007/s11745-003-1148-z

27.

Faulks R, Southon S (2005) Challenges to understanding and measuring carotenoid bioavailability. Biochim Biophys Acta 1740:95–100

28.

Granado-Lorencio F, Olmedilla-Alonso B, Herrero-Barbudo C, Perez-Sacristan B, Blanco-Navarro I, Blazquez-Garcia S (2007) Comparative in vitro bioaccessibility of carotenoids from relevant contributors to carotenoid intake. J Agric Food Chem 55:6387–6394 doi:10.1021/jf070301t

29.

Parker R, Swanson J, Marmor B, Goodman K, Spielman A, Brenna J, Viereck SM, Canfield WK (1993) Study of β-carotene metabolism in humans using 13C-β-carotene and high precision isotope ratio mass spectrometry. Ann N Y Acad Sci 691:86–95 doi:10.1111/j.1749-6632.1993.tb26160.x

30.

van den Berg H, Faulks R, Granado H, Hirschberg J, Olmedilla B, Sandmann G, Southon S, Stahl W (2000) The potential for the improvement of carotenoid levels in foods and the likely systemic effects. J Sci Food Agric 80:880–912 doi:10.1002/(SICI)1097-0010(20000515)80:7<880::AID-JSFA646>3.0.CO;2-1

31.

Chandrika U, Svanberg U, Jansz E (2006) In vitro accessibility of β-carotene from cooked Sri Lankan green leafy vegetables and their estimated contribution to vitamin A requirement. J Sci Food Agric 86:54–61 doi:10.1002/jsfa.2307

32.

Reboul E, Richelle M, Perrot E, Desmoulins-Malezet C, Pirisi V, Borel P (2006) Bioaccessibility of carotenoids and vitamin E from their main dietary sources. J Agric Food Chem 54:8749–8755 doi:10.1021/jf061818s

33.

Boileau AC, Erdman JW (2004) Impact of food processing on content and bioavailability of carotenoids. In: Krinsky N, Mayne ST, Sies H (eds) Carotenoids in health and disease. Marcel Dekker, New York, pp 209–228

34.

Tyssandier V, Reboul E, Dumas J, Bouteloup-Demange C, Armand M, Marcand J, Sallas M, Borel P (2003) Processing of vegetable-borne carotenoids in the human stomach and duodenum. Am J Physiol Gastrointest Liver Physiol 284:G913–G923

35.

Castenmiller J, West C, Linssen J, van het Hof K, Voragen A (1999) The food matrix of spinach is a limiting factor in determining the bioavailability of β-carotene and to a lesser extent of lutein in humans. J Nutr 129:349–355

36.

West CE, Castenmiller JJ (1998) Quantification of the "SLAMENGHI" factors for carotenoid bioavailability and bioconversion. Int J Vitam Nutr Res 68:371–377

37.

van het Hof KH, Gartner C, West CE, Tijburg LB (1998) Potential of vegetable processing to increase the delivery of carotenoids to man. Int J Vitam Nutr Res 68:366–370

38.

Chitchumroonchokchai C, Schwartz SJ, Failla ML (2004) Assessment of lutein bioavailability from meals and a supplement using simulated digestion and Caco-2 human intestinal cells. J Nutr 134:2280–2286

39.

Tyssandier V, Lyan B, Borel P (2001) Main factors governing the transfer of carotenoids from emulsion lipid droplets to micelles. Biochim Biophys Acta 1533:285–292

40.

Pullakhandam R, Failla M (2007) Micellarization and intestinal cell uptake of β-carotene and lutein from drumstick (Moringa oleifera) leaves. J Med Food 10:252–257 doi:10.1089/jmf.2006.250

41.

Castenmiller J, West C (1998) Bioavailability and bioconversion of carotenoids. Annu Rev Nutr 18:19–38 doi:10.1146/annurev.nutr.18.1.19

42.

Edwards A, Nguyen C, You C, Swanson J, Emenhiser C, Parker R (2002) α- and β-Carotene from a commercial carrot puree are more bioavailable to humans than from boiled-mashed carrots, as determined using an extrinsic stable isotope reference method. J Nutr 132:159–167

43.

Livny O, Reifen R, Levy I, Madar Z, Faulks R, Southon S, Schwartz B (2003) β-Carotene bioavailability from differently processed carrot meals in human ileostomy volunteers. Eur J Nutr 42:338–345 doi:10.1007/s00394-003-0430-6

44.

Veda S, Kamath A, Platel K, Begum K, Srinivasan K (2006) Determination of bioaccessibility of beta-carotene in vegetables by in vitro methods. Mol Nutr Food Res 50:1047–1052 doi:10.1002/mnfr.200600076
Acknowledgement
This work was supported by Science Foundation Ireland.
About this article
Cite this article
Ryan, L., O'Connell, O., O'Sullivan, L. et al. Micellarisation of Carotenoids from Raw and Cooked Vegetables. Plant Foods Hum Nutr 63, 127–133 (2008). https://doi.org/10.1007/s11130-008-0081-0
Received:

Accepted:

Published:

Issue Date:
Keywords
Bioaccessibility

Carotenoids

Cooking

In vitro digestion

Micellarisation