Abstract
The scavenging activity against DPPH (1,1-diphenil-2-picrylhydrazyl) radical and the antifungal effect against chloroform, ethyl acetate and 50% methanolic extracts of Verbena officinalis leaves were investigated. The activity of different fractions of 50% methanolic extract and some isolated compounds were also investigated. The results suggest that 50% methanolic extract and caffeoyl derivatives could potentially be considered as excellent and readily available sources of natural antifungal and antioxidant compounds.
Access options
Buy single article
Instant access to the full article PDF.
USD 39.95
Price excludes VAT (USA)
Tax calculation will be finalised during checkout.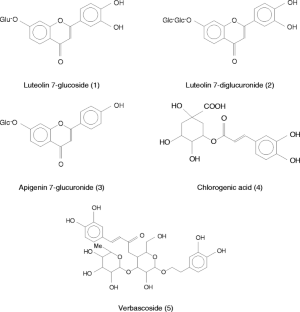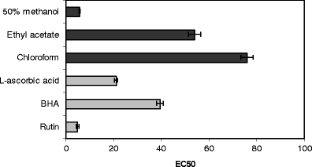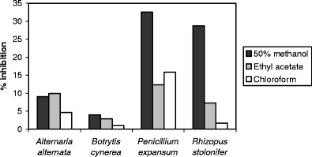 References
Imaida K, Fukushima S, Shivai T, Ohtani M, Nakanish K, Ito N (1983) Promoting activities of butylated hydroxyanisole and butylated hydroxitoluene on 2-stage urinary bladder carcinogenesis and inhibition of g-glutamyl transpeptidase-positive foci development in the liver of rats. Carcinogenesis 4:895–899

Yanishlieva N (2001) Inhibiting oxidation. In: Pokorny J, Yanishlieva N, Gordon M (eds) Antioxidants in food: practical applications. CRC, Boca Raton, Florida, p 380

Zhang JD, Xu Z, Cao YB, Chen HS, Yan L, An MM, Gao PH, Wang Y, Jia XM, Jiang YY (2006) Antifungal activities and action mechanisms of compounds from Tribulus terrestris L. J Ethnopharmacol 103:76–84

Milovanović V, Radulović N, Todorović Z, Stanković M, Gordana Stojanović G (2007) Antioxidant, antimicrobial and genotoxicity screening of hydro-alcoholic extracts of five Serbian Equisetum species. Plant Food Hum Nutr 62:113–119

López V, Akerreta S, Casanova E, García-Mina JM, Cavero RY, Calvo MI (2007) In vitro antioxidant and anti-rhizopus activities of lamiaceae herbal extracts. Plant Food Hum Nutr 62:151–155

Pietta PG (2000) Flavonoids as antioxidants. J Nat Prod 63:1035–1042

Sun Y (1990) Free radicals, antioxidant enzymes, and carcinogenesis. Free Radic Biol Med 8:583–599

Fernando RL, Varghese Z, Moorhead JF (1998) Differential ability of cells to promote oxidation of low density lipoproteins in vitro. Clin Chim Acta 269:159–173

Navab M, Fogelman AM, Berliner JA, Territo MC, Demer LL, Frank JS, Watson AD, Edwards PA, Lusis AJ (1995) Pathogenesis of atherosclerosis. Am J Cardiol 76:18C–23C

Maron J (2004) Flavonoids for reduction of atherosclerotic risk. Curr Atheroscler Rep 6:73–78

Finkel T, Holbrook NJ (2000) Oxidants, oxidative stress and the biology of ageing. Nature 408:239–247

Frank B, Gupta H (2005) A review of antioxidants and Alzheimer's disease. Ann Clin Psychiatry 17:269–286

Li S, Zhang Z, Cain A, Wang B, Long M, Taylor J (2005) Antifungal activity of camptothecin, trifolin, and hyperoside isolated from Camptotheca acuminata. J Agric Food Chem 53:32–37

Martensson J, Steinherz R, Jain A, Meister A (1989) Glutathione ester prevents buthionine sulfoximine-induced cataracts and lens epithelial cell damage. Proc Natl Acad Sci USA 86:8727–8731

Ingram D, Sanders K, Kolybaba M, Lopez D (1997) Case–control study of phyto-oestrogens and breast cancer. Lancet 350:990–994

Northover J, Zhou T (2002) Control of rhizopus rot of peaches with postharvest treatments of tebuconazole, fludioxonil, and Pseudomonas syringae. Can J Plant Pathol 24:144–153

Karabulut OA, Arslan U, Kuruoglu G (2004) Control of postharvest diseases of organically grown strawberry with preharvest applications of some food additives and postharvest hot water dips. J Phytopathol 152:224–228

De Lucca AJ, Boue S, Palmgren MS, Maskos K, Cleveland TE (2006) Fungicidal properties of two saponins from Capsicum frutescens and the relationship of structure and fungicidal activity. Can J Microbiol 52:336–342

Oh KB, Mar W, Kim S, Kim JY, Lee TH, Kim JG, Shin D, Sim CJ, Shin J (2006) Antimicrobial activity and cytotoxicity of bis(indole) alkaloids from the sponge Spongosorites sp. Biol Pharm Bull 29:570–573

Fernández M (1981) Las plantas en la medicina popular navarra 1. Navarra húmeda del N.O. Pamplona. Sociedad de Estudios Vascos-Eusko Ikaskuntza

Deepak M, Handa SS (2000) Anti-inflammatory activity and chemical composition of extracts of Verbena officinalis. Phytother Res 14:463–465

Calvo MI, Vilalta N, San Julian A, Fernández M (1998) Anti-inflammatory activity of leaf extract of Verbena officinalis L. Phytomedicine 5:465–467

Calvo MI (2006) Anti-inflammatory and analgesic activity of the topical preparation of Verbena officinalis L. J Ethnopharmacol 107:380–382

Rimpler H, Schaefer BZ (1979) Hastatoside, a new iridoid from Verbena hastata L. and Verbena officinalis L. Naturforscher 3:311–318

Makboul AM (1986) Chemical constituents of Verbena officinalis. Fitoterapia 57:50–51

Hänsel R, Kallmann S (1986) Identitätsprüfung von Verbenae herba: Verbascosid als Leitstoff. Arch Pharm 319:227–230

Calvo MI, San Julián A, Fernández M (1997) Identification of the major compounds in extracts of Verbena officinalis L. (Verbenaceae) by HPLC with post-column derivatization. Chromatographia 46:241–244

Brand-Williams W, Cuvelier ME, Berset C (1995) Use of a free radical method to evaluate antioxidant activity. Lebensm-Wiss Technol 28:25–30

Muller-Riebau F, Berger B, Yegen O (1995) Chemical composition and fungitoxic properties to phytopathogenic fungi of essential oils of selected aromatic plants growing wild in Turkey. J Agric Food Chem 43:2262–2266

Bowers JH, Locke JC (2000) Effect of botanical extracts on the population density of Fusarium oxysporum in soil and control of Fusarium wilt in the greenhouse. Plant Dis 84:300–305
Acknowledgements
The authors are grateful to the Botany Department for the identification of the plant.
About this article
Cite this article
Casanova, E., García-Mina, J.M. & Calvo, M.I. Antioxidant and Antifungal Activity of Verbena officinalis L. Leaves. Plant Foods Hum Nutr 63, 93–97 (2008). https://doi.org/10.1007/s11130-008-0073-0
Received:

Accepted:

Published:

Issue Date:

DOI: https://doi.org/10.1007/s11130-008-0073-0
Keywords