Abstract
Organic solvent (methanol, ethanol, and acetone) extracts and water extracts of cherry (Prunus serrulata var. spontanea) blossoms were prepared, and antioxidant activities of the extracts were evaluated. Methanolic CBE (100 μg/ml) showed the highest total phenol content (104.30 μM), radical scavenging activity (34.2%), and reducing power (0.391). The effect of CBE on DNA damage induced by H2O2 in human leukocytes was evaluated by Comet assay. All CBE was a potent dose dependent inhibitor of DNA damage induced by 200 μM of H2O2, methanolic CBE showed the most strong inhibition activity. The methanolic CBE of 500 μg/ml showed 38.8% inhibition against growth of human colon cancer cell line HT-29. These results indicated that cherry blossoms could provide valuable bioactive materials.
This is a preview of subscription content, log in to check access.
Access options
Buy single article
Instant access to the full article PDF.
US$ 39.95
Price includes VAT for USA
Subscribe to journal
Immediate online access to all issues from 2019. Subscription will auto renew annually.
US$ 99
This is the net price. Taxes to be calculated in checkout.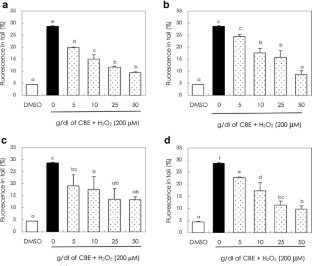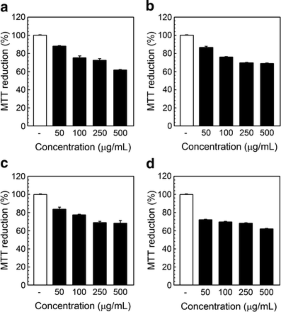 Abbreviations
CB:

cherry blossoms

CBE:

cherry blossom extract

DMSO:

dimethyl sulfoxide

DPPH:

1,1-diphenyl-2-picrylhydrazyl

LMA:

low melting agarose

MTT:

3-(4,5-Dimethyl-thiazol-2-yl)-2,5-diphenyl-tetrazolium bromide

PBS:

phosphorous buffered saline

ROS:

reactive oxygen species

RP:

reducing power

RSA:

radical scavenging activity

TPC:

total phenolic content
References
1.

Diplock AT (1994) Antioxidant nutrients and disease prevention. Mol Aspects Med 15:293–376

2.

Halliwell B (1994) Free radicals, antioxidants, and human disease: curiosity, cause, or consequence? Lancet 344:721–724

3.

Parkin DM, Bray F, Ferlay J, Pisani P (2002) Global cancer statistics. CA Cancer J Clin 55:74–108

4.

Ushijima T, Sasako M (2004) Focus on gastric cancer. Cancer Cell 5:121–125

5.

Chen YL, Lin SZ, Chang JY, Cheng YL, Tsai NM, Chen SP, Chang WL, Harn HJ (2006) In vitro and in vivo studies of a novel potential anticancer agent of isochaihulactone on human lung cancer A549 cells. Biochem Pharm 72:308–319

6.

Sherwin ER (1990) Antioxidants. In: Branen R (ed) Food additives. Marcel Dekker, New York, pp 139–193

7.

Madavi DL, Salunkhe DK (1995) Toxicological aspects of food antioxidant. In: Madhavi DL, Deshpande SS, Salunkhe DK (eds) Food antioxidants. Marcel Dekker, New York, p 267

8.

Rice-Evans CA, Muller NJ, Bolwell PG, BramLey PM, Pridham JB (1995) The relative antioxidant activities of plant-derived polyphenolic flavonoids. Free Radical Res 22:375–383

9.

Jung HA, Kim AR, Chung HY, Choi JS (2002) In vitro antioxidant activity of some selected Prunus species in Korea. Arch Pharm Res 25:865–872

10.

Jung HA, Chung HY, Jung HJ, Choi JS (2004) A new pentacyclic triterpenoid glucoside from Prunus serrulata var. spontanea. Chem Pharm Bull 52:157–159

11.

Gutfinger T (1981) Polyphenol in olive oils. J Am Oil Chem Soc 58:996–998

12.

Lee SC, Kim JH, Jeong SM, Kim DR, Ha JU, Nam KC, Ahn DU (2003) Effect of far-infrared radiation on the antioxidant activity of rice hulls. J Agric Food Chem 51:4400–4403

13.

Oyaizu M (1986) Antiangiogenic properties of natural polyphenols from red wine and green tea. Jpn J Nutr 44:307–315

14.

Singh PN, McCoy MT, Tice RR, Schneider EL (1998) A simple technique for quantitation of low levels of DNA damage in individual cells. Exp Cell Res 175:184–191

15.

SAS (1995) SAS/STAT user's guide. SAS Institute, NC, USA

16.

Cuvelier ME, Richard H, Berset C (1992) Comparison of the antioxidant activity of some acid phenols: structure–activity relationship. Biosci Biochem 56:324–325

17.

Duh PD (1998) Antioxidant activity of budrock (Arctium lappa L.): its scavenging effect on free radical and active oxygen. J Am Oil Chem Soc 75:455–461

18.

Jung HA, Chung HY, Kang SS, Hyun SK, Kang HS, Choi JS (2005) A phenolic glucoside isolated from Prunus var. spontanea and its peroxynitrite scavenging activity. Arch Pharm Res 28:1127–1130

19.

Kassie F, Parzefall W, Knasmuller S (2000) Single cell gel electrophoresis assay: a new technique for human biomonitoring studies. Mutat Res 463:13–31

20.

Diplock AT (1991) Antioxidant nutrients and disease prevention: an overview. Am J Clin Nutr 53:189S–193S

21.

Croft KD (1998) The chemistry and biological effects of flavonoids and phenolic acids. Ann N Y Acad Sci 854:435–442

22.

Tsai CH, Stern A, Chiou JF, Chern CL, Liu TZ (2001) Rapid and specific detection of hydroxyl radical using an ultraweak chemiluminescence analyzer and a low-level chemiluminescence emitter: application to hydroxyl radical-scavenging ability of aqueous extracts of food constituents. J Agric Food Chem 49:3137–3141

23.

Labieniec M, Gabryelak T (2005) Measurement of DNA damage and protein oxidation after the incubation of B14 Chinese hamster cells with chosen polyphenols. Toxicol Lett 155:15–25

24.

Yeh SL, Wang WY, Huang CH, Hu ML (2005) Pro-oxidative effect of beta-carotene and the interaction with flavonoids on UVA-induced DNA strand breaks in mouse fibroblast C3H10T1/2 cells. J Nutr Biochem 16:729–735

25.

Schaefer S, Baum M, Eisenbrand G, Dietrich H, Will F, Janzowski C (2006) Polyphenolic apple juice extracts and their major constituents reduce oxidative damage in human colon cell lines. Mol Nutr Food Res 50:24–33

26.

Heo MY, Kim SH, Yang HE, Lee SH, Jo BK, Kim HP (2001) Protection against ultraviolet B- and C-induced DNA damage and skin carcinogenesis by the flowers of Prunus persica extract. Mutat Res 496:47–59

27.

Ogiso Y, Tomida A, Lei S, Omura S, Tsuruo T (2000) Proteasome inhibition circumvents solid tumor resistance to topoisomerase II-directed drugs. Cancer Res 60:2429–2434
Acknowledgements
This study was supported by Kyungnam University Research Fund, 2007.
About this article
Cite this article
Lee, B., Cha, M., Kim, S. et al. Antioxidative and Anticancer Activity of Extracts of Cherry (Prunus serrulata var. spontanea) Blossoms. Plant Foods Hum Nutr 62, 79 (2007). https://doi.org/10.1007/s11130-007-0045-9
Received:

Accepted:

Published:
Keywords
Prunus serrulata var. spontanea

Extract

Antioxidant

Anticancer