Abstract
Hypocholesterolemic and hypoglycemic activities of Coptis chinensis franch inflorescence (Coptis inflorescence) were studied using animal models. Serum total and LDL cholesterol of rats fed a diet containing 1% cholesterol and 0.5% cholic acid increased, as compared with those of rats fed a normal diet. The level of total and LDL cholesterol were reduced markedly in a dose dependent manner, in rats given Coptis inflorescence extract orally at doses of 0.25, 0.5 g/kg.day for 4 weeks. In diabetic rats induced by alloxan, Coptis inflorescence extract showed a significant (p < 0.05) blood sugar lowering activity at all experimented doses (0.125, 0.25 and 0.5 g/kg.day). The highest reduction of blood sugar was about 58% when the rats were given Coptis inflorescence extract orally at a dose of 0.5 g/kg.day for 3 weeks. The 100 g dried water extract of Coptis inflorescence contained 8.11 g total alkaloid, 3.34 g berberin, 1.08 g palmatine and 0.66 g jatrorrhizine, which had long been identified as active compounds in Coptis chinensis franch root (Coptis root). Thus, the results suggest that Coptis inflorescence would be effective in the prevention and management of coronary artery disease by lowering serum cholesterol and blood sugar.
Access options
Buy single article
Instant access to the full article PDF.
USD 39.95
Price excludes VAT (USA)
Tax calculation will be finalised during checkout.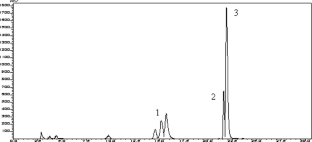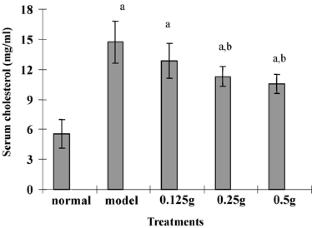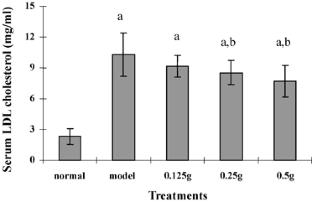 Reference
Jiangsu New Medical College (1986) Zhongyao Dacidian (Encyclopaedia of ChineseTraditional medicine). Shanghai, China: The People's Publishing Company.

Jia W, Gao WY, Tang L (2003) Antidiabetic Herbal Drugs Officially Approved in China. Phytother Res 17: 1127–1134.

Wang JH, Chen DY, Su YY (1994) Study on the prepared products of Rhizoma coptidis by HPLC. Chin Tradit Herb Drug 25: 293.

Yang F, Zhang T, Zhang R, Ito Y (1998) Application of analytical and preparative high-speed counter-current chromatography for separation of alkaloids from Coptis chinensis Franch. J Chromatography A 829(1/2): 137–141.

Akhter MH, Sabir M, Bhide NK (1997) Anti-inflammatory effect of berberine in rats injected locally with cholera toxin. Indian J Med Res 65: 133–141.

Amin AH, Subbaiah TV, Abbasi KM (1969) Berberine sulfate: Antimicrobial activity, bioassay, and mode of action. Can J Microbiol 15: 1067–1076.

Bova S, Padrini R, Goldman WF, Berman DM, Cargnelli G (1992) On the mechanism of vasodilating action of berberine: Possible role of inositol lipid signaling system. J Pharmacol Exp Ther 261: 318–323.

Tsai CS, Ochillo RF(1991) Pharmacological effects of berberine on the longitudinal muscle of the guinea-pig isolated ileum. Arch Int Pharmacodyn Ther 310: 116–131.

Wang YX, Zheng YM (1997) Ionic mechanism responsible for prolongation of cardiac action-potential duration by berberine. J Cardiovasc Pharmacol 30: 214–222.

Anis KV, Kuttan G, Kuttan R (1999) Role of Berberine as An Adjuvant Response Modifier During Tumour Therapy in Mice. Pharm Pharmacol Commun 5: 697–700.

Lin SK, Tsai SC, Lee CC, Wang BW, Liou JY, Shyu KG (2004) Berberine Inhibits HIF-1α Expression via Enhanced Proteolysis. Mol Pharmacol 66: 612–619.

Leng SH, Lu FE, Xu LJ (2004) Therapeutic effects of berberine in impaired glucose tolerance rats and its influence on insulin secretion. Acta Pharmacologica Sinica 25: 496–502.

Kong WJ, Wei J, Abidi P, Lin M, Inaba S, Li C, Wang YL, Wang ZZ, Si SY, Pan HN, Wang SK, Wu JD, Wang Y, Li ZR, Liu JW, Jiang JD (2004) Berberine is a novel cholesterol-lowering drug working through a unique mechanism distinct from statins. Nat Med 10: 1344–1351.

Ikuta A, Kobayashi A, Itokawa H (1984) Studies on the quantitative analysis of protoberberine alkaloids in Japanese, Chinese and other countries Coptis rhizomes by thin-layer chromatography-densitometry. Shoyakugaku zasshi 38: 279–282.

Kalman J, Kudchodkar BJ, Krishnamoorthy R, Dory L, Kacko AG, Agarwal N (2001) High cholesterol diet down regulates the activity of activator protein-1 but not nuclear factor-kappa B in rabbit brain. Life Sci 68: 1495–1503.

Ha TY, Han SY, Kim SR, Kin IH, Lee HY, Kim HK (2005) Bioactive components in rice bran oil improve lipid profiles in rats fed a high-cholesterol diet. Nutr Res 25: 597–606.

Kersher L, Schiefer S, Draeger B, Maier J, Ziegenhorn J (1995) Precipitation methods for the determination of LDL-cholesterol. Clin Biochem 18: 118–125.

Anturlikar SD, Gopumadhavan S, Chauhan BL, Mitra SK (1995) Effect of D-400, a herbal Formulation, on blood sugar of normal and alloxan-induced diabetic rats. Indian J Physiol Pharmacol 39: 95–100.

Kannel WB, Castelli WP (1979) Cholesterol In the prediction of atherosclerotic disease: New perspectives based on the Framingham Study. Ann Intern Med 90: 85–91.

Steinberg D, Gotto AM (1999) Preventing coronary artery disease by lowering cholesterol levels. J Am Med Assoc 282: 2043–2050.

Castelli WP, Garrison RJ, Wilson PW, Abbott RD, Kalousdian S, kannel WB (1986) Incidence of coronary artery disease and lipoprotein cholesterol levels: the Framingham Study. J Am Med Assoc 256: 2855–2858.

Simon BC, Cummingham LD, Cohen RA (1990) Oxidized low density lipoproteins cause contraction and inhibit endothelium-dependent relaxation in the pig coronary artery. J Clin Invest 86: 75–79.

Berliner JA, Navab M, Fogelman AM, Frank JS, Demer LL, Edwards PA, Watson AD, Lusis AJ (1995) Atherosclerosis: Basic mechanisms. Oxidation, inflammation and genetics. Circulation 91: 2488–2496.

Neaton JD, Blackburn H, Jacobs D, Kuller L, Lee DJ, Sherwin R, Shih J, Stamler J, Wentworth D (1992) Serum cholesterol level and mortality findings for men screened in the multiple risk factor intervention trial.multiple risk factor intervention trial research group. Arch Intern Med 152: 1490–152.

Hong H (2001) Progress of experimental studies on hypoglycemi mechanisms by TCM. J Anhui TCM College 20: 59–63.

Wang L, Li SL, Wang T (2000) Progress on the study of polysaccharides and glucosides of hypoglycemic plants. Chin Med Mater 23: 575–577.

Pan GY, Huang ZJ, Wang GJ, Fawcett JP, Liu XD, Zhao XC, Sun JG, Xie YY (2003) The antihyperglycaemic activity of berberine arises from a decrease of glucose absorption. Planta Med 69: 632–636.

Tiwari AK, Rao JM (2002) Diabetes mellitus and multiple therapeutic approaches of phytochemicals: Present status and future prospects. Current Sci 83: 33–38.

Krolewski AS, Warram JH, Valsania P, Martin BC, Laffel LM, christlieb AR (1991) Evolving natural history of coronary artery disease in diabetes mellitus. Am J Med 90: 56s–61s.

Chattopadhyay RR (1999) A comparative evaluation of some blood sugar lowering agents of plant origin. J Ethnopharmacol 67: 367–362.
Acknowledgement
The authors wish to thank Dr. Rotimi Aluko (Department of Human Nutritional Science, University of Manitoba) for his constructive critique of the manuscript. This study was supported by China Scholarship Council (granted number: NSCIS No. 23110003).
About this article
Cite this article
YUAN, L., TU, D., YE, X. et al. Hypoglycemic and Hypocholesterolemic Effects of Coptis chinensis Franch Inflorescence. Plant Foods Hum Nutr 61, 139–144 (2006). https://doi.org/10.1007/s11130-006-0023-7
Published:

Issue Date:

DOI: https://doi.org/10.1007/s11130-006-0023-7
Key words