Abstract.
Flavonoids-enriched tissues of citrus such as peel, immature fruit and flower are consumed as culinary seasonings, tea ingredients in China for centuries. This HPLC quantitative study on the five citrus flavonoids, naringin, hesperidin, neohesperidin, sinensetin and nobiletin on a wide range of Chinese citrus fruits and several Traditional Chinese Medicinal food ingredients in East China, revealed a great diversity in flavonoid composition. Huyou peel (C. paradisi cv. Changshanhuyou) was found to be the best naringin (3.25%) and neohesperidin (2.76%) source; C. aurantium, a major ingredient of several citrus-related TCM, is also a suitable source of naringin and neohesperidin, and a good juice source for flavanone glycosides; the peel of Wenzhoumiju (C. unshiu) is one of the richest local species in hesperidin (up to 6.25%); Zaoju (C. subcompressa) has the highest content of nobiletin (0.59%), a polymethoxylated flavone. LC-ES-MS analysis of Zanthoxylum genus for flavonoids revealed for the first time the presence of significant amounts (0.74%) of hesperidin in the root of Liangmianzhen (Z. nitidum (Roxb.) DC), a relative of Sichuan pepper, which is a spice widely used in China.
This is a preview of subscription content, log in to check access.
Access options
Buy single article
Instant access to the full article PDF.
US$ 39.95
Price includes VAT for USA
Subscribe to journal
Immediate online access to all issues from 2019. Subscription will auto renew annually.
US$ 99
This is the net price. Taxes to be calculated in checkout.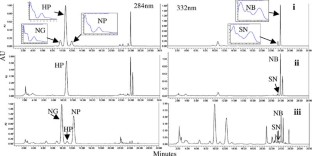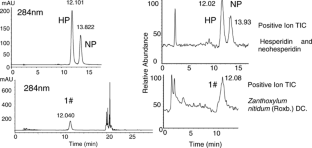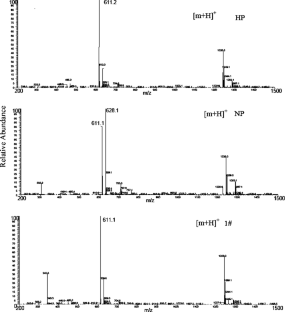 References
1.

Pizzorno J, Murray M (1999) Textbook of Natural Medicine, (2nd edn.). New York: Churchill Livingstone, p 1393.

2.

Garg A, Garg S, Zaneveldand LJD, Singla AK (2001) Chemistry and Pharmacology of the Citrus Bioflavonoid Hesperidin. Phytother Res 15: 655–669.

3.

Galati EM, Monforte MT, Kirjavainen S, Forertieri AM, Tripodo MM (1994) Biological effects of hesperidin, a Citrus flavonoid. Part 1. Anti-inflammatory and analgesic activity. Farmaco 49: 709–712.

4.

Tanaka T, Makita H, Ohnishi M, Hirose Y (1994) Chemoprevention of 4-nitroquinoline-1-oxide-induced oral carcinogenesis by dietary curcumin and hesperidin: Comparison with protective effects of beta carotene. Cancer Res 54: 4653–4659.

5.

Tanaka T, Makita H, Kawabata K, Mori H, Kakumoto M (1997) Modulation of N-methyl-N-amylnitrosamine induced tumorigenesis by dietary feeding of diosmin and hesperidin, alone and in combination. Carcinogenesis 18: 761–769.

6.

Smith CJ (1964) Non hormonal control of vasomotor flushing in menopausal patients. Chic Med 67: 193–195.

7.

Bok SH, Lee SH, Park YB, Bae KH, Son KH, Jeong TS, Choi MS (1999) Plasma and hepatic cholesterol and hepatic activities of 3-hydroxy-3-methyl-glutaryl-CoA reductase and acyl CoA: cholesterol transferase are lower in rats fed citrus peel extract or a mixture of citrus bioflavonoids. J Nutr 129: 1182–1185.

8.

Aboobaker VS, Balgi AD, Bhattacharya RK (1994) In vivo effect of dietary factors on the molecular action of aflatoxin B1: role of non-nutrient phenolic compounds on the catalytic activity of liver fraction. In Vivo 8: 1095–1098.

9.

Martin MJ, Marhuenda E, Perez-Guerrero C, Franco JM (1994) Antiulcer effect of naringin on gastric lesions induced by ethanol in rats. Pharmacology 49: 144–150.

10.

Gordon PB, Holen I, Seglen PO (1995) Protection by Naringin and Some Other Flavonoids of Hepatocytic Autophagy and Endocytosis against Inhibition by Okadaic Acid. J Biol Chem 270: 5830.

11.

Lin N, Sato T, Takayama Y, Mimaki Y, Sashida Y, Yano M, Ito A (2003) Novel anti-inflammatory actions of nobiletin, a citrus polymethoxy flavonoid, on human synovial fibroblasts and mouse macrophages. Biochem Pharmacol 65: 2065– 2071.

12.

Bracke ME, Depypere HT, Boterberg T, Van Marck VL (1999) Influence of Tangeretin on Tamoxifen's Therapeutic Benefit in Mammary Cancer. J Nat Cancer Inst 91: 354–359.

13.

Suzuki M, Sasaki K, Yoshizaki F, Oguchi K, Fujisawa M, Cyong JC (2005) Anti-hepatitis C Virus Effect of Citrus Unshiu Peel and Its Active Ingredient Nobiletin. Am J Chinese Med 33: 87–88.

14.

Tanaka S, Sato T, Akimoto N, Yano M, Ito A (2004) Prevention of UVB-induced photoinflammation and photoaging by a polymethoxy flavonoid, nobiletin, in human keratinocytes in vivo and in vitro. Biochem Pharmacol 68: 433–439.

15.

Kawaii S, Tomono Y, Katase E, Ogawa K, Yano M (1999) Quantitation of Flavonoid Constituents in Citrus Fruits. J Agr Food Chem 47: 3565–3571.

16.

Kawaii S, Tomono Y, Katase E, Ogawa K, Mutsuko N, Nesumi H, Yoshida T, Sugiura M, Yano M (2001) Quantitative Study of Fruit Flavonoids in Citrus Hybrids of King (C. nobilis) and Mukaku Kishu (C. kinokuni). J Agric Food Chem 49: 3982–3986.

17.

Berhow M, Tisserat B, Kanes K, Vandercook C (1996) Survey of Phenolic Compounds Produced in Citrus. U.S. Department of Agriculture, Agricultural Research Service, Technical Bulletin No. 1856: 158.

18.

Rouseff RL, Martin SF, Youtsey CO (1987) Quantitative Survey of Narirutin, Naringin, Hesperidin, and Neohesperidin in Citrus. J Agric Food Chem 35: 1027–1030.

19.

Del Rio JA, Fuster MD, Sabater F, Porras I, Garcia-Lidon A, Ortuno A (1997) Selection of citrus varieties highly productive for the neohesperidin dihydrochalcone precursor. Food Chem 59: 433– 437.

20.

Chinese Pharmacopoeia Edition (2005) Beijing China: Chemical Industry Press 1: pp 171–172.

21.

Chinese Pharmacopoeia Edition (2005) Beijing China: Chemical Industry Press 1: p 132.

22.

Chinese Pharmacopoeia Edition (2005) Beijing China: Chemical Industry Press 1: p 137.

23.

Chinese Pharmacopoeia Edition (2005) Beijing China: Chemical Industry Press 1: p 124.

24.

Arthur HR, Wui WH, Ma CN (1956) An examination of the Rutaceae of Hong Kong. Part-I. Flavonoid glycosides from Zanthoxylum species and the occurrence of optically active hesperidin. J Chem Soc 1: 632–635.

25.

Quang AN, Hanh TV, Sylvie M, Francis T, Vincent D, Thierry SA (2002) New Phenylpropanoid Ester from the Bark of Zanthoxylum scandens Rutaceae. Z Naturforsch 57: 986–989.

26.

Binutu OA, Cordell GA (2000) Constituents of Zanthoxylum Sprucei. Pharm Biol 38: 210–213.

27.

Xiong QB, Shi DW (1991) Morphological and histological studies of Chinese traditional drug "hua jiao" (pericarpium zanthoxyli) and its allied drugs. Yao Xue Xue Bao 26: 938–947.

28.

Belajov E, Suhaj M (2004) Determination of phenolic constituents in citrus juices: Method of high performance liquid chromatography. Food Chem 86: 339–343.

29.

Xiao R, Chen Z, Li L (1990) Changes of Naringin in Citrus Fruits. Plant Physiol Commun 6: 24–26.

30.

Carnat A, Carnat AP, Fraisse D, Lamaison JL (1999) Note technique: Standardisation de la fleur et de la feuille d'oranger amer. Ann Pharm Fr 57: 410–414.

31.

Li X, Li L, Xiao H, Liang X (2002) Determination of Hesperidin and Naringin in Fructus Aurantii lmmaturus and Fructus Aurantii by Reversed-Phase High Performance Liquid Chromatography. Chinese J Chromatogr 20: 585–586.

32.

US. Food and Drug Administration (2004) "Frozen Concentrated Orange Juice". US. GPO, Washington, DC: 21, CFR 146.146.
Acknowledgements
We sincerely thank Mr. Wen Falin, Mr. Chen Huashen, Mr. Chen Xiaoyi, Mr. Ge Liang, Mr. Han Zehong and Ms. Pan Xin for their warm help in providing samples and cultivar information.
About this article
Cite this article
Lu, Y., Zhang, C., Bucheli, P. et al. Citrus Flavonoids in Fruit and Traditional Chinese Medicinal Food Ingredients in China. Plant Foods Hum Nutr 61, 55–63 (2006). https://doi.org/10.1007/s11130-006-0014-8
Received:

Accepted:

Published:

Issue Date:
Key words:
Citrus

Flavonoid

Flavanone glycoside

Hesperidin

HPLC

LC-MS

Naringin

Neohesperidin

Nobiletin

Polymethoxylated flavone

Sinensetin

Traditional Chinese Medicine, TCM

Zanthoxylum