Abstract
The Special Supplemental Nutrition Program for Women, Infants, and Children (WIC) is a federally-funded food assistance program for low income participants who are at nutritional risk. Beneficiaries receive vouchers for specific foods and brands, selected for their nutritional value. While the program is designed to improve nutrition, it may also induce changes in consumption behavior that persist beyond participation in the program. In this paper, we study how participation in WIC impacts the consumption patterns and preferences during and after the program. Our analysis focuses on the cereal category, in which the subsidized brands must meet certain nutritional guidelines. As expected, during the program households increase cereal consumption volume and shift their choices towards the WIC-approved brands. More interesting is that once households exit the program, the higher category consumption rate and elevated share of WIC brands persist. To understand the behavioral mechanism underlying these consumption patterns, we estimate a choice model and find an increased preference for WIC brands after controlling for state dependence. The evidence suggests that this targeted food subsidy program is effective in creating behavior change that persists even after the incentive is withdrawn.
Access options
Buy single article
Instant access to the full article PDF.
US$ 39.95
Tax calculation will be finalised during checkout.
Subscribe to journal
Immediate online access to all issues from 2019. Subscription will auto renew annually.
US$ 79
Tax calculation will be finalised during checkout.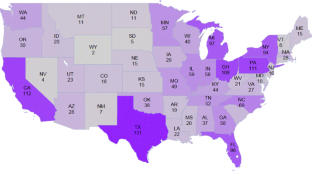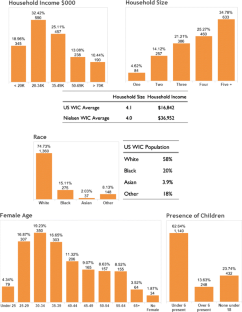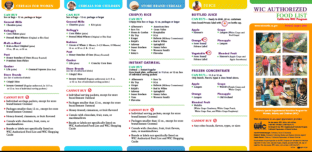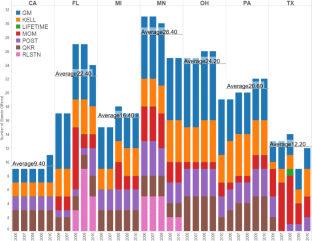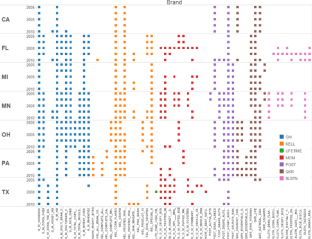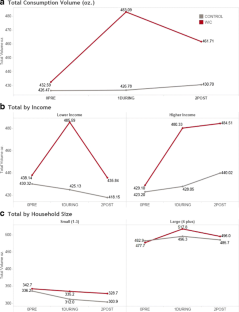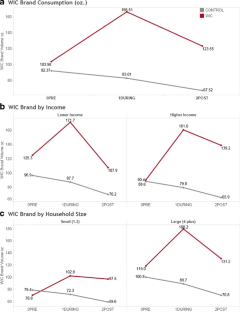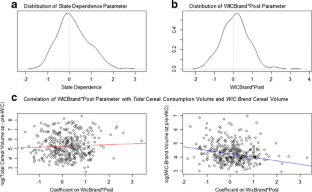 Notes
1.

2.

3.

The higher income eligibility cutoffs for pregnant women on Medicaid means that women with incomes above the 185% of the poverty level are also included.

4.

At the time of data collection, WIC categories were Beans, Cereal, Cheese, Eggs, Fruit Juices, Milk, Peanut Butter, Canned Seafood. More recently fruit, vegetables and whole grains have been added.

5.

6.

The database actually starts from 2004. Our key household characteristics is participation in the WIC program. Nielsen started recording this information from 2006 onwards.

7.

8.

In the rest of the paper, we refer to brand-flavor combinations as brand, which includes multiple UPCs.

9.

Since we are evaluating total category consumption, we only need to know whether a household was in WIC or not, thus we can use information from all states. When we analyze how WIC status impacts consumption at the brand level, we restrict our analysis to the seven states for which the specific brands included in WIC are known.

10.

We observe a consumer's purchases but not consumption from HomeScan data. It is possible that a consumer could share his or her subsidized food with others, but such information is not recorded in our data.

11.

Note that previous years income is collected from the HomeScan panel. Our analysis accounts for this as we matched the demographic data to the previous years consumption.

12.

For example, the parent brand Cheerios offer a range of products such as Frosted Cheerios and Multigrain Cheerios. Both Frosted Cheerios and Multigrain Cheerios would have the brand 'Cheerios', and the Multigrain Cheerios product would also have the WICBrand indicator equal to 1.

13.

This allows us to avoid an issue related to price, during the WIC progam the product price for participants is essentially 0.
References
Aaker, D.A. (1991). Managing brand equity. New York: The Free Press.

Arcia, G.J., Crouch, L.A., & Kulka, R.A. (1990). Impact of the WIC program on food expenditures. American Journal of Agricultural Economics, 72(1), 218–226.

Ashraf, N., Berry, J., & Shapiro, J.M. (2010). Can higher prices stimulate product use? Evidence from a field experiment in Zambia. American Economic Review, 100(5), 2383–2413.

Bitler, M., Currie, J., & Scholz, J.K. (2003). WIC eligibility and participation. The Journal of Human Resources, 38(Supplement), 1139–1179.

Bitler, M.P., & Currie, J. (2005). Does WIC work? The effects of WIC on pregnancy and birth outcomes. Journal of Policy Analysis and Management, 24(1), 73–91.

Blattberg, R.C., Briesch, R., & Fox, E.J. (1995). How promotions work. Marketing Science, 14(3), G122–G132.

Brehm, J.W. (1966). A theory of psychological reactance. New York.

Bronnenberg, B.J., Dubé, J.P., & Gentzkow, M. (2012). The evolution of brand preferences: evidence from consumer migration. American Economic Review, 102(6), 2472–2508.

Brownstone, D., Bunch, D., & Train, K. (2000). Joint mixed logit models of stated and revealed preferences for alternative-fuel vehicles. Transportation Research Part B, 34, 315–338.

Carlson, A., & Senauer, B. (2003). The impact of the special supplemental nutrition program for women, infants, and children on child health. American Journal of Agricultural Economics, 85(2), 479–491.

Cohen, D., & Farley, T.A. (2008). Eating as an automatic behavior. Preventing Chronic Disease, 5(1), A23.

Davis, D.E. (2011). Bidding for WIC infant formula contracts: Do non-WIC customers subsidize WIC customers? American Journal of Agricultural Economics, 94(1), 80–96.

Devaney, B., Bilheimer, L., & Schore, J. (1992). Medicaid costs and birth outcomes: the effects of prenatal wic participation and the use of prenatal care. Journal of Policy Analysis and Management, 11(4), 573–92.

Dodson, J.A., Tybout, A.M., & Sternthal, B. (1978). Impact of deals and deal retraction on brand switching. Journal of Marketing Research, 15, 72–81.

Dubé, J.P., Hitsch, G.J., & Rossi, P.E. (2010). State dependence and alternative explanations for consumer inertia. The RAND Journal of Economics, 41 (3), 417–445.

Gorski, M.T., & Roberto, C.A. (2015). Public health policies to encourage healthy eating habits: recent perspectives. Journal of Healthcare Leadership, 2015(7), 81–90.

Grier, S., & Bryant, C.A. (2005). Social marketing in public health. Annual Review of Public Health, 26(1), 319–339.

Harris, J.L., Schwartz, M.B., Brownell, K.D., Sarda, V., Weinberg, M.E., Speers, S., Thompson, J., Ustjanauskas, A., Cheyne, A., Bukofzer, E., Dorfman, L., & Byrnes-Enoch, H. (2009). Cereal FACTS: Evaluating the nutrition quality and marketing of children's cereals. Ruud Center, Yale University.

Herman, D.R., Harrison, G.G., Afifi, A.A., & Jenks, E. (2008). Effect of a targeted subsidy on intake of fruits and vegetables among low-income women in the special supplemental nutrition program for women, infants, and children. American Journal of Public Health, 98(1), 98–105.

Hoeffler, S., & Keller, K.L. (2002). Building brand equity through corporate societal marketing. Journal of Public Policy & Marketing, 21(1), 78–89.

Joyce, T., Gibson, D., & Colman, S. (2005). The changing association between prenatal participation in WIC and birth outcomes in New York City. Journal of Policy Analysis and Management, 24(4), 661–685.

Keane, M.P. (1997). Modeling heterogeneity and state dependence in consumer choice behavior. Journal of Business & Economic Statistics, 15(3), 310–327.

Keane, M.P., & Wasi, N. (2012). Estimation of discrete choice models with many alternatives using random subsets of the full choice set: With an application to demand for frozen pizza. Oxford: Univerisity of Oxford Working Paper. No. 2012-W13.

Kirchhoff, S. (1998). Nutrition Program's Tempest In A Cereal Bowl Congressional Quarterly, May 18. http://www.cnn.com/ALLPOLITICS/1998/05/18/cq/cereal.html.

Martinez-Schiferl, M. (2012a). WIC participants and their growing need for coverage. Income and Benefits Policy Center, Urban Institute. Retrieved from. http://www.urban.org/UploadedPDF/412549-WIC-Participants-and-Their-Growing-Need-for-Coverage.pdf.

Martinez-Schiferl, M. (2012b). WIC Coverage in your state. UrbanWire, Food and Nutrition, Urban Institute. Retrieved from. http://www.urban.org/urban-wire/wic-coverage-your-state.

McFadden, D. (1978). Modeling the choice of residential location. In Karlqvist, A., Lundqvist, F., Snickars, F., & Weibull, J. (Eds.) Spatial interaction theory and planning models (pp. 75–96). North-Holland: Amsterdam.

Mela, C.F., Gupta, S., & Lehmann, D.R. (1997). The long term impact of promotion and advertising on consumer brand choice. Journal of Marketing Research, 34, 248–61.

Oliveira, V.J., & Gundersen, C. (2000). WIC and the nutrient intake of children. Economic Research Service: US Department of Agriculture.

Rasmussen, K.M., Latulippe, M.E., & Yaktine, A.L. (Eds.) (2016). Review of WIC food packages: proposed framework for revisions: interim report. Committee to review WIC food packages; food and nutrition board. institute of medicine; national academies of sciences, engineering, and medicine; Washington (DC). Washington: National Academies Press (US). Jul 6 2016.

Reilly, J. (2000). Charitable work sells at a number of firms. Marketing News, 34(19), 46.

Rose, D., Habicht, J.P., & Devaney, B. (1998). Household participation in the food stamp and WIC programs increases the nutrient intakes of preschool children. The Journal of N utrition, 128(3), 548–555.

Seetharaman, P.B., Ainslie, A., & Chintagunta, P.K. (1999). Investigating household state dependence effects across categories. Journal of Marketing Research, 36, 488–500.

Simmons, C.J., & Becker-Olsen, K.L. (2006). Achieving marketing objectives through social sponsorships. Journal of Marketing, 70(4), 154–169.

Smith, K. (2016). Fewer than half of WIC-eligible families receive WIC benefits. Carsey Research National Issue Brief #102, Carsey School of Public Policy, University of New Hampshire, Summer 2016. http://scholars.unh.edu/cgi/viewcontent.cgi?article=1277&context=carsey.

Thaler, R. (1980). Toward a positive theory of consumer choice. Journal of Economic Behavior & Organization, 1(1), 39–60.

Verplanken, B., & Aarts, H. (1999). Habit, attitude, and planned behaviour: is habit an empty construct or an interesting case of goal-directed automaticity? European Review of Social Psychology, 10(1), 101–134.

Weingarten, H. (2013). Kellogg's Scooby Doo Cereal – low sugar option for kids. Fooducate 27 February 2013. http://blog.fooducate.com/2013/02/27/kelloggs-scooby-doo-cereal-low-sugar-option-for-kids/.

Wood, W., & Neal, D.T. (2007). A new look at habits and the habit-goal interface. Psychological Review, 114(4), 843.
Acknowledgments
We acknowledge the Kilts Center for Marketing at the University of Chicago Booth School of Business and Frank Piotrowski of AC Nielsen for providing access to the Nielsen Homescan and RMS data.
About this article
Cite this article
Khan, R., Zhu, T. & Dhar, S. The effect of the WIC program on consumption patterns in the cereal category. Quant Mark Econ 16, 79–109 (2018). https://doi.org/10.1007/s11129-017-9191-z
Received:

Accepted:

Published:

Issue Date:
Keywords
Public policy

Food subsidies

Brand management
JEL Classification