Abstract
This paper uses a natural experiment—the Super Bowl—to study the causal effect of advertising on demand for movies. Identification of the causal effect rests on two points: 1) Super Bowl ads are purchased before advertisers know which teams will play; 2) home cities of the teams that are playing will have proportionally more viewers than viewers in other cities. We find that the movies in our sample experience on average incremental opening weekend ticket sales of about $8.4 million from a $3 million Super Bowl advertisement.
Access options
Buy single article
Instant access to the full article PDF.
US$ 39.95
Tax calculation will be finalised during checkout.
Subscribe to journal
Immediate online access to all issues from 2019. Subscription will auto renew annually.
US$ 79
Tax calculation will be finalised during checkout.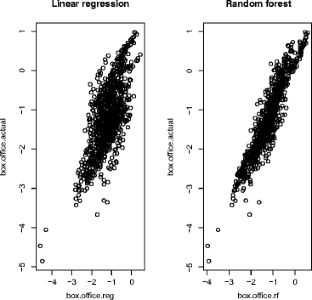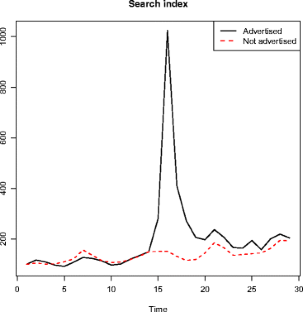 Notes
1.

We also include city and movie fixed effects along with an index of Google searches prior to the Super Bowl as control variables in our regressions.

2.

The number of queries in a given city must be larger than an unspecified privacy threshold to show up in the index, so there are a few smaller cities that report zero searches on movie entities prior to the Super Bowl. We drop these cities from the analysis.

3.

4.

Another question is whether placebo movies do worse than they would have if the Super Bowl ads had not run. That is, does advertising for Super Bowl movies cause substitution away from placebo movies? The relevant coefficient to test this is the first one in Table 8, Nielsen Super Bowl Ratings. Unfortunately, we get different answers depending on the specification. It is usually negative – suggesting there is substitution – but only statistically significant in one out of four main specifications.

5.

Hartmann and Klapper (2017) estimate a 153 percent ROI for Super Bowl beer ads, but caution that this is a likely an overestimate.

6.

Inferred age and gender are based on web site visits and inferred income is based on the IP address of the respondent and Census data.

7.

In general, we don't have sufficient power to break down the treatment effects. There are several other interesting questions, such as whether there are differential effects for movies with more competition, but we have to leave these questions for further research. It may be possible to investigate such issues after we accumulate a few more years of Super Bowl data.

8.

9.

10.

11.

12.

13.

14.

15.

16.

17.

18.
References
Ackerberg, D.A. (2003). Advertising, learning, and consumer choice in experience good markets: an empirical examination. International Economic Review, 44(3), 1007–1040. doi:10.1111/1468-2354.t01-2-00098.

Bertrand, M., Karlan, D., Mullainathan, S., Shafir, E., & Zinman, J. (2010). What's advertising content worth? evidence from a consumer credit marketing field experiment. The Quarterly Journal of Economics, 125 (1), 44. http://www.ingentaconnect.com.ezp-prod1.hul.harvard.edu/content/oup/qje/2010/00000125/00000001/art00007.

Choi, P., Boatwright, P., & Smith, M.D. (2015). The perfect storm: Using snowstorms to analyze the effect of theatrical attendance on demand for subsequently released DVDs. Technical report, Carnegie Mellon University. http://ssrn.com/abstract=2639303.

Comanor, W.S., & Wilson, T.A. (1971). On advertising and profitability. The Review of Economics and Statistics, 53(4), 408–10. http://econpapers.repec.org/RePEc:tpr:restat:v:53:y:1971:i:4:p:408-10.

Danzig, S., & Hughes, M. (2014). Breakdown of movie costs. http://www.quora.com/What-is-the-breakdown-of-costs-associated-with-making-a-high-budget-Hollywood-film.

Galbi, D. (2008). U.S. annual advertising spending since 1919. http://www.galbithink.org/ad-spending.htm.

Hartmann, W.R., & Klapper, D. (2017). Super Bowl ads. Marketing Science, Forthcoming. First Version presented at INFORMS Marketing Science, June 7–9, 2012.

Heyse, J., & Wei, W.W.S. (1985). Modelling the advertising-sales relationship through use of multiple time series techniques. Journal of Forecasting, 4(2), 165–181. doi:10.1002/for.3980040206. ISSN 02776693.

Ho, D., Imai, K., King, G., & Stuart, E. (2007a). Matching as nonparametric preprocessing for reducing model dependence in parametric causal inference. http://gking.harvard.edu/files/abs/matchp-abs.shtml.

Ho, D., Imai, K., King, G., & Stuart, E. (2007b). Matchit: Nonparametric preprocessing for parametric causal inference. Journal of Statistical Software, 15(3), 199–236. http://gking.harvard.edu/matchit/.

Ho, J., Dhar, T., & Weinberg, C. (2009). Playoff payoff: Super Bowl advertising for movies. International Journal of Research in Marketing, 26, 168–179. www.elsevier.com/locate/ijresmar.

Ye, H., Lodish, L.M., & Krieger, A.A. (2007). An analysis of real world TV advertising tests: A 15-Year update. Journal of Advertising Research, 47(3), 341–353.

Lee, J., Shin, B.S., & Chung, I. (1996). Causality between advertising and sales: New evidence from cointegration. Applied Economics Letters, 3(5), 299–301. ISSN 1350-4851. http://econpapers.repec.org/RePEc:taf:apeclt:v:3:y:1996:i:5:p:299-301.

Lewis, R.A., & Rao, J.M. (2012). On the near impossibility of measuring advertising effectiveness working paper.

Lewis, R.A., & Reiley, D.H. (2008). Does retail advertising work? Measuring the effects of advertising on sales via a controlled experiment on yahoo! SSRN Electronic Journal. ISSN 1556-5068. http://papers.ssrn.com.ezp-prod1.hul.harvard.edu/abstract=1865943.

Miao, R., & Ma., Y. (2015). The dynamic impact of websearch volume on product — an empirical study based on box office revenues. http://aisel.aisnet.org/whiceb2015/14.

Panaligan, R., & Chen, A. (2013). Quantifying movie magic with google search. http://ssl.gstatic.com/think/docs/quantifying-movie-magic_research-studies.pdf.

Schmalensee, R. (1978). A model of advertising and product quality. Journal of Political Economy, 86(3), 485–503. http://ideas.repec.org/a/ucp/jpolec/v86y1978i3p485-503.html.

Sherman, R., & Tollison, R.D. (1971). Advertising and profitability. The Review of Economics and Statistics, 53(4), 397–407. http://econpapers.repec.org/RePEc:tpr:restat:v:53:y:1971:i:4:p:397-407.

Simester, D., Hu, Y., Brynjolfsson, E., & Anderson, E.T. (2009). Dynamics of retail advertising: Evidence from a field experiment. Economic Inquiry, 47(3), 482–499. ISSN 0095-2583. http://econpapers.repec.org/RePEc:bla:ecinqu:v:47:y:2009:i:3:p:482-499.

Stern, H. (1986). The probability of winning a football game as a function of the pointspread. Technical report, Department of Statistics Stanford University.

Yelkur, R., Tomkovick, C., & Traczyk, P. (2004). Super Bowl advertising effectiveness: Hollywood finds the games golden. Journal of Advertising Research, 44 (1), 143–159. http://journals.cambridge.org/abstract_S0021849904040085.
Additional information
This paper benefited greatly from discussions with Randall Lewis, David Reiley, Bo Cowgill, Lawrence Katz, and Lawrence Summers. The referees and editors were particularly helpful. We also thank participants at IO Fest at Berkeley and the NBER Summer Institute for helpful comments.
Appendices
Appendix A: Press Reports About Super Bowl Ad Sales
| Season | Report Date | Status |
| --- | --- | --- |
|   | (Days Before Game) |   |
| 2002 | January 6, 2003 (23) | "NBC says it has fewer than 10 spots available" 1 |
| 2003 | N/A | N/A |
| 2004 | February 3, 2005 (3) | "Fox said Thursday that all 59 slots had been sold." 2 |
| 2005 | December 18, 2005 (49) | 80 % sold 3 |
| 2006 | January 3, 2007 (32) | first half sold out 4 |
| 2007 | November 7, 2007 (88) | 90 % sold out 5 |
| 2008 | October 1, 2008 (123) | most of the slots were sold out by September 6 |
| 2009 | February 1, 2010 (6) | CBS executives said they had finished selling commercial time 7 |
| 2010 | October 29, 2010 (100) | "Advertising inventory in next year's Super Bowl has sold out" 8 |
| 2011 | January 2, 2012 (34) | sold out 9 |
| 2012 | September 3, 2012 (153) | "Super Bowl advertisers commit super early" 10 |
Footnote 8 Footnote 9 Footnote 10 Footnote 11 Footnote 12 Footnote 13 Footnote 14 Footnote 15 Footnote 16 Footnote 17 Footnote 18
Appendix B: List of advertised and placebo movies
Appendix C: Coefficients for our other specifications
About this article
Cite this article
Stephens-Davidowitz, S., Varian, H. & Smith, M.D. Super returns to Super Bowl ads?. Quant Mark Econ 15, 1–28 (2017). https://doi.org/10.1007/s11129-016-9179-0
Received:

Accepted:

Published:

Issue Date:
Keywords
Advertising effectiveness

Measurement

Movies

Super bowl
JEL Classification