Abstract
easyJet, one of Europe's most successful low-cost short-haul airlines, has a simple pricing structure. For a given flight, all prices are quoted one-way, a single price prevails at any point, and, in general, prices are low early on and increase as the departure date approaches. We observe from these policies and from the empirical section of this paper that easyJet employs three distinct strategies: 1) it does not offer last-minute deals, 2) it offers a single class and lets price be the sole variable that controls demand, and 3) it varies the time at which tickets are first offered for sale (duration of sale). The first two policies are in stark contrast to traditional airline pricing strategies. Many airlines offer last-minute deals, either directly or via resellers. Second, the current prevailing practice is to control demand via seat allocation to various classes rather than by offering a single class and letting price be the sole variable that controls demand. The main objective of this research is to study the conditions under which offering a last-minute deal is optimal under the single-price policy. We also learn how the duration of ticket sales is affected by consumer characteristics. We find that, for an intermediate capacity level, uncertainty with respect to the arrival of the business segment will cause the firm to offer last-minute deals and thus partially price-discriminate within the tourist segment. The same is true for uncertainty with respect to the actual behavior of the firm: if consumers are uncertain whether the firm will offer last-minute deals, then, in equilibrium, both in a one-shot game and in a repeated game, the firm will, with some probability, offer such deals. In addition, we found that for an intermediate capacity level, the larger the number of segments (that differ in price sensitivity), the longer the duration of the period in which tickets are offered for sale.
Access options
Buy single article
Instant access to the full article PDF.
USD 39.95
Price excludes VAT (USA)
Tax calculation will be finalised during checkout.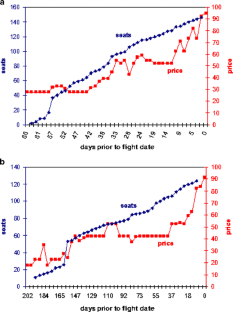 Notes
We also modeled the case in which each business consumer faces this uncertainty individually but only a numerical solution can be achieved. Assuming that there is no heterogeneity among business consumers regarding the uncertainty allows us to capture the main trade-off and keep the solution tractable.
References
Biyalogorsky, E., Carmon, Z., Fruchter, G., & Gerstner, E. (1999). Overselling and opportunistic cancellations. Marketing Science, 18, 605–610.

Biyalogorsky, E., Gerstner, E., Weiss, D., & Xie, J. (2005). The economics of service upgrades. Journal of Service Research, 7(3), 234–244.

Borenstein, S., & Rose, L. R. (1994). Competition and price dispersion in the U.S. airline industry. Journal of Political Economy, 102, 653–683.

Carpenter, G. S., & Hanssens, D. M. (1994). Market expansion, cannibalization, and international airline pricing strategy. International Journal of Forecasting, 10, 313–326.

Chintagunta, P. K., Jain, D. C., & Vilcassim, N. J. (1991). Investigating heterogeneity in brand preferences in logit models for panel data. Journal of Marketing Research, 28, 417–428.

Dana, J. D. (1998). Advance-purchase discounts and price discrimination in competitive markets. Journal of Political Economy, 106, 395–422.

Dana, J. D. (1999). Using yield management to shift demand when the peak time is unknown. Rand Journal of Economics, 30, 456–474.

Desai, P., Koenigsberg, O., & Purohit, D. (2004). Strategic decentralization and channel coordination. Quantitative Marketing and Economics, 2(1), 5–22.

Elmaghraby, W., & Keskinock, P. (2003). Dynamic pricing in the presence of inventory considerations; Research overview, current practices, and future directions. Management Science, 49(10), 1287–1309.

Feng, Y., & Gallego, G. (1995). Optimal starting times for end-of-season sales and optimal stopping times for promotional fares. Management Science, 41, 1371–1391.

Gallego, G., & van Ryzin, G. J. (1994). Optimal dynamic pricing of inventories with stochastic demand over finite horizons. Management Science, 40, 999–1020.

Gallego, G., & van Ryzin, G. J. (1997). A multi-product dynamic pricing problem and its applications to network yield management. Operations Research, 45, 24–41.

Jerath, K., Netessine, S., & Veeraraghavan, S. (2007). Revenue management with strategic customers: Last-minute selling and opaque selling. Working paper, The Wharton School of Business.

Kretsch, S. S. (1995). Airline fare management and policy. In D. Jenkins (Ed.) The handbook of airline economics (pp. 477–482). Columbus, OH: McGraw-Hill.

Liu, Q., & Van Ryzin, G. (2007). Strategic capacity to induce early purchases. Management Science, (forthcoming).

McGill, J. I., & van Ryzin, G. J. (1999). Revenue management: Research overview and prospects. Transportation Science, 33, 233–256.

Morrison, S. A., & Winston, C. (1990). The dynamics of airline pricing and competition. American Economic Review, 80, 389–393.

Ovchinnikov, A., & Milner, J. M. (2007). Revenue management with end-of-period discounts in the presence of customer learning. Working paper, Rotman School of Business.

Shulman, J., & Coughlan, A. (2007). Used goods, not used bads: Profitable secondary market sales for a durable goods channel. Quantitative Marketing and Economics, 5(2), 191–210.

Talluri, K. T., & van Ryzin, G. J. (2004). The theory and practice of revenue management. Norwell, MA: Kluwer Academic Publishers.

Watherford, L. R., & Pfeifer, P. E. (1994). The economic value of using advance booking of orders. Omega, 22, 105–111.

Wedel, M., Desabro, W. S., Bult, J. R., & Ramaswamy, V. (1993). A latent class Poisson regression model for heterogeneous count data. Journal of Applied Econometrics, 8, 397–411.

You, P. S. (1999). Dynamic pricing in airline seat management for flights with multiple legs. Transportation Science, 33, 192–206.
Acknowledgments
We are grateful to Stellios Haji-Ioannou, John Stephenson, and Ben Meyer at easyJet for making the data available for analysis and to Asim Ansari, Eyal Biyalogorsky, Fabio Caldieraro, Raghuram Iyengar, Don Lehmann, Olivier Toubia, Rajeev Tyagi, Garrett van Ryzin, Peter Rossi, and two anonymous reviewers for their thoughtful comments and suggestions. The authors would also like to thank Hernan Bruno for his excellent research assistance. easyJet® is a registered trademark.
Electronic supplementary material
Below is the link to the electronic supplementary material.
About this article
Cite this article
Koenigsberg, O., Muller, E. & Vilcassim, N.J. easyJet® pricing strategy: Should low-fare airlines offer last-minute deals?. Quant Mark Econ 6, 279–297 (2008). https://doi.org/10.1007/s11129-007-9036-2
Received:

Accepted:

Published:

Issue Date:

DOI: https://doi.org/10.1007/s11129-007-9036-2
Keywords
Airline pricing

Nonlinear pricing

Revenue management

Last minute deal

Dynamic pricing
JEL Classification