Abstract
The emergence of China as a major development partner requires a reassessment of traditional donor–recipient dynamics. In addition to adopting new rhetoric like "South–South cooperation" or "Win–Win," China has eschewed classifications and practices of the traditional donors of the Organisation for Economic Co-operation and Development's Development Assistance Committee. Yet the "new approach" and willful ignorance may not spare China from encountering traditional development challenges. In this paper, we consider whether Chinese development efforts have disincentivized difficult economic reforms by providing recipient governments with alternative resources for building support. Using an instrumental variable approach with panel data covering 106 countries during the 2000–2014 period, we find that when comparing Chinese development flows to several Western donors, the former's flows inhibit broader economic reform. The findings are robust to alternative specifications, data, instruments, and approaches.
This is a preview of subscription content, log in to check access.
Access options
Buy single article
Instant access to the full article PDF.
US$ 39.95
Price includes VAT for USA
Subscribe to journal
Immediate online access to all issues from 2019. Subscription will auto renew annually.
US$ 199
This is the net price. Taxes to be calculated in checkout.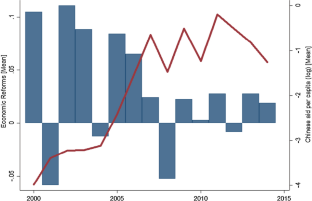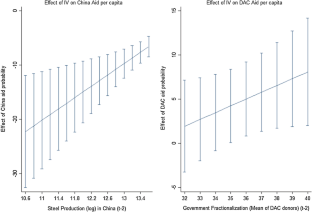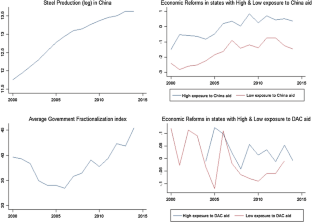 Notes
1.

2.

3.

Ibid. While working for the FSM's chief executive, on numerous occasions this manuscript's author overheard senior policymakers, including the president, invoke China as an alternative to US support. The unconditional nature of Chinese budgetary grants was touted in contrast to the US funding, which is approved by an annual meeting of a Joint Economic Management Committee (JEMCO), established by the Compact of Free Association treaty between the US and FSM (Brazys 2014), comprising three US and two FSM members, making budgetary decisions by simple majority vote.

4.

5.

Invisible to consumers in that it is embedded in retail prices (Musgrave 1972).

6.

A substantial body of literature exists on the possibility of an (Western) institutional aid curse. In particular, numerous scholars have investigated the extent to which aid might undermine domestic tax and revenue efforts (see, e.g., Moss et al. 2006; Besley and Persson 2014). Furthermore, as helpfully observed by a referee, heterogeneity amongst (and even within) DAC donors is likely. That said, as DAC donors all adhere, at least in principle, to DAC rules, we believe it to be reasonable to consider them as a whole.

7.

8.

9.

10.

Note that DAC aid is measured in current US dollar prices, but the inclusion of year fixed effects should capture inflation.

11.

The countries are Australia, Austria, Belgium, Canada, Denmark, Finland, France, Germany, Greece, Ireland, Italy, Japan, Luxembourg, the Netherlands, New Zealand, Norway, Portugal, Spain, South Korea, Sweden, Switzerland, the United Kingdom, and the United States. We enter gross disbursements for DAC aid because it is a more accurate measure of actual aid activity (commitments sometimes are cancelled or altered). We rely on gross commitments for China's aid because, unfortunately, those are the only amounts reported by AidData. Updating the results with China aid disbursements when that information becomes available would be a useful exercise.

12.

The empirical evidence, however, suggests a strong negative correlation between Chinese aid allocation and per capita income in recipient countries (Dreher et al. 2018).

13.

We lag the IV by 3 years in order to allow sufficient time (at least 2 years) for steel production's effects to materialize. Recall that our key explanatory variable is lagged by 1 year.

14.

For the US government, the fractionalization index score is always zero. Hence, we replace it with legislature fractionalization.

15.

16.

One obvious problem we encounter is that in a short panel of 15 years that includes fixed effects and a lagged EPR level might cause inconsistent estimations resulting in a downward bias of the coefficient, known as the "Nickell bias" (Nickell 1981). We therefore rely on a system-generalized method of moments (SGMM) estimator to counter that problem.

17.

Our controls include the GDP growth rate, the Polity IV regime type, Laeven and Valencia's (2008) economic crisis dummy measure, which captures systemic banking, currency, and debt crises, IMF program participation as in Boockmann and Dreher (2003), a dummy assigning the value of 1 for a left-wing government in power and 0 otherwise sourced from Beck et al. (2001), and a measure of natural resource rents as a share of GDP. Full justification for the controls can be found in the Online Appendix.

18.

The results are reported in the Online Appendix.

19.

This "null" effect (rather than a positive effect) may well be the result of the heterogeneity of DAC donors as noted in footnote 6 above.

20.

21.

22.

23.
References
Abbott, P., Andersen, T. B., & Tarp, F. (2010). IMF and economic reform in developing countries. Quarterly Review of Economics and Finance, 50, 17–26.

Ahmed, F. Z. (2012). The perils of unearned foreign income: Aid, remittances, and government survival. American Political Science Review,106(1), 146–165.

AidData. (2017). Global Chinese Official Finance Dataset, Version 1.0. Retrieved from http://aiddata.org/data/chinese-global-official-finance-dataset.

Alavuotunki, K., & Sandström, S. (2018). General budget support as an aid instrument—Impact on economic growth. Review of Development Economics,23(1), 231–255.

Alden, C. (2005). China in Africa. Survival,47(3), 147–164.

Alesina, A., Ardagna, S., & Trebbi, F. (2006). Who adjusts and when? On the political economy of reforms. IMF Staff Papers,53, 1–29.

Altincekic, C., & Bearce, D. H. (2014). Why there should be no political foreign aid curse. World Development,64, 18–32.

Appel, H. (2006). International imperatives and tax reform: Lessons from post-communist Europe. Comparative Politics,39, 43–62.

Arellano, M., & Bond, S. (1991). Some tests of specification for panel data: Monte Carlo evidence and application to employment equations. Review of Economic Studies,58(2), 277–297.

Bader, J. (2015). Propping up dictators? Economic cooperation from China and its impact on authoritarian persistence in party and non-party regimes. European Journal of Political Research,54(4), 655–672.

Beck, T., Clark, G., Groff, A., Keefer, P., & Walsh, P. (2001). New tools and new tests in comparative political economy: The database of political institutions. World Bank Economic Review,15, 165–176.

Beenstock, M. (1980). Political econometry of official development assistance. World Development,8(2), 137–144.

Ben Yishay, A., Heuser, S., Runfola, D., & Trichler, R. (2017). Indigenous land rights and deforestation: Evidence from the Brazilian Amazon. Journal of Environmental Economics and Management,86, 29–47.

Besley, T., & Persson, T. (2014). Why do developing countries tax so little? The Journal of Economic Perspectives,28(4), 99–120.

Biglaiser, G., & DeRouen, K. (2011). How soon is now? The effects of the IMF on economic reforms in Latin America. The Review of International Organizations,6(2), 189–213.

Bjørnskov, C. (2016). Economic freedom and economic crises. European Journal of Political Economy,45, S11–S23.

Bjørnskov, C., & Potrafke, N. (2012). Political ideology and economic freedom across Canadian provinces. Eastern Economic Journal,38(2), 143–166.

Bluhm, R., Dreher, A., Fuchs, A., Parks, B., Strange, A., & Tierney, M. (2018). Connective financing: Chinese infrastructure projects and the diffusion of economic activity in developing countries. AidData working paper #64. Williamsburg, VA: AidData at William & Mary.

Boockmann, B., & Dreher, A. (2003). The contribution of the IMF and the World Bank to economic freedom. European Journal of Political Economy,19, 633–649.

Bound, J., Jaeger, D., & Baker, R. (1995). Problems with instrumental variables estimation when the correlation between the instruments and the endogenous explanatory variable is weak. Journal of American Statistical Association,90, 443–450.

Brautigam, D. (2009). The dragon's gift: The real story of China in Africa. Oxford: Oxford University Press.

Bräutigam, D. (2011). Aid 'with Chinese characteristics': Chinese foreign aid and development finance meet the OECD-DAC aid regime. Journal of International Development,23(5), 752–764.

Brazys, S. R. (2014). Paradise lost: The cost of removing tax and trade provisions from the compact of free association. Asia and the Pacific Policy Studies,1(1), 204–215.

Brazys, S. (2016). Aid and governance: Negative returns? The European Journal of Development Research,28(2), 294–313.

Brazys, S. R. (2019). Function or signal? 1st Party or 3rd Party? Local aid and foreign direct investment. Local aid and foreign direct investment (January 2, 2019). Available at https://papers.ssrn.com/sol3/papers.cfm?abstract_id=3309087.

Brazys, S., & Dukalskis, A. (2017). Canary in the coal mine? China, the UNGA, and the changing world order. Review of International Studies,43(4), 1–23.

Brazys, S., Elkink, J. A., & Kelly, G. (2017). Bad neighbors? How co-located Chinese and World Bank development projects impact local corruption in Tanzania. The Review of International Organizations,12(2), 227–253.

Brech, V., & Potrafke, N. (2014). Donor ideology and types of foreign aid. Journal of Comparative Economics,42(1), 61–75.

Buckley, L. (2013). Chinese land-based interventions in senegal. Development and Change,44(2), 429–450.

Bueno De Mesquita, B. (2005). The logic of political survival. London: MIT Press.

Bueno De Mesquita, B., Morrow, J. D., Siverson, R. M., & Smith, A. (2002). Political institutions, policy choice and the survival of leaders. British Journal of Political Science,32(4), 559–590.

Bueno De Mesquita, B., & Smith, A. (2010). Leader survival, revolutions, and the nature of government finance. American Journal of Political Science,54(4), 936–950.

Campos, N., Hsiao, C., & Nugent, J. (2010). Crises, what crises? New evidence on the relative roles of political and economic crises in begetting reforms. Journal of Development Studies,46(10), 1670–1691.

Choi, S. G., & Storr, V. H. (2019). A culture of rent seeking. Public Choice,181(1–2), 101–126.

Christian, P., & Barrett, C. B. (2017). Revisiting the effect of food aid on conflict: A methodological caution. World Bank Policy Research working paper 8171.

Collier, P., Guillaumont, P., Guillaumont, S., & Gunning, J. W. (1997). Redisigning conditionality. World Development,25(9), 1399–1407.

Cruzatti C. J., Dreher, A., & Matzat, J. (2020). Chinese aid and health at the country and local level. CEPR discussion paper no. DP14862. Available at SSRN: https://ssrn.com/abstract=3628182.

de Soysa, I., & Vadlamannati, K. C. (2012). Do pro-market economic reforms drive human rights violations—An empirical assessment. Public Choice,150, 1–25.

de Soysa, I., & Vadlamannati, K. C. (2017). Does cultural diversity impede economic policy reform? An empirical analysis, 1980–2010. Social Science Research,62(1), 272–290.

Djankov, S., Garcia-Montalvo, J., & Reynal-Querol, M. (2008). The curse of aid. Journal of Economic Growth,13(3), 169–194.

Dollar, D., & Svensson, J. (2000). What explain the success or failure of structural adjustment programmes? Economic Journal,110, 894–917.

Drazen, A., & Easterly, W. (2001). Do crises induce reform? Simple empirical tests of conventional wisdom. Economics and Politics,13, 129–157.

Dreher, A. (2006). IMF and economic growth: The effects of programs, loans, and compliance with conditionality. World Development,34, 769–788.

Dreher, A., Fuchs, A., Hodler, R., Parks, B., Raschky, P., & Tierney, M. J. (2016). Aid on demand: African leaders and the geography of China's foreign assistance. In AidData working paper 3 revised. Williamsburg: AidData.

Dreher, A., Fuchs, A., Hodler, R., Parks, B. C., Raschky, P. A., & Tierney, M. J. (2019). African leaders and the geography of China's foreign assistance. Journal of Development Economics,140, 44–71.

Dreher, A., Fuchs, A., Parks, B., & Strange, A. M. (2020). Aid, China, and growth: Evidence from a new global development finance dataset. American Economic Journal: Economic Policy.

Dreher, A., Fuchs, A., Parks, B., Strange, A. M., & Tierney, M. J. (2018). Apples and dragon fruits: The determinants of aid and other forms of state financing from China to Africa. International Studies Quarterly,62, 182–194.

Dreher, A., & Gehring, K. (2012). Does aid buy (economic) freedom? In J. Gwartney, R. Lawson, & J. Hall (Eds.), Economic freedom of the world: 2012 annual report (pp. 219–246). Vancouver: Fraser Institute.

Dreher, A., & Langlotz, S. (2020). Aid and growth. New evidence using an excludable instrument. Canadian Journal of Economics.

Economides, G., Kalyvitis, S., & Philippopoulos, A. (2008). Does foreign aid distort incentives and hurt growth? Theory and evidence from 75 aid-recipient countries. Public Choice,134(3–4), 463–488.

Edin, P., & Henry, O. (1991). Political determinants and budget deficits: Coalition effects versus minority effects. European Economic Review,35, 1597–1603.

Eslava, M., & Nupia, O. (2017). Legislative fragmentation and government spending in presidential democracies: Bringing ideological polarization into the picture. Legislative Studies Quarterly,42, 387–420.

Faini, R. (2006). Foreign aid and fiscal policy. CEPR discussion paper no. 5721.

Gonzalez-Vicente, R. (2015). The limits to China's non-interference foreign policy: Pro-state interventionism and the rescaling of economic governance. Australian Journal of International Affairs,69(2), 205–223.

Gurr, T. R., & Jaggers, K. (1995). Tracking democracy's third wave with the polity II data. Journal of Peace Research,32(4), 469–482.

Gwartney, J. D., & Lawson, R. A. (2008). Economic freedom of the world. 2008 Annual report, Vancouver.

Hackenesch, C. (2015). Not as bad as it seems: EU and US democracy promotion faces China in Africa. Democratization,22(3), 419–437.

Haggard, S., & Webb, S. B. (1993). What do we know about the political economy of economic policy reform? The World Bank Research Observer,8(2), 143–168.

Hallerberg, M., Strauch, R., & von Hagen, J. (2009). Fiscal governance in Europe. Cambridge: Cambridge University Press.

Hallerberg, M., & von Hagen, J. (1999). Electoral institutions, cabinet negotiations, and budget deficits within the european union. In Poterba, J. M., & von Hagen, J. (Eds.), Fiscal institutions and fiscal performance (pp. 209–232).

Heckelman, J. C., & Knack, S. (2008). Foreign aid and market-liberalizing reform. Economica,75, 524–548.

Hernandez, D. (2017). Are "new" donors challenging world bank conditionality? World Development,96, 529–549.

Huang, Y. (2016). Understanding China's belt and road initiative: Motivation, framework and assessment. China Economic Review,40, 314–321.

Humphrey, C., & Michaelowa, K. (2019). China in Africa: Competition for traditional development finance institutions? World Development,120(C), 15–28.

International Monetary Fund. (2017). Federated States of Micronesia 2017 Article IV Consultation. Washington, DC: International Monetary Fund.

Isaksson, A. S., & Kotsadam, A. (2018). Chinese aid and local corruption. Journal of Public Economics,159, 146–159.

Keefer, P., & Khemani, S. (2009). when do legislators pass on pork? The role of political parties in determining legislator effort. The American Political Science Review,103(1), 99–112.

Keen, M., & Ligthart, J. E. (1999). Coordinating tariff reduction and domestic tax reform. Washington, DC: IMF Working Paper WP/93/99.

Kishi, R., & Raleigh, C. (2015). Chinese Aid and Africa's Pariah States. Sussex: University of Sussex.

Knack, S. (2001). Aid dependence and the quality of governance: Cross-country empirical tests. Southern Economic Journal,68(2), 310–329.

Kornai, J. (1986). The soft budget constraint. Kyklos,39, 3–30.

Laeven, L., & Valencia, F. (2008). Systemic banking crises: A new database. IMF working papers. Washington, DC: International Monetary Fund.

McGillivray, M. (2009). Aid, economic reform, and public sector fiscal behaviour in developing countries. Review of Development Economics,13(3), 526–542.

Mohan, G., & Power, M. (2008). New African choices? The politics of Chinese engagement. Review of African Political Economy,35(115), 23–42.

Molenaers, N., Dellepiane, S., & Faust, J. (2015). Political conditionality and foreign aid. World Development,75, 2–12.

Moss, T. J., Pettersson Gelander, G., & Van de Walle, N. (2006). An aid-institutions paradox? A review essay on aid dependency and state building in sub-Saharan Africa. Working paper 74. Washington, DC: Centre for Global Development.

Musgrave, R. A. (1972). Problems of the value-added tax. National Tax Journal,25(3), 425–430.

Nelson, S., & Wallace, G. (2016). Are IMF lending programs good or bad for democracy? The Review of International Organizations,12(4), 523–558.

Nickell, S. J. (1981). Biases in dynamic models with fixed effects. Econometrica,49, 1417–1426.

Pedersen, K. R. (1997). The political economy of distribution in developing countries: A rent-seeking approach. Public Choice,91(3–4), 351–373.

Perlez, J. (2006). China competes with West in aid to its neighbours. New York Times, September 18.

Pitlik, H. (2007). A race to liberalization? Diffusion of economic policy reform among OECD-economies. Public Choice,132(1/2), 159–178.

Pitlik, H., & Writh, S. (2003). Do crises promote the extent of economic liberalization? An empirical test. European Journal of Political Economy,19(3), 565–581.

Potrafke, N. (2013). Economic freedom and government ideology across the German States. Regional Studies,47(3), 433–449.

Reilly, J. (2012). A norm-taker or a norm-maker? Chinese aid in Southeast Asia. Journal of Contemporary China,21(73), 71–91.

Roubini, N., & Sachs, J. (1989). Government spending and budget deficits in the industrial countries. Economic Policy,8, 99–132.

Round, J. I., & Odedokun, M. (2004). Aid effort and its determinants. International Review of Economics and Finance,13(3), 293–309.

Schiere, R. (2010). Building complementarities in Africa between different development cooperation modalities of traditional development partners and China. African Development Review,22(s1), 615–628.

Staiger, D., & Stock, J. H. (1997). Instrumental variables regression with weak instruments. Econometrica,65, 557–586.

Stock, J. H., & Yogo, M. (2005). Testing for weak instruments in linear IV regression. In Stock, J. H., & Andrews, D. W. K. (Eds.), Identification and inference for econometric models: Essays in honor of Thomas J. Rothenberg. Cambridge: Cambridge University Press.

Strange, A. M., Dreher, A., Fuchs, A., Parks, B., & Tierney, M. J. (2017). Tracking underreported financial flows: China's development finance and the aid–conflict nexus revisited. Journal of Conflict Resolution,61(5), 935–963.

Stubbs, T., Kentikelenis, A., Reinsberg, B., & King, L. (2020). Evaluating the effects of IMF conditionality: An extension of quantitative approaches and an empirical application to public education spending. The Review of International Organizations,15, 29–73.

Svensson, J. (1999). Aid, growth and democracy. Economics and Politics,11, 275–297.

Svensson, J. (2000). Foreign aid and rent-seeking. Journal of International Economics,51, 437–461.

Swedlund, H. J. (2017). Is China eroding the bargaining power of traditional donors in Africa? International Affairs,93(2), 389–408.

The World Steel Association. (2017). World steel 2017 steel statistical Yearbook. Available at https://www.worldsteel.org/media-centre/press-releases/2017/worldsteel-2017-steel-statistical-yearbook-now-available-online0.html.

Tullock, G. (1967). The welfare costs of tariffs, monopolies, and theft. Western Economic Journal,5, 224–232.

Vadlamannati, Krishna. C. (2020). Can IMF program design resurrect investor sentiment? An empirical investigation. Business and Politics,22(2), 339–382.

Vadlamannati, K. C., Janz, N., & de Soysa, I. (2020). U.S. multinationals and human rights: A theoretical and empirical assessment of extractive versus nonextractive sectors. Business and Society. https://doi.org/10.1177/0007650320928972.

Vadlamannati, K. C., Li, Y., Brazys, S., & Dukalskis, A. (2019). Building bridges or breaking bonds? The belt and road initiative and foreign aid competition. School of Politics and International Relations Working Paper Series: WP11/2019, University College Dublin.

Volkerink, B., & de Haan, J. (2001). Fragmented government effects of fiscal policy: New evidence. Public Choice,109, 221–242.

Wang, F. L., & Elliot, E. A. (2014). China in Africa: Presence, perceptions, and prospects. Journal of Contemporary China,23(90), 1012–1032.

Wederman, A. (2004). The intensification of corruption in China. The China Quarterly,180, 895–921.

Werker, E., Faisal, Z. A., & Cohen, C. (2009). How is foreign aid spent? Evidence from a natural experiment. American Economic Journal: Macroeconomics,1(2), 225–244.

Woods, N. (2008). Whose aid? Whose influence? China, emerging donors and the silent revolution in development assistance. International Affairs,84(6), 1205–1221.

Zeitz, Alexandra. (2020). forthcoming), Emulation or Differentiation? China's development finance and traditional donor aid in developing countries. Review of International Organizations. https://doi.org/10.1007/s11558-020-09377-y.
Acknowledgements
We thank the editor and two anonymous referees for helpful comments. We also thank Jonathon Moses, Kai Ghering, Aidan Regan, Thomas Halvorsen, Indra de Soysa, Jo Jakobsen, Artur Tamazian, and participants at the IPE UCD Dublin Workshop, 2018, for helpful comments and suggestions.
Funding
This work was supported by the European Union's Horizon 2020 research and innovation program under Grant Agreement No. 693609 (GLOBUS).
Additional information
Publisher's Note
Springer Nature remains neutral with regard to jurisdictional claims in published maps and institutional affiliations.
Electronic supplementary material
Below is the link to the electronic supplementary material.
Appendices
Appendix 1: List of countries
| | | | |
| --- | --- | --- | --- |
| Afghanistan | Czech Republic | Latvia | Sao Tome and Principe |
| Albania | Denmark | Lebanon | Saudi Arabia |
| Algeria | Djibouti | Lesotho | Senegal |
| Angola | Dominican Republic | Liberia | Serbia |
| Antigua and Barbuda | Ecuador | Libya | Seychelles |
| Argentina | Egypt | Lithuania | Sierra Leone |
| Armenia | El Salvador | Macedonia | Singapore |
| Australia | Equatorial Guinea | Madagascar | Slovakia |
| Austria | Eritrea | Malawi | Slovenia |
| Azerbaijan | Estonia | Malaysia | Solomon Islands |
| Bahrain | Ethiopia | Maldives | South Africa |
| Bangladesh | Fiji | Mali | South Korea |
| Barbados | Finland | Mauritania | Spain |
| Belarus | France | Mauritius | Sri Lanka |
| Belgium | Gabon | Mexico | Sudan |
| Belize | Gambia | Moldova | Suriname |
| Benin | Georgia | Mongolia | Swaziland |
| Bhutan | Germany | Morocco | Sweden |
| Bolivia | Ghana | Mozambique | Switzerland |
| Bosnia-Herzegovina | Greece | Myanmar | Syria |
| Botswana | Grenada | Namibia | Taiwan |
| Brazil | Guatemala | Nepal | Tajikistan |
| Brunei | Guinea | Netherlands | Tanzania |
| Bulgaria | Guinea-Bissau | New Zealand | Thailand |
| Burkina Faso | Guyana | Nicaragua | Togo |
| Burundi | Haiti | Niger | Tonga |
| Cambodia | Honduras | Nigeria | Trinidad and Tobago |
| Cameroon | Hungary | North Korea | Tunisia |
| Canada | India | Norway | Turkey |
| Cape Verde | Indonesia | Oman | Turkmenistan |
| Central African Republic | Iran | Pakistan | Uganda |
| Chad | Iraq | Palestinian Adm. Areas | Ukraine |
| Chile | Ireland | Panama | United Arab Emirates |
| China | Israel | Papua New Guinea | United Kingdom |
| Colombia | Italy | Paraguay | United States of America |
| Comoros | Jamaica | Peru | Uruguay |
| Congo, Democratic Republic | Japan | Philippines | Uzbekistan |
| Congo, Republic | Jordan | Poland | Vanuatu |
| Costa Rica | Kazakhstan | Portugal | Venezuela |
| Cote d'Ivoire | Kenya | Qatar | Vietnam |
| Croatia | Kuwait | Romania | Yemen |
| Cuba | Kyrgyz Republic | Russia | Zambia |
| Cyprus | Laos | Rwanda | Zimbabwe |
Appendix 2: Descriptive statistics
| Variables | Mean | SD | Minimum | Maximum | Observations |
| --- | --- | --- | --- | --- | --- |
| Change in Economic freedom index | 0.03 | 0.19 | −1.09 | 1.34 | 1982 |
| Economic freedom index t − 1 | 6.71 | 0.92 | 2.93 | 8.86 | 1864 |
| Chinese aid per capita | 45.34 | 389.15 | 0.00 | 14,361 | 1793 |
| Chinese aid per capita (log) | −1.73 | 4.50 | −6.91 | 9.57 | 1793 |
| Chinese ODA per capita (log) | −2.83 | 4.17 | −6.91 | 8.50 | 1560 |
| Chinese OOF per capita (log) | −4.31 | 4.29 | −6.91 | 8.69 | 1113 |
| Share of discretionary projects | 42.28 | 35.12 | 0.00 | 100.00 | 1263 |
| GDP growth rate | 8.00 | 1.58 | 4.78 | 11.12 | 2580 |
| Polity democracy index | 4.22 | 5.83 | −82.48 | 104.48 | 2580 |
| Economic crises | 3.61 | 6.43 | −10.00 | 10.00 | 2375 |
| Natural resource rents/GDP | 11.50 | 16.48 | −1.19 | 100.37 | 2580 |
| IMF program | 0.03 | 0.17 | 0.00 | 1.00 | 2576 |
| Left governments | 0.09 | 0.28 | 0.00 | 1.00 | 2579 |
Appendix 3: Data sources and definitions
| Variables | Data definition and sources |
| --- | --- |
| EFR | EFR is made up of five sub-indices capturing: expenditure and tax reforms; property rights and legal reforms; trade reforms; reforms related to access to sound money; labor, business and credit reforms. These five sub-indices are made up of 35 components of objective indicators. The final index is ranked on a scale of 0 (not free) to 10 (totally free) and is sourced from the Fraser Institute (available at: https://www.fraserinstitute.org/economic-freedom/dataset?geozone=world&page=dataset) |
| Change in EFR | Year-to-year change in EFR sourced from the Fraser Institute |
| Chinese aid per capita | Aid flows including ODA and OOF-type flows measured in US$ constant prices (logged) and sourced from the AidData's Global Chinese Official Finance Dataset, version 1.0 (AidData 2017) developed by Dreher et al. (2018) |
| Chinese ODA per capita | ODA flows measured in US$ constant prices (logged), sourced from the AidData's Global Chinese Official Finance Dataset, version 1.0 (AidData 2017) developed by Dreher et al. (2018) |
| Chinese grants per capita | Grants flows measured in US$ constant prices (logged) and sourced from the AidData's Global Chinese Official Finance Dataset, version 1.0 (AidData 2017) developed by Dreher et al. (2018) |
| Chinese aid projects | Count of all aid (ODA and OOF) projects in country i and year t (logged) based on the information sourced from AidData's Global Chinese Official Finance Dataset, version 1.0 (AidData 2017) developed by Dreher et al. (2018) |
| Per capita GDP (log) | GDP per head in 2000 US$ constant prices, sourced from the World Development Indicators (WDI) 2017, World Bank |
| Polity democracy | Polity IV, polity 2 index coded on a scale of −10 to +10, where the highest value implies full democracy lagged by a year, sourced from Gurr and Jaggers (1995) |
| Economic crises | Dummy takes the value 1 if a country is exposed to either currency crisis, banking crisis, debt crisis (or all together) lagged by a year, sourced from Laeven and Valencia (2008) |
| GDP growth rate | Rate of growth of GDP, sourced from the WDI, World Bank 2017 |
| Natural resource rents/GDP | Total rents from natural resources as a share of GDP, sourced from the World Bank dataset on resource rents, 2017 |
| IMF program | Dummy takes the value 1 if a country is in an IMF program for more than 5 months during the year, and 0 otherwise, obtained from Dreher (2006) |
About this article
Cite this article
Brazys, S., Vadlamannati, K.C. Aid curse with Chinese characteristics? Chinese development flows and economic reforms. Public Choice (2020). https://doi.org/10.1007/s11127-020-00836-z
Received:

Accepted:

Published:
Keywords
Development aid

Economic reforms

Endogeneity

China
JEL Classification