Abstract
I apply Tullock's transitional gains trap to the formalization of property titles in Latin America to understand public choice problems in mending institutions. In an area where land is owned by formal and informal institutions, policies to extend property rights will not be supported by voters holding legal title because it will devalue their property. To test this I use data from Colombia where a peace deal to end a 50-year conflict with Revolutionary Armed Forces of Colombia rebels was reached in 2016 and put to a public referendum. The deal included formalization of property titles across the nation as well as an end to the conflict. Using municipal-level data on voting and property ownership and controlling for conflict history, I find potential losses to formal property holders pushed median voter preferences toward dissension. A 1% increase in legally titled land increases dissenting vote share by 3% points. These results are relevant to institutional reforms anywhere with corrupted property rights.
This is a preview of subscription content, log in to check access.
Access options
Buy single article
Instant access to the full article PDF.
US$ 39.95
Price includes VAT for USA
Subscribe to journal
Immediate online access to all issues from 2019. Subscription will auto renew annually.
US$ 199
This is the net price. Taxes to be calculated in checkout.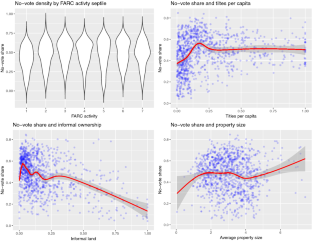 Notes
1.

This is the case in Colombia where there is a mixture of formal land registration and informal property proprietorship.

2.

This requires the reasonable assumption that officials and their constituents are more likely to be formal property holders.

3.

Assuming that titling informal land will have no effect on demand for formal land.

4.

Ultimately, several terms were renegotiated and the final peace accord was pushed through the Colombian Parliament and did not see a referendum ballot.

5.

In Colombia, municipalities are similar to US counties.

6.

In particular, many of these zones are designed to represent internally displaced persons, a community in which FARC is very unpopular.

7.

Colombia has an intriguing history of minimal punishment for rebellion. The sentence for armed rebellion was 3–6 years in the penal code for much of the twentieth century (Robinson 2016).

8.

The slogan for Uribe's no-vote campaign was "we want peace, but not this peace" stating demands for stiffer punishment of FARC rebels. However, it is important to note that as president, Uribe granted amnesty to 6000 right-wing paramilitaries guilty of many atrocities during the course of the Colombian conflict.

9.

10.

This was a frequent reason given by no voters for their lack of support.

11.

See Tullock (1975) for further discussion.

12.

One may be concerned with co-linearity between informal land estimates and legal ownership. Omitting informal ownership does not affect the legal title variables. State land is not included.

13.

This is only a problem if there is something unique about land ownership status that determines political preferences beyond the included demographic controls, particularly income, poverty rate, population, and rural population percentage.

14.

Presumably a voter would cast a ballot for Santos in 2014 if they supported the continuation of the peace negotiations, or another candidate if they did not.

15.

Uribe continued and intensified the aforementioned Plan Colombia as president.
References
Acemoglu, D. (2006). A simple model of inefficient institutions. The Scandinavian Journal of Economics, 108(4), 515–546.

Acemoglu, D., & Johnson, S. (2005). Unbundling institutions. Journal of Political Economy, 113(5), 949–995.

Acevedo, K., & Bornacelly, I. (2016). Panel municipal del CEDE. Centro de Estudios sobre Desarrollo Económico.

Albertus, M., & Kaplan, O. (2013). Land reform as a counterinsurgency policy. Journal of Conflict Resolution, 57(2), 198–231.

Alpert, M. (2016). Politics roils Colombia's tentative peace deal with the FARC. https://foreignpolicy.com/2016/07/18/politics-roils-colombias-tentative-peace-deal-with-the-farc-eln-santos-uribe/.

Alston, L. J., Libecap, G. D., & Mueller, B. (1999). A model of rural conflict: Violence and land reform policy in Brazil. Environment and Development Economics, 4(2), 135–160.

Alston, L. J., Libecap, G. D., & Mueller, B. (2000). Land reform policies, the sources of violent conflict, and implications for deforestation in the Brazilian Amazon. Journal of Environmental Economics and Management, 39(2), 162–188.

Benson, B. L. (1988). Legal evolution in primitive societies. Journal of Institutional and Theoretical Economics, 144, 772–788.

Benson, B. L., & Siddiqui, Z. R. (2014). Pashtunwali-law for the lawless, defense for the stateless. International Review of Law and Economics, 37, 108–120.

Besley, T. (1995). Property rights and investment incentives: Theory and evidence from Ghana. Journal of Political Economy, 103(5), 903–937.

Brasselle, A.-S., Gaspart, F., & Platteau, J.-P. (2002). Land tenure security and investment incentives: Puzzling evidence from Burkina Faso. Journal of Development Economics, 67(2), 373–418.

Brittain, J. J. (2010). Revolutionary social change in Colombia: The origin and direction of the FARC-EP. London: Pluto Press.

Brunner, E., Sonstelie, J., & Thayer, M. (2001). Capitalization and the voucher: An analysis of precinct returns from California's Proposition 174. Journal of Urban Economics, 50(3), 517–536.

Chen, C. (2017). Untitled land, occupational choice, and agricultural productivity. American Economic Journal: Macroeconomics, 9(4), 91–121.

Colombian State Department. (2016). Election results.

De Janvry, A., Emerick, K., Gonzalez-Navarro, M., & Sadoulet, E. (2015). Delinking land rights from land use: Certification and migration in Mexico. The American Economic Review, 105(10), 3125–3149.

De Soto, H. (1989). The other path: The economic answer to terrorism. New York: Harper & Row.

De Soto, H. (2000). The mystery of capital: Why capitalism triumphs in the West and fails everywhere else. New York: Basic Civitas Books.

Dehring, C. A., Depken, C. A., & Ward, M. R. (2008). A direct test of the homevoter hypothesis. Journal of Urban Economics, 64(1), 155–170.

Di Tella, R., Galiant, S., & Schargrodsky, E. (2007). The formation of beliefs: Evidence from the allocation of land titles to squatters. The Quarterly Journal of Economics, 122(1), 209–241.

Fajardo, D. (2002). La tierra y el poder político; la reforma agraria y la reforma rural en Colombia. Revista Reforma Agraria Colonización y Cooperativas, 1, 4–20.

Field, E. (2007). Entitled to work: Urban property rights and labor supply in Peru. The Quarterly Journal of Economics, 122(4), 1561–1602.

Fischel, W. A. (2001). The homevoter hypothesis: How home values influence local government taxation, school finance, and land-use policies. Cambridge, MA: Harvard University Press.

Galiani, S., & Schargrodsky, E. (2010). Property rights for the poor: Effects of land titling. Journal of Public Economics, 94(9), 700–729.

Glaeser, E., Scheinkman, J., & Shleifer, A. (2003). The injustice of inequality. Journal of Monetary Economics, 50(1), 199–222.

Goldstein, M., & Udry, C. (2008). The profits of power: Land rights and agricultural investment in Ghana. Journal of Political Economy, 116(6), 981–1022.

Grusczynski, D. M., & Jaramillo, C. F. (2002). Integrating land issues into the broader development agenda. Bogotá: Case Study.

Ibanez, A. M. (2009). Forced displacement in Colombia: Magnitude and causes. The Economics of Peace and Security Journal, 4(1), 48–54.

Janvry, A. D., Gonzalez-Navarro, M., & Sadoulet, E. (2014). Are land reforms granting complete property rights politically risky? Electoral outcomes of Mexico's certification program. Journal of Development Economics, 110, 216–225.

Kerekes, C. B., & Williamson, C. R. (2010). Propertyless in Peru, even with a government land title. American Journal of Economics and Sociology, 69(3), 1011–1033.

Leech, G. M. (2011). The FARC: The longest insurgency. Rebels: Fernwood.

Leeson, P. T. (2007). Trading with bandits. The Journal of Law and Economics, 50(2), 303–321.

Leeson, P. T. (2009). The laws of lawlessness. The Journal of Legal Studies, 38(2), 471–503.

Leeson, P. T. (2012). God Damn: The law and economics of monastic malediction. The Journal of Law, Economics, and Organization, 30(1), 193–216.

Leeson, P. T. (2013). Gypsy law. Public Choice, 155(3–4), 273–292.

Leeson, P. T., & Harris, C. (2018). Wealth-destroying private property rights. World Development, 107, 1–9.

Levy-Carciente, S. (2017). International property rights index. Property Rights Alliance.

Murtazashvili, I., & Murtazashvili, J. (2015). Anarchy, self-governance, and legal titling. Public Choice, 162(3), 287–305.

Olson, M. (2008). The rise and decline of nations: Economic growth, stagflation, and social rigidities. New Haven: Yale University Press.

Otis, J. (2014). The FARC and Colombia's illegal drug trade. Woodrow Wilson Center: Encyclopedia of U.S.-Latin American Relations.

Palacios, P. (2012). Forced displacement: Legal versus illegal crops. Defence and Peace Economics, 23(2), 133–160.

Registro Único de Víctimas. (2016). Colombian register of victims report.

Richani, N. (2013). Systems of violence: The political economy of war and peace in Colombia. New York: Suny Press.

Robinson, J. A. (2016). La miseria en Colombia. Revista Desarrollo y Sociedad, 76, 9–88.

Santos Calderón, J. M., & Jiménez, T. (2016). Acuerdo Final Para la Terminación del Conflicti y la Construcción de una Paz Estable y Duradera. Oficina del Alto Comisionado para la Paz.

Skaperdas, S. (1992). Cooperation, conflict, and power in the absence of property rights. The American Economic Review, 82(4), 720–739.

Sonin, K. (2003). Why the rich may favor poor protection of property rights. Journal of Comparative Economics, 31(4), 715–731.

Stringham, E. (2015). Private governance: Creating order in economic and social life. Oxford: Oxford University Press.

Tullock, G. (1975). The transitional gains trap. The Bell Journal of Economics, 6, 671–678.

Williamson, C. R., & Mathers, R. L. (2011). Economic freedom, culture, and growth. Public Choice, 148(3), 313–335.

World Values Survey Association. (2010–2014). World value survey wave 6. World Value Survey.
Acknowledgements
The author would like to thank Josh Hall, Bryan McCannon, Lynne Kiesling, Bonnie Wilson, Michael Munger, two anonymous referees, and many helpful insights from commenters at Public Choice Society, Southern Economic Association, and American Institute of Economic Research meetings and the Universidad de Los Andes CEDE for data assistance.
About this article
Cite this article
Ferrell, P. Titles for me but not for thee: transitional gains trap of property rights extension in Colombia. Public Choice 178, 95–114 (2019). https://doi.org/10.1007/s11127-018-0617-2
Received:

Accepted:

Published:

Issue Date:
Keywords
Referendum

Property rights

Violence

Transitional gains trap
JEL Classification